Cast your mind back. It's summer 2014 and you're headed to the pool with friends. The last stop between you and aquatic relaxation is a beer run to stock your cooler.
As you round the grocery aisle and quickly scan your options in the beer refrigerator, the section's chill becomes both physical and emotional. There's no glass allowed at the pool, yet your favorite local craft beer brands are available only in brown glass bottles. Defeated, you grab a 12-pack of macro lager cans and slink toward the checkout lines.
Thankfully, the glass conundrum is a thing of the past in 2019. Cans are the future of craft beer in Columbia, and the future is now.
"We're an outdoor community — we like to get outside and bring beer with us," says Drew Walker, brewmaster at River Rat Brewery, speaking to the issue of transporting beer bottles. "When you go to the pool, when you go to the beach, when you go to the river, you don't want to bring glass. Cans are much more mobile than bottles."
Currently, there are six Columbia area breweries regularly offering beer in canned formats: River Rat Brewery, Cottontown Brew Lab and Steel Hands Brewing are packaging beers in either 12-ounce or 16-ounce cans; Swamp Cabbage Brewing and Angry Fish Brewing regularly fill crowlers, 32-ounce cans of fresh draught beer sold to-go from their taprooms; and Columbia Craft Brewing Company packages 12-ounce and 16-ounce cans, as well as fills crowlers.
River Rat was Columbia's first brewery to begin canning, having acquired its in-house canning line in October 2016. Shortly thereafter, they packed their last run of bottled beer in November 2016 and sold their bottling line. Now, they sell cans from their taproom and distribute them to grocery stores and bottle shops across South Carolina and North Carolina.
"It's a better package for the beer," Walker says, extolling the anti-light pollution virtues of cans. "From a sales standpoint, you have more room to decorate on the can, so you can kind of get your brand out there better. Plus, it's better for the environment — aluminum is infinitely recyclable."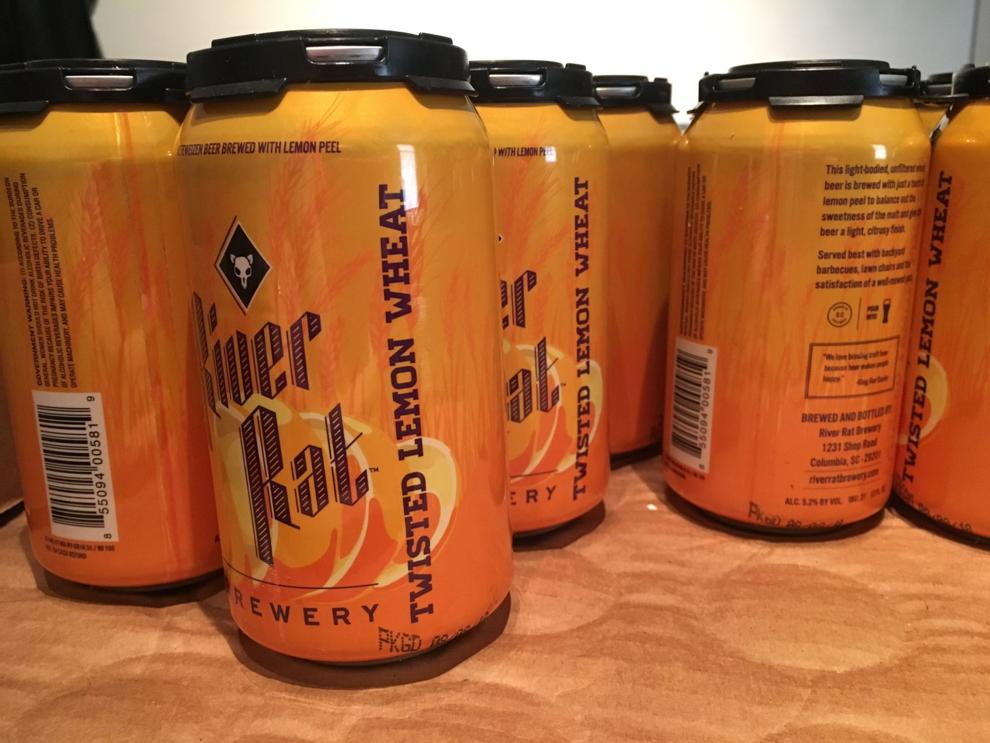 While trends in craft beer change faster than you can say double dry hopped, good beer in cans shows no signs of disappearing anytime soon. The most recent data available from the Brewers Association, the not-for-profit organization that promotes and analyzes the craft beer industry in the U.S., shows canned beer gaining market share in the industry each year since 2012. By 2017, cans had grown to account for 28.5 percent of total packaged craft beer production.
"I always pushed for cans — that's the way the industry is going," says Sean Piggott, Head Brewer at Columbia Craft. Piggott and the brewery's owners weighed their format options carefully before deciding to bring in Charlotte, North Carolina's Carolina Craft Canning mobile team to package their product.
Columbia Craft held their first can release Dec. 8, 2018, debuting 16-ounce four-packs of their Batch 100 New England Style IPA and Pastisserie fruited sour, and have recently begun canning their eponymous lager. All three brands are available for purchase exclusively from their taproom, which Piggott sees as a good experiment before venturing into distribution.
"Doing it through the taproom first gives us an idea of shelf life and how beers are aging that we're putting into cans," he says. "It's given us an idea of how quickly it will sell."
Can sales are taproom only as well at Cottontown Brew Lab, where Head Brewer Brandon Evans and his staff are hand canning each unit with a manual filler head. He views their labor of love as both an important step in growing their brand and in aiding to progress Columbia's beer scene.
"For years … nice beer had to come in a nice bottle," Evans recalls. "Really, one of the best things that's happening in the industry right now is getting away from those old norms."
Cayce's Steel Hands Brewing has chosen to go straight to distribution with their sales strategy. They only recently celebrated their grand opening on Dec. 1, 2018, yet the brewery is already producing up to 900 cases of cans per run with the help of Charlotte-based Iron Heart Canning. Their primarily white cans with bright orange PakTech 6-pack carriers were designed to stand out in a crowded cooler, as their Tropical IPA, Coffee Lager and Foreman Golden Ale are currently available exclusively through grocery stores and bottle shops across the Midlands.
"Shelf space is king when it comes to off-premise accounts," says Ashley Lambert, Steel Hands' marketing and business development director, who designed the cans' packaging. "We knew that if they're going to be side by side on the shelf, we wanted to make an impact with that orange all the way across the top."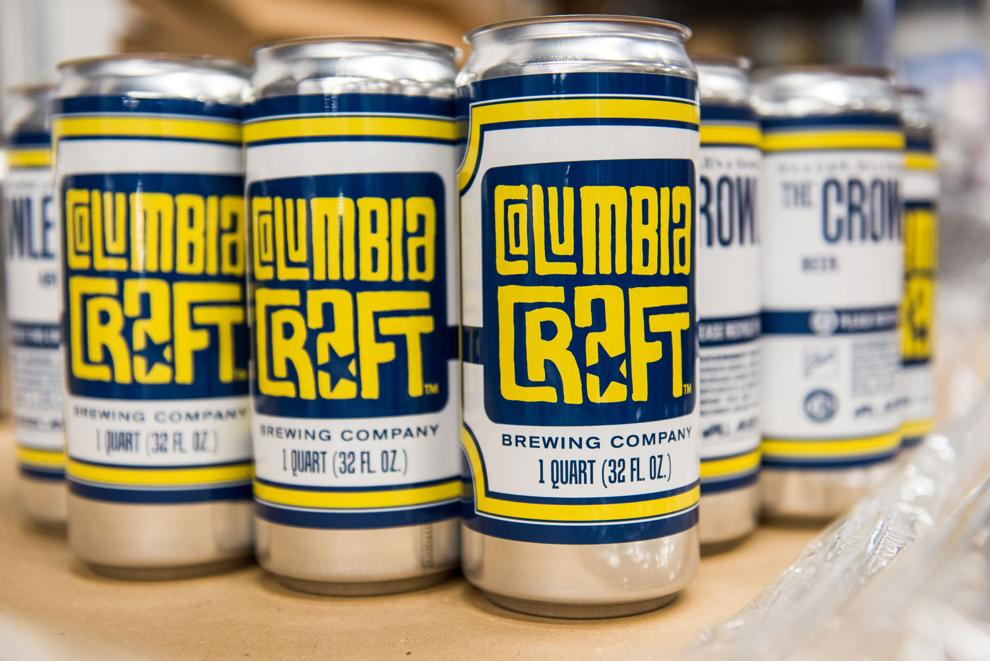 The shelves of Craft and Draft, Devine Street's lively neighborhood craft beer bottle shop and bar, reflect the changing of the packaging guard. Co-owner Andrew Johnson remembers opening in summer 2014 with less than 10 percent of their inventory in cans. He estimates the majority of their packaged offerings are now in aluminum pop tops.
"It's become so easy, from a retailer's perspective, to favor cans over bottles," says Johnson. "They're lighter, they're easier to shelve and stack, they protect the beer better. The biggest reason is if you have an accident, if you drop cans, you're not losing product necessarily. That's the biggest issue that we have with bottles is breakage, and with cans, you don't have as much of that."
Columbia's craft can revolution hasn't come without hiccups, though.
Phill Blair, co-owner of The Whig, one of Columbia's eminent craft beer bars, posits his beer menu has gone from roughly 10 canned offerings out of 100 as recently as two years ago to at least a third of his entire selection. Yet he cites quality issues with craft cans as a common detractor to The Whig's fast-paced bar service.
"You'll see a lot of beer where you'll open the can and it comes spewing out," Blair quips, mimicking a beer volcano with his hands. "The taste won't even be that off, but the practicality of opening the can and not being able to pour it into a glass because it's erupting — it's just unfortunate."
Craft and Draft's Johnson notes there's still a faction of customers who think the cans will taste different from their bottle or draught counterparts as well, though he's quick to debunk that myth and attempt to convert nonbelievers.
"The perception that cans carry a metallic flavor — we have a few customers that ask about that," he says with a wry smile. "Once we explain and educate the customer on what it does for the beer, how much better it protects the beer, they're all in."
As craft cans continue to gain popularity, Columbia Craft's Piggott points out perhaps the most important aspect of aluminum-encased beer — it's fun.
"It's always awesome having your beer in cans," he says with a smile. "Being able to shotgun beers on Friday — now that the lager's around, it's becoming a budding tradition here."
Shotgun Fridays — once possible only with macro swill, now a reality with local craft beer. We truly are living in the future.
Let us know what you think: Email editor@free-times.com.