She hadn't put the gun rally on her calendar, so it slipped Jennifer Pinckney's mind. Life had gotten exponentially busier since 2015, when a gunman killed her husband and eight others inside the church he pastored — and left her to navigate parenthood alone.
But on a Saturday this spring, her friend and attorney, state Sen. Gerald Malloy, called.
"You're headed to the march, right?" he said.
"What march?"
Another mass shooting, this one a month earlier at Marjory Stoneman Douglas High School in Florida, had galvanized students to take center stage in the nation's gun reform debate. Malloy was heading to a March For Our Lives rally in Columbia.
Numerous events are planned to commemorate the third anniversary of the Emanuel AME Church shooting. They include:
Jennifer rushed with her two daughters to get there. They arrived just as about 2,000 people headed toward the Statehouse where their father, the Rev. Clementa Pinckney, had served as a Democratic state senator.
Columbia Mayor Steve Benjamin caught up with Jennifer: "Would you like to speak?"
It was a question that before June 17, 2015, few people asked her. She preferred that life, the one in which she quietly worked with students in her elementary school library, raised her two daughters, and helped Clementa in his quest to earn a doctorate while serving as a pastor and state senator.
Instead, Jennifer found herself thrust into a public role she never wanted.
As usual, she balked. Talking in front of big crowds, especially without notes, still unnerved her. Yet this rally was filled with young people who, like her daughters, had been harmed by gun violence.
Jennifer turned to her girls. Did they want to say something?
At first, 14-year-old Eliana demurred. So did 9-year-old Malana.
Then, Eliana changed her mind. So did Malana. Jennifer got the mayor's attention again.
"The girls would like to speak."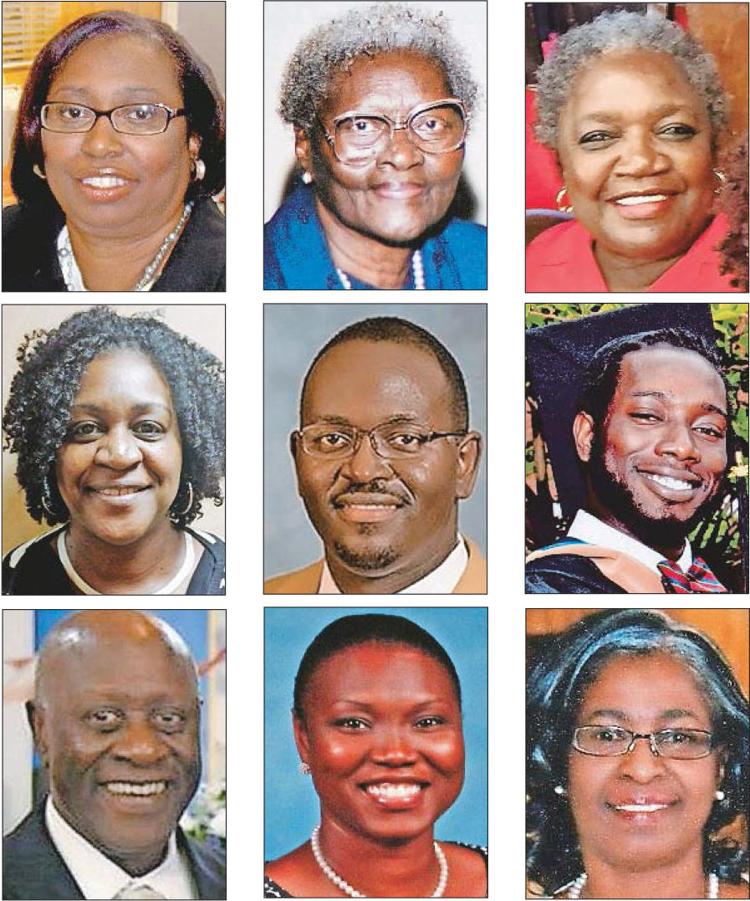 'We need it to stop'
Today's third anniversary of the Emanuel AME Church shooting falls on Father's Day, a coincidence of the calendar that underscores a tragic fact: Eliana and Malana are growing up up robbed of their dad's love and guidance. 
DePayne Middleton Doctor's four daughters are growing up without her. 
Sharonda Coleman-Singleton's three children are growing up without her. 
They, like the loved ones of all nine victims, are trying to forge new paths and find their new voices, ones that hold memories tight but also lead to meaningful futures. 
Chris Singleton, Sharonda's oldest child, welcomed his first baby in the fall at age 21. He also dedicated a baseball complex at Charleston Southern University in his mother's name after being drafted into the Chicago Cubs organization to play baseball, something that would have made her proud.
And that's not all. He is guardian of his younger siblings, breadwinner for a family of five, and owner of a new public-speaking business and a pool-cleaning business.
The Rev. Anthony Thompson, who lost his wife, has continued to serve as pastor of his own church while also preaching at other houses of worship to strengthen the interfaith bonds that formed in the shooting's wake — and help form new ones.
The Rev. Sharon Risher, an AME minister who lost her mother in the shooting, travels the country to push for gun law reforms and address racial issues. On Mother's Day, she preached about that work at Emanuel AME in her first sermon since the night of the shooting.
"When the tragedy happened in this church, God awakened in me a need — a need! — to get out there" and represent the nine who died, she explained. "I had to act. I had to act because there was no other choice. I was being obedient to what God told me I needed to do."
And Arthur Hurd, who lost his wife in the shooting, sold the brick bungalow downtown that he shared with her. Cynthia Graham Hurd, a popular librarian, had grown up there and nurtured a lush garden out front. He opted to leave and move to North Charleston, where he hoped to find some solace away from the overwhelming memories of her.
Hurd was among those who didn't forgive Dylann Roof in the immediate aftermath, even as other families and survivors of the shooting said they'd done so. He's still not there yet but feels he's moving in that direction. However, he said, it feels like pushing a piano up a flight of stairs.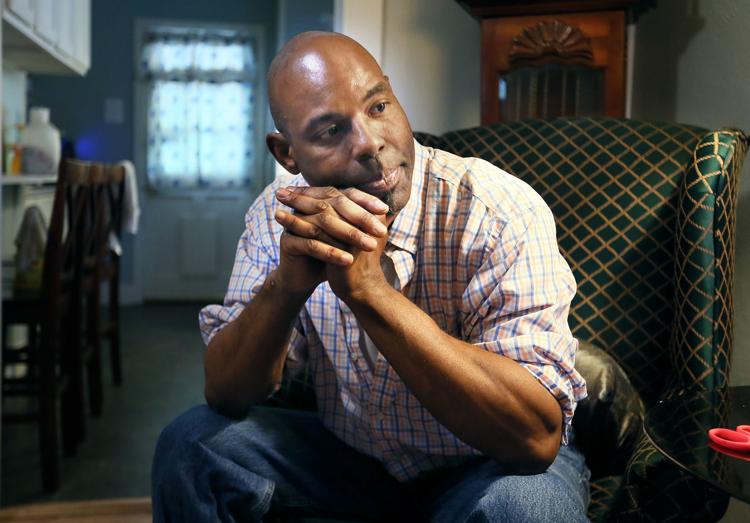 "I've fallen several times," he admitted. "But I don't hate him with the venom that I used to."
For Hurd, like Eliana and Malana, the journey forward in this new life is still unfolding. 
Time will tell
The Pinckney girls walked onstage at the March for Our Lives rally to face thousands of people. Malana, who hid under a desk with Jennifer while the gunman killed their father, explained that they were wearing baseball caps that honored their father.
In a firm and confident voice, Eliana plunged right into the issue at hand.
"I lost my dad to gun violence in 2015," she said. "And it was really tough, not only for me but for the rest of my family and the rest of the community. And it made it feel almost as if church wasn't a safe space. I don't want for it to be like that for our schools."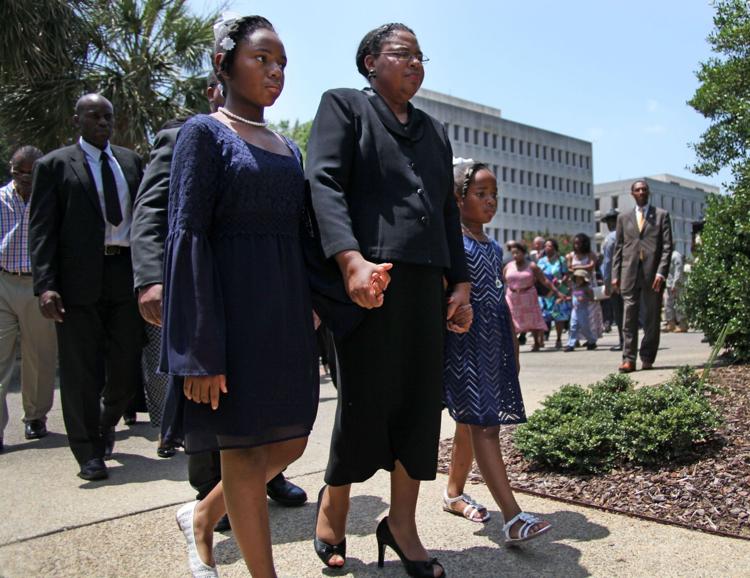 Schools were for learning, churches for worshipping. Not dying in a barrage of gunfire.
"It's not right. We need to stop it. We need to change things. We need to make America a better place, and to do that we need to get rid of guns and close the loopholes and make it better for us as kids in America."
Jennifer nodded beside her, smiling with pride.
Despite their recent public comments, Eliana and Malana still mostly like to focus on normal things — friends, school and, especially, competitive dance. Jennifer protects them from public invitations that don't serve a broader purpose or that cause them more sorrow.
Yet, she also cautions them: "People are definitely going to seek you out as you get older."
She expects they will continue to find their voices in the years to come.
"We did not pick and choose this life," Jennifer said. "I sure didn't pick to be thrust into the spotlight. They certainly didn't. But it's part of us now."
During the last presidential election, Eliana learned about all of the candidates and followed the race. She can debate adults and hold her own, her mother said. Would she ever want to go into politics or some other kind of public service as her father did?
"Only time will tell," Jennifer said. 
Watching from heaven
A month before the rally, the Pinckneys attended Charleston Southern University's dedication of the Singleton Baseball Complex, named for Sharonda Coleman-Singleton.
Chris Singleton, a baseball player at the school when his mother died, inspired the world afterward with his message of "love is always stronger than hate." His two siblings joined him at the dedication, along with other family members of the nine shooting victims, as he explained his life's new mission to spread that message. He wanted to make his mother proud.
At the close of his speech, he recounted the prayer he now said every day.
"Lord, will you give me the strength and wisdom so I won't let my mom down today," he said. "And with this building dedicated today to my mom and my family, I know I'm not letting her down today."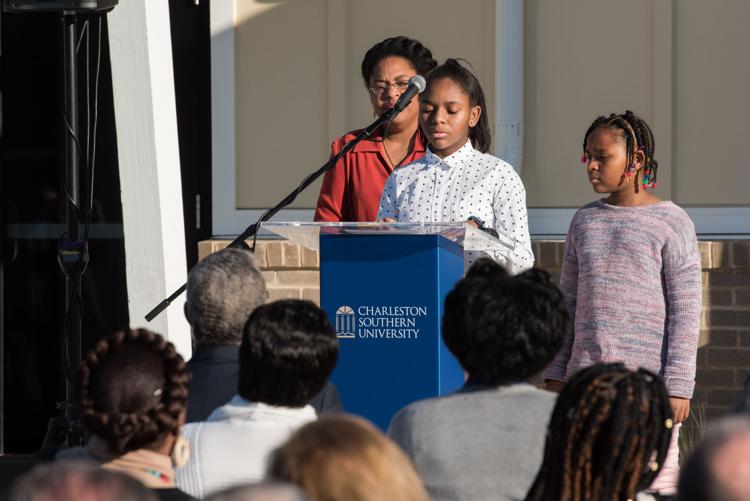 At their turn, Jennifer and the girls walked up to a lectern. Jennifer was supposed to speak. The girls spoke instead.
Malana stepped over to the microphone wearing a solemn expression, colorful beads dangling from her braids.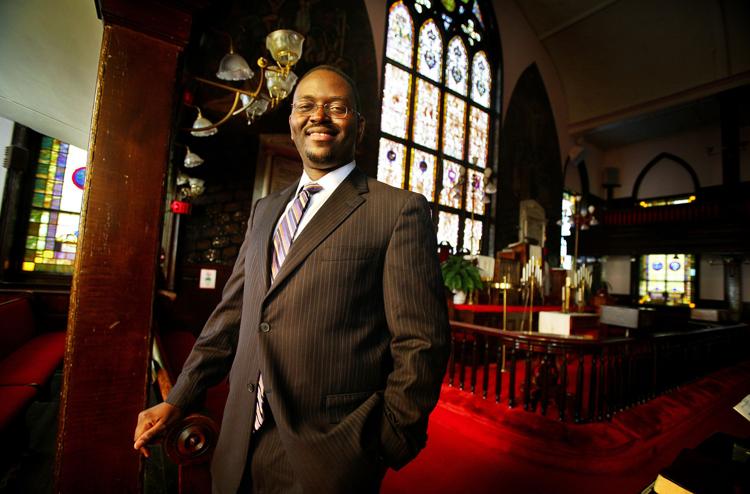 "As a survivor of the tragedy, along with my mom and three others, it is an honor to have Charleston Southern University recognize the victims of the tragedy and the survivors," she said.
Eliana stood at the microphone, too.
"We should never forget those who lost their lives," Eliana said. "Don't let an act of hate destroy that dream they had. Pick up where they left off and go to do greater things knowing each of them are watching over us from heaven."
That guides them too now, this notion that Clementa is watching them from heaven.
---