When he went to court that day, summoned to jury duty, he hadn't expected to step into a dark chapter of Charleston's history. His job had kept him on two continents in the months prior, so he wasn't up on the local news.
When he arrived in the federal courtroom as juror No. 102, he glanced at the defendant in a striped jail jumpsuit — a slim young white man with a bowl haircut. 
Dylann Roof.
Along with the final herd of 67 potential jurors, the last of those winnowed from a pool of 3,000, Gerald Truesdale crammed onto a crowded bench. He listened to 17 of the 18 numbers called out for those would serve on the jury or as alternates.
Each rose and walked to the jury box, then took a seat.
One more to go. He prepared to leave.
"Juror No. 102."
Given his job as a corporate executive, Truesdale was used to moving in front of large groups. Yet now he felt shaky as he rose from the third row. All eyes watched him step through a waist-high swinging door, across the courtroom and toward the last empty seat in the jury box.
The foreman's chair.
Search for meaning
Thursday marked one year since Truesdale and his fellow jurors agreed that Roof should die for killing nine black worshippers at Charleston's Emanuel AME Church. Over that time, none of the jurors or alternates has spoken publicly to journalists about their journey through the trial or how it has changed them. 
Truesdale has decided to share his story. It is, he realizes, part of his hometown's history. So has Emily Barrett, one of six alternates, a 47-year-old mother and dietitian at Bishop Gadsden Retirement Community who'd realized earlier in the jury selection process whose fate she might weigh.
The Rev. Sharon Risher, whose mother died in the Emanuel AME Church shooting, will speak Wednesday at the College of Charleston in honor of Ma…
For both, the odyssey began during that first long walk to the jury's box. Barrett sat in the top middle seat, Truesdale the bottom right.
The 18 strangers then followed a deputy U.S. Marshal to their jury room, about 30 feet by 15 feet with a long conference table surrounded by leather office chairs. Four men sat among 14 women. Five of the 18 were black. None knew yet who would be named alternates.
The clerk of court came in.
"Well, y'all are the lucky group," she said.
The group exchanged looks of disbelief. Without fanfare, they signed a paper with their juror numbers. Nobody shared their names.
Soon, they filed back into the courtroom. Rows of reporters strained to see them. So did Roof's mother and half of the gallery packed with victims' loved ones.
U.S. District Judge Richard Gergel struck his gavel and launched the trial's emotional opening statements. The lead prosecutor warned: "This is going to be a long and difficult trial."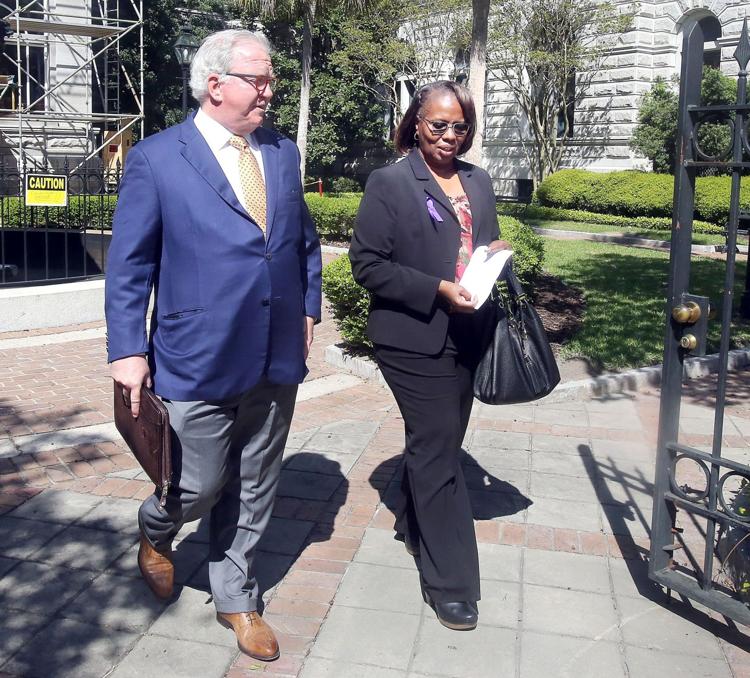 When they broke for lunch, thoughts heavy, the jurors returned to their room to find sandwiches from Jason's Deli. A few tried to make awkward small talk as they ate.
The clerk then led them one by one back into the empty courtroom. In front of Gergel sat a telephone. They each could use it for one minute.
Truesdale, a 53-year-old grandfather, gave his wife's phone number. 
"I'll be home when I can," he told her.
She was stunned. So was he.
Truesdale is a numbers guy. It hit him then, the sheer randomness of his selection.
There's some reason that I'm here, he thought.
He had grown up in Charleston and Mount Pleasant, where historic racial disparities persist, spent 25 years working with Fortune 500 diversity programs and now sat in judgement of a man charged with committing hate crimes. 
"It became very real to me that everyone has a purpose in life. It made me feel as if all of the pieces fit," he recalled.
But what would this puzzle look like in the end? He had no idea.
Neither did Barrett, whose two daughters attended school just blocks away from Emanuel. She worked with a man who had lost three family members in the shooting. Her brother was an attorney. She used to work at a prison.
Did it all mean something now?
'The pit of hell'
In the jury box, Truesdale sat closest to the witness stand, mere feet away.
The first to sit there, Felicia Sanders, described 12 Bible study members bowing their heads for closing prayer when Roof began shooting. Sanders and her young granddaughter had played dead beneath a table as he methodically gunned down nine people, including her 26-year-old son, her elderly aunt and a cousin.
As she spoke, her tears flowed. Sobs burst from the gallery.
Truesdale, a white man with a fatherly countenance, turned his body to face her, to meet her eyes, so she would feel his undivided attention to her pain. Yet he struggled to maintain his own composure as she described how her wounded son begged Roof, "We mean you no harm." And how Roof shot him again anyway. 
All around him people wept — his fellow jurors, Sanders, court personnel. For grounding, he pressed his pencil to a yellow legal notebook the court had provided and wrote, "we need to end this for closure."
Sanders described swishing her bare legs through blood so Roof would think she and the girl had been hit.
"There's no place on Earth for him except the pit of hell!" she declared.
With those words, Truesdale noticed Roof smirk. It was the only expression the killer displayed throughout the grueling trial. Angered, Truesdale wrote on his yellow notebook: "zero remorse — incapable of respect — mentally challenged."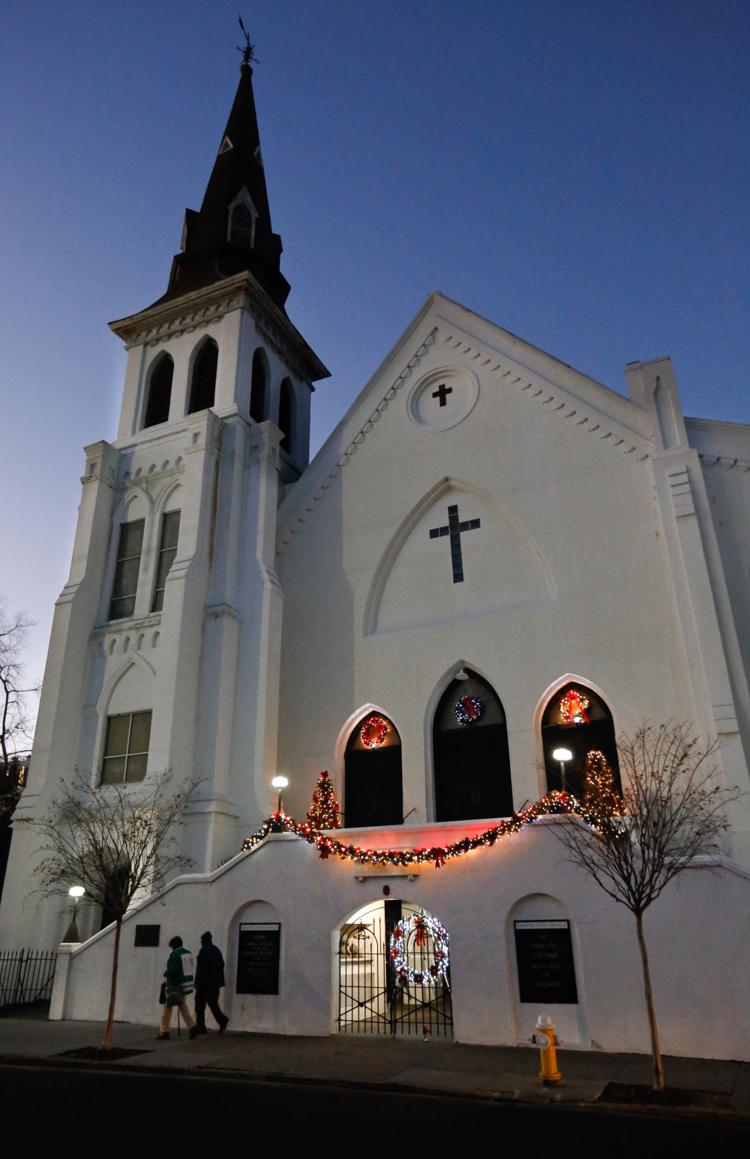 Shouldering grief
At first, the jurors and alternates rode to the courthouse as strangers in two unmarked white vans from a hotel where they met each morning. They ate together as numbers. They crammed into the jury room knowing nothing about their varied lives outside of it.
And they couldn't discuss the one thing they had in common: courtroom testimony. Nor could they go home and vent. The judge had been clear: no talking to anyone about the case.
The silence of strangers quickly gave way to chit-chat about family, hometowns, football. Most hailed from Charleston. Five lived elsewhere: Myrtle Beach, Ridgeland, Georgetown, Beaufort and Walterboro. The oldest was a 75-year-old black man, the youngest a 23-year-old white woman. Among them, several nurses. A teacher. A social worker. A truck driver. Police office administrator. Dental hygienist. 
They shared emails and phone numbers.
Four or five days in, another juror said to Truesdale: "Who's yours?"
"My what?"
"Your watcher."
They noticed that the prosecution and defense teams had certain people closely observing them. The one who seemed assigned to Truesdale, a brunette woman sitting with prosecutors, stared at him with what felt like the scowl of Stalin.
It unnerved him. If he scratched his chin, she'd write it down.
After court each day, Truesdale went home to answer work email until 2 a.m. Barrett struggled to return to normal life as a mother. She dreamed about the trial.
After hearing a pathologist describe every bullet fired into every body, she woke one night with stabbing pains like a gunshot to her torso.
"Get it out of me," she screamed. "Get it out of me!"
As exhaustion and sorrow threatened to overwhelm them all, Truesdale made a suggestion: Don't look at the grieving families. Find a focal point — a chair, a person, a flag — and master a blank stare.
He chose to focus on a deputy U.S. Marshal named Jimmy Dyches, a stocky man who wore crazy ties and often escorted the jury. Ten degrees to the left of Jimmy's tie, Truesdale could see Roof without moving his eyes. To the right, the witness stand.
It worked. He kept his composure even as certain people's testimony seared into his memory.
Felicia Sanders, who lost her son.
Sharon Risher, who lost her mother.
Anthony Thompson, who lost his wife.
Dylann Roof, who lost his humanity.
'He just hated everyone'
Soon, Roof's vitriol mixed in cruel juxtaposition with the families' sorrow. Barrett, who is white, sat near a black woman on the jury as Roof's words from a hate-filled manifesto were read out loud to the courtroom. 
"I could feel her pain," Barrett recalled.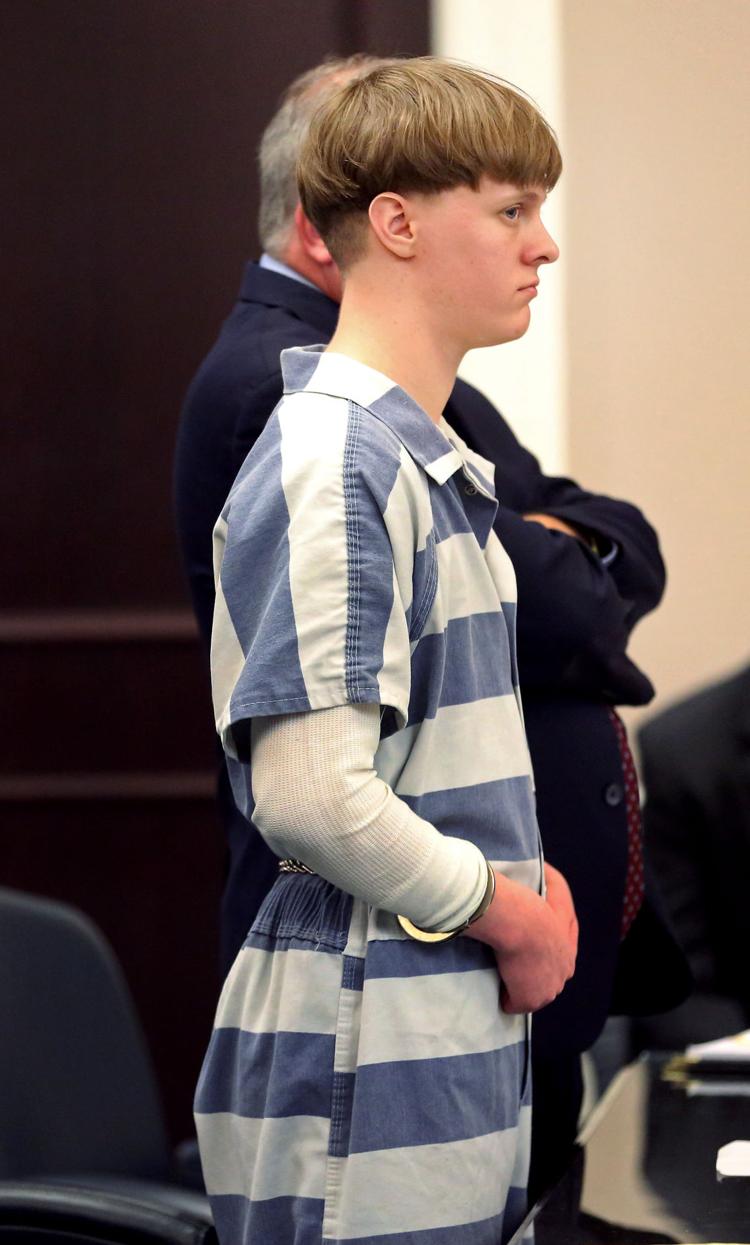 Roof's writings didn't phase Truesdale as much.
"It's what I would have expected that idiot to write," he said.
What surprised him and Barrett, however, was that Roof demeaned just about everyone — black people, Jewish people, Asians, Muslims, gays, Hispanics, psychiatrists, you name it, even other white supremacists who didn't embrace his violent extremes. 
"He just hated everyone," she said. 
Truesdale saw a young man who willingly embraced racist ideology he found online. The realization made the decision ahead simple. So did seeing the crime scene photographs.
"The end result was nine bodies on the floor. That's what we were judging him for," Truesdale said. "That was closure for me."
The personal toll
They were 18, until it was time to debate Roof's guilt. The judge announced the alternates' numbers in court, and they headed to a new room. That was hard for some, but Barrett had faith in the 12 who remained.
Truesdale's fellow jurors unanimously chose him to serve as foreman. Gergel did, too.
Before deliberating, Truesdale figured they needed some release.
"Let's get some of this emotion out," he said.
Each juror took the floor for a few minutes to vent. Or pray. Or cry. Their responses were as varied as the backgrounds they brought to the moment.
"I just don't understand how someone could do something so awful."
"Why was I chosen for this?"
"I don't know what I can do to make this easier for the families. But I've got to do something."
"I need a minute of absolute silence."
Then someone had an idea. What if they went to Emanuel as a group after the trial, to show support?
"We've got to see the church and spend some time there," they said.
They all agreed.
Then it was time.
Truesdale read the verdict form aloud, listing the 33 federal charges against Roof.
They went around the table just once: guilty, guilty, guilty, guilty …
'Seems so lost'
Roof chose to represent himself during the sentencing phase to keep his lawyers from introducing evidence that he struggled with mental illnesses and autism. He didn't want his reputation tarnished.
So, he delivered his own opening statement.
Truesdale watched Roof, until then statue-still at the defense table, lope toward a lectern seven feet away from him. He could see Roof's fingernails.
Roof glanced first at the witness seat, then at Truesdale, who watched the killer's expression glaze over, no longer focused on the people before him. It struck Truesdale as the moment beneath the spotlight that Roof had sought, the ultimate platform to state his views and rally his troops.
Yet, with all eyes on him, Roof stumbled through a short and incoherent statement.
"There is nothing wrong with me psychologically," he insisted.
Truesdale watched him shuffle back to the defense table.
"This is going to be really easy," he recalled thinking. The sentencing part at least. Not the rest. 
Hour after hour, he filled his notebook as the victims' loved ones poured out sorrow and described beautiful people now gone.
When Risher testified about losing her mother, as she wrung her fingers and her eye twitched, Truesdale wrote in his notebook, "seems so lost & deserves answers so much."
When Thompson cried describing his wife's death just before they planned to retire, Truesdale noted: "heartbreaking — won't ever get thru this."
Barrett also held a yellow legal pad in her lap. As an officer read Roof's jail journal aloud, she recorded just one line: 
"I do not regret what I did." 
She had watched Roof show no emotion for days, smiling only briefly at the mention of his cat. Now this?
"He sealed his own fate with that," she said.
Decisive justice
The consequences of their coming vote were enormous, Truesdale cautioned back in the jury room.
"I want everyone to take 10 minutes, and don't say anything. Just think about it," he said.
Truesdale wasn't a big advocate of capital punishment. His plan to vote for a death sentence left him in agony, he said, more than anything else he'd decided in his life. He chose it for the victims, for whatever closure it provided.
They went around the conference table.
Death. Death. Death. Death.
All agreed, except for one. She was 99 percent sure she'd vote for death. But she had coughed when prosecutors played Roof's confession at the moment when an FBI agent told him he'd killed nine people. She wanted to see it again. 
"Someone's life is at stake," she said.
In the clip, an FBI agent had asked Roof, "So if I told you nine people died last night, how would that make you feel?"
Roof had smiled. He didn't believe it. "There wasn't even nine people there!"
The uncertain juror interrupted the video.
"I'm good," she said.
Death.
The decision felt so quick, so simple. Was it too quick? They asked for lunch before delivering their verdict, just in case.
The next day, Gergel carried out their wishes, sentencing Roof to die for his crimes.
In search of closure
About a month later, as they'd promised, the jurors and alternates met at Emanuel. They wanted to see the church as a house of worship, not a tomb.
They arrived on a Sunday and sat up front in a space the church's pastor had reserved. The Rev. Eric S.C. Manning introduced them simply as "public servants." In his sermon, he mentioned forgiveness and prayed for the nine who died.
Barrett absorbed the joyful essence of the church, grateful that Emanuel still felt alive.
When it ended, the jurors filed down a creaky narrow staircase that ended near the door where Roof had entered the church that night. They walked down a short hallway to the fellowship hall. Barrett's eyes locked onto a bullet hole in the floor where retired Rev. Daniel Simmons Sr. had fallen.
Truesdale eyed the ceiling, not wanting to gaze upon the white linoleum floor he'd seen in the crime scene photos. He didn't want to remember the Rev. Clementa Pinckney sprawled there or the women dead beneath white tables. But on the ceiling, he saw a bullet hole and new security cameras.
The space felt smaller, more intimate than Barrett had envisioned. She realized how close Roof had stood to the people he shot.
She also watched children run around the space, carefree in their church.
"It felt like closure," she said. 
Manning spoke with them in his office. He was thankful they came and remains appreciative. 
"We will always love, respect and honor them — not only for their public service but also for their love and compassion," he said.
When the group left that Sunday, Barrett and another juror, who'd come with her husband and young daughter, walked toward the Charleston Gaillard Center nearby. The rest had parked in another direction. 
At a light, a woman suddenly ran up and touched their shoulders. It was Felicia Sanders, the shooting survivor. 
"I saw you and told baby girl it was you all!" she said, grinning.
Then she hurried back to park her car and bring her young granddaughter to meet them. They were coming from a different church they now attend.
They all hugged, even the children, and stood in awe of this chance meeting. It felt so reassuring, Barrett recalled, to embrace Sanders and, especially, to see the child survivor smile and hang on her, still full of energy and love. 
Drawn to return
Truesdale had wanted to greet Sanders that day. Yet he couldn't.
Tears had filled his eyes, and he didn't want her to feel his pain on top of her own. He walked away, then broke down.
About three weeks later, he returned to Emanuel. This time, he went alone.
He found himself drawn back again, then again after that, and began to go every few weeks, always sitting in a different pew. He wasn't sure why.
It hit him one day in the way his eyes scoured the crowd. He was searching for the people he'd seen on the witness stand, the survivors and families whose grief he'd felt so deeply. Most, however, didn't attend Emanuel anymore, or hadn't in the first place. 
Yet Truesdale still wanted to meet them in normal life. He wanted to hug them and let them all know that by the trial's end, each juror felt as if he or she had lost a grandmother, an aunt, a wife, a son.
He wanted them to know that the jury voted easily and quickly.
A year later, he still wants to offer that. He still looks for them wherever he goes.