Three years after the unimaginable happened, the pastor knew that the worshipers gathered before him were still hurting.
But most of all, the Rev. Matthew L. Watley told them, he knew they still had burning questions. How could they not? Three years ago to the day Sunday, a stranger had entered Emanuel AME Church while a Bible study was taking place and shot and killed nine black churchgoers.
Before Watley led the service, Emanuel's head pastor, the Rev. Eric S.C. Manning, reminded the congregation why they were there. The crowd of roughly 200 grew quiet.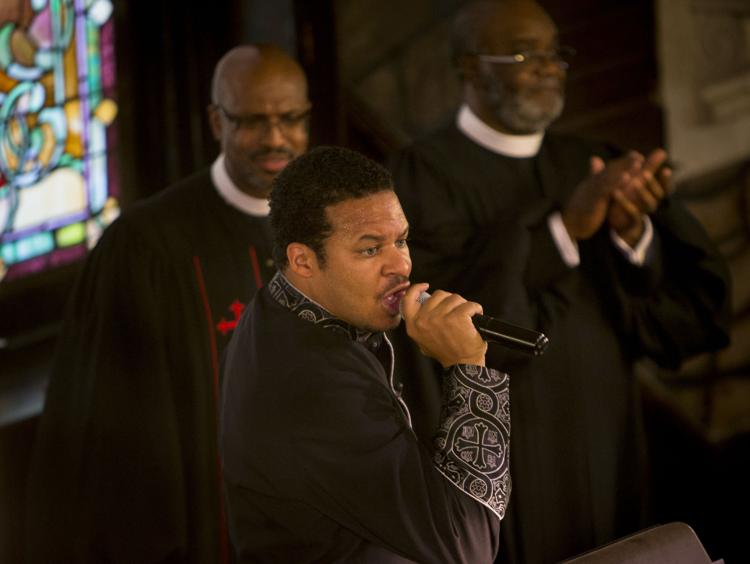 "Today, we pause to remember with thanksgiving and sorrow those faithful nine martyrs at Mother Emanuel AME Church who fell victim to racism and hatred and now live in eternal victory in Jesus Christ," Manning said. "We also give thanks today for those who survived the Emanuel tragedy and for their continued witness to the relentless love of God. May God continue to strengthen them as they live to tell the story."
He took note of those who lost their lives that day: Sharonda Coleman-Singleton, a teacher and mother; Cynthia Hurd, a wife and library manager; Susie Jackson, a mother, grandmother and dedicated church servant; Ethel Lance, a mother, grandmother and retiree; Myra Thompson, a mother, retired schoolteacher and aspiring minister; DePayne Middleton-Doctor, a mother, community development retiree and minister; Daniel Simmons, a retired pastor and church administrator; Tywanza Sanders, a recent college graduate and aspiring poet; the Rev. Clementa Pinckney, the church's pastor, as well as a father and state senator.
The large crowd, including Charleston Mayor John Tecklenburg and his wife Sandy, listened attentively throughout the three-hour long service, filling the pews in Emanuel's main sanctuary. The air inside the church was hot, but few seemed to notice as they focused on words of faith and remembrance. 
Visiting from his church in Glenn Dale, Md., Watley was at Emanuel Sunday morning to lead a special worship service honoring the lives of those killed in the racially motivated attack. He made no mention of Dylann Roof, the self-avowed white supremacist who committed the murders and now sits on federal death row. Rather, he focused on the pain and questions that still linger. 
"I wonder if there's anyone here who has ever heard this one ... before at church: 'You know you really shouldn't question God,'" the pastor asked aloud.
"Listen, if God can't handle my questions, he really ain't God," he continued. "Some bitter, gnawing, nagging, real questions that remain even (after) three years. And honestly, these questions continue to haunt us and interrupt our daily routine."
And all of these questions, Watley said, start with "Why?"
"So can I just suggest to you, brothers and sisters, that ... you have the Biblical right to ask God any question you want," he said.
The message seemed to resonate with the congregation, as Watley's remarks were met with sounds of applause and praise.
"The truth of the matter is God is not responsible for what happened three years ago," the pastor said. "When you see things in the world that are not good, they are not a result of God's creation — they are a result of man's corruption of God's creation."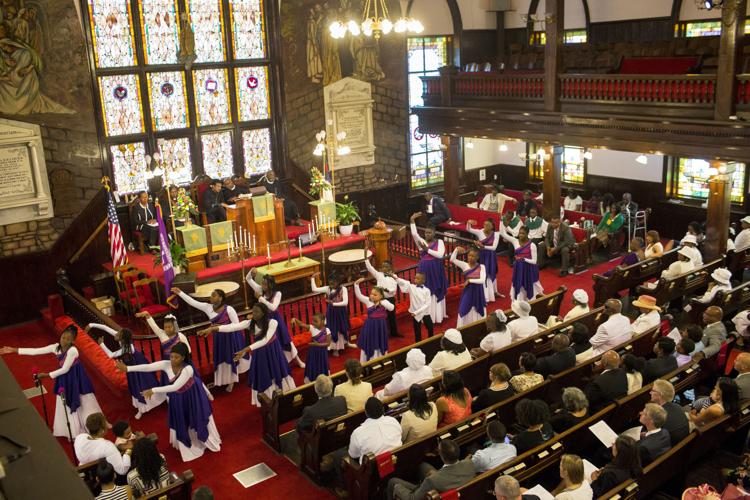 Despite the somber circumstances that brought these worshipers together, those who gathered sang impassioned hymns and raised their arms to the heavens as worship leaders led them in prayer.
Mother Emanuel's children's dance group spun and swayed to worship hymns as the congregation sang and clapped along.
Oh Mama, mother Emanuel/
You taught your children well/
To Love instead of Hate
At the service's end, the bells atop the centuries-old church rang as worshipers poured out of the dimly lit sanctuary and into the sunlight.