Drums beat, a trumpet bellows and voices rise up in jubilant greeting of the morning, Pentecost Sunday. It's a joyful day in the Christian church. Yet, here at Emanuel AME, sorrow still clings to the atmosphere, even two years later.
Memories of the nine who died here linger everywhere. They rest in worn spots on the pews. They float from the choir loft and resound from the pulpit. Downstairs in the fellowship hall, where blood flowed that night, bullet holes remain in the walls and tiles.
The date —  June 17, 2015 — doesn't feel very far away.
The deaths of the church's senior pastor, most of its ministers and several lifelong members affected every aspect of worship here. The losses still touch parishioners who remain alive, the ones left to discern what Mother Emanuel's new normal feels and worships like.
Two years after a gunman killed nine people in Emanuel's fellowship hall, the church remains an active house of worship trying to find its footing with a new alter ego, that of a prominent stop on national civil rights tours and a destination for people from around the world who want to show sympathy and unity in the face of racial hatred.
Journalists have come and gone. Documentary crews have filmed their pieces. Visitors have toured the space and filled worship services. Countless tourists have snapped photos of the now-iconic white stucco building. 
For almost a year now, the Rev. Eric S.C. Manning has served as Emanuel's pastor. He inherited a church wrought with grief, its leadership in upheaval and disappointed family members of the dead seeking spiritual care elsewhere. His arrival, in the middle of last year's shooting anniversary events, came suddenly and with no manual provided. 
So he made changes intended to foster healing, such as moving the church's Bible study upstairs to the sanctuary so those who can't bear to enter the fellowship hall, particularly shooting survivors and victims' loved ones, might attend. And as the choir wraps up the first hymn of Pentecost Sunday, another one of his changes is about to take place. A sturdy man with a shaved head and glasses, Manning stands in the pulpit to announce it's time to welcome visitors.
Before he came, this welcome sat deep into the service, sandwiched between several hymns and readings beforehand and the offering and sermon afterward. Visitors received individual recognition, and often they'd say a few words. But as the number of visitors swelled, and the welcome stretched on longer, it felt to some more like a centerpiece of the service than a courtesy to guests.
On this Pentecost Sunday, visitors comprise nearly a quarter of those gathered in the pews. They stand together for a joint, brief welcome from the pastor. Then they sit, and church members greet them with a short song.
Emanuel, God is with us. Emanuel, in Him do we trust. We welcome you to this holy place. We welcome you with our warm embrace. We welcome you, we welcome you to Emanuel.
No individual names, no comments. Then it's on to the call to worship.
Manning made the change in his quest to balance the needs of the church with those of visitors and the community. 
"I did not want worship service to continue to be a spectator sport," he says. "Some people may not agree with me, and I understand that. But my job is to protect worship."
Catalyst of loss
After the visitors' welcome, Elnora Taylor sings from Emanuel's choir loft, where shooting victim Susie Jackson's soprano soared for most of her 87 years. Taylor misses the sound. She misses hearing the distinctive baritone of the church's slain pastor, Clementa Pinckney, from the pulpit. She misses them all, the people she grew up with and worshipped with her entire life.
Taylor, a retired nurse, once worked in hospice, but, like so many here, still struggles with the heavy yoke of loss that clings to the regal crimson and dark wood sanctuary.
"We've just got to face the reality. Death is hard for everybody," she says. "It's something you never get over. We all hurt. But we've got to move on."
She tries to heal by honoring those who died.
Before Pinckney's death, Taylor was helping him launch a new community outreach. Since his death, she has continued to organize what is now called the Clementa C. Pinckney Community Health Fair each year. She also expanded the outreach to include feeding people facing homelessness. Pinckney's wife and younger daughter, who both survived the shooting by hiding in his secretary's office, have attended the health fairs along with his father and older daughter.
Now Taylor has eyes on expanding both outreaches. In August, she hopes to hold a health fair for children returning to school. In November, she wants to begin holding the homeless event monthly.
Emanuel needs it. The broader community needs it. And Pinckney would have wanted it. 
"Everybody knows Clementa Pinckney was a community man," Taylor says. "That was just his heart. He loved to help people in the community. He was full of love and grace and kindness."
Taylor wants to ensure that, away from the spotlight, Emanuel lives out that commitment. She isn't alone.
Casting light
Manning has spent the past year grappling with everything from church shooter Dylann Roof's death penalty trial to unabating requests for tours and speaking engagements to questions about God's will in the midst of evil. He's done so with the fellowship hall on the other side of his office door. 
He's tried to figure out when to open Emanuel's doors and when to utilize the power of his pulpit. And when not to.
In April, he took Republican congressional candidate Sheri Few to task for a political ad in which she held a military-style rifle while attacking two of her Republican opponents for voting to remove the Confederate battle flag from the Statehouse grounds after the racially motivated shooting at Emanuel. Manning accused her of trying to score political points on the back of the tragedy.
"I want to make sure that this community continues to know that Mother Emanuel will continue to speak out against injustices that we see," he told reporters gathered in the church's sanctuary.
Not long after, U.S. Rep. Jim Clyburn joined former Charleston Mayor Joe Riley in Emanuel's sanctuary to discuss the myth of a "post-racial America." The next month, Alex Sanders and the Rev. Nelson B. Rivers III gathered in the same spot to discuss racial equality and launch a series called "Living Your Truth."
Also that month, Facebook CEO Sheryl Sandberg visited the church during a stop to promote her new book on handling trauma and grief. Her visit followed one by Facebook founder Mark Zuckerberg, who attended a service at Emanuel.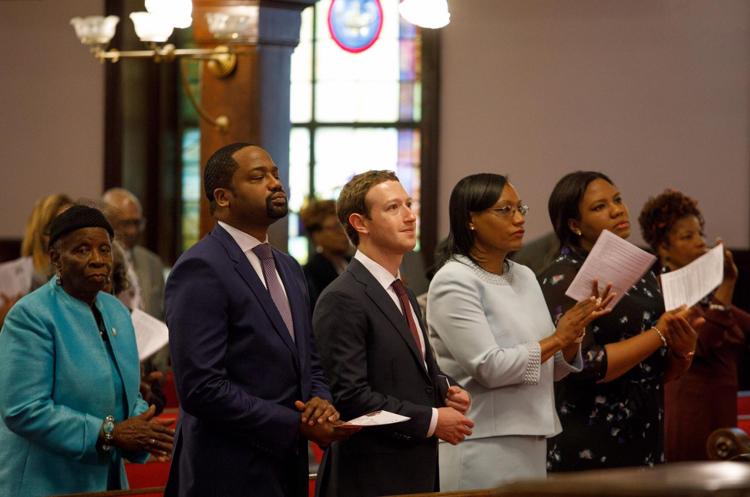 Manning points to the book of Matthew, Chapter 5. In it, Jesus goes to a mountain and tells his disciples: "You are the light of the world." They needed to spread the message of God's love to a broken world.
This resonates with Manning, a father of two, whose desk now faces a bank of security camera images. 
"God has allowed me to be a light," he says.
God has allowed Mother Emanuel members to be lights, too. In fact, this year's anniversary events are entitled the Light of Hope.
Yet, it isn't always easy. Or clear cut. Some members long to return to the Emanuel that existed before June 17, 2015. 
"I don't think God desires that for us," Manning says. "He wants more from us — to be that light at the end of the day."
Hurt and pain
The second anniversary's approach on Saturday brings with it questions about closure. Roof's federal hate crimes trial ended in January with a death sentence. He then pleaded guilty to state murder charges and has since been moved to an Indiana prison that houses the federal execution chamber while his appeals go through the courts. 
For the victims' families, the sentence ended one chapter of their ordeals. But grief remains strong. And the nine days of events planned for the anniversary have required working in concert with church leaders to honor those who died, despite unresolved discord.
Dan Simmons Jr.'s father, a retired pastor who normally led the church's Bible study, died that night with many of his regulars. After the shooting, Simmons' family launched the Hate Won't Win Movement to unify people of different races and backgrounds. And as they did last year, they will hold a unity walk starting at 9 a.m. Saturday from Marion Square to Emanuel and then to the Gaillard Center.
Simmons partnered with Emanuel to ensure the walk goes smoothly, but he remains mostly disappointed with how church leaders ministered to the victims' families and how they handled donations that poured into the church. 
Some felt Emanuel's leaders had failed to properly care for the grieving relatives of the dead, and they faulted the church for keeping more of the $3 million-plus in donations than it divided up among the families of the nine who died and five survivors.
"All of us make errors," Simmons says. "But a lot of what happened caused a lot of hurt and pain. There's a difference between forgiveness and trust."
Forgiveness. It's the mantle they all must carry, the question they all get, after several loved ones of those killed quickly and publicly forgave Roof. But some want Emanuel and the shooting defined as much by social justice and community service.
Since her mother's death in the shooting, the Rev. Sharon Risher has traveled around the country pushing for gun reforms and addressing racial inequalities. The Charlotte resident pledges to continue that work and wants Emanuel to as well.
"It's understanding and using the tragedy as a catalyst to give back," Risher says. "I feel like now they're saying, 'We're here. And we're always going to be in the conversation about race. We're going to step up.' "
Writing history
Liz Alston has written about 900 pages of personal notes from her days at Emanuel, where she's worshipped for 49 years. The church's historian, she feels the weight of rewriting its history to include the massacre. However, the importance of the task will require her to leave town, to find a quiet space to think and write and edit. 
"The history has to be rewritten, rewoven with what has happened," she says. "But a rewriting of history has to be thought out very carefully."
After all, the massacre is part of a 200-year history across which common themes bind Emanuel's people. Racism. Violence. Death. Endurance. Faith.
The church began its life with a class leader named Denmark Vesey. The former slave had bought his freedom, but his family remained in bondage. In 1822, he led plans for a massive slave rebellion across Charleston. It would have launched at midnight on  16, a tick of the clock carrying it into June 17, the night of the shooting at Emanuel.
However, white authorities learned of Vesey's plans, then hanged him and 34 others. Whites also torched Emanuel and forced her members to worship underground. Yet, after the Civil War, Emanuel rebuilt. Its sanctuary on Calhoun Street later welcomed such civil rights icons as Martin Luther King Jr. and Booker T. Washington.
That history now leads to a modern act of racial violence.
"Dylann Roof is part of Emanuel's history, whether we like it or not. How do we find that balance without giving credence to him?" Alston says.
It's a question that no amount of donations, no spotlight, no volume of visitors can answer. Instead, the people of Emanuel must answer it. They have spent two years trying to do so. 
Willi Glee would have been among the 12 gathered for the Bible study on June 17, 2015. However, at the last minute, hungered gnawed and he decided to grab something to eat. It wasn't like him.
Instead, about an hour later, he received a call from survivor Polly Sheppard: "They're all dead."
Two years later, Glee serves as Emanuel's trustee pro tem and guides many tours of its history. Typically, at least two large groups come through each week. Then there are the tourists who stop in and ask to look around. Interest remains high.
"We've come to realize that there is a new Emanuel, and it's never going to be the way it used to be," Glee says. "It's like a different space now. We have to accept that people coming in and out is our new normal."
That includes figuring out what to do with the fellowship hall. It spans almost the entire first floor of the church. Since the shooting, members have used the space as usual: for luncheons and dinners, Bible studies and myriad meetings. People have prayed and studied and walked where nine people died. 
The room even looks as it did that day. Same wood-paneled walls, same round white tables, same fold-out chairs. Same bulletin boards and raised altar. 
Yet the historic building has termites, her paint is chipping away and the bullet holes haven't been repaired.
Some members want to overhaul the fellowship hall and transform it into something new, a step forward. Others want to preserve it exactly as it is, an historic space.
Glee has mixed feelings. He's leaning toward a hybrid. Maybe they could take panoramic photographs of the room and then renovate it.
When Manning arrived, he thought perhaps of preserving a section of the room and renovating the rest. Now he's less inclined to change it. History lives here. The lives and deaths of the nine who died here linger in the collective conscious of the congregation, shooting survivors and the victims' loved ones. 
Alston sees it from a historian's view.
"Those who forget their history are doomed to repeat it," she warns.
Too much African-American history already has been lost. She'd like to see some remodeling "without destroying the historic thread" of the space, although she realizes it will be painful and people will disagree.
With that, she pauses.
"But history is painful."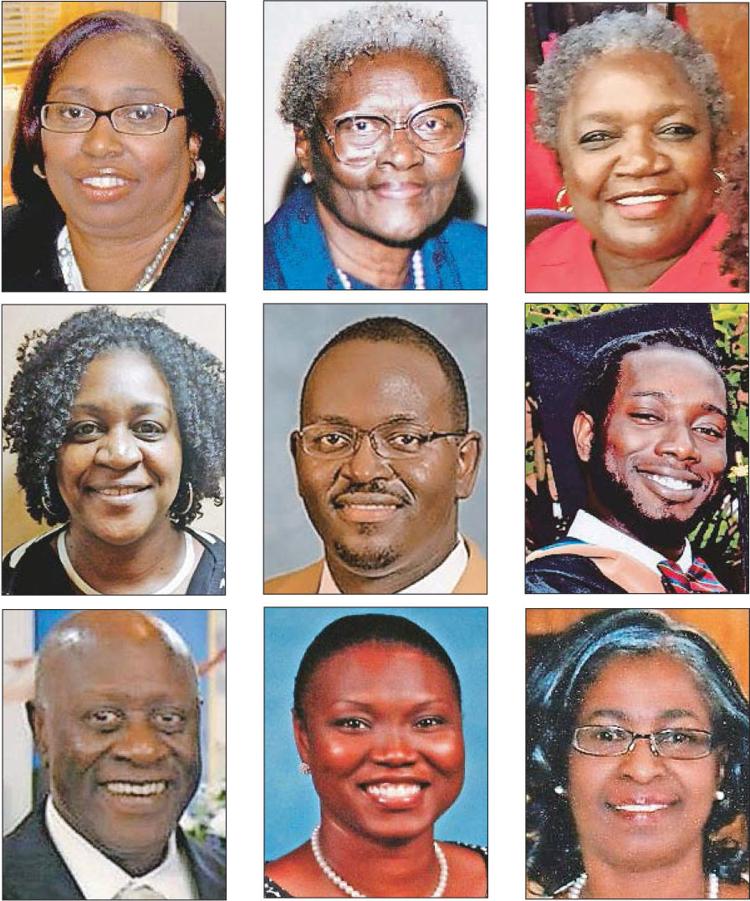 In this room
Lee Bennett, a longtime member, rushes into Emanuel one recent rainy afternoon. Dripping umbrella in hand, he darts through the fellowship hall and climbs a narrow, creaky staircase up to the sanctuary.
Members of a youth church choir from Georgia fill five pews facing him. They're in Charleston on tour and have come to Emanuel to sing for its senior citizens' group. But first, they're learning about Emanuel's history.
"Anybody know anything about the AME Church?" Bennett says.
Nearly all of the choir members, tweens and teens, are white. One hand goes up. A boy asks: Isn't this the oldest AME Church in the country?
Close. It's the oldest south of the Mason-Dixon line, an opening for Bennett to launch into his discussion of Emanuel's history.
"Anyone heard of Denmark Vesey?" he says.
No hands go up.
So he describes Vesey and the church's tumultuous journey to build the structure in which the young choir now sits and where a self-avowed white supremacist killed nine people.
"Certainly, part of our history is the tragedy of June 17, 2015," Bennett says.
The only black choir member asks about security measures at Emanuel today, one of the most common questions Bennett gets from tour groups. He explains how everyone is more careful today. But the doors remain open to all.
"We're committed to remaining who we are," he adds.
Soon, it's time to file back downstairs to the fellowship hall where a dozen senior citizens wait. A soft melody of youthful voices wraps around them.
In this very room
There's quite enough love
For all of us
And in this very room
There's quite enough joy
For all of us.
A sister of the oldest shooting victim, Susie Jackson, smiles. Several women knit. One wipes her eyes.
When the song ends, one of the seniors hops up and approaches the choir, grinning widely. Felicia Breeland, a lifelong member, explains that she used to be a music teacher way back before retirement. She knows the song well.
"Jesus, Lord Jesus, in this very room!" She clasps her hands over her chest. "It brought back the time of the shooting. In this very room it happened. Right here!" 
The room falls silent with reverence. Breeland thanks the choir for coming.
"We feel blessed to have you."