The portrait of Dylann Roof that emerged Friday from a taped confession was that of a confused, wannabe warrior who soaked up hate on the internet and waged a mission of no clear purpose against people who had done him no wrong.
A rapt courtroom watched a two-hour video in which Roof explained in a calm, almost nonchalant tone why he decided to gun down nine black parishioners at the South's oldest AME church in June 2015. It was a tale of many contradictions from a young man who hoped to sow racial unrest, yet feared facing the scorn of his victims' families and his parents.
The jury in his federal hates crime trial listened intently as Roof regurgitated venomous online hate for blacks by way of explaining his bloody shooting rampage through Emanuel AME Church. But Roof, then a 21-year-old high school dropout, seemed unclear about what he'd hoped to accomplish with the massacre or even how many bodies he had left in his wake.
Sitting in a North Carolina police station less than 24 hours after the shooting, Roof appeared relaxed, snickering and jovial at times, as he detailed his crimes and the ideology that inspired them for a pair of FBI agents. He told the agents that he targeted Charleston and Mother Emanuel because they were historic and would resonate with people as he tried to avenge perceived black injustices against whites.
Roof said he had to carry out the horrific massacre because "somebody had to do something because, you know, black people are killing white people every day on the street, and they're raping white women." He said his shooting rampage was "minuscule" compared to the damage done by blacks.
"I had to do it because no one else is brave enough to do anything about it," he told the agents.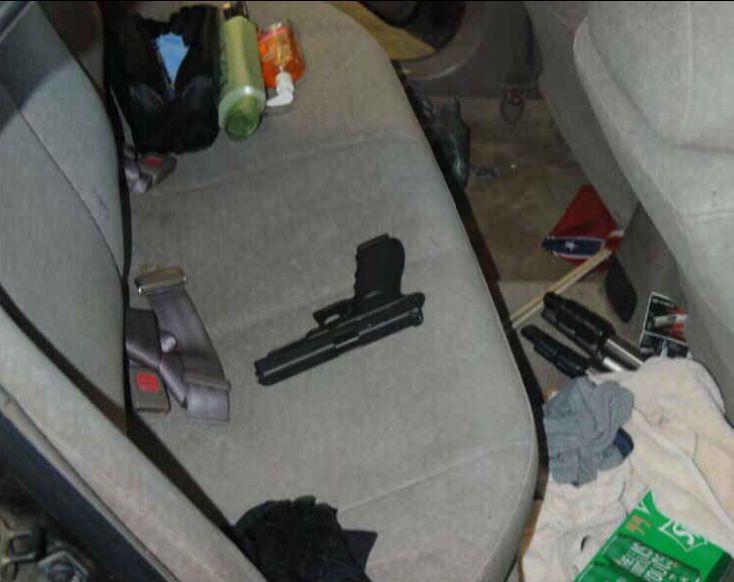 Roof began the interview by quickly telling the agents that he "went to that church in Charleston and, uh, I did it."
When the agents asked what he'd done, he initially demurred, saying he didn't want to come right out and say it, even though he wasn't concerned about implicating himself. They encouraged him to just come right out and say it.
"Well, I killed them, I guess," Roof said with a chuckle.
"Did you shoot them?" the agent asked.
"Yes," Roof replied matter-of-factly.
One agent asked how many people he shot, and Roof seemed unsure. "If I had to guess ... five. Maybe. I'm not sure. Four or five."
When they later told Roof he had killed nine people, Roof didn't believe them.
"There wasn't even nine people there!" he said, pausing. "Are you guys lying to me?"
As Roof rubbed the conference table in front of him with one finger, an agent said that eight people died inside the church and one at the hospital. Roof paused for several seconds and answered softly, "Oh well."
When asked how the deaths made him feel, Roof paused again.
"Well, it makes me feel bad," Roof added.
The comment seemed odd given Roof's stated desire to target black people. One FBI agent then recounted Roof's white supremacist diatribe and his stated plan to target Emanuel AME because only black people would be at the Bible study. The agent asked Roof why he did it.
"Uh, uh, I don't know," Roof answered.
The three adult shooting survivors crammed into the prosecution's side of the courtroom Friday with about 45 other victims' loved ones and church members, all listening stoically as Roof's confession played on two television monitors. Tyrone Sanders, whose 26-year-old son Tywanza died in the attack and whose wife and young granddaughter survived, got up at one point and stalked out, whispering angrily to himself. Other family members took notes, and a few wiped their eyes. 
The benches behind Roof that were reserved for his family sat empty Friday, two days after his mother collapsed from a heart attack following opening statements in the case. Clad in the same charcoal-grey sweater and khaki slacks he wore the previous day, Roof stared without expression at the defense table in front of him as the video played.
On the recording, Roof described how he walked into Emanuel carrying a high-powered Glock .45-caliber pistol and a military-style bag full of bullets he had purchased from Wal-Marts whenever he could scrounge up spare money.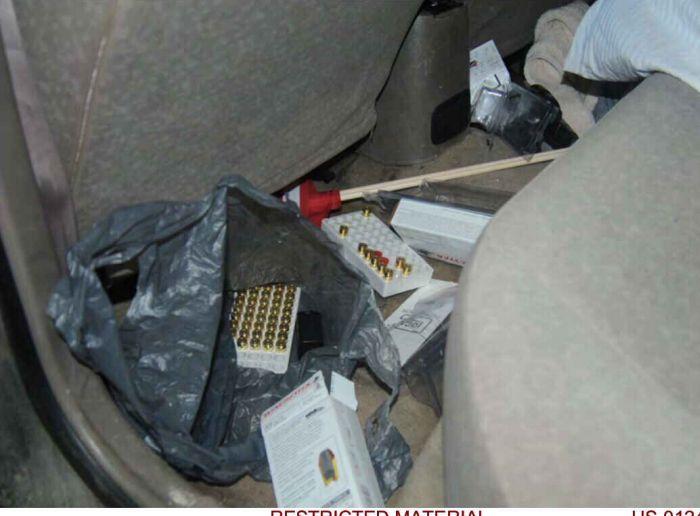 Roof told the agents he wavered for a moment when he entered the church, weighed down by seven magazines of ammunition in his bag. Counting the bullets in his gun, he was armed with 88 rounds, FBI Special Agent Michael Stansbury said.
"I was just sitting there thinking about whether I should do it or not, because I know I could have walked  out," he said.
Roof decided to stay and remained quiet as he took his seat at the Bible study table.
"Did you say anything to them beforehand?" Stansbury said.
"No, I didn't say anything to them," Roof replied.
"What about after?"
"Um, well, like during (the shooting) I said, 'Don't talk to me' or something like that,'" Roof said.
Did they react to him being in the church, the agent pressed.
"I mean, they reacted after I shot, right," Roof snickered.
Roof demonstrated for the agents how he pulled out his gun that night, whipping his right arm up in a fluid motion. He thought he had been at the gathering for about 15 minutes at that point. It was more like 50. Once he started shooting, he said, "It was very fast."
Authorities have said Roof intended to start a race war, a goal outlined in racist rantings found in a leather-bound journal in the back floorboard of his car after his arrest along with the gun he used. That journal mirrored an online manifesto discovered on a website Roof had set up.
But in his confession, Roof said he thought a race war would be "pretty terrible" and "sort of unrealistic." Perhaps, he said, a better answer would be a return to racial segregation. He added that he considered himself more of a "white nationalist" than a white supremacist, but he later expressed his view that the white race was superior to others because "we invented a lot more things than them."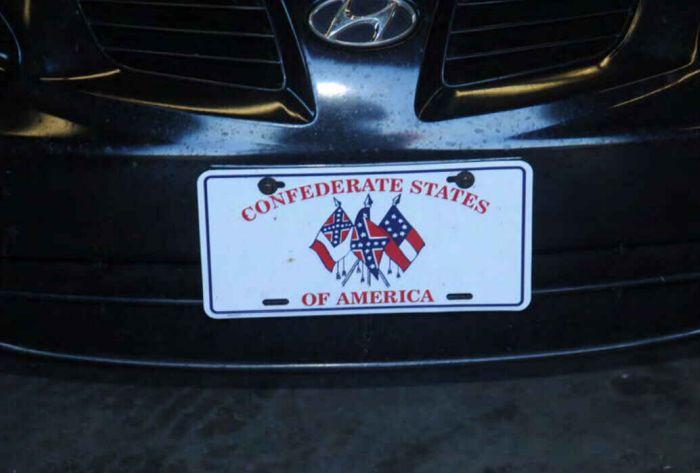 Roof also denied being a neo-Nazi, despite an affinity for movies such as "Made in Britain," a 1982 film about a foul-mouth and racially abusive skinhead who refuses to conform to authority. Agents found a copy of the movie which he had left behind in his father's home. Roof said he didn't consider the film racist. When pressed about his beliefs about the Nazis and their infamous leader, Roof said: "No, I support Hitler, sure."
Roof said he first latched onto this line of thinking after reading about Trayvon Martin, a black teenager gunned down by mixed-race Hispanic community watchman George Zimmerman in Florida in 2012. White supremacist groups have used Martin's killing to advance a racially-fueled - and false, experts say - narrative about black-on-white crime.
He told the federal agents that he considered himself to be "racially awake," unlike most white people, he said. Black people, he said, saw life through a "racial lens" from the moment they were born, while white people didn't.
"We are the second-class citizens, that's the problem," he explained in the interview. To reverse that, he said, "We stand up for ourselves." But at the same time, he told the agents that black people had never done anything to him personally.
When agents tried to find out if anyone had led him into this ideology, Roof said, "It's pretty much the internet. All the information is there for you."
The internet also led Roof to choose Emanuel AME for his attack, he told the agents. He found out the Calhoun Street church was particularly historic after researching AME churches on sciway.net, a large directory of information about South Carolina. "I didn't want to go to another church because there could have been white people there," he said, indicating that he didn't want to harm white people.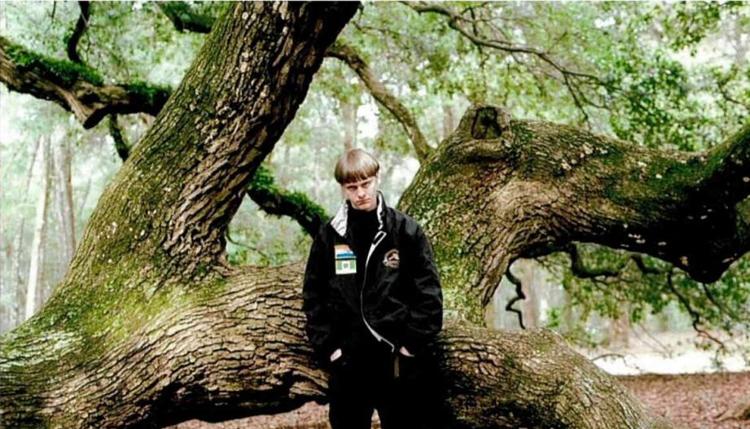 In scouting out the site, he stopped an Emanuel parishioner at one point and inquired about the time of their services and Bible study meetings, he said.
"I just knew that would be a place where there would be a small amount of black people," he said. "I thought about a black festival or something like that, but they have security." 
Agents asked if he wished there had been more people inside Emanuel that night. "Noooooo," Roof said with a laugh. "If that was the case I would have shot everyone in there."
After shooting 77 times in rapid fire, Roof said he was "pacing around because I was kind of freaking out." He left the church with bullets left in one magazine in case police awaited him outside. He slipped out the side door he'd come in and peeked out into the darkness, surprised that no law enforcement officers had arrived. He'd planned to shoot himself if they were there.
"To be honest, I was in absolute awe that nobody was out there after I shot so many bullets. What were these cops doing?" he asked.
Instead, he jumped into his car — messy with clothes, a blanket and a white pillow — parked beside the door and drove away onto an interstate. He had no real planned destination, instead driving to Charlotte and pondering whether to head for Nashville given he'd never been there before. Along the way, he decided suicide was a bad idea.
When asked if he'd commit the crime again, Roof laughed. "I might walk out (of the church). I'm not gonna lie."
The trial is scheduled to continue at 9:30 a.m. Monday.