It was a quiet Wednesday night in downtown Charleston's entertainment district. Charleston police officer Odie Delaney and his partner stopped by Five Guys on King Street for some burgers and fries, then parked their squad car near Marion Square.
Delaney, an All-American wrestler at The Citadel who had grown up in Alaska, fired up some moose-hunting videos on YouTube as he sat in the car.
"There were some bars having dollar-drink nights," he said. "It was that kind of night."
Then the radio in the squad car crackled to life.
"We've got an active shooter at Mother Emanuel Church," a voice on the radio said. "Active shooter, possibly still there."
Delaney, in his second year on the force, felt the hair stand up on his arms.
He and his partner hit the blue lights and sirens, racing down Meeting Street to Calhoun, then pulling up in front of Emanuel AME. They were among the first police officers on the scene on June 17, 2015 — a night that would change Charleston forever, and Odie Delaney, too.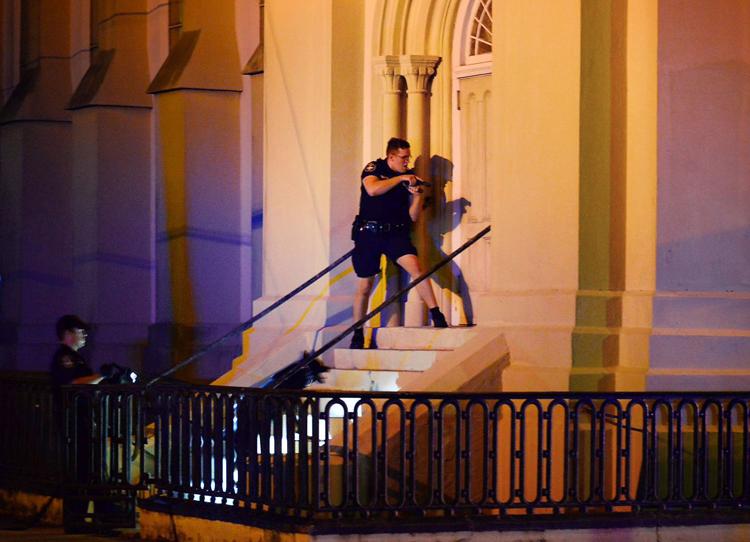 'Too late'
Delaney, one of the first three officers on the scene, hopped the fence in front of the church and drew his gun. He could not imagine the scene on the other side of the door.
Opening the door, Delaney — a hulk of a man at 6-4 and 260 pounds — saw stairs to the right and walked past a woman he would later not even recall seeing. The room was full of "nooks and crannies," so he and the other two officers formed an "L" to clear the room. There were bodies on the floor, shell casings, a gun clip, the taste of iron in the air.
One sight haunts Delaney still: An older woman and young girl, standing in front of a man bleeding from the chest. The man rocked back and forth in pain, and begged the officers to help him. The girl stared vacantly.
"I had to pass him for a moment," Delaney recalls. "Our training dictates we have to make sure the immediate threat is gone. We had two people who were not injured, and we had to make sure they didn't get killed, and that we didn't either."
After making sure the room was clear, Delaney returned to the bleeding man.
"It was too late," Delaney said.
Delaney and fellow officers spent the rest of that night clearing the church, comforting family members and survivors, and hunting for Dylann Roof, a self-avowed white supremacist who killed nine church-goers that night.
"He was gone before we got there," Delaney said. "I still try to put the timeline together in my mind of how he got out of there. I still don't know how somebody didn't see him, with every officer in the world coming to that spot ... Sometimes I daydream about him sticking around. I would have preferred that, but that's not how it happened."
After finishing his shift, Delaney went home, where his wife asked him how his day went.
"Fine," he said, before taking a shower and going to bed.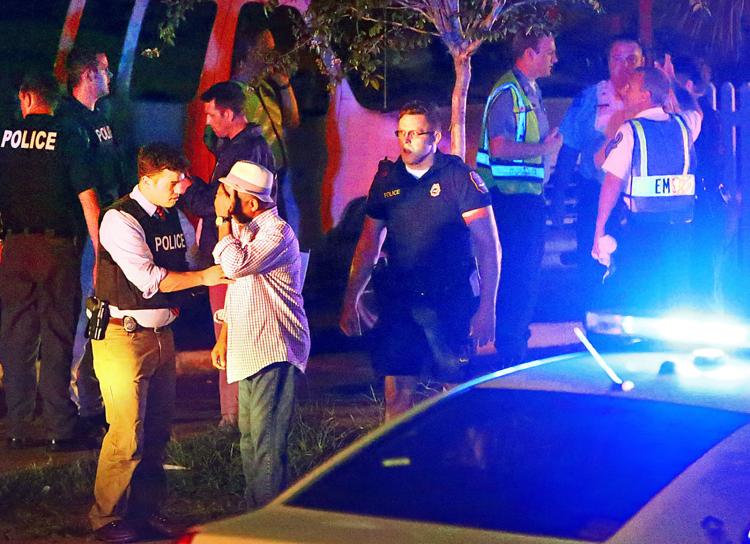 Panic attacks
Delaney called his mom the next day to assure her that he was all right, and reported to work for his shift as usual. For the next couple of weeks, he ignored the national and local coverage of the shooting and tried to tough out any emotional hangover, the same way he toughed out exhausting workouts in The Citadel's wrestling room.
"His whole competitive experience is that you just get up and keeping going," said Delaney's mother, Paulie Jackson. "Odie is a tough guy, mentally, physically and spiritually. But even very strong men are not meant to go through something like that without processing it."
Delaney had always accomplished his goals through sheer determination and hard work. When he moved to Florida before high school, his new school didn't have a wrestling team. The football coach told him he'd start a wrestling team if Odie played football.
So Delaney played four years of varsity football, on both offense and defense, just so he could wrestle.
At The Citadel, he took a redshirt year just to train and prepare himself for a push at making All-American, which he did in 2013.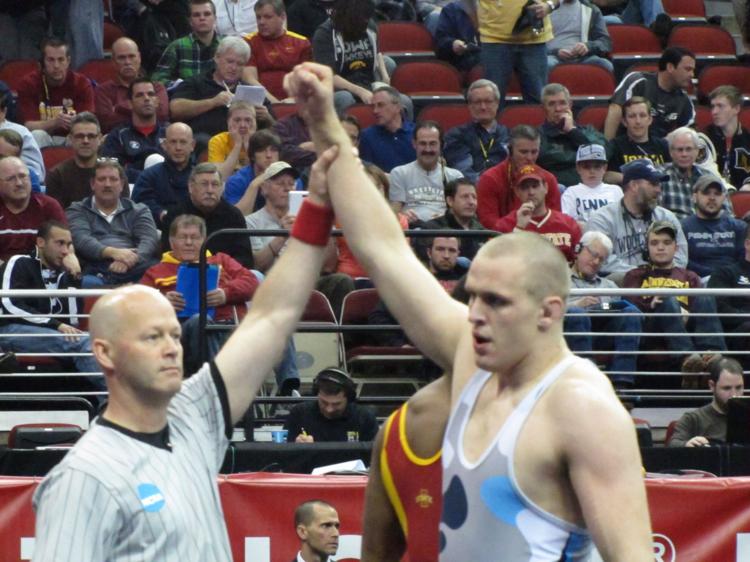 "He was very passionate and very emotional about anything that was important to him," said Citadel wrestling coach Rob Hjerling. "And when something was not important to him anymore, he could completely disregard it.
"He was a special guy; you could see how his soul was, very honest and genuine," Hjerling said. "Because he was so emotional, you had to know where he was at each day. But the beauty of that was that he'd show you. You always knew if Odie was having a good day or not."
About two weeks after the Emanuel AME incident, Delaney was riding in a car with a friend, heading out for a day of bow shooting. Out of nowhere, Delaney began to feel hot. His chest seized up and his throat closed; he couldn't breathe.
"This feeling of, 'I'm dying right now,' came over me," he said. "You panic and freak out."
At the emergency room, the doctor asked Delaney if he'd experienced a recent trauma.
"Two weeks ago, I watched a kid die and I couldn't help," Delaney replied.
Getting help
Over the next few months, Delaney experienced more panic attacks, and saw his young marriage fall apart.
"I went on with my life, kept busy and did my thing," he said. "Anytime I heard about the shooting on radio or TV, I'd change the channel. I acted like it never happened, and that's how I dealt with it.
"But my body didn't let me do that. I was choosing not to get involved, but I was involved."
Conversations with his mom, who lives in Seagrove, Fla., helped, as did talking with a Special Forces veteran about their common experiences.
"Odie told me that the morning of the shooting he had done a brief Bible study about why bad things happen to good people," his mother said. "He told me those words helped him get through the immediate situation."
But after another panic attack, this one at work, Delaney knew he needed more help. The Charleston police department offers a PEER Support program in collaboration with the Charleston-Dorchester Deptment of Mental Health and an Employment Assistance Program.
"The police department was awesome," Delaney said. "They offered help, and I resisted. I said, 'I'm good, I don't need to go.' They did everything in their power to help me, but I wouldn't let them.
"But when it started happening at work, I was afraid I'd eventually lose my job."
Delaney began to see a therapist, and started taking medication. With the help of both, he was able to get his symptoms under control.
"The attacks got smaller and smaller, and eventually I was able to feel them coming and stop them myself. Now that I know what my body does when I'm about to have one, I can sit down and remind myself, 'I'm not dying.' "
A good place
Two years after the Emanuel AME Church shooting, Delaney lives in Aiken and works as a senior emergency management coordinator at the Savannah River Site, the nearby nuclear reservation.
He's off medication and owns a house in a quiet subdivision with a weight bench in the dining room (205 pounds on the bar) and a copy of "The Age of Reason" by Thomas Paine on the TV stand. He just won a Brazilian jiu jitsu competition in Atlanta, is into long-rifle shooting and has a girlfriend.
During his time as a Charleston police officer, Delaney earned his master's degree in emergency management and homeland security, and had always planned to move on in his career. He resigned from the force in September 2016.
"Time helps a lot," he said. "I really, really love my job and I'm very thankful for that. I don't work random shifts, I have three-day weekends and I make more money and have a sweet new girlfriend. I'm doing much better."
But a couple of times a day, the young man lying on the floor at Emanuel AME that day in June two years ago crosses his mind.
"I haven't learned his name," Delaney said. "I never wanted to learn that much about him because I already regret that I couldn't help him. I sometimes imagine how much fear he felt in that moment.
"If I learned his name and how much he meant to his family ... It's not that I don't care about him — of course I care about him, I would die for him — but ... I just don't know."
He also thinks about Dylann Roof.
"I think about that a lot," he said. "... It frustrates me a lot that a lot of tax dollars and community time goes into putting him through a trial, and that he will be living off us until he gets killed."
In April 2016, Delaney and two of his fellow officers received Medals of Valor from the Fraternal Order of Police for their actions that night.
"It doesn't feel like an award," Delaney said. "Nothing against anybody out there who has one, but I don't feel like I earned one. Any cop who was at that door that night would have done the same thing I did."