I can't remember how I learned that Pho 79 had opened in North Charleston at 8780 Rivers Ave. It certainly wasn't sent to me in a splashy press release from a public relations company like the news of most Charleston area restaurant openings.
An initial Google search led me to a Pho 79 in Colorado, but I eventually found myself on the unrelated Charleston restaurant's website.
It showed photos of the menu but not the food, so I didn't have a lot of information aside from three posted reviews. One read: "Good Pho, great Bun Bo Que. Local family shop. No frills, just good Vietnamese food."
Sounds like a restaurant that belongs in Charleston's Menu.
— PM
Pho 79 is located in the back corner of a Piggly Wiggly-anchored strip mall. Steps away is another new, locally owned restaurant: Chef Racks Garlic Crabs, where Jamal Flowers serves a sauce he says sets his crabs apart.
Pho 79 also has food that stands out.
---
Broth, noodles, herbs, meat
From the large parking lot, I could see that the white-walled restaurant with nearly no décor was more than half full. That meant there were 10 people inside the 18-seat spot.
Each table was being served piping hot bowls of pho crafted by a chef who was barely visible behind a partition guarding the small kitchen. Music from a children's television show rang from an iPad, cradled by a small boy whose head poked up from behind the wall.
Without having to ask, it became clear that one reviewer was correct — I had stumbled upon a small family business.
Pho 79's menu is dominated by the Vietnamese soup that is traditionally served with broth, noodles, herbs and different cuts of meat. There are a handful of other options — Bún Tôm Nung (grilled shrimp over vermicelli noodles), Com Bò Lúc Lác (steak over rice) and Tôm Cuôn Chiên, the tail-on shrimp egg rolls I ordered as an appetizer.
The slender fried morsels were bordered by a crackling crust covering the shrimp. It was a satisfying snack, though I soon wished I had saved more stomach space for one of the restaurant's signature entrées: The No. 17 Bún Bö Hué (the dish I believe that reviewer was referring to).
Sriracha, hoisin sauce and what appeared to be a house-made chili crunch condiment were offered on the table as toppings. The Bún Bö Hué, a spicy beef and pork noodle soup, didn't need any of them.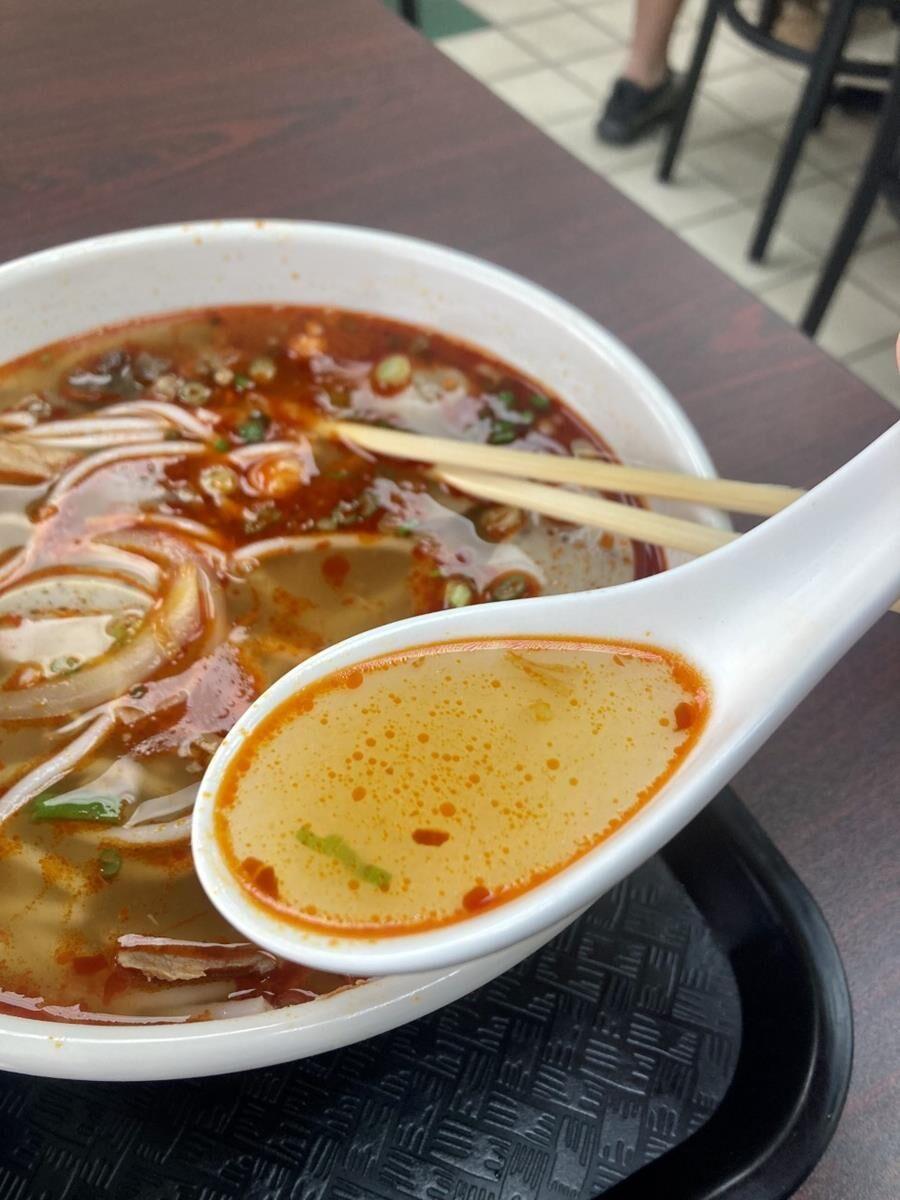 The brimming broth was dotted red, alluding to more than a whisper of spice. I felt the heat slowly build as meat steeped in the soup, growing more tender in the process. The varying cuts of beef and pork offered different textures and tastes — lean, fatty, tender, chewy — adding adventure to this one-bowl meal.
I couldn't help but smile, marveling at how this near-translucent broth was packed with notes of salt, sweet, sour and spice. For those who have trouble describing the word "umami," this was it.
My inclination about the chili crunch was correct, I later learned when my server cautioned me as I picked it up. Like I said, the pho didn't need any additives, but I just couldn't help myself.
"Don't use too much. It's very hot," he said, explaining that they combine a house-made version with a super spicy one bought in a store to form the thick condiment sitting on the table.
Doing this allowed for the development of a chili crunch with fresh flavor and a level of spice they couldn't reach on their own.
With this in mind, I applied the topping sparingly and was pleased to find it wasn't mouth-on-fire hot. The texture added another layer when combined with the slim and firm noodles that had also been soaking up that broth.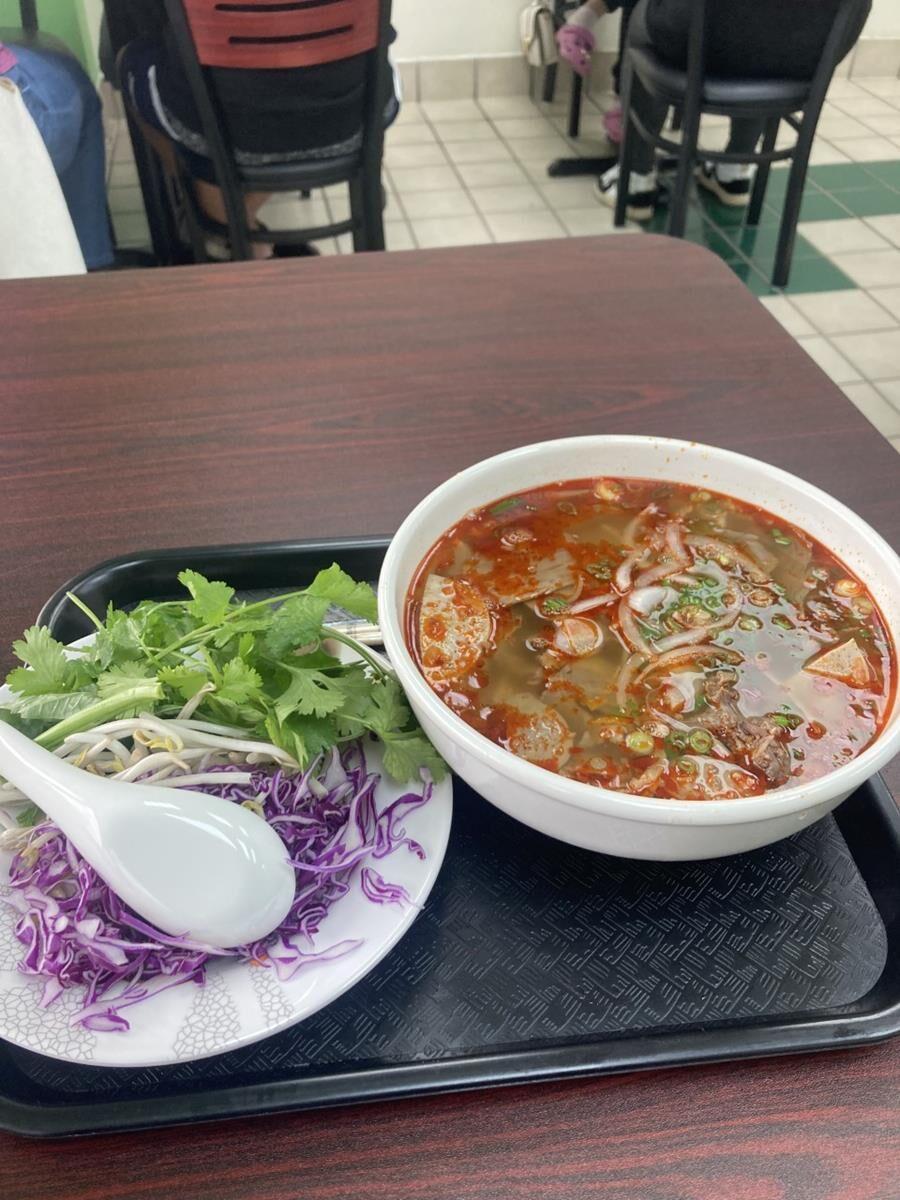 Pho 79 opened in November, I was told just before receiving a takeout container for the remaining noodles and broth. The owners are from Vietnam and ran a catering business before landing the restaurant — hence the massive portions.
I wrote this newsletter almost immediately after leaving Pho 79 while sipping on a matcha tea latte from nearby Lodi Coffee.
Quaint, hidden restaurants like Pho 79 remind me of ones my dad used to take me to when I was a kid, and they're why I look forward to these CHS Menu stories each week.
I would encourage you to give this one a try, especially on a cold day like today, that calls for warm soup.