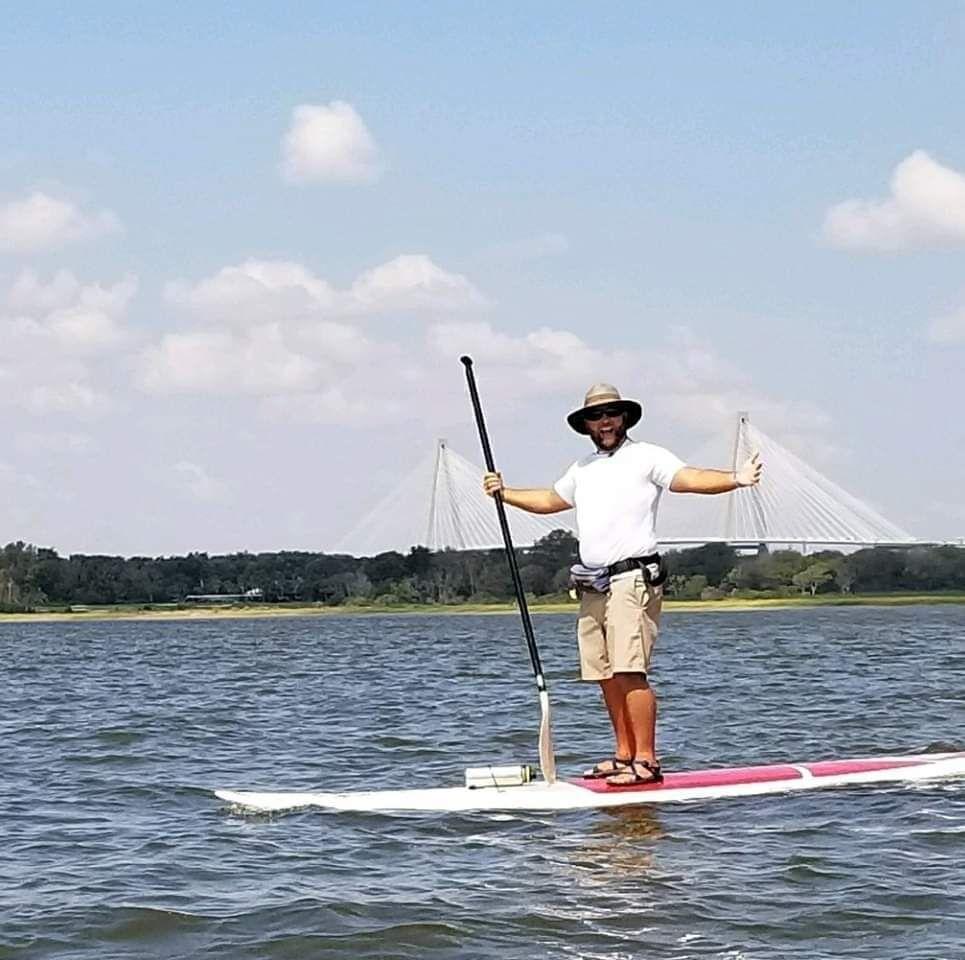 I grew up in a barn. Literally. My mother taught people to ride horses, and I was her loyal sidekick.
Well before the rise of teddy bear backpacks equipped with "leashes," I donned an upside down horse halter attached to a lead line, which my mother would affix to a gate in the corner of the arena. While she lunged horses, I had 90 degrees of freedom and more dirt than I needed to wage war with my G.I. Joes.
My love for nature developed early, probably in the dirt of those barnyards. Growing up with horses, we always had between three and ten acres of land. I had the kind of freedom kids today can't imagine.
I learned to ride horses, float down rivers and surf before I learned to drive. I spent my weekends in the woods, hiking and camping, and summers at family friends' farms in the Shenandoah Valley. When I left the Pennsylvania mountains and rivers for the foothills that surround Clemson University, I was in heaven.
A few years later, I found myself pursuing what I thought was the right thing. That began with engineering, then book publishing, then container freight trucking. I moved to Charleston, kicking and screaming the whole way. I didn't like the heat, the stickiness of the salt air, or the smell. What is pluff mud, anyway?
For a while, I went through the motions working in an office with no windows, breathing recirculated air. I took in the beauty of the Lowcountry for brief moments on my commute home. But something felt wrong, something was missing.
Experiencing the outdoors through small windows was not who I was. I started planning weekend adventures to Morris and Capers Islands, survival camping trips, and other outdoor escapades. I brought as many friends along as I could, eager to explore the unique offerings of the Lowcountry, specifically the kind you find when you leave the peninsula and the land entirely.
I took a part time job with Nature Adventures, having only spent three hours of my life in a kayak, and everything changed. Holding that paddle brought me back to the canoes and creeks from my childhood. I felt like I was home again. Or maybe home for the first time. The saltwater air suddenly felt less sticky, and more like a call to come closer.
Cruising through tidal creeks and waterways, I realized I didn't want to spend another second in a cubicle. Before long, embarking on adventures and helping others do the same became a way of life. This was what I knew and what I loved — I never looked back.
I never dreamt of playing for work. Every day, I'm in awe that Charleston harbours so many ways to live my passion for outdoor recreation. Vast ecosystems, breathtaking landscapes and seascapes lend themselves to kayaking, paddleboarding, fishing charters, crabbing, and trail riding; the Lowcountry has something for everybody, but has an extra something for those of us chasing a real-life adventure.
Every time a coastal breeze drifts over my board, I find myself pausing to catch the moment of still heat in between gusts. The turn of the tide has taken the place of an email queue, determining the pace and direction of my day. And I'll tell you what, the briney-sweet scent of pluff mud beats the smell of stale office coffee by a landslide.
The Charleston coast is like no other place on earth. Nothing about it is white-sanded, turquoise, or stoic — yet here it sits, a true paradise. Each narrow waterway is edging with life as brackish water carves a way through the seagrass, finding its way.
As I cut through those tidal creeks most mornings, I can't help but feel I'm doing the same. Each trip out on the water, every paddle to a quiet oasis like Capers Island, I feel like I'm inching closer to where I'm supposed to be and who I've always been. In a roundabout way, I've become more like the dirt-covered kid from the farm all over again — this time, with 360 degrees of unbridled freedom.
Ben-Jamin Toy is the founder of On Purpose Adventures and co-owner of Nature Adventures with wife of 6 years, Dana, who he met on the ramp at Shem Creek.