Candles flicked soft shadows across the front wall of the Arriba Room for the first time Wednesday night, silhouettes wavering behind three musicians with acoustic guitars.
The eyes of 30 onlookers sitting at long, family-style wood tables — lined with margarita glasses, taco dishes and Tecate cans — were glued to the performers' vibrating strings. It was quiet except for the music. 
In the dim smolder, you could see the musicians, all donning hats — Levi Lowrey in a ball cap, Wyatt Durrette with a banded Stetson and Travis Meadows with a feathered fedora.
If you don't know those names, you might know the names of the artists they've written songs for: Hank Williams, Lynyrd Skynyrd, Linkin Park, Kenny Chesney, Alan Jackson, Eric Church, Carrie Underwood, Luke Combs, Jake Owen, The Wood Brothers and the Zac Brown Band.
Durrette, who has been a songwriting collaborator with the Zac Brown Band for two decades and toured with the band for almost 10 years, is co-owner of Papi's Taqueria, the new taco joint on the Isle of Palms that he opened with the band's executive chef, Rusty Hamlin.
Hamlin comes with his own accolades. He was a second-place finisher on "Food Network Star," the TV series most famous for launching Guy Fieri's career.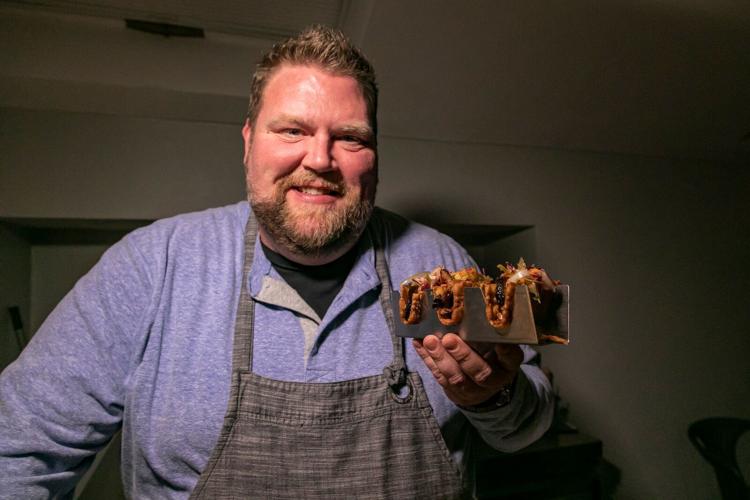 And he was the executive chef of the evening for the premiere songwriters pop-up night at the restaurant, which kicked off at 6:30 p.m. Dec. 5 with food and drink service and continued with music at 7:30 p.m. in the upstairs Arriba Room. 
The intimate space with a small bar, miniature serving station and rooftop deck, was built for private events. But it also gave Durrette another idea. With enough room for two, long family-style tables, each seating about 15 people, and a makeshift space for some stools and mic stands, it could be transformed into a listening room. 
"My favorite way to see a show and my favorite way to play is in a songwriter-in-the-round," Durrette said. "It's the intimacy of the shows. Bigger cities do pop-up shows like this in peoples' apartments, and I wanted to do something like that here."
Tickets for the acoustic show, not including food, were $30. They sold out in 20 minutes. It's unclear if such high demand was sparked by the performers' acclaim or a lust for this type of show in Charleston.
But Durrette plans on continuing to test the idea with a new songwriters pop-up every two months or so. He often brings songwriters from Nashville and other hubs to his home on the Isle of Palms, which he's owned for seven years as a writing retreat. Now he's planning on extending another invitation: to perform at a pop-up night.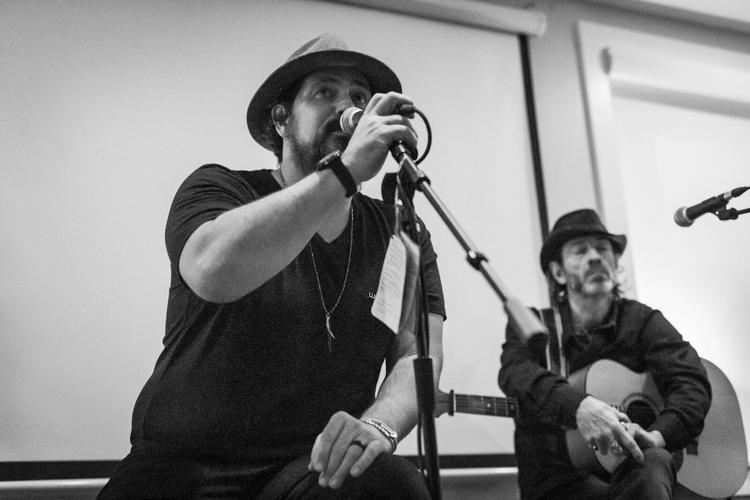 "Since it's so small, it creates a really cool demand and allows us to do it very fast," Durrette said. "Sometimes, we won't get 48 hours notice, though that's the goal. For a large artist that we know can sell out tickets in two hours, we might announce something the day of the show." 
During the performance, Lowrey, Durrette and Meadows told stories between songs.
Attendees learned that Durrette's "Beautiful Crazy," a song he wrote for CMA award-winning musician Luke Combs, was in fact about Durrette's wife Kelly, who was in attendance. He blew her a kiss. 
"For the record, she's the beautiful one and I'm the crazy one," he added afterwards to a round of laughter.
Meadows added to that laughter when he joked that he hadn't even heard the latest single he wrote for Kenny Chesney. 
"In order to hear this one, you'd have to listen to the country station, and I find that very difficult to do," he chuckled. 
He also shared his tales of attending rehab and of being there for his girlfriend as she fought breast cancer — and the healing power of music through it all. 
"It's amazing how a song can be the soundtrack of your life, how it can move you, it can heal you," he said before diving into "Riser," a song he wrote that was performed by Dierks Bentley.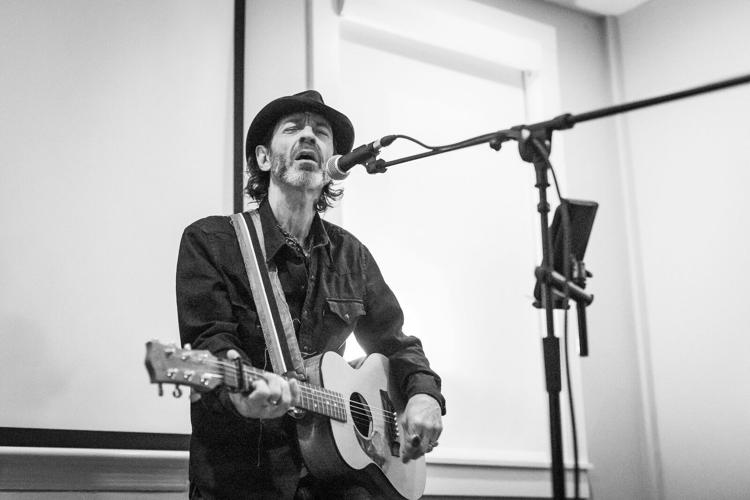 The audience was enthralled by the storytelling. 
"One of the beautiful things about art is that we all take what we need from it, as a listener and as a writer," Durrette said. "In this style of show, you get to read our diary a little bit. Songs can take on a whole new meaning for you once you hear about them on that intimate level."
You can't find shows like this at local bars and music venues, which are often littered with background noise and distractions. In the Arriba Room, everyone was immersed in the show, which went on until around 9 p.m.
And no phones were allowed, a policy that encouraged human connections during dinner and the show. 
Durrette said he felt he was doing something good. 
"I absolutely love this town," he said. "I love the culture, the history, of course, the food, the beach, the people. I love the music scene — just since I've lived here, watching it grow has been pretty cool. I wanted to contribute in my own way."
For this first pop-up, a portion of ticket sales were donated to the Mount Pleasant Gwynn's Angel Tree to provide Christmas presents for two local kids in need. 
For more information about upcoming songwriter pop-ups, follow Papi's Taqueria on Facebook at facebook.com/papisiop. The website is papisiop.com.