Jay Van Raalte, the 19-year-old lead guitarist of Charleston blues band Jump Castle Riot, was just 14 when she saw Kevn Kinney of Drivin' N Cryin' perform for the first time. It was at What the Folk Festival at Awendaw Green, and Kinney was playing a solo acoustic set — a far cry from the rough-and-raw, punk rock-and-roll of the full Atlanta band. 
But that wasn't Van Raalte's introduction to Drivin' N Cryin', a band that formed in '85 and frequented The Windjammer and Myskyns back in the day. She first heard "Honeysuckle Blue" and "Straight to Hell" when her dad introduced her to the two hits before a long plane ride to Nicaragua. She listened to them on repeat for five hours straight. 
When she started taking guitar lessons with Scottie Frier at Shem Creek Music a few years later, the first song she wanted to learn was "Honeysuckle Blue." 
"That song has grown with me," says Van Raalte. "I started out with just the riff and have added solos, harmonies, new layers and dynamics each time we've played it. It's still growing." 
A few months later, Van Raalte met Kinney at Shem Creek Music. Frier, who had a connection with the band, had told him of her fandom, and she finally got to shake his hand. He dropped by the store at a later date when she wasn't there and left her a note, encouraging her to stick with the guitar. 
"Hi Jay," it read. "It was nice to meet you. Keep on keepin' on." 
It's now framed on her wall, surrounded by guitar picks and pictures she's since taken with the band.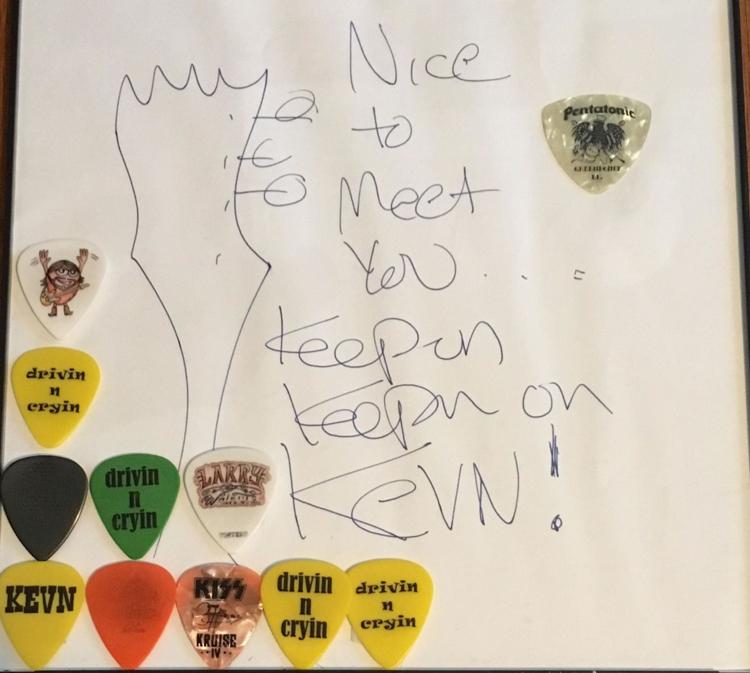 "They're so willing to see the potential in people," says Van Raalte.
The quote that inspired the name of her 10th-grade band "12 Seconds" also comes from Drivin' N Cryin': "Whether you're playing in a basement or at The Windjammer, it's about that magic. For those first 12 seconds, you're the best band in the world." 
Van Raalte still keeps that notion alive today, though she's played The 'Jammer numerous times since then. It's all about the energy and being in the moment for her, qualities she's learned from going to Drivin' N Cryin' shows. 
Ever since being introduced, Van Raalte has been a super fan, following the band into bars, where initially she was often turned away at the door for being too young.
She remembers spending an entire day outside The Windjammer with her dad to try to catch just a few moments of Drivin' N Cryin' before doors were closed to underage patrons. 
"Kevn had just come back from the beach and he recognized me," remembers Van Raalte. "He put me on the list and brought me on stage back by the sound booth to watch." 
Now, she stands in the same spot for every show: just stage right of Kevn's monitor with a full view of the band. They know to look for her in the crowd.
Just last year, Van Raalte got the chance of a lifetime to play one of her favorite Drivin' songs, "Straight to Hell," on stage with the full band at a Charleston Music Hall show. She played former Drivin' N Cryin' guitarist Aaron Lee Tasjan's guitar, figuring out as she strummed that it was in drop D, which she quickly adjusted around to get in tune. From the crowd, it looked like she was a pro.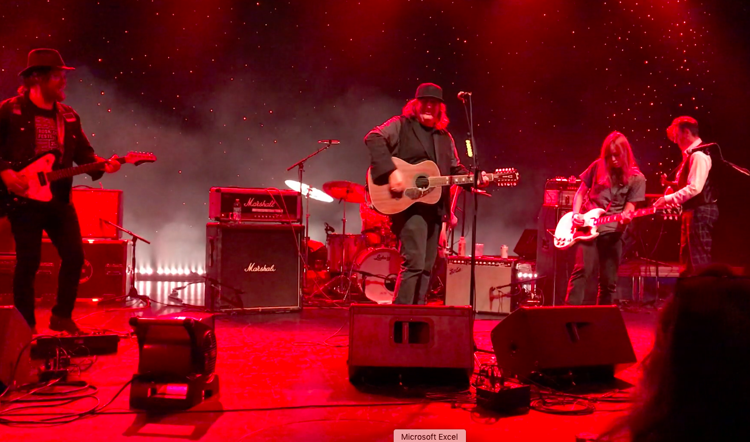 "I've never actually had stage fright, but in that moment, I almost had stage fright," says Van Raalte with a laugh. 
She's also had other coincidental encounters with Drivin' N Cryin' band members. She once jumpstarted a broken-down bus with drummer and founding member Dave Johnson on the way to a Rockers 4 Knockers concert. She also recently ran into former guitarist (now Jason Isbell's guitarist) Sadler Vaden at a Party at the Point show. He recognized her. 
"There's this weird line between idols and friends, and they do a really good job of being both," says Van Raalte. 
Now, Jump Castle Riot performs a Drivin' N Cryin' cover at every show they play. But they won't be at this upcoming Windjammer concert, because Van Raalte's idols will be playing right after their set for a dream-come-true performance. 
"It never occurred to me to hope for this moment, because it just seemed so impossible, not a real thing that could actually happen," says Van Raalte.