The Charleston music scene has been called a lot of things in the past five years, including the "up-and-coming Austin," a reflection of the late 1990s local heyday and a burgeoning hub on the brink of star power. It's also been labeled racist, gentrified and still close-minded to marginalized genres. It's been called out for lacking a show-going culture but praised for sold-out shows.
Lingering in the space between a small town and a bigger city, it's been a little behind, a little confused, a little more enterprising and a lot hopeful. And it's produced a lot of good musicians. 
But one thing it hasn't been called on a larger scale is sexist — one of those red-flag words that put people on the defensive — defined as prejudice, stereotyping or discrimination, typically against women, on the basis of sex.
And at first glance, it's not. 
Charles Carmody, director of the Charleston Music Hall, with the help of musicians Lindsay Holler and Hazel Ketchum, has incorporated a "Women &" concert series highlighting area women musicians, and organizations such as the Carolina Youth Action Project (formerly Girls Rock Charleston) have emerged to offer unique opportunities for girls in music.
There are a bounty of venue owners, booking agents, audio engineers, band managers and stagehands who are in full support of all musicians, regardless of race or gender.
But very few of them in Charleston are women, and of those, many claim they have faced more challenges than their male counterparts in pursuit of their careers. 
Underrepresented
Erin Tyler is one of the only women venue owners in town. She's owned the Tin Roof in West Ashley for 10 years. 
"In the early years, some assumed that I was a man, whether because of the nature of the business, my gender-neutral name or simply the fact that my ex handled the booking for the first year," she says. "There was one unfortunate incident when an unhappy promoter had been extremely rude and, after some emails, asked to speak to the man in charge. I had some choice words for him."
Caroline Baity, the director of marketing and assistant manager for Charleston breakout band Susto, says on the marketing and management side, the gender representation is a little more even. However, she was trivialized in her role when first starting out and talking to someone of power. 
"He suggested that I move to Nashville and answer phones for free as an intern, even after I explained that I was already running our tour marketing and handling large portions of the day-to-day activities in our office," Baity says. 
That attitude and marginalization carries over to women musicians as well.
"Even though I think women are growing in representation, I think there can always be more," says frontwoman Amber Grace Joyner of her self-titled project. "When I first started out, I thought I needed a man or men to prop me up. Back then, even three or four years ago, the scene was dominated by men and I didn't think I could do it without them. And I did need support, but the gender of my support system did not matter." 
Holler, who's been performing as a singer and guitar player for more than 15 years in Charleston, points out a dearth of women playing certain instruments. Since booking "Men &" shows at the Music Hall, where all men are vocalists and all women are instrumentalists (a reversal of the "Women &" shows), she's discovered a lack of women drummers, bassists and guitar players. 
"Finding an all-women band is a challenge still in Charleston," she says. "Most women are fronting bands but not as many are playing non-lead instruments in bands." 
Mirrors national trends 
Nationally, gender diversity in the music industry has shifted slower than might be expected. In an analysis of the top 600 songs from 2012 to 2017 defined by Billboard's year-end Hot 100 chart for each of those six years, a study by Stacy L. Smith, an associate professor at the University of Southern California, found that of 1,239 performing artists, 22.4 percent of them were women.
The numbers were much lower among people behind the scenes. Of the 2,767 songwriters credited on those songs, 12.3 percent were women. Female producers are even rarer, at just 2 percent in a subset of 300 songs across this same period, the study found.
Of the 899 nominees for the past six Grammy ceremonies, 90.7 percent were men and 9.3 percent were women, the study also showed. 
Women in a high place of power in the industry are also uncommon, according to a 2012 survey by the Association of Independent Music, which revealed that only 15 percent of label members are majority-owned by women. 
Then, turn to the #MeToo movement with pop stars such as Kesha and Taylor Swift filing lawsuits against the men in the business who they claim have mistreated them. Sexual assault is still an issue that women musicians and industry professionals are fighting against in 2018, according to Monika Tashman, a partner at New York law firm Fox Rothschild, who began her career working for record labels.
"Me Too came out of sexual assault and really terrible working conditions," she says. "But it's morphing from a movement to a phenomenon that can make real and sustaining positive change."
According to an article by USA Today, it in some ways harks back to the early days of rock n' roll. Experts say this could be due to several factors. Among them are the music industry's history surrounding the slogan "sex, drugs and rock 'n' roll"; the sexualization of women entering the industry; the competitive nature of pop music; and a lack of females in leadership and mentoring positions.
Sexism in the scene
In step with the national data, observers say the Charleston music scene is still struggling with treating women equally and with respect. 
"I've been mistaken for a 'groupie'  ... and told to leave by the crew members of bands so many times," says artist manager Gabriella Natali. "They were always very confused when I would say 'Uh, no, you leave; I work here.' I've had people tell me they had no idea I even worked in music. They just always thought I was hooking up with someone in a band."
Local R&B singer Tynishia Brown, who goes by Saevi on stage, dealt firsthand with the sexualization of women musicians. 
"When I first began my journey to get into the music scene in Charleston, I responded to an ad where a producer was looking to help artists get started," says Brown. "Long story short, the producer expected a relationship to transpire because he was attracted to me and he tried to convince me that it would be for the better if we got involved on an intimate level. He also told me how he couldn't be just friends with women. So as my producer, he wasn't interested in building a platonic relationship to help me further my career or even learn me as an artist. He wanted more in exchange for his help, which wasn't put on the flier as a requirement or disclaimer. It was a mess. I didn't trust a lot of guys in the industry for a while because of that."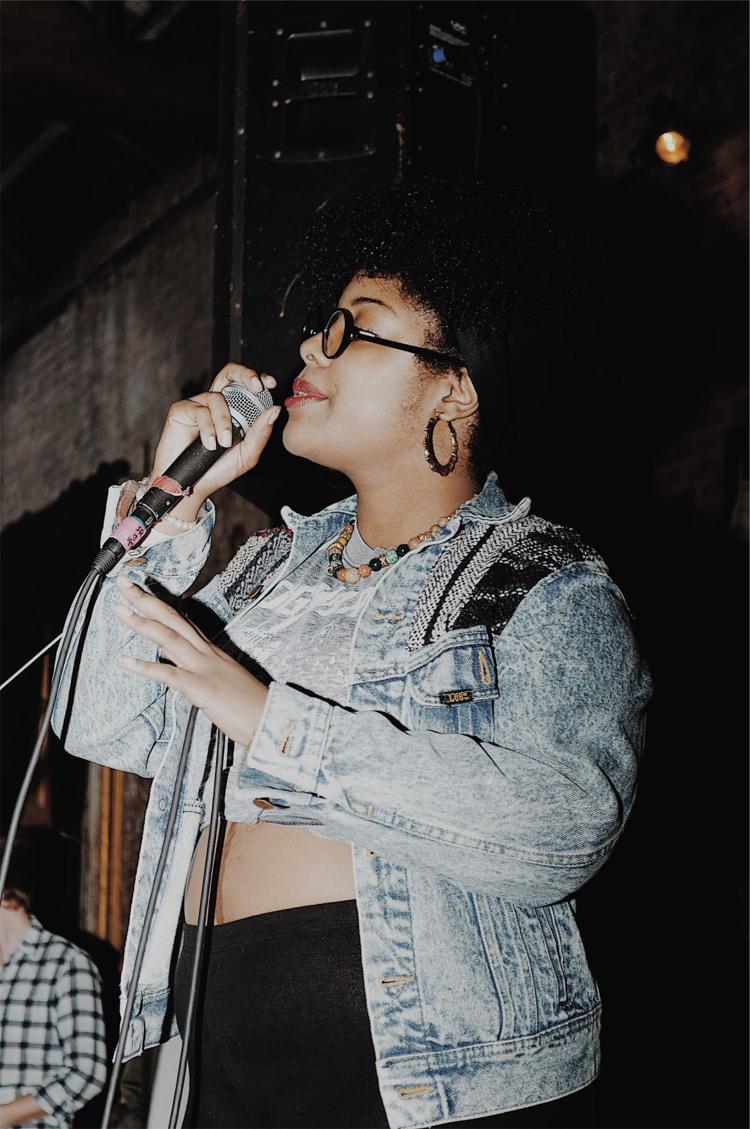 She adds, "From my experience, it either takes longer to get accepted in certain spaces within the industry, or you're expected to compromise on levels men aren't expected to."
Holler also cites the different expectations between women and men musicians when it comes to stage presence and persona. 
"Women are expected to flaunt their sexuality more than men," she says. "Men have more options. They can be angry. They can be grungy. Sometimes, I want to be those things but I feel like I can't. Instead, I'm labeled as 'aggressive' or 'bitchy.'" 
In addition, Holler highlights the simple fact that women in the scene "sometimes have to do things differently." 
"I've talked to the wives and girlfriends of the male musicians in my bands just to make sure they knew nothing weird was happening between us," says Holler. 
According to Zandrina Dunning, concertgoers, especially those who've had too much to drink, also take more liberties with women performers than they would with men. 
"I've had drunk people trying to grab me, who have stolen the mic and made announcements in the middle of my songs," says Dunning, who has been singing full-time at private and corporate events, along with bars, for 10 years.  
Says piano player and singer Katie Rose Franyo, "I started this journey when I was a young teen, and I've had things happen to me even then. Men constantly coming up to me and making sexual comments, getting comments on social media about my body, not getting gigs or being allowed to submit for gigs because I'm a female. A lot of 'man-splaining' mostly."
Hunter Park of She Returns From War also has been a target in the Charleston music scene. 
"Being a trans woman is a living hell," she says. "People don't even hear half of the terrible things spoken to or about me at shows, though this has never represented any of the people I personally work with or venues I play. It represents the world we live in and why art is the only thing that will save us."
Sexual harrassment is an issue for both performers and concertgoers.
"There's also sexual assault at shows," says Natali. "I guarantee you you could not find one woman in this town who hasn't been sexually assaulted/harassed while trying to enjoy a show."
City Paper music journalist Kelly Rae Smith not only deals with but hears about instances of sexism consistently, in Charleston and beyond. 
"Since my first week on the job as the music editor, (I've been) dealing with people in the industry who I strongly feel would treat me/speak to me with far more respect if I were a man," she says. "And I've spoken with many local and beyond female musicians who deal with this constantly, like a sound engineer assuming the woman lead in the metal band is a just a girlfriend who doesn't know how to plug in a mic, or the label guy who tells a woman she'll have to lose some weight if she wants to make it. That's every day, unfortunately."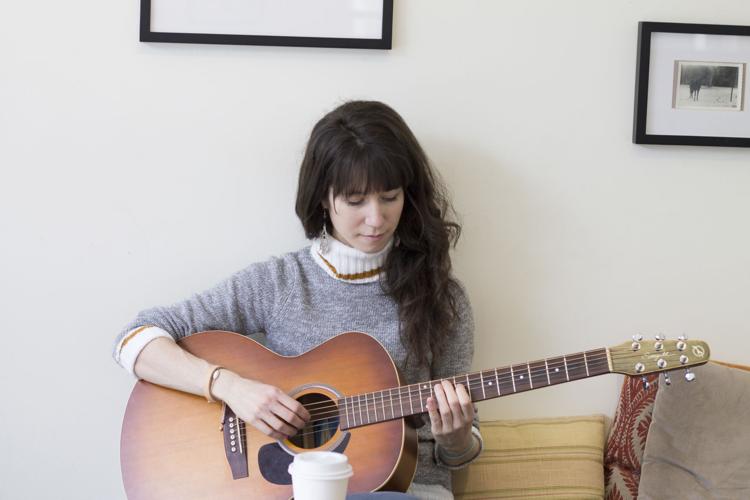 It's not just something that happens at concerts or in bars and clubs, though. Maude Desjardins, who has her own music project Matilda Dae, notes that those attitudes trickle over into daily conversation. 
"Because of preconceptions, men will often address music-related questions and comments to other men in a group conversation," she says. "Women have to step up and take their place in those situations. It's the accumulation of subtle and seemingly harmless events that can cause damage in the long-term by negatively affecting women's confidence."
Breaking the cycle
With deep-rooted attitudes built into our culture and society, it's challenging to escape the cycle, but it's something women in the Charleston music scene are crying out for, along with artists in marginalized genres such as hip-hop and hardcore. 
"Just give us the same opportunities. Just pay us the same," says performer Franyo. 
Tyler of Tin Roof adds, "It's necessary to incorporate and celebrate different cultures, races and genders in music and art. The music scene is only as good as the diversity it fosters and embraces."
"We're deep in the trenches," says Carmody of the Music Hall. "Do we have some amazing female musicians? Absolutely. But there are not enough women musicians and local venues. We have a serious lack of diversity in the Charleston music scene as a whole."
Expanding the diversity of the scene in general seems like a good place to start, and it's something that's in motion but maybe not moving quite fast enough. IllVibeTheTribe, a cultural incubation hub increasing the visibility of local and underground artists, has risen to the occasion of promoting some lesser-known artists. And venues such as the Tin Roof, Music Hall, The Royal American, Purple Buffalo and Cory's Grilled Cheese are increasingly striving to book diverse lineups that cross gender and genre. 
Another key ingredient to improving the music mix is fostering self-confidence in music and other industries for girls at a young age. Carolina Youth Action Project strives to do just that with a Girls Rock summer camp, which teaches attendees to play instruments such as guitar, bass, keyboards and drums and participate in workshops that explore ways to use music and art to address social issues.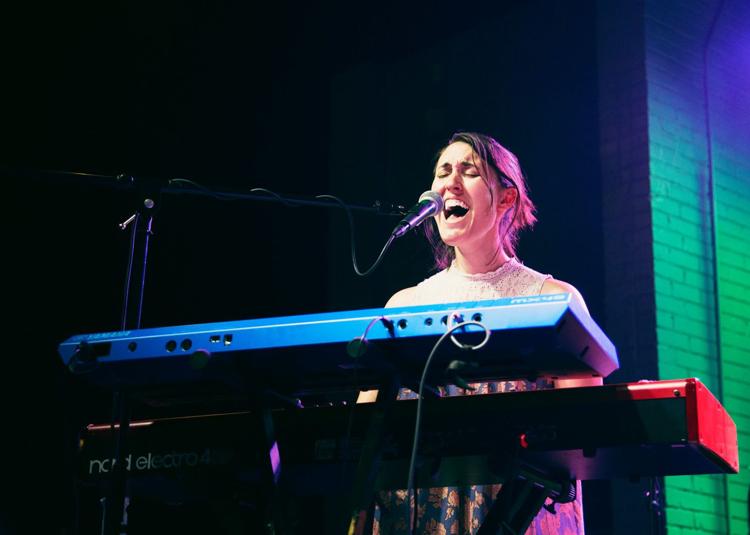 "The fact that Charleston has programs like this shows me that we are definitely doing something right," says Mary Alice Mitchell of The High Divers. 
Holler adds, "I worry about the representation of arts in education. I wish more girl bands would happen, and I think that goes back to girls learning to play instruments. I didn't know any girls who played instruments when I grew up, and I would hope that's changing."
On a good note, many women performers say there already are a number of male musicians in Charleston readily supporting and respecting them. 
"Countless men have not only helped me on my journey but have been truly excited to do so," says Jay Van Raalte, the guitarist of Jump Castle Riot. "It's also worth mentioning that there are plenty of women who have been supportive, too."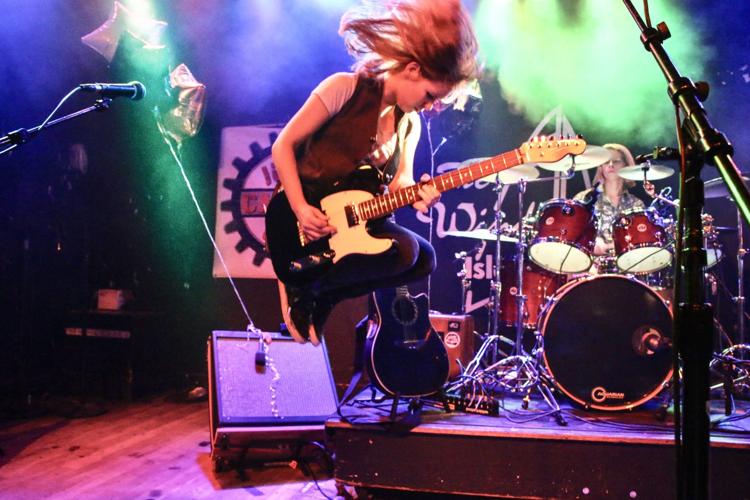 Women supporting other women in the scene is one way to rise up, which thrives in events such as the Women & concerts and Charleston Scene's Anti-Valentine's Day bash, which featured a lineup of all women-led bands. Other similar events might be a way to create a crack in the firmament. 
"We need to stop the bro dynamic and include the females in those fun shows," says Franyo. "If a female is working hard, has the talent, and can bring a crowd, then what's the problem? It's time we start acknowledging the musicians that aren't male, because they're here to stay."
The next "Women &" concert series show, a tribute to Tom Petty, will feature Hillary Arnold, Jo Kokri-Bhatt, Becca Smith and Cindy Jane Kearney on March 30 at the Music Hall.