The Pour House's outdoor deck is a place where jazz, funk, R&B, rock 'n' roll, bluegrass and Americana collide in an explosion of talent from local and traveling bands with a passion for strings, horns, keys, knobs — all of it. 
Ross Bogan has been performing on the James Island deck with his multitude of projects weekly, and sometimes multiple times a week, for years.
"I was playing at the Pour House in so many different bands that, for a while, I just left my gear there," Bogan says with a laugh. 
The Pour House deck is where he met some of his best friends and greatest contemporaries. It's where he's played covers and originals and hosted jam sessions for hours on end. It's where he first collaborated with most of the talented musicians who are now in the new band he's a part of, Doom Flamingo. 
Doom Flamingo is a Charleston synthwave project formed in conjunction with Ryan Stasik, the bassist of popular touring jam band Umphrey's McGee. The group played its first show in Charleston in May for an Umphrey's after party. 
Stasik plays bass, Bogan plays keys and synth, Thomas Kenney of the Charleston instrumental fusion band Terraphonics plays guitar, Mike Quinn plays saxophone, Stuart White plays drums and Kanika Moore is the lead singer.
All of these professional musicians play in cover and wedding bands around the Lowcountry. For some, Doom Flamingo is the first original project they've been in. 
"Charleston has a great scene with some killer players and a lot of us are doing a lot of cover gigs, so it's nice to have an original project to express yourself apart from all the hard work put into other projects," Bogan says. 
And while all the members come from a range of musical backgrounds, including neo-soul, reggae, gospel and Southern rock, Bogan helped guide the band's direction toward synthwave, a genre of electronic music influenced by 1980's film soundtracks and video games.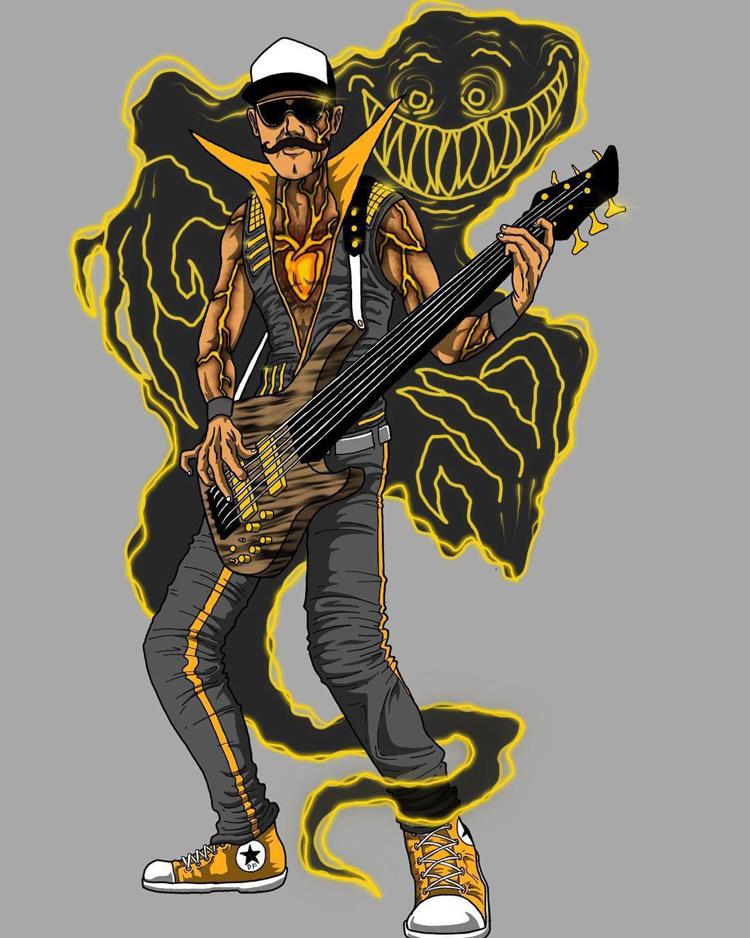 The video game slant takes not only a sonic but a visual hold on the audience, with 3-D projection mapping during live shows and with an art collaboration. Canadian dark synth and cyberpunk artist Jordan Noir is working closely with Doom Flamingo to create retro, comic book-style illustrated characters, depicting each of the band members. 
White is shown wielding multiple Cyborg arms as he drums furiously, while the illustration of Stasik has a Burt Reynolds-inspired groovy mustache and sunglasses in a nod to Stasik's vintage car, a '79 Trans Am, the same model that appears in "Smokey and the Bandit."
Noir, who Bogan first got in touch with on Instagram, has even talked to Doom Flamingo about creating a graphic novel with the characters. 
"It's been crazy starting a relationship with someone over social media," says Bogan, who attests that Noir has become like "the seventh member of the band." He's even flying down to see Doom Flamingo for the next couple of shows on the road. 
So far, the band has recorded a few tracks with Ryan "Wolfgang" Zimmerman at his Charleston studio Rialto Row, including the two released singles, "F-16" and "Telepathy." 
Charleston Scene has the premiere for next single, "Runaway." 
"I wrote the lyrics loosely based on a cross-country trip," Bogan says. "The general idea behind the song is that feeling of running away from your normal life and seeking out something completely new, whether that's love, a destination or just a renewed lust for life."
The retro-'80s synthwave slant of Doom Flamingo is something Bogan's particularly excited about. 
"There's a part of this music that is very cinematic, more so in the dreamwave aesthetic, with an openness to it, driving beat and bubblegum pop," Bogan says. 
And he's even more excited to be working with the same musicians that he's collaborated with and revered for years. Right now, the band is practicing several days a week for up to five hours a day to get ready for live performances, including a few Umphrey's McGee after parties that they will play this fall. 
"I've never been in a band that's moved this fast before," Bogan says. "And I respect the hell out of all of these musicians of this caliber."