Much like Skittles, you'll want to get a taste of this rainbow that's coming to Charleston on April 25. 
Turkuaz, a colorfully-clad psychedelic and funkadelic nine-piece band from Brooklyn that induces dance moves in standing room halls across the States, is heading to the Pour House.
What started as a DIY bedroom project between Dave Brandwein and his friend Taylor Shell evolved into an explosive, upbeat party band far different from what the Radiohead lovers first imagined. 
"When it came down to picking something to tour the country with, I wanted something that was a little less dark and gloomy all the time," Brandwein says. "And it's really fun and inspiring to play dance music, which I never saw coming for the first 20 years of my life."  
Between European Fanta sips at the Turkish market across the street from the recording studio in Brooklyn, Brandwein and Shell invented the vision for their project and ran with it. The name of the band came from that Turkish market across the street: Turkuaz. 
That was a decade ago. It wasn't until 2012 when the Turkuaz lineup was solidified and the band started touring full-time. The nonet includes Brandwein on guitar and vocals, Shell on bass, Craig Brodhead on guitar and keys, Michelangelo Carubba on drums, Chris Brouwers on trumpet and keys, Greg Sanderson on tenor sax, Josh Schwartz on baritone sax and vocals and both Sammi Garett and Shira Elias on vocals.
The nine members spent a lot of years driving around in vans and not really sleeping that much, according to Brandwein. Now, they have a team of 14 and their own much-needed tour bus.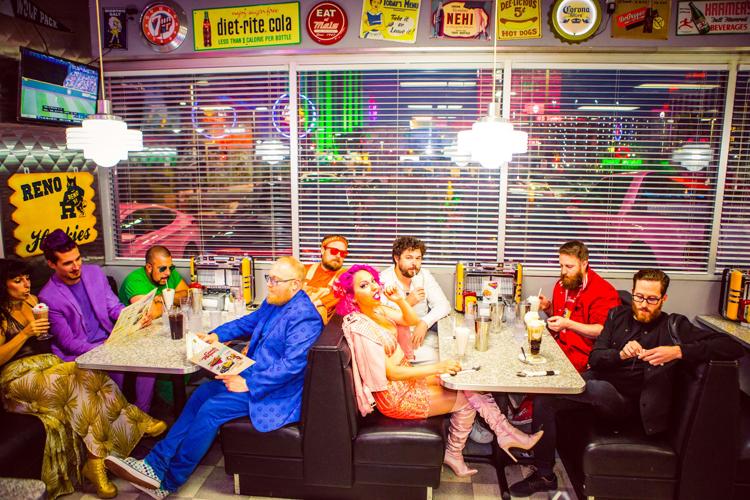 "We roughed it for years, and nobody really made any money," he says. "Theoretically, if we only had three people in the band, we'd be doing a lot better off, but we've never thought of it like that because it was always designed to be a party on stage, a big ensemble performance. I wouldn't have it any other way." 
The band's main influences are Talking Heads and Sly and the Family Stone, but you'll also hear some Peter Gabriel and Phil Collins (yes, both), some Prince and some Parliament.
With nine people bringing something to the table, the outcome is bound to be eclectic. It's a spectrum ranging from R&B and funk to psychedelic rock and '80s pop. And that spectrum is represented visually in the rainbow wardrobe that the members wear.
Each member of Turkuaz was assigned a color to wear on stage following the release of the band's 2015 EP "Stereochrome." It became an idea after Brandwein's wife, who is the band's creative director, found a bunch of colorful jumpsuits at a costume store. 
It's stuck ever since, minus a phase when the entire band wore black and white.
Other than that, Brandwein says the band has only switched their colors on Halloween. As far as if everyone is in love with their color assignment, it's still up for debate. 
"No comment on that one," says Brandwein with a laugh. "I like my color. I'm blue." 
In the band's music video for "Superstatic," which was just released at the end of March, those colors are a major factor. Brandwein said they wanted to do something that involved all the band members and their colors. There are simple scenes, involving breaking an egg or squishing strawberries, and others that get a little trippier and were shot with a green screen. 
"We were thinking how could we play with the colors and have fun with this and still have the video be psychedelic, abstract and fun but also work well with the music," he says. 
For the newest album, "Life in the City," there are some deeper layers and lyrics than one might expect from an upbeat funk disc. Some of those darker elements, in part, were inspired by Brandwein's own journey with giving up alcohol. 
"When there's this big party around you and you're in a celebratory setting every night and you want to be a part of that, there can be frustrations with not drinking," he says of the adjustment to being sober. "I was feeling a lot of things, working through a lot of things, that I hadn't felt, hadn't dealt with in a while."
Turkuaz has played the Pour House before. It's one of the more intimate venues for the band, Brandwein says. 
"It's fun being so close to the crowd," he says, adding with a chuckle, "as long as nobody spills beer on my pedal board."