Nathan Petro believes that the art space Tua Lingua can be many things to many people — a place of rediscovery, a space for conversation, a beacon for artists who are "dissatisfied with the 'quick fix' of social media," he says.
But for Petro, Tua Lingua is his own form of expression: his artwork.
"It's the thing that gives meaning to my life," Petro says. "I love it, I hate it, it tears me apart and brings me back to life over and over again. But most importantly, I couldn't imagine living in a world without it. That's what art is to me. The thing you can't say no to, even if you wanted to."
Petro would rather discuss the newly opened space than dwell on anything he does or has done to foster its existence. Because to him, Tua Lingua (which translates roughly to "your native tongue") is a space for the communal consciousness of artists and the art they create within its walls.
The mission is bigger than any single person and it can alter when necessary, depending on the social climate and the creative whims of its inhabitants. It's not a reactionary space but a progressive way of addressing deep alienation and depersonalization within the process of creating and curating art.
"The (artists at Tua Lingua), in addition to being extremely talented, are in many ways already established," Petro says. "But exceptional skill will not save you from the sociological issues that threaten the true fruition and expansion of culture the local art scene requires now. It needs to be real. And in order for that to happen, being a modern artist requires a huge dose of reality."
Eleven artists of various disciplines use the space aided by two volunteers. It is not a gallery space per se, but that doesn't mean that art isn't freely viewable or being actively created every day. And it is open to curators, collectors and the public. It's a space where art actively happens rather than sitting passively on a wall.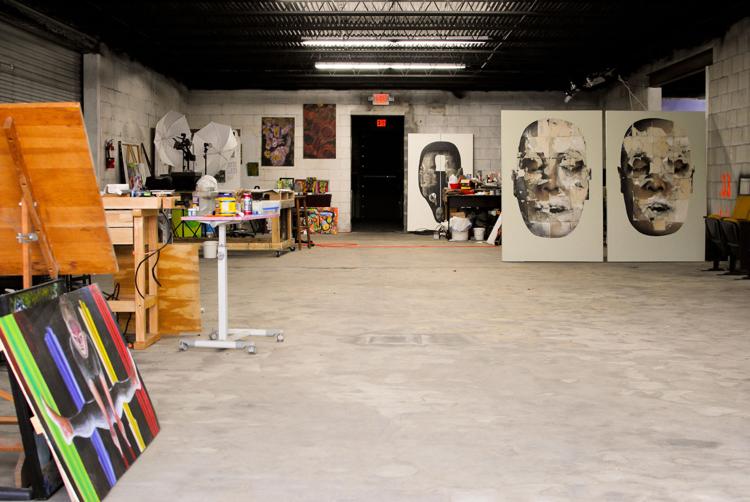 "The environment is vibrant and full of life. Not dry as a museum. There are thoughts being shared ... and a resurgence of freedom in all forms of personal expression," Petro says.
It's been a lengthy process to get to this point. The new, larger space on Reynolds Avenue in North Charleston has definitely helped expand their presence, availability and mission, but it's taken about four years to achieve.
Initially, Tua Lingua was a converted house off Dorchester Road, but as the artists quickly outgrew the space, the sense of community and cohesion grew, as well. It now is located at 1813 Reynolds Ave. in North Charleston.
"Somehow we managed to keep it all together and be cohesive and productive," Petro says.
Despite more physical space at the new location, Tua Lingua's mission is still the same: offer experiences that includes music performances, artistic events and art classes open to the public.
"We hope that we can do our part to reignite the value of curators and gallery owners actually knowing the area's most inventive artists," Petro says. "Discovery and adventure should be part of the joy of curating."
Reach Scott Elingburg at scott.elingburg@gmail.com.