From nature to skaters, here's what's going on in good ol' Chucktown this weekend.
Bulls Bay Nature Festival
Raindrops on roses and whiskers on kittens, reptiles and raptors and red wolves with mittens. Oh, wait. That's not how the song goes. But, all of those animals and more will be a part of Saturday's seventh annual Bulls Bay Nature Festival at the Sewee Center and several other locations. The theme is "From the Forest to the Sea" and that's what you'll get at this celebration of nature and community. Bonus: everything is free!
In the Natural History category, there is a special program on bats, the "misunderstood and often feared" creatures of the night, and guests will be able to learn about Batman and Velvet, who were taken to Gryphon Den Wildlife Refuge for rehabilitation. There also will be programs on bird banding and identification, carnivorous plants and forest management for wildlife, as well as a bee apiary demonstration. Walks and hikes include a focus on butterflies and dragonflies, plants and wildflowers, birds and swamp trails. A special treat is the kayak and canoe paddle on Wambaw Creek in the Francis Marion Forest. There also will be programs with the aforementioned reptiles, raptors and red wolves, along with turtles and the Birds of Prey flight demos.
In the Cultural History category, there will be programs with the Backporch Storytellers, sweetgrass basketry, The Gullah Lady (Sharon Cooper-Murray), an exploration of Bulls Island and a tour of Tibwin Plantation.
In the Outdoor Recreation category, there will be family fishing at Sewee Pond, fly fishing with local veterans from Project Healing Waters, stand-up paddleboarding, youth archery, a nature photography workshop and a youth zip line adventure.
Kids will have an opportunity to make nature crafts throughout the day, food will be available and exhibitors and artisans will be set up at the Sewee Center, the hub for the festival.
Drew Lanham, a wildlife ecologist and biologist with Clemson University, will be the keynote speaker for his program, "Right-brained Birding — A Requiem for the Listless Bird Watcher." There also will be a book signing for Lanham's "The Home Place Memoirs of a Colored Man's Love Affair with Nature."
Musical entertainment will feature Tar and Feather (bluegrass), the Lowcountry Gospel Singers, Friends of Old Time Music (old-time string band), the Black River Blues Band and the Awendaw Community Singers.
Some of the participating organizations include the Francis Marion National Forest, Cape Romain National Wildlife Refuge, the Hampton Plantation State Historic Site, Coastal Expeditions and the SC Department of Natural Resources.
Important note: Most activities require advance online registration, so be sure to go to bullsbaynaturefestival.org as soon as you can.
WHEN: 8 a.m.-5 p.m. May 18
WHERE: Home base: Sewee Visitor and Environmental Education Center, 5821 Highway 17, Awendaw
PRICE: Free
MORE INFO: 843-928-3368, bullsbaynaturefestival.org
Charleston Beer Festival
"Beer is proof that God loves us and wants us to be happy." — Benjamin Franklin
Sure, there are more craft breweries in town than you can shake a stick at, but that's not a bad thing. It just means that more than half of the 40-some-odd Carolina breweries expected at Saturday's Charleston Beer Fest at Riverfront Park will be local. The rest are from around South Carolina and our sister state to the north. Altogether, they will be pouring more than 80 styles of beer, from stouts to sours, ales to ciders and IPAs to reds. There also will be a Homebrewers' Village with near a dozen regional homebrewers and their samples.
It's not just about the hops and barley, though — there are so many other festival-ish things on tap. You'll have your food trucks and your vendors, and this year's Beer Games include pony hop races (those huge inflatable horse things), arm wrestling and hands-free pizza-eating from Fam's Pizza (who hasn't done that, right?). New to the games this year is the beer stein-hoisting competition with CrossFit Charleston. As for musical entertainment, everything is covered with High Tide (rock), Karoline Rhett (pop-country), Keys and Company (rock), Molly Durnin (alternative), Nocturnal Kernalz (jam band), Red Cedar Review (folk/bluegrass), Seitu Solomon Steelpan, Super Reggae Man (just one dude) and Samba Charleston. In between the live sets will be DJ Trailmix, Big Hair and Sweet Feet from The Dubplates. Proceeds will benefit Palmetto Community Care, which provides complete and compassionate HIV care and prevention education awareness throughout the area.
WHEN: Noon-7 p.m. May 18
WHERE: Riverfront Park, 1061 Everglades Ave., North Charleston
PRICE: $25 advance; $35 at-the-gate; $15 designated driver; VIP tickets sold out; admission ticket includes a commemorative mug and five beer tickets; additional beer sampling tickets will be available for purchase
MORE INFO: 843-747-2273, chsbeerfest.org
Hawaiian Luau & Bowl Jam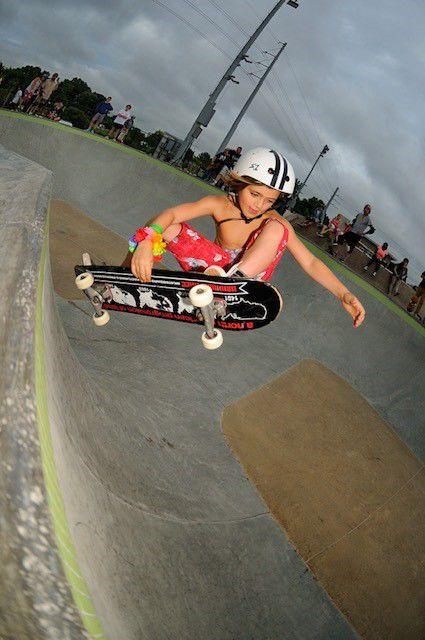 Aloha, y'all. SK8 Charleston has something special for all you grinders on Friday, featuring its Hawaiian Luau & Bowl Jam at the skate park. Sponsored by Parrot Surf and Skate, the bowl jam (with prizes!) will be in the park's intermediate bowl, with a designated hour for ages 14 and younger and then an hour for all ages. Following those will be a best trick contest, so start practicing your ollies, nollies and fakies. Live music will be provided Shr3d Crust (skate rock; yes, that's a genre) and Hybrid Mutants (punk rock), and there will be food trucks from Smoky Oak Taproom and King of Pops. Hawaiian attire is definitely encouraged. The pro bowl, 200-foot snake run and 300-foot street course will be open for those who don't wish to compete.
In the spirit of transparency, I asked for a skateboard when I was in middle school and my dear parents obliged for my birthday. They didn't know it was a "poser board" when they bought it, but I rode the heck of it — just not where anyone could see it. Or me, for that matter. I was no Tony Hawk.
Additional themed events for the summer include a hoedown on June 13 and a back-to-school bash on Aug. 19.  SK8 Charleston is open Wednesdays-Mondays for skateboarding and Tuesdays for BMX bikers.
WHEN: 6-9 p.m. May 17
WHERE: SK8 Charleston, 1549 Oceanic St., downtown Charleston
PRICE: $3 to skate; $1 to spectate
MORE INFO: 843-795-4386, bit.ly/2JzNlCq
'Behind the Lines'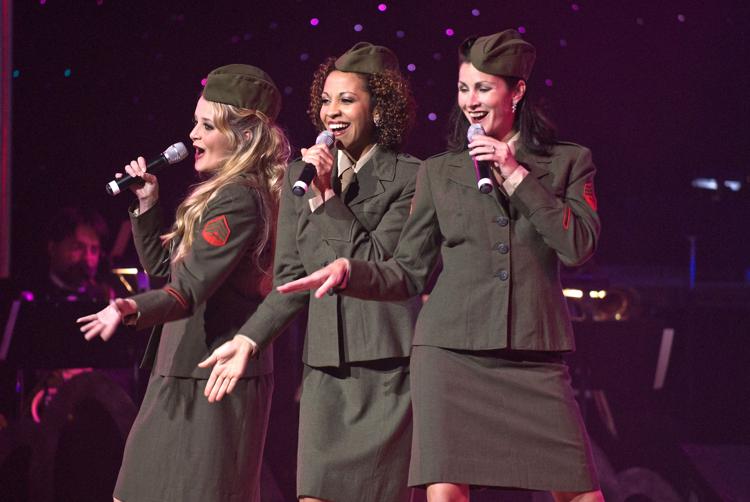 As we approach Memorial Day, it's important to recognize and honor those who have defended us and our country, our civil liberties and our freedom. Local showmakers Brad and Jennifer Moranz will provide that opportunity with a presentation of Andrew Carroll's "Behind the Lines: A Musical Tribute to American Heroes" at the Charleston Music Hall on Saturday. As part of his "The Legacy Project," Carroll collected correspondence (letters and emails) written by veterans of all American-involved wars, beginning with the Revolutionary War and up through Desert Storm and the Iraq and Afghanistan conflicts. This revue features dramatic readings of letters from troops and their families, accompanied by live music from the corresponding era, choreography, video projection and more. Proceeds will benefit Warrior Surf Foundation, which promotes physical and mental wellness for veterans through adaptive surf therapy.
WHEN: 2 p.m. and 7 p.m. May 18
WHERE: Charleston Music Hall, 37 John St., downtown Charleston
PRICE: $18-$38 general; $10 for active military, veterans and their families
MORE INFO: 843-853-2252, charlestonmusichall.com
Awendaw Green Collabs
Awendaw Green has come a long way from its Wednesday night Barn Jams at the Sewee Outpost. Here's a list of collaborations planned for this week, with the help of Eddie White and his fine folks over there.
King Street Green is 5:30-8:30 p.m. on Thursday, "an eclectic artistic mutual gathering" in the courtyard between Edmund's Oast Brewing Co., Workshop and Ohm Radio, with food and craft beer. This week's original music will be provided by Inn Vinegar, an experimental trio made up of College of Charleston jazz students. This series continues on Thursdays through June. Admission is free and leashed pets are permitted. 1503 King St., downtown Charleston; 843-718-3224, awendawgreen.com/king-street-green
Live Under the Oaks is at 6 p.m. on Thursday at The Oaks, across from Barnes and Noble in Mount Pleasant Towne Centre, with food and beverages available for purchase from Burtons Grill. This week's music will be provided by local indie-alternative jazz quartet Honna. Admission is free and guests are encouraged to bring blankets or chairs for comfort. This series continues on Thursdays through May. 1218 Belk Drive, Mount Pleasant; 843-216-9900, bit.ly/2LIlCSR
The Ghost Monkey Brewing Parking Lot Jam will kick off at 3 p.m. on Saturday in the, well, parking lot of Ghost Monkey Brewing. This month's music will be provided by Finnegan Bell (folk/Americana) and Logan and The Kidders (Southern soul/Americana), and the Dog and Duck food truck will be on site. Free admission. 522 Wando Lane, Mount Pleasant; 843-352-3462, ghostmonkeybrewery.com
The family-friendly Green Barn Jam is 3:30-7:30 p.m. on Sunday at Carnes Crossroads, with food and beverage trucks, and lawn games like horseshoes, four square, bocce ball and cornhole. Local singer-songwriters performing are Fleming Moore (Americana fusion), The Pluff Mud String Band (old-time/bluegrass) and the Mike Freund Band (blues-rock). Guests are encouraged to bring blankets or chairs and tickets are $10 in advance and $15 at the gate. 513 Wodin Place, Summerville; 843-761-8600, carnescharleston.com/event/the-green-barn-jam
The weekly Open Mic at Workshop is 6-8 p.m. Tuesday and also is in the courtyard between Edmund's Oast Brewing Co., Workshop and Ohm Radio. 843-996-4500, bit.ly/2LVD1aP
Last, but not least, is the original recipe, family-friendly weekly Barn Jam from 6-10 p.m. on Wednesday at Sewee Outpost. This week's performers include Randy Steele, Elliott Blaufuss, Qwister and Pal Sheldon. Food will be available for purchase, BYOB and leashed pets are permitted. A $5 donation at the door is suggested. 4853 Highway 17, Awendaw; 843-452-1642, awendawgreen.com/barn-jams