The big race may be the biggest thing going on in town this weekend, but that doesn't rule out these other festivals and happenings. From Summerville to James Island to downtown to Mount Pleasant, here are the other big goings-on that you can enjoy during your stay in the Holy City! 
Flowertown Festival
A sure sign that springtime is here, the 46th annual Flowertown Festival is this weekend, presented by the Summerville YMCA. Among the pink azaleas, purple wisteria and white dogwoods, the three-day arts and crafts festival features more than 200 jury-selected artists and their work, children's rides and activities at the Children's Jubilee/Kids Fest, food from restaurants and vendors at The Taste, Food Truck Friday and a farmers market on Saturday and Sunday. The festival was listed as one of the Top 20 Events by the Southeast Tourism Society in 2017 and is a popular event during Bridge Run weekend, set on the grounds of Azalea Park in the heart of downtown Summerville.
Should you take sunscreen and bug spray? It's April in the Lowcountry, so that would be a "yes." Should you take an allergy pill? It's April in the Lowcountry, so that would be another "yes." And since the event covers a lot of ground, over several blocks, appropriate walking shoes are suggested. Note: Pets are not allowed at the event this weekend and alcohol will not be served.
WHEN: 9 a.m.-6 p.m. Friday, April 6, and Saturday, April 7; 9 a.m.-4 p.m. Sunday, April 8
WHERE: Azalea Park area, W. 5th S. Street and along Main Street to Richardson Avenue and to W. 6th Street and Joyce Lane, Summerville
PRICE: Free parking and admission
MORE INFO: 843-871-9622, summervilleymca.org/flowertown-festival
Lowcountry Cajun Festival
"Bringing Louisiana to the Lowcountry" is the aim of Sunday's 27th annual Cajun Festival at James Island County Park. The focus is Creole food and music, bound to tickle those taste buds and get that backfield in motion. Local and regional restaurants, caterers and food trucks will have all of the jambalaya, etouffee, andouille sausage and crawfish you can handle, and of course, a crawfish-eating contest is on the agenda. If those slippery little suckers aren't your thing, there also will be Southern BBQ and other traditional festival foods. Live music performers include Charleston's own Shrimp City Slim, Jeffery Broussard & The Creole Cowboys out of Lafayette, La., and Nathan Williams & The Zydeco Cha-Chas out of St. Martinville, La. Accordion master Broussard is formerly of Zydeco Force and son of Delton Broussard (The Lawtell Playboys) and Williams was heavily influenced by legends Buckwheat Zydeco and Clifton Chenier. Additional activities include a crafts market and some mechanical joy-rides, inflatables and carnival games for the kiddos. Note: Pets are not allowed at the event and the dog park will be closed.
WHEN: Noon-6 p.m. Sunday, April 8
WHERE: James Island County Park, 871 Riverland Drive
PRICE: $15 per person; free for ages 12 years and younger and Gold Pass members
MORE INFO: 843-795-4386, ccprc.com/137/Lowcountry-Cajun-Festival
Weeki Wachee Mermaids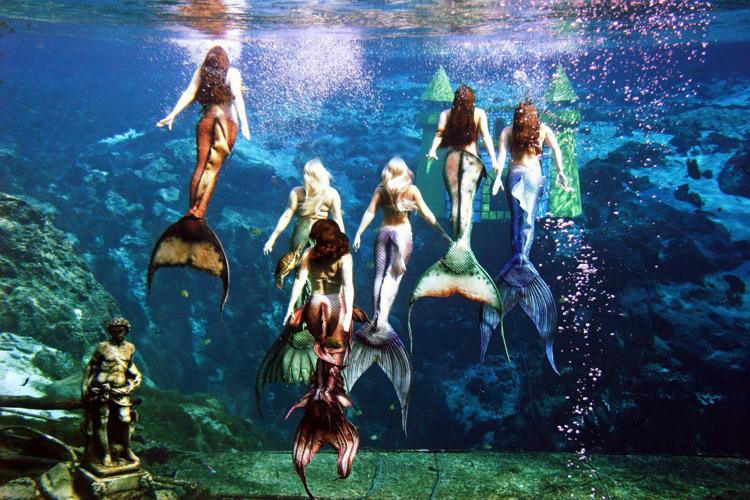 "Under the sea, darling it's better, down where it's wetter, take it from me." – Disney's "The Little Mermaid"
Folklore comes to life as the Weeki Wachee Mermaids return to the South Carolina Aquarium this week and again next weekend. The mermaids come not from the Aegean Sea, rather, they visit us from their home in Weeki Wachee Springs, Fla. Their tails are brightly colored and iridescent, and as they dive and swim, it's practically mesmerizing. They will dive four times a day during their "residency" at the aquarium and there also will be pirate-themed dives in the Great Ocean Tank twice each day. Mermaid- and pirate-related activities will be a part of the experience as well. Special treats: Mermaids & Me is an after-hours event on Thursday, April 5, and will feature two dives and a mermaid costume contest. Aquarium members can attend a special dive on the morning of Friday, April 13. Check the website for details on specific dive times and additional programming. All mermaid and pirate adventures are included in the general admission price.
WHEN: Thursday, April 5-Sunday, April 8 and Thursday, April 12-Sunday, April 15
WHERE: South Carolina Aquarium, 100 Aquarium Wharf, downtown Charleston
PRICE: General admission: $29.95 adult; $22.95 ages 3-12 years; free for ages 2 years and younger
MORE INFO: 843-577-FISH (3474), scaquarium.org/springbreak
Honey & Bee Expo
Sunday will be the perfect day to literally "mind your own beeswax" as the 7th annual Charleston Honey & Bee Expo returns to Cinebarre in Mount Pleasant, with an afternoon full of education, fun and food. Local beekeepers and exhibitors will be on hand to teach about the importance of bees and beekeeping and how you can take part in helping save one of our biggest pollinators. There will be an observation hive with live bees, local honey tastings, honey cotton candy and food trucks with menu items using local honey. The Children's Corner will feature games and arts and crafts and The V-Tones of Charleston will provide the musical entertainment. There also will be an Ask a Master Gardener booth, additional guest experts and bee-related merchandise.
WHEN: 11 a.m.-4 p.m. Sunday, April 8
WHERE: Cinebarre, 963 Houston Northcutt Blvd., Mount Pleasant
PRICE: Free admission
MORE INFO: sites.google.com/site/charlestonareabeekeepers/calendar/expo