Improvisation always has been an important part of music, and it's a key element in local band Schema's sets.
The multi-genre instrumental group, which was founded in 2010 and took a brief hiatus before a full-fledged 2016 revival, falls into the "jam band" category on the music spectrum.
Schema blends elements of jazz, R&B, funk, blues, rock and electronica in both original and cover songs that on stage can be expanded with improvisation. And they don't have a singer, which means the musicians rely solely on their instrumental chops. They're a Pour House favorite. 
Comparisons can be made to acts with traveling cult followings like Phish and Umphrey's McGee.
However, Schema's music is a little more organized than a typical jam band, band members say during late-afternoon lattes recently at Kudu Coffee & Craft Beer.
It's a lot more than just shredding for 15 minutes straight on stage, guitarist Ryan Bresnihan says. But it is still loose, with freedom to create something beyond the traditional verse-chorus-verse form most sung tunes rely on. 
"It's structured improv," Bresnihan says. "We set aside open sections for jamming and try to keep that dance vibe, but there's a pulse to it."
Schema will play at the Charleston Pour House for an anniversary show and Winter Solstice celebration at 9:30 p.m. Wednesday, Dec. 19. Tickets are $10. The show will feature some special guests on vocals and horns.
Bresnihan has known bandmates Matt Jackson (bass) and Adam Coyne (guitar/synth) since middle school, which makes it easy to coalesce on a rhythm and read each other's next movements. Yet it's not always effortless, though it might seem to be on stage.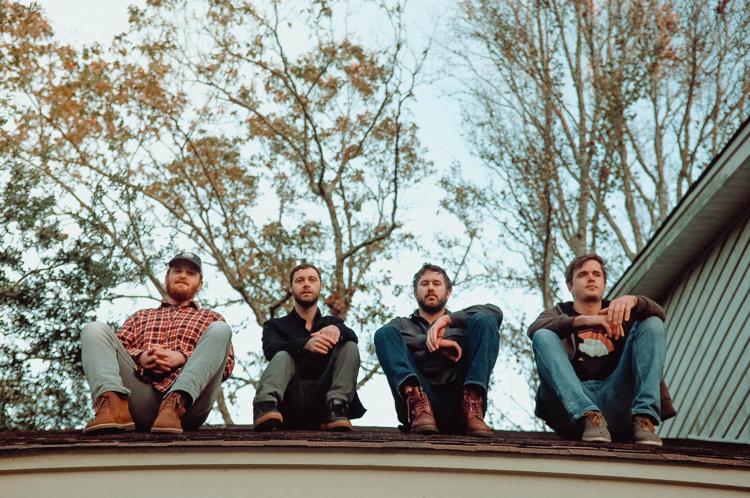 "Sometimes it clicks," Bresnihan says. "Sometimes it doesn't. We have some subtle cues, if someone's not feeling it, to move on." 
Coyne adds, "It's like taking a leap. You don't always land; sometimes you fly." 
And the energy shifts depending on atmosphere. There's a difference between practicing at their home in Avondale, where all four band members live, including newly inducted drummer J.P. Treadaway, and playing at a crowded venue. 
"The energy of a crowd really adds to it. It fuels us," Bresnihan says. 
It helps that the players have gained essential experience and honed their technical skills. 
"Individually, we all have been playing for at least 10 years," Treadaway says. 
Some of the members took guitar lessons and learned jazz theory. Some have played in a handful of other music projects as well. And they all go to shows together around town to draw inspiration from other talented musicians. 
"Honestly, we've learned a lot from going to Mash on Mondays," Bresnihan says of Mercantile & Mash's jazz night, giving a shout-out to its host. "Mike Quinn has been a big influence. We used to go and see him at Juanita (Greenberg's) in 2011, when he was still in school." 
Effective improvisation requires preparation — practicing for the unknown. That includes working on velocity and pacing, sometimes using a metronome to ensure accuracy.
"We want to be bringing our 100 percent best to the table each time we play," Treadaway says. 
Though Schema has been around for almost a decade, on and off, the band has yet to release an album. But that's changing with an upcoming 4-track EP that was recorded at Charleston's Fairweather Studio with audio engineers Omar Colon and Thomas Kenney. 
Unlike other bands that might just tighten up things here and there for a studio session, Schema had to restructure a lot of their songs. A lengthy instrumental that works well in a crowded bar won't cut it for a record or radio.
The members worked together to whittle down and rearrange a lot of their tracks to make them more digestible. For example, in one song, they cut down an intro that they would typically draw out for a live concert. 
"The idea was to make things more concise for people's attention spans," Bresnihan says. "People aren't trying to listen to a 6-minute song." 
Though the band has previously been content with playing bar and venue gigs around town a few times a year, they're hoping the EP will help them expand their scope. 
"The driving factor of creating music is to take my craft on the road," Bresnihan says. "But we're willing to wait and work at it to make sure it's the right time for it."