The difficult where-to-eat decision is even tougher when you're looking to share a meal with a dozen or more people.
Our food editor, Hanna Raskin, frequently gets asked about restaurants that accommodate large groups. A reader emailed her a version of the question earlier this week now that his former go-to choice of Old Village Post House Inn in Mount Pleasant has closed.
"My group of seven men wants to have a social dinner at a restaurant with our wives," he wrote. "Do you know of a place that has a room to accommodate a group of that size?"
Whether the occasion is a birthday celebration or an office happy hour, several Charleston restaurants have space for large groups.
Here are some ideas:
Leon's Oyster Shop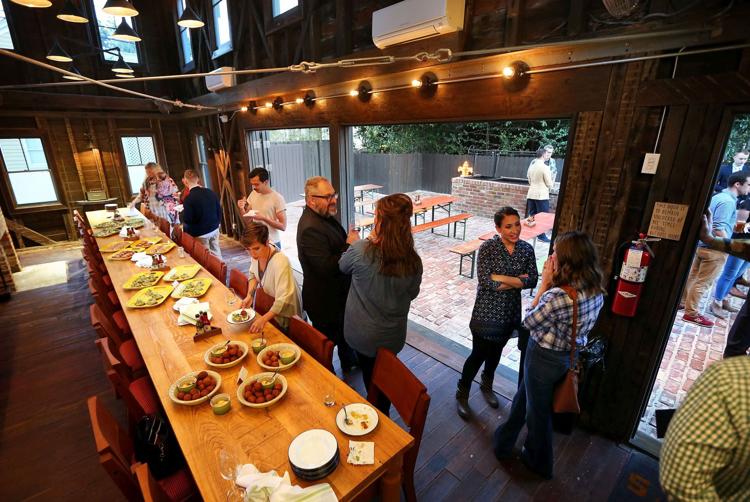 In the back of Leon's, 698 King St., there's a separate, casual space for private events that accommodates up to 36 people. Diners can share peel-and-eat shrimp, smoked mahi dip, fried chicken and oysters over a community table that sits 24 people. Called the Oyster Shed, it also opens up to an outdoor patio space. For more info, call 843-531-6500 or visit leonsoystershop.com.
Edmund's Oast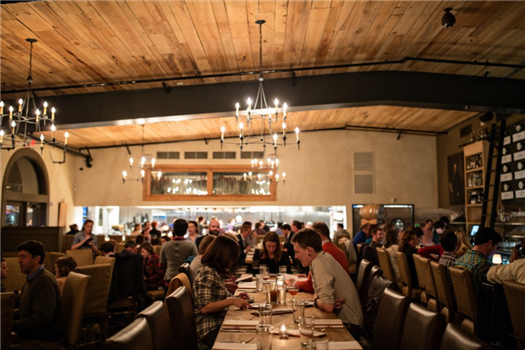 Edmund's Oast, 1081 Morrison Drive, has a 3,400-square-foot outdoor space that features eight wooden tables ideal for large groups. The restaurant also has a private event space called The Library, which can accommodate up to 30 seated guests. For a more casual setting, Edmund's Oast Brewing in the Pacific Box & Crate development offers ample outdoor seating. For more info, call 843-727-1145 or visit edmundsoast.com.
5Church Charleston
The restaurant, 32B N. Market St., in a former church has two different private event spaces, including an outdoor garden patio option. 5Church also has three long tables that each sit 10 people in its main dining hall. The menu features shareable bites such as charcuterie, sushi tots, mussels and prime beef meatballs. Call 843-937-8666 or visit 5churchcharleston.com.
The Macintosh
The Macintosh, 479B King St., has an outdoor courtyard that can accommodate up to 30 people and has several wooden tables that each seat 10 people. Large parties can choose items from a family-style menu featuring starters such as gnudi and entrees such as a hanger steak, duck leg or seasonal vegetable plate. For more info, call 843-789-4299 or visit themacintoshcharleston.com.
Butcher & Bee  
Butcher & Bee, 1085 Morrison Drive, is up for hosting private parties larger than 10 people for brunch, lunch or dinner. For more info, call 843-619-0202 or visit butcherandbee.com.
82 Queen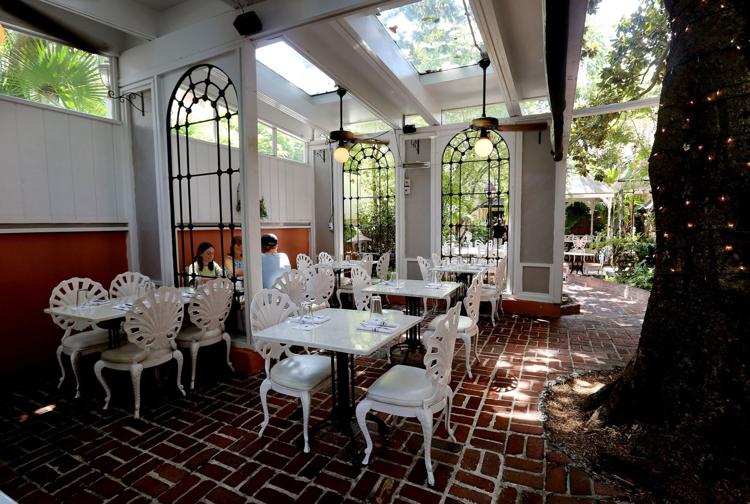 The French Quarter restaurant, which shares its name with its address, has several private dining spaces for large groups to enjoy barbecue shrimp and grits, jambalaya or seafood gumbo. For more info, call 843-723-7591 or visit 82queen.com.
Red Drum Restaurant
This Mexican restaurant at 803 Coleman Blvd., Mount Pleasant, has a private dining space called The Wine Room, which has a capacity of 22 people. Call 843-849-0313 or visit reddrumrestaurant.com.
Indaco
Indaco, 526 King St., has an outdoor patio that can accommodate up to 50 people. The menu includes wood-fired pizzas and pastas, as well as cured sausages. Diners can also have executive chef Michael Holler curate a family-style, three-course meal. For more info, call 843-872-6828 or visit indacocharleston.com.
Stella's
The Greek restaurant Stella's, 114 St Philip St., has a long list of items under the "Meze" portion of its menu, which explains the word is the Greek equivalent to tapas and made for sharing. The shareable dishes can be enjoyed by large groups during private parties at Stella's or around larger tables. The restaurants has a private event space on its second floor. For more info, call 843-400-0026 or visit stellascharleston.com. 
Parcel 32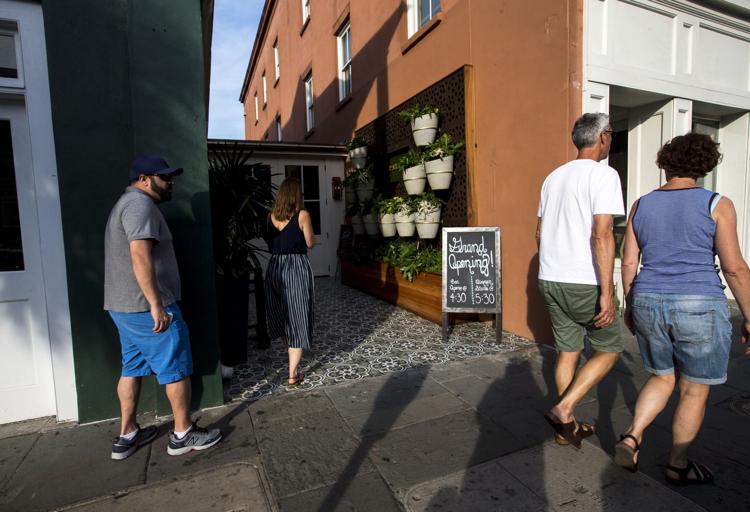 Parcel 32, 442 King St., has several tables fit for groups of diners. The menu features oysters and other seafood, as well as snacks such as pecan meal hush puppies. Upstairs is Parcel's cocktail bar called The Parlour. For more info, call 843-722-3474 or visit parcel32.com.
Uptown Social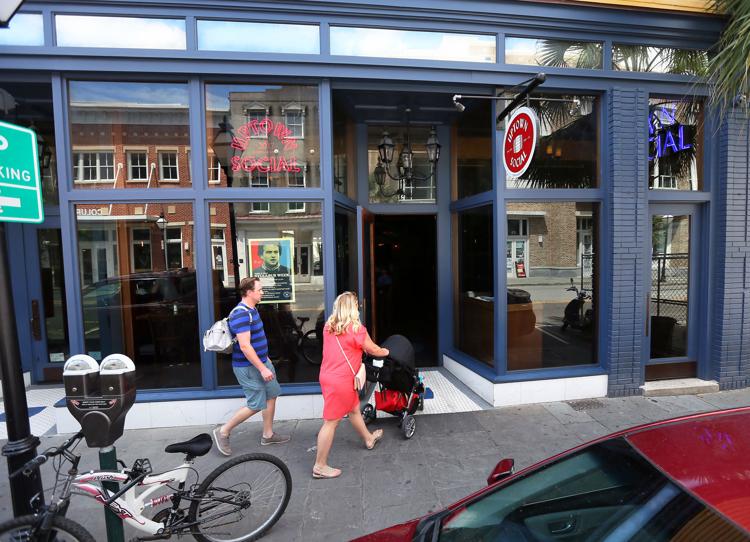 Uptown Social, 587 King St., has a second floor with ample space for groups. Both rooms have a full bar and TVs. The menu ranges from crispy bar pies to a bucket of wings. For more info, call 843-793-1837 or visit uptownsocialchs.com.
Hank's Seafood 
Large parties are welcome at Hank's, 10 Hayne St., where diners can share a seafood tower or seafood castle. The restaurant also has a private event space upstairs called Hank's Loft. Call 843-723-3474 or visit hanksseafoodrestaurant.com.
Blind Tiger Pub
Blind Tiger Pub, 36-38 Broad St., has a courtyard in the back and rooms that can be reserved for private events. Food includes oysters, wings, charcuterie and a truffle duck sandwich. Call 843-872-6700 or visit blindtigerchs.com.
The Alley
At The Alley, 131 Columbus St., you can go bowling, grab a drink at one of three bars and play arcade games. The Alley regularly hosts private events and can accommodate up to 500 people. For more info, call 843-818-4080 or visit thealleycharleston.com.