Ontario-based indie rock band The Elwins first played at Awendaw Green for a Barn Jam in March 2012.
Since then, members have toured the United States and Canada with former Charleston favorites Heyrocco. Now, the band has just released a new record with a new vivacious direction and is returning to the Lowcountry for a show on Oct. 24 at The Royal American. 
This will be one of quite a few performances in Charleston, including two Barn Jams in 2012 and 2013, respectively, and a show at Palmetto Brewery in 2015.
We caught up with the band for a Q&A while members Matthew Sweeney, Travis Stokl, Feurd Ian Robertson Moore and Francesco Figliomeni were on the road.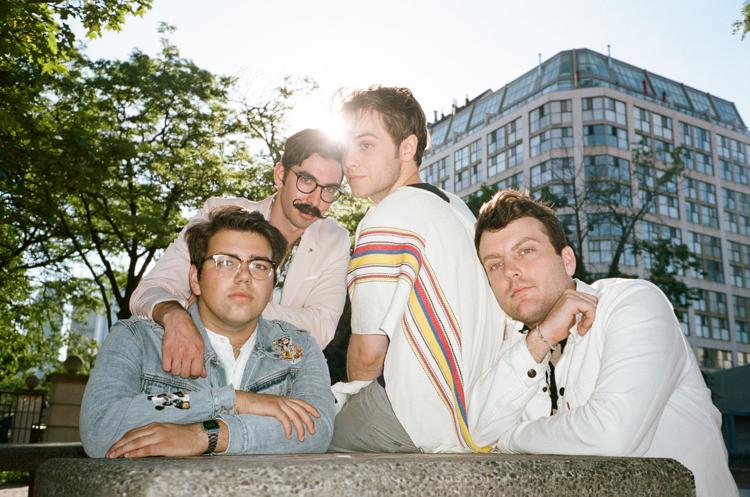 Q: Tell me how the band first ran across Clay White of The High Divers.
A: We first met Clay in like ... 2011 or something, when we were touring with Jukebox The Ghost. If memory serves me right, it was at the first show just outside of Charleston. More specifically Awendaw. We quickly learned that he had played a bit with a band we liked called The Explorers Club. From there, we all just talked about music and joked amongst ourselves nonstop.
He's quite literally our best friend from the States. He even came on tour with us in Europe once and it was a total blast having him around. He's introduced us to so much amazing music through the years and can always make us feel at home wherever that may be.
Q: So, you're touring on "Beauty Community," which just premiered Friday (cool stuff). Tell me more about the time leading up to this release.
A: The time leading up to the release was spent working hard on the record with our producer Derek Hoffman. He really helped us reach our sonic goals for this project.
Derek has become one of our best buddies. We made the last two records with him and really trust him and have faith in his abilities. Apart from making the record, we've been preparing some video content for the album cycle and spending time with loved ones before we hit the road.
Inspiration for this record came from a desire to want to share more of ourselves with the music. For us, the lyrics are most personal and feel on one hand a little more uncomfortable to share but on the other more freeing and meaningful.
Q: From what I've heard so far, you've got this cool electronic pop meets sensual rock vibe happening, a bit harder of a shift from the last disc. What made you go in that direction?
A: I like that you got a sensual vibe. I guess the desire to want to go that direction kind of ties into the previous answer. In the past, going to a sensual place, at times, almost felt off limits. I feel like we are realizing that music can be more powerful when you share more of the intimate details of life. I think with art, it's better to be bold than polite and curious.
Q: What are your goals following the release of this album and what can we expect at the show?
A: With each record release, we hope to keep growing together as a band. We have a lot of things coming down the pipe that we are stoked on. We're very excited to tour our brains out.
At the show, you can expect a lot of energy and a whole bunch of new songs: some fast jams, some slow jams and good vibes.