You heard that right. The Coburg Cow, an iconic landmark that can be seen spinning regally near the Harris Teeter on Savannah Highway, now has a Twitter account. 
It all started Monday when the iconic rotating bovine, which was erected in 1959, was taken down in preparation for Hurricane Florence, which is forecast to strike the East Coast later this week.
To tried-and-true Charlestonians, this action is a sign of something serious; rarely does the beloved spotted critter get removed from her lofty perch. 
As she was taken down by a crane Monday afternoon, someone felt it was an "udder" shame the famous cow was not represented properly on social media. 
Therefore, a Twitter account was created in the cow's name, with the bio "don't have a cow, man." The cow's first post reads as such: 
"yes, it's true, I'm down. please listen to @chswx people, he knows SO MUCH MORE about weather than a cow (and I'm not even a real cow). #chswx #HurricaneFlorence"
yes, it's true, I'm down. please listen to @chswx people, he knows SO MUCH MORE about weather than a cow (and I'm not even a real cow). #chswx #HurricaneFlorence https://t.co/QnNXN9dDaW

— coburgcow (@coburgcow) September 10, 2018
The cow then gave a shout out to The Post and Courier for taking the paywall down for all Hurricane Florence information. 
"Huge thanks to @postandcourier for helping all us locals stay informed!" typed the tech-savvy cow, before retweeting some prominent locals, from Shep Rose of "Southern Charm" to Charleston news and entertainment blogger Holy City Sinner. 
Mount Pleasant Mayor Will Haynie got into the pun fun right away, Tweeting, "I hope your removal doesn't portend udder destruction" and then later, "I better stop the milk puns or y'all will be carton me off soon." 
I dairy'nt say so Mr. Mayor! #HurricaneFlorence #chswx #Chs #MtPleasant https://t.co/ynkgTNa0gP

— coburgcow (@coburgcow) September 11, 2018
The Coburg Cow dates back to the late '50s, when she (her name is "Bessie," y'all) was erected under the Coburg Dairy "C" logo next to a carton of milk. Bessie has gone through a lot over the years, including getting her tail torn off as a souvenir, being ridden by neighborhood kids and Citadel cadets as a local rite of passage and weathering many a storm. 
The hanging cow was taken down during one of Charleston's most devastating hurricanes, Hugo, in 1989. She was reinstalled shortly after, and has remained long after the Coburg dairy was closed at the West Ashley location the following year. 
Bessie may be down for Hurricane Florence, but she will most likely be returned to her pivoting throne after the winds and rains have died down. In the meantime, locals can keep up with her on Twitter. 
The Coburg Cow isn't the only one taking to social media to comment on Hurricane Florence, though. Other Charleston residents and beyond have been sharing their take on the inclement weather approaching the East Coast. Here are a few of our favorites. 
1. Coburg Cow comes down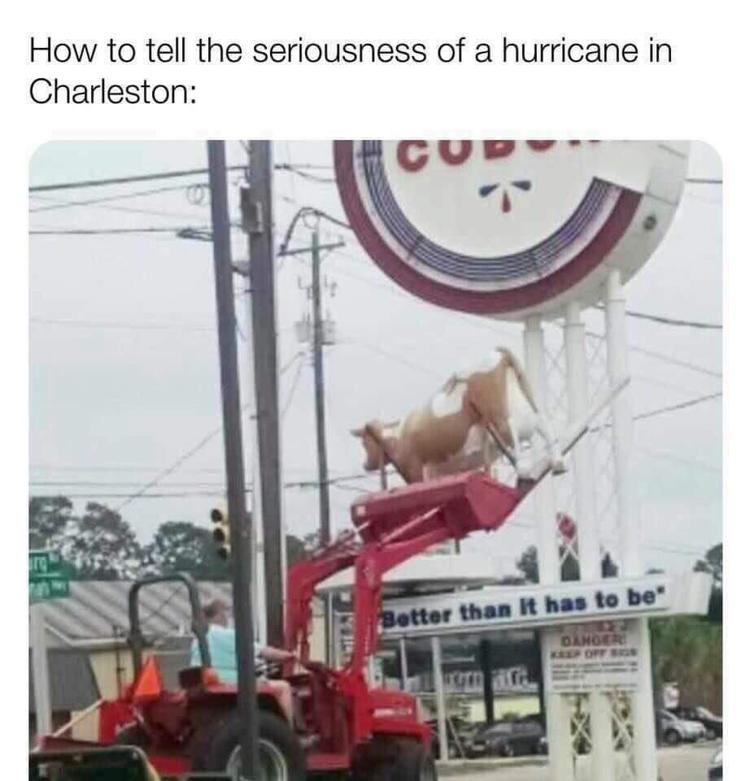 Keeping with the cow theme, this meme knows what taking the iconic cow down really represents: the end of the times. 
2. Pivot!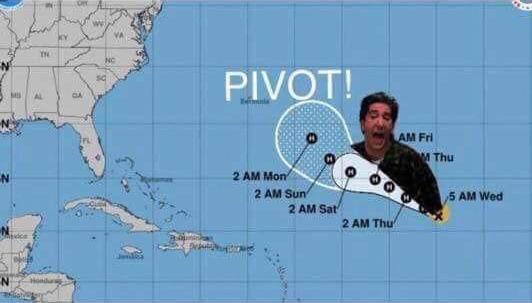 Any "Friends" fan will appreciate this meme, which is trying really hard to get Hurricane Florence to "pivot" away from the coast. It's from the episode where Ross heatedly yells the phrase repeatedly while trying to hopelessly move a couch up the stairs with Chandler and Rachel. 
3. Toto has cursed us all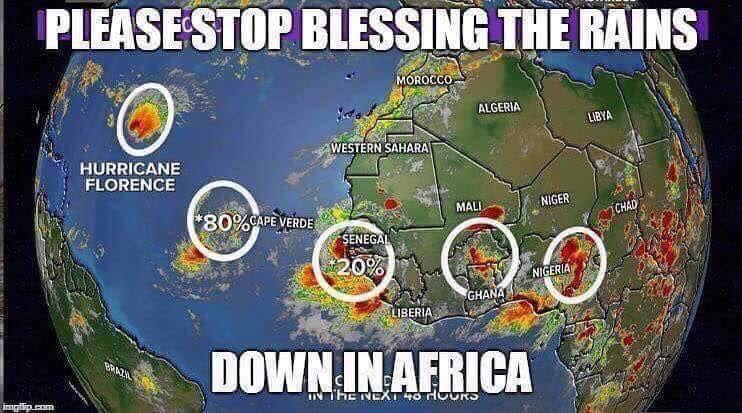 Toto, stop blessing the rains down in Africa. Please. They keep bringing hurricanes our way. On an added note, Toto is coming to Charleston in November. We can yell at the '80s rock band that has had a recent resurgence then. 
4. Nike logo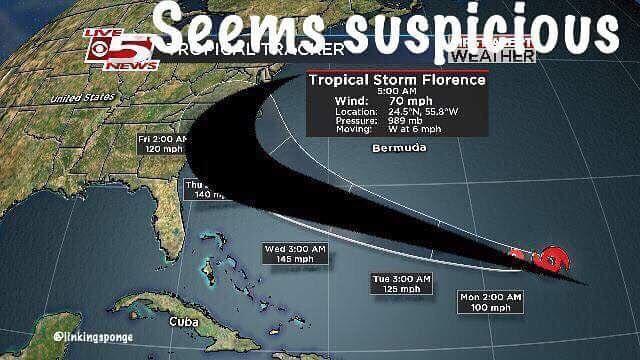 Whatever your views are on popular sneaker brand Nike releasing an ad with former NFL player Colin Kaepernick, Hurricane Florence sure is resembling that Nike swoosh logo. Suspicious? 
5. Stephen Colbert's prime advice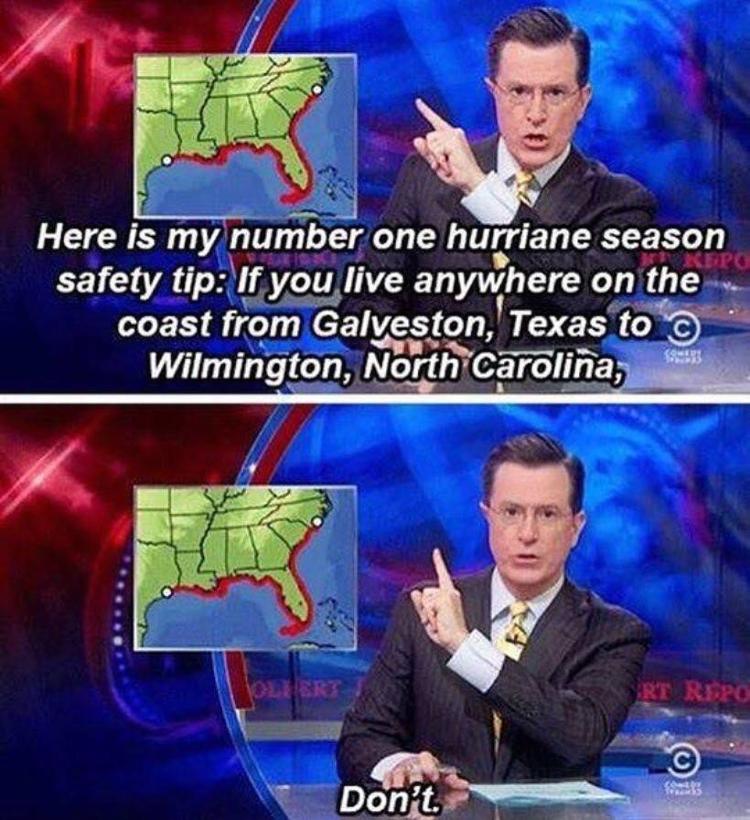 Stephen Colbert, who actually owns a home here in Charleston, had some great advice for people: don't live anywhere from Texas to North Carolina during hurricane season. Good call, Colbert. 
6. Cat-egories
This meme reveals the secret to telling what category Hurricane Florence is when it hits the coast. Pro tip: don't actually do this to your poor cat. 
7. Hurricane bingo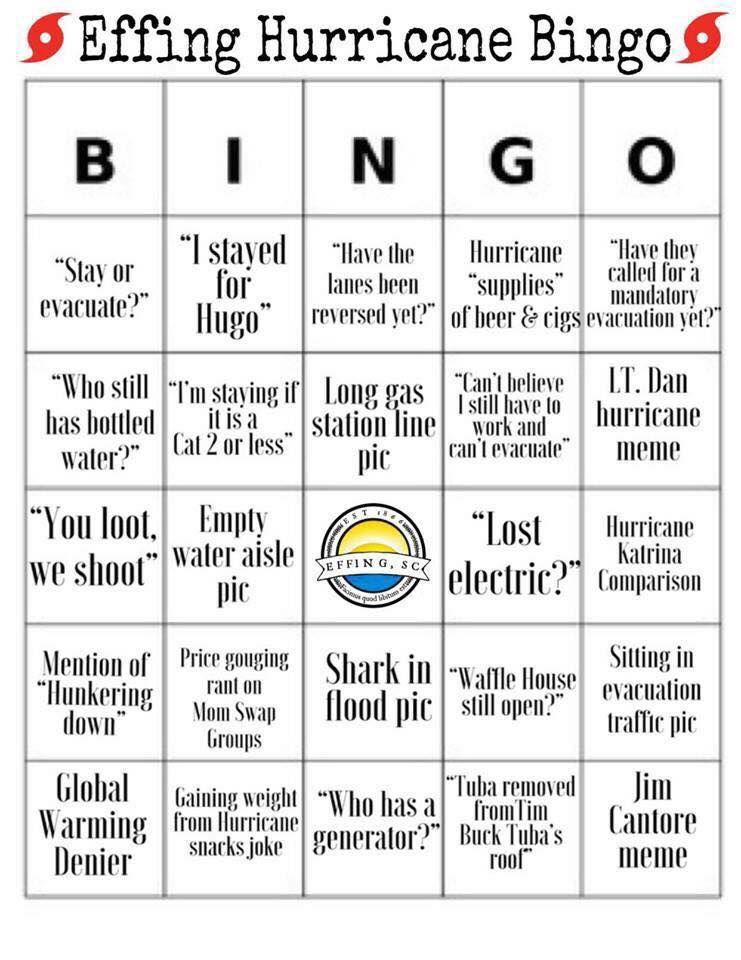 For those hurricane partiers looking for a fun way to wait out the storm or evacuees looking to pass time in traffic, here is a great bingo card, with spaces like "Who still has bottled water?" and "Sitting in evacuation traffic pic." 
8. "It" has water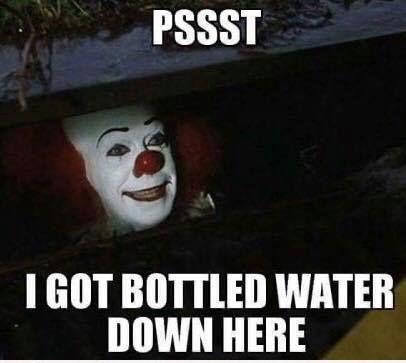 Don't go into the storm drain. Don't. Just don't. But do stock up on bottled water.
9. The Royal American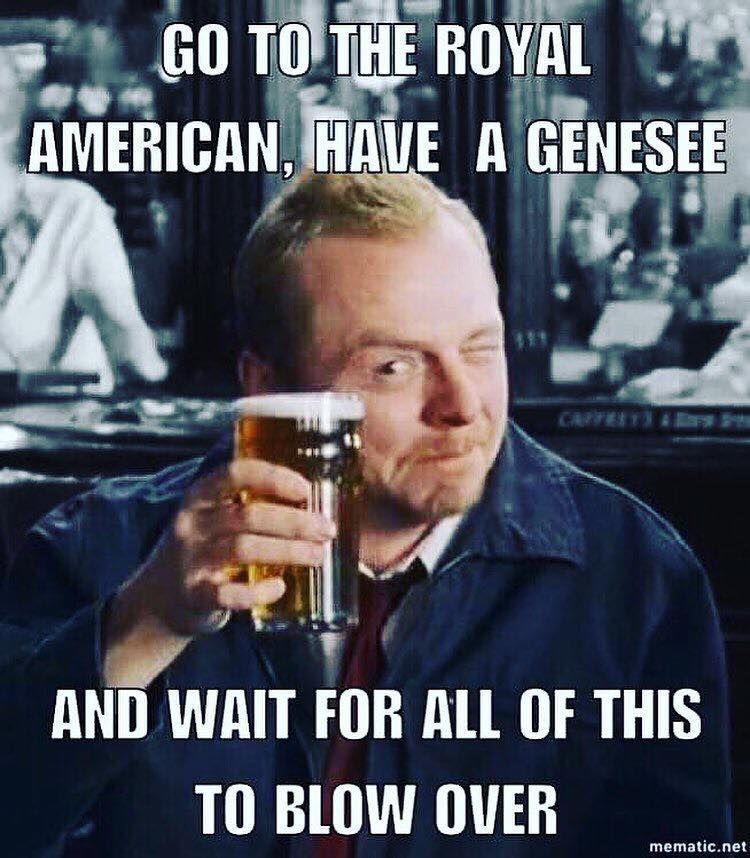 The Royal American, along with a few other bars in town, is planning on staying open during the storm. Others include AC's on King Street and Lowlife on Folly Beach. The Royal American, however, is known for its PBR-like off-brand beer, Genesee, hence this meme. 
10. Hurricanes vs. snow: South Carolina version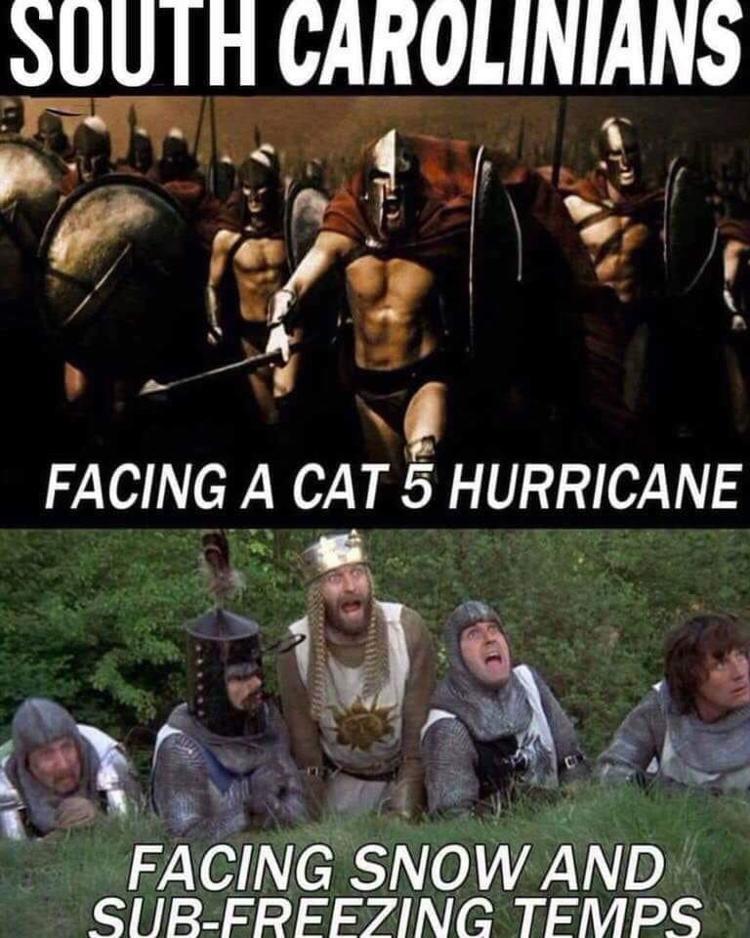 This meme is just spot on. South Carolina knows how to face a hurricane better than what to do with seven inches of snow. 
In addition to memes, several Facebook groups have been formed to join people together in fending off the storm. A few include "Sacrifice Florida to appease Hurricane Florence," "Take Hurricane Florence and push it somewhere else" and "Playing Nickelback and Creed to scare Hurricane Florence away."