DANIEL ISLAND — The newly renovated Credit One Stadium, formerly Volvo Car Stadium, is back up and running with more seats, new concessions and less parking. 
The boost from 7,000 to 10,200 attendees during May 12's sold-out Miranda Lambert and Little Big Town concert displayed the island's lack of infrastructure as cars swarmed the area in search of any nook or cranny, spilling into surrounding business lots with signs that clearly read "no event parking." 
Where's a 10-story parking garage when you need one? Not on this island. 
Booking a ride-hailing service there or utilizing the venue's satellite lots, the farthest from which a fleet of school bus shuttles travel back and forth to and from the stadium, seem to be the best bet for those who aren't planning on arriving more than hour before the show.
For those who do snag a spot in the closer lot, prepare to wait in line at the gate, though things move fairly fast once you're on-site. 
But better advice for all is to get there as early as you can. Maybe book a dinner reservation on the island, but certainly duck out of work early that afternoon.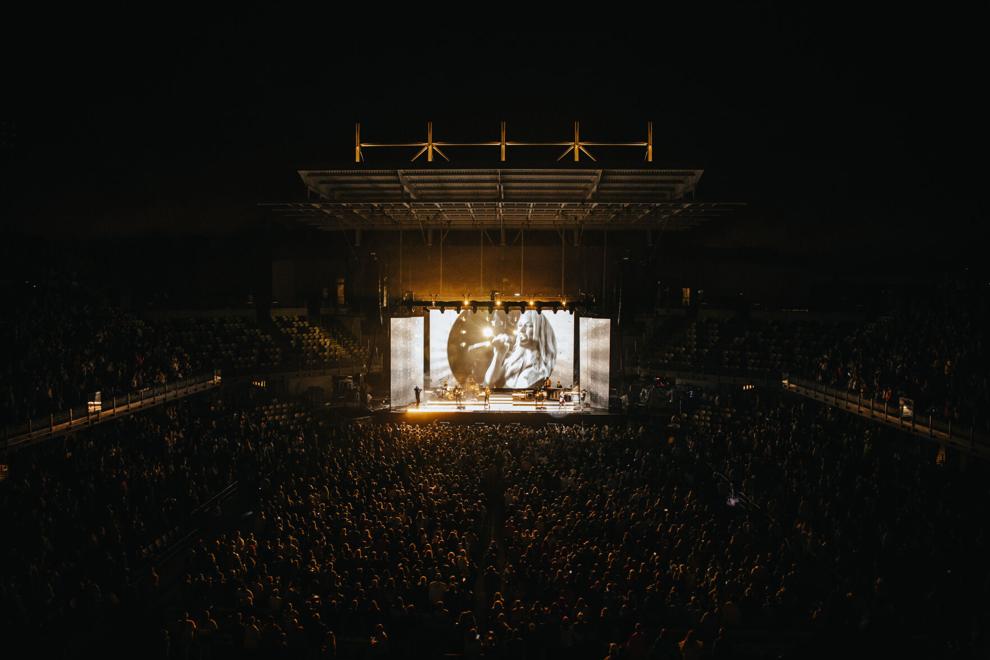 Once you arrive inside the new stadium, there are enhancements aplenty to behold. Among them are more concessions, including an outdoor courtyard with a fountain and several beer and canned cocktail stands. Inside, there are also new food-and-drink locations, including a lounge area with cornhole and pizza. 
It's definitely an upgrade, but the sheer number of people there is enough to still create a few glitches. 
I missed about a quarter of Little Big Town's set while snagging a salted pretzel as my dinner. That being said, I arrived on the island just 15 minutes before the show was set to start and joined the traveling parking parade for another 20 or so. But the pretzel was delicious and surprisingly reasonably priced at around $5.  
Once in my floor seats on the tennis court clay, looking around and taking in the renovated stadium was magnificent. Floor seats will give you an incredible, close-up view of the performer and are certainly worth splurging on for your favorite act. But even in the top tier, the large LED screen and rocking sound system will deliver a stellar show. 
The most excited group, in fact, seemed to be in the center top tier, boots shaking the stands and cheers echoing out over the crowd. 
The one con of any outdoor venue is, of course, inclement weather. A drizzle through Little Big Town's set sent those without raincoats under the covered portico to stick it out for a bit. But by the time Miranda Lambert took the stage, the moon was out, shimmering above the stage, and the rain was gone. 
Lambert, ablaze with fringe-flingin', boot-stompin' girl power energy, opened the show with "Actin' Up" and then played hits from "If I Was a Cowboy" to "Gunpowder & Lead." Classic ballad "The House that Built Me" and singalong favorite "Mama's Broken Heart" of course made the se tlist. 
At the end of the night, she teamed up with Little Big Town for a full encore that showcased her powerhouse vocals alongside the band with a rendition of "Boondocks."
"This is what happens when you tour with your friends," Lambert beamed over the microphone.
The performance brought out the cowgirl in this Charleston city slicker. 
On a perfectly sunny summer evening, I can imagine there's nowhere else I'd rather be than seeing one of my favorite bands at this stadium. And the lineup for this season is spectacular, from Kenny Chesney to Elton John to The Black Keys. 
The booking agents are doing something right. 
Be sure to catch at least one act at the Credit One Stadium this summer if you're a fan. Just leave early to get there, or Uber.