It's a tale as old as time. Charleston bands come and go. Members move, lyrics stop flowing quite the same and different projects arise.
It's time to bid local experimental psych rock outfit Secret Guest goodbye (for now) with the departure of founding guitarist Andrei Mihailovic. 
But instead of us stringing together some words, we're letting the band do the talking with individual farewell letters. The first time they'll be reading each other's letter is when this article publishes. And trust us, they get quirky, to say the least. 
Secret Guest's final shows before an indefinite hiatus will take place on June 14-15 at The Royal American, where a new live album will be recorded right on stage. 
Brett Nash
Singer and guitar shredder extraordinaire and/or the nicest guy you'll ever meet
Some could feel the tides changing. Others could not. Say goodnight to the rock and roll era. Or hello to the new era. They say, "rock and roll will never die." I must say, it's persevered so far. Is Secret Guest rock? Is it punk? Is it performance art? Is it all hi-jinx? Is it just four people playing horribly on purpose? A case could be made for and against all of these.
I imagine these shows being similar to a viewing and documentation of Schrödinger's cat, right as the Geiger counter is being tripped. Perhaps Andrei's final shows prove to be the first atom decaying, but really Secret Guest has always felt like a beautiful, gradual decay. My hope, though, is that Secret Guest may live dead forever as Charleston's first and last post-paradox band. This is what we see in the future, mostly to be viewed as a dying rebirth. Matter can be neither created nor destroyed. It can only be re-purposed.
Andrei is working on recording new music. Secret Guest, as an entity, will also continue to create in the near future, using our ideas to re-purpose matter in ways we see fit. That is what we believe is art.
Nah, but for real, though. I'm just messin' with y'all. None of this matters, but y'all come hang at The Royal American. It'll be fun. Heckle us. We're total masochists. We love that kind of thing. We'll be back; it'll just be different. *peace sign emoji*
Love y'all,
Brent
Andrei Mihailovic
Once played his guitar with another guitar behind his back while smoking a cigarette
Sup Guest Heads,
Andrei Mihailovic here, and I just wanna say, you gotta give it up for this band.
The music— deedalee-deedalee-deedalee-deedalee-weeee-weee-weee. So sick. Tons of just like— swiddly-widdly-widdly— head collision! Amp sparks! Wayr-nanana-wayr-nayr! Crowdsurfing, guitars handed out like candy. Mighty axwork- DUHN-DUHN-DUHN squeeeeee, dadada-weh-wehhhhh. Pick scrape! Chugga-chugga-chugga. Woooo! You're in rifftown baby, and the sheriff's got a sign on the door: GONE SHREDDIN'.
Good times, but you know, anything gets old after a while, and don't be fooled by "St. Brett's" kindly demeanor. The dude's ruthless, a tyrant: on the road, in the studio, at practice. If I have to learn one more '90s cover for this guy... I just can't keep up with the maniac.
Time for my 10,000 year cave nap. You wanna wake me up? I'll vaporize you with eye lasers, bro.
But first, riddle me this. Why all the farewell fanfare? One guy quits a quartet; not the end of the world. Are the rest of these dudes hanging up their cleats, just 'cuz little old me's bowing out? What gives, dudes? Putting the brakes on? What are you… scared? You seem scared. No? Prove me wrong, clowns. Here's a tip: GET A REPLACEMENT. Like that disgraced lawyer, you know the one: soul patch, chill, pentatonic trick bag. Remember? Dayr-nanayr-nyow-nyow-diggity-dayrnnnn. Lick city! Call him up, dudes.
Welp, that's all I got. So long creeps! See you in Hell, scumbags! Thanks for NOTHING! 
Scott Dence
Bass blaster 3000, also the face of Dumb Doctors
Dear Charleston Scene,
Welp, the summer is ramping up to be a hot one this year. I've already stepped outside and felt the sweat beading on my forehead without warning. Maybe I'll hit the beach for a swim or probably find a way to enjoy some AC. Either way I'll be listening to rock n' roll music and hoping that I feel its strange, intoxicating effect that I've spent most of my life trying capture for whatever amount of time it will last.
I really like when you stumble upon a forgotten favorite song. When that happens, I suddenly feel euphoric. Unexpectedly, the pleasure centers are tickled in my brain, releasing chemicals that make me feel good for a short time. There's a rhythmic ebb and flow of emotions that are attached to memories which eventually break into a foamy haze fizzling into the air, cooling it for a short moment.
It's sorta like seeing an old friend who may have faded into the background of your mind but instantly re-emerges in full detail as if no time had passed at all. Then when the reunion ends, they slowly start to drift back to the safe, secret place where you keep the things you care for the most.
Or maybe it's like being in a good dream where everything works out for the best. Who knows? All I know is that all good dreams come to an end and are usually forgotten. But sometimes, for whatever reason, you'll receive a hint from the universe that takes you back to that dream and you're like, "oh yeah..."
Michael Milam
stick slammer, Pulitzer Prize hopeful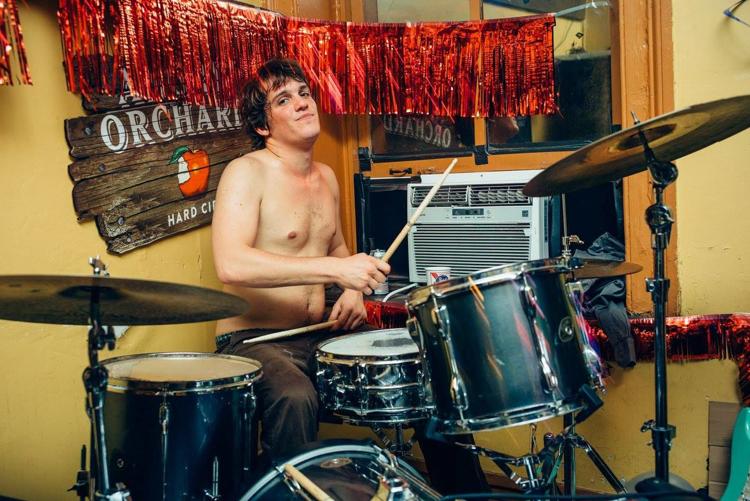 I'm Michael and I've made loud sounds with Secret Guest many times. I like hitting the drums with a big stick. Sometimes the stick breaks, but that's OK.
When Andrei said he didn't want to flail guitar while I slam drums anymore, the whole world cried. Sometimes when I'm playing drums I look up and Andrei is flailing like a madman. This has happened in various cities and I was very impressed.
It's a great time and I'll miss it a lot. We're gonna do two more of the most grand and awesome shows of all time before there is no more flailing, no more slamming and no more big sounds.
After the big sounds are gone, I'll put my shirt back on and finish writing a dense, formally experimental novel loosely inspired by the 1896 science fiction classic "The Island of Dr. Moreau" by H.G. Wells, using elements of surrealism, stream-of-consciousness psychology and biological horror to explore the struggle of young humans to transcend the painful vestiges of their animal ancestry.
I've been writing it a long time and I hope I win the Pulitzer Prize. I don't think they make prizes for hitting drums with a stick, so maybe it's for the best.