EDITOR'S NOTE: To submit an event, go to postandcourier.com/calendar
---
Thursday
Wine on the Piazza
What: If you're looking for a breathtaking view and a glass of wine, The Edmondston-Alston House invites you to enjoy a self-guided tour of the home followed by a glass of wine on the second-story piazza overlooking Charleston Harbor.
When: 4:30 p.m. May 18
Where: The Edmondston-Alston House, 21 East Battery St., Charleston
Price: $30
More Info: 843-556-6020, middletonplace.org, reception@middletonplace.org
Date Night at the Charleston Aqua Park
What: Join the Charleston Aqua Park for a date night. Includes the Aqua Park, Ropes Course and a beverage to relax. Walk-ins allowed but spots are limited so make sure to grab a ticket. 
When: 5:30 p.m. May 18
Where: Trophy Lakes, 3050 Marlin Road, Johns Island
Price: $31.50
More Info: 843-279-4520, cli.re/38468-date-night-at-the-charleston-aqua-park, hello@charlestonaquapark.com
Light Up Literacy
What: Joye Law Firm presents Light Up Literacy for Reading Partners, a national nonprofit that has been a part of the Charleston educational landscape since 2013. One-on-one tutoring empowers students to succeed in reading and in life by engaging community volunteers to provide individualized, personal attention to each student in this program. There will be live music by 17 South, food trucks and craft cocktails.
When: 6 p.m. May 18
Where: Firefly Distillery, 4201 Spruill Ave., North Charleston
Price: $20-$100
More Info: 304-573-8472, bit.ly/3WdyAs7, dawn.kahley@readingpartners.org
---
Friday
'Bedtime Stories (As Told by Our Dad) (Who Messed Them Up)'
What: "Bedtime Stories (As As Told By Dad) (Who Messed Them Up)," a comedy written by Ed Monk, shows Dad's turn to tell his three rambunctious kids their bedtime stories, but when he gets fuzzy on the details, the classics get creative. Free refreshments provided by Nannie's Kitchen and a meet and greet with the cast and crew after the show.
When: 7 p.m. May 19
Where: Saint George Young Theatre, 206 N. Parler Ave., St. George
Price: $7.50
More Info: bit.ly/42YeXqe
Asheville Gay Men's Chorus
What: Come enjoy choral music of every style and genre with the AGMC, whose mission is to entertain, advocate and connect community through choral excellence.
When: 7:30 p.m. May 19
Where: Saint James Episcopal Church, 1872 Camp Road, Charleston
Price: Free
More Info: 843-277-2765, stjamesepiscopalji.org, StJamesEpiscopalJI@gmail.com
Start Making Sense: A Tribute to Talking Heads
What: The musicians in this seven-piece Talking Heads tribute band take pride in faithfully re-creating the music of Talking Heads' entire career, including songs they never performed live. Together they bring much of the Heads' unique live show to the stage, with front man Jon Braun as a spot-on David Byrne.
When: 9 p.m. May 19
Where: Music Farm, 32 Ann St., Charleston
Price: $20
More Info: musicfarm.com/event/start-making-sense
---
Saturday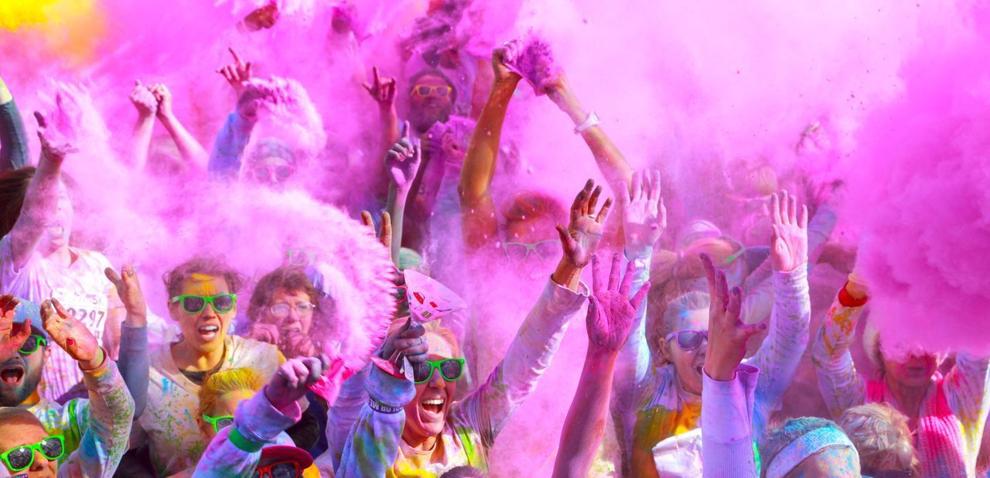 Give Me Shelter Color 5K
What: The Give Me Shelter Color 5K benefits all youth and families served by Carolina Youth Development Center in Berkeley County as well as the Callen-Lacey Center for Children in Moncks Corner. Come run (or walk) approximately three miles through the town of Moncks Corner and get showered with color along the way. This is a family-friendly event where friendly pets and strollers are welcome.
When: 9 a.m. May 20
Where: Moncks Corner Recreation Complex, 418 E Main St., Moncks Corner
Price: $40
More Info: 843-266-5218, support.cydc.org/color5k2023, katie.bendon@cydc.org
Sweetgrass Basket Weaving Workshop
What: Join local artisan Sarah Edwards-Hammond for in-depth instruction on sweetgrass basketry, which has been an integral part of the Lowcountry's Gullah Geechee community since the 17th century. Edwards-Hammond comes from a long line of basket makers and has passed down the tradition to her family and others in the community. All materials and instruction will be provided.
When: 9:30 a.m. May 20
Where: The Charleston Museum, 360 Meeting St., Charleston
Price: $75-$105
More Info: 843-722-2996, bit.ly/3Ofo5CA
Beginner Cyanotype Workshop
What: Join local artist Carson Carroll in this 2.5-hour beginner-friendly workshop learning the basics of cyanotype. It will begin with a discussion of the technique's history, and then participants will use a variety of found objects to create an image on paper using only the sun. All materials are provided, but bringing leaves and flowers or other thin flat materials to use for the prints is encouraged. This workshop depends on the sun, so full refunds will be given if the class needs to be canceled or rescheduled due to rain. Space is limited. Ages 16 and older are welcome. 
When: 10:30 a.m. May 20
Where: Redux Contemporary Art Center, 1056 King St., Charleston
Price: $40-$50
More Info: 843-722-0697, reduxstudios.org, maggie@reduxstudios.org
---
Sunday
Screen Printing with Clay and Indigo
What: In this workshop, participants will learn how to combine screen printing using a clay paste and indigo. Charleston fiber artist Kristy Bishop will demonstrate how to make the clay paste, pulling a print with a silk screen and dipping dried resist prints into indigo. Participants will come away from this workshop with their own stencils, a variety of dyed prints on fabric and a printed cotton bandana as well as personal items brought to the workshop. All materials, instruction and admission to the Dill Sanctuary, will be provided. Reservations required. Register online or call by phone.
When: 11 a.m. May 21
Where: The Dill Sanctuary, 1163 Riverland Drive, Charleston
Price: $120-$150
More Info: 843-722-2996 ext. 235, bdalesandro@charlestonmuseum.org, bit.ly/3pMwFif
Old Village Art Walk
What: The Old Village Art Walk will be an afternoon of touring several homes and businesses in the Old Village neighborhood in Mount Pleasant, spread among six houses, with an artist at each home. The event will benefit "Just Be You," Beth Rucker's organization dedicated to increasing kids' self-confidence and encouraging them to embrace their uniqueness. Then head to the Old Village Art After Party with live music and food trucks. Tickets include both the art walk and party. 
When: 1-4 p.m. May 21
Where: White Gallery, 709 Coleman Blvd., Mount Pleasant
Price: $125
More Info: oldvillageart.org, ovawalk@gmail.com, suzanne@littledogagency.com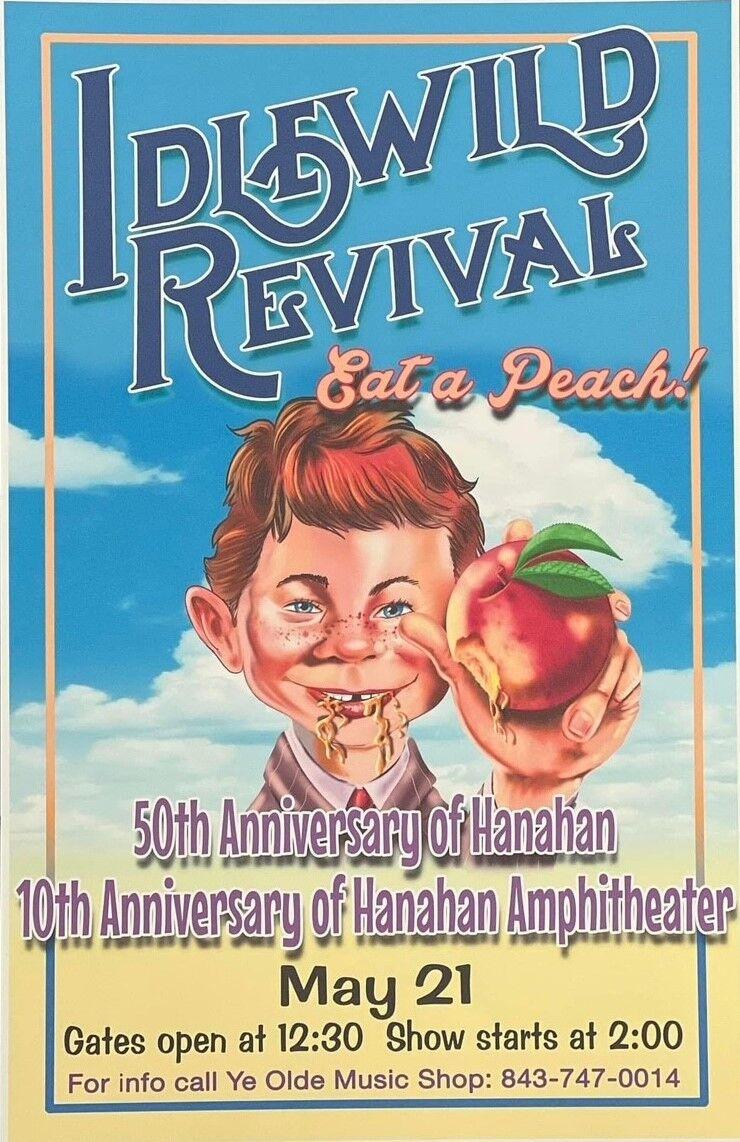 Idlewild Revival: Celebrating Hanahan's 50th
What: Celebrate the 50th anniversary of Hanahan township and the 10th anniversary of the Hanahan Amphitheater. Join in for an afternoon of Allman Brothers music. Gates open at 12:30 p.m. and the show starts at 2 p.m. Food trucks will be available. You can bring coolers and chairs but be sensible with the alcohol. Koozies and cups for the win. Tickets are available online, in-person at the gate or from Ye Olde Music Shop, 1276 Yeamans Hall Road.
When: 2 p.m. May 21
Where: Hanahan Ampitheater, 3100 Mabeline Road, Hanahan
Price: $20
More info: 843-747-0014, bit.ly/3Bxfofw, bit.ly/41GgBvt
---
Tuesday
North Charleston Business Expo
What: The North Charleston Business Expo is billed as the Lowcountry's premier business event showcasing regional companies. This event offers the business community, from small business entrepreneurs to senior executives, an opportunity to network with local professionals, engage with exhibitors and discover new resources for business growth.
When: 7:30 a.m.-5:30 p.m. May 23
Where: North Charleston Coliseum, 5001 Coliseum Drive, North Charleston
Price: Free
More info: northcharlestonexpo.com
---
Wednesday
Nattali Rize: LIBERATE tour
What: With her highly regarded band from Jamaica and a new album on the horizon, the LIBERATE tour is set to be a frequency shift like no other. The show will also feature an opening set from MINORI, direct from Jamaica. This show will bringing you vocal artistry, hip hop, reggae and dancehall music.
When: 10 p.m. May 24
Where: Pour House, 1977 Maybank Highway, James Island
Price: $18-$22
More info: charlestonpourhouse.com/event/nattali-rize-2