Update: Reese Witherspoon has posted to Instagram to mark her arrival in Charleston ahead of her event at The Gaillard Center Monday evening. Her stop in Charleston is a part of her book tour to promote "Whiskey in a Teacup."
In the post, Witherspoon appears to be in a historic area in downtown Charleston. The selfie is captioned with "#BelieveSurvivors." 
Here's our original story about the event: 
Reese Witherspoon's IMDb page could easily have its own Netflix category: "Strong Female Lead."
Whether playing the abrasive, incumbent class president, Tracy Flick, in "Election" (a role that earned her a best actress Golden Globe nomination in 1999), Southern icon June Carter Cash in 2005's "Walk the Line" (for which she won an Oscar), or the searching, itinerant writer Sheryl Strayed in 2014's "Wild," Witherspoon knows a thing or two about being and playing a leading lady.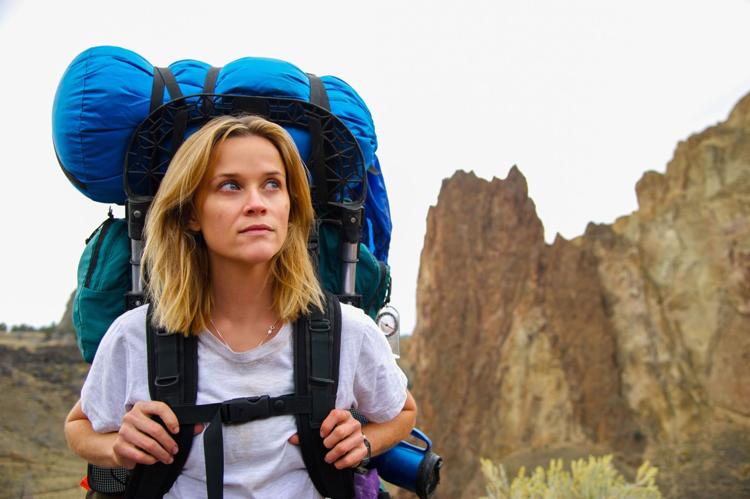 In addition to her acting resume, which spans almost two decades, she is an entrepreneur. In 2015, Witherspoon launched Draper James, a retail brand with a focus on fashion, accessories and home decor inspired by the American South. And in 2016, she established Hello Sunshine, a media brand and content company dedicated to female authorship and storytelling across all platforms. In addition, she has been an outspoken advocate and activist for women's issues and a leading voice in the #MeToo and #TimesUp movements.
To what does the petite mother-of-three owe her success and strength? She credits her Southern roots, which includes lessons about life, justice and entertaining imparted by her mother and her grandmother, Dorothea, growing up in Nashville, Tenn.
"My grandmother Dorothea always said that it was a combination of beauty and strength that made Southern women 'whiskey in a teacup,' " reads the back of her first book, which takes this aphorism as its title.
As the second stop on her eight-city book tour, Witherspoon will be at Charleston's Gaillard Center on Sept. 24 in conversation with author Emily Griffin to share personal stories from her book and her experiences growing up in the South. The event is sold out. 
If you are looking for a glimpse behind the Hollywood curtain or a how-to guide on becoming a Hollywood star, this is not necessarily the book for you. Instead, Witherspoon, who declined an interview for this article, provides a beautifully curated tome of 298 pages that extols the virtues of Southern living and specifically what growing up in the South taught her about life, love and baking biscuits.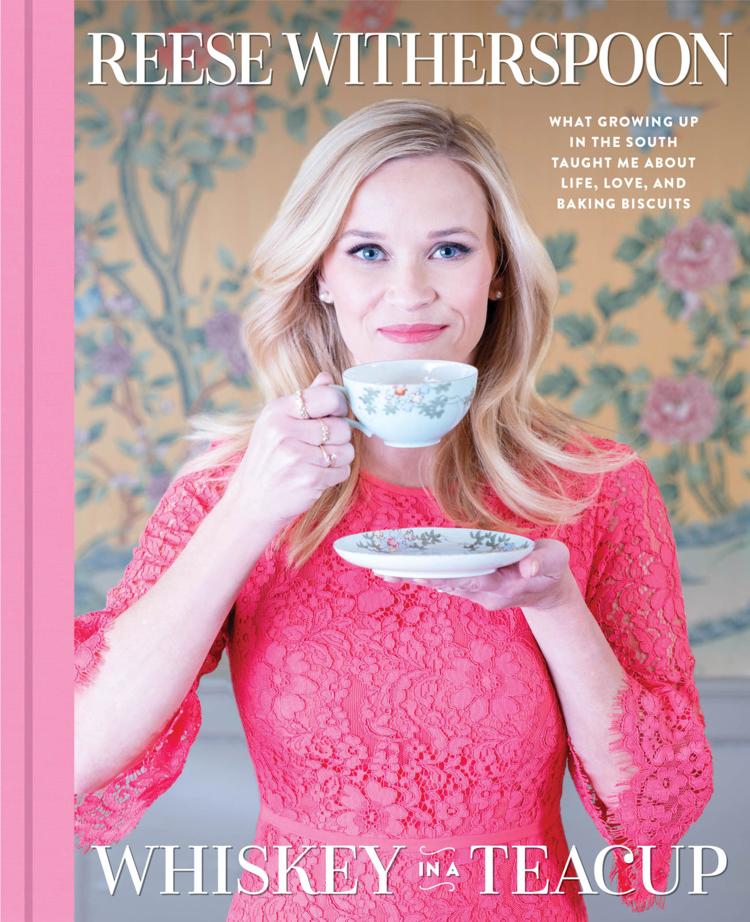 Hardcover and eye-catching, the book itself, with its bright pink motif, possesses its own decorative value (perhaps a nod to the title). Indeed, beyond the plethora of personal stories, wisdom and recipes Witherspoon includes, the book also offers a wonderful addition to any coffee table, sitting proudly like a peony.
The book opens with an ode to Witherspoon's grandmother, who Witherspoon recalls "was at once tough and beautiful" and adds that she "could make you feel infinitely welcome but also let you know when you'd pushed her too far ... to me, she was the epitome of Southern womanhood."
While much of the book trades in what might be interpreted as stereotypes of "Southern hospitality," Witherspoon is quick to debunk assumptions about what motivates traditional approaches to Southern entertaining and manners. Far from a form of martyrdom, she argues that consummate Southern hosting is a way of modeling good behavior and fair treatment, lessons that continue to serve her in her life.
A true Southern woman, she contends, "treats everyone the way we want to be treated: with grace and respect — no matter where they come from or how different from you they may be."
In another example, she says, it is a misconception that Southerners are "passive aggressive in their politeness," indicating, "In my experience, a Southern woman will tell you to your face if she doesn't like something."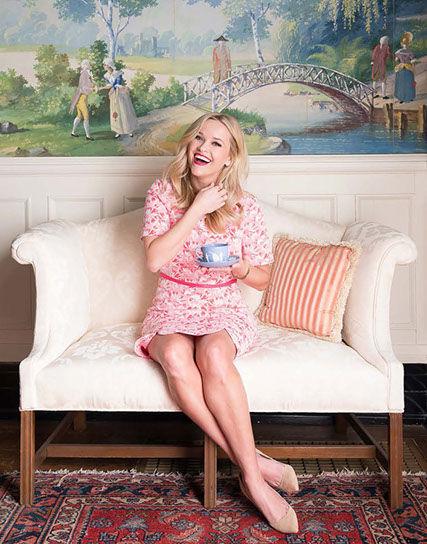 In addition to dispelling false perceptions of Southern style, Witherspoon also makes a point in her new book to honor the many Southern women, past and present, who have shaped her approach to living. Whether it be her mother, whose coaxing laugh she credits with giving her the courage to believe she could be a performer; a high school English teacher who taught her the rudiments of story structure and form; or the many "powerful black women" she was exposed to when her mother was teaching at Tennessee State University (Oprah Winfrey's alma mater), it is made plain that the Reese Witherspoons of the world are not made, they are created.
Throughout "Whiskey in a Teacup," readers will also get recipes for Southern classics like shrimp and grits and fried chicken, as well as tips for planning the perfect Kentucky Derby cocktail party and hot rolling your hair.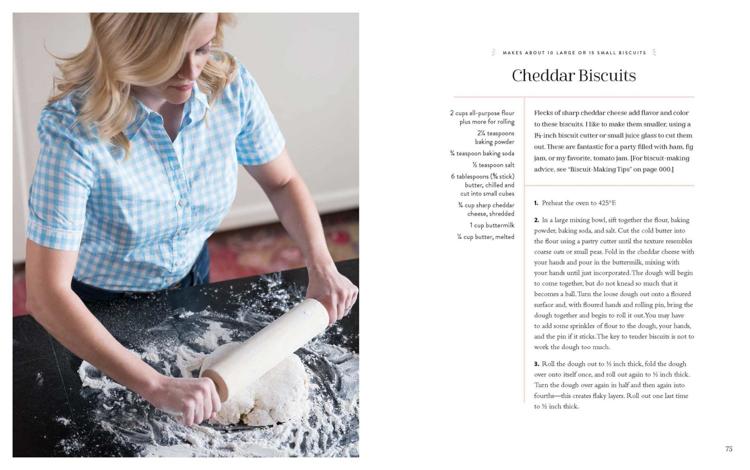 One of the more notable pieces of advice that she gives is recognizing the importance in life of learning not only what you are good at but also having enough self-awareness to know what you are not good at.
This lesson came early in Witherspoon's life as she shares how, from an early age, she wanted to be like Dolly Parton (also featured in the book), but had to come to terms with the fact that while she had received ample praise for acting, the same could not be said of her singing voice. This, of course, did not stop the determined Southern woman from portraying legendary singer June Carter Cash on the big screen.
If you were clever enough to purchase VIP tickets early to Witherspoon's sold-out book tour in Charleston, a place she calls "one of the most magical places in the country," you'll have the opportunity to meet the actress in person and even get a photo-op.
Otherwise, you can purchase "Whiskey in a Teacup," published by Simon and Schuster, on Sept. 18 when it hits stands and have a piece of her brand of Southern style for your very own.