Rainbow Kitten Surprise, which got its name from the absurd phrase a friend kept repeating after surgery (yes, he was saying "Rainbow Kitten Surprise" over and over again), has become the go-to act for summer festival stages across the country.
From Tennessee's Bonnaroo to Florida's Okeechobee to Washington's Sasquatch, the genre-bending, passionate indie act known by acronym RKS has played at and returned to some of the biggest music festivals. 
Formed in early 2013 by founding members Sam Melo and Darrick "Bozzy" Keller, the Boone, N.C., band was propelled into the spotlight with VH1 reality show "Make a Band Famous," hosted by The All-American Reject's Tyson Ritter. 
Rainbow Kitten Surprise submitted the song that took off from its first album, "Devil Like Me," into the competition, and fans voted them into one of the top 24 slots. So, the band was called up to New York City in 2014. 
"Oh man, it's been a second," says Rainbow Kitten Surprise frontman Sam Melo. "I almost forgot about it. What an experience. We all piled into our bassist's Suburu Impreza and the backhatch didn't work, so here we are on the road for 13 hours to New York with guitars sitting on our laps and piled in the trunk, and we had to load anything in and out through the side doors." 
Once they arrived, someone in a suit and a headset in a Mercedes Benz whisked them off to a warehouse to join the other top bands. 
"We were waiting there for maybe eight or nine hours to play for 30 seconds. We got eliminated on the first round," says Melo with a laugh. "It did teach us about a certain aspect of show business that we weren't as into, though. It was the first time going on camera and being told 'say this, say this.' We weren't about it." 
While that competition may not have worked out in the band's favor, "Devil Like Me" ultimately skyrocketed the act into the tour scene, inspiring a bevy of shows on the road and a second album in 2015, "RKS," as a follow-up to 2013's "Seven + Mary." After another round of radio success from "Cocaine Jesus" and "Lady Lie" and garnering attention from the all-in performance style of their live shows, they were being asked to join festival lineups. 
"It's crazy," says Melo. "Me and our bassist, Charlie (Holt), were at Bonnaroo a few years ago. I don't remember what show we were watching, but we were thinking, 'We don't sound this good but, we could totally do this.' That was a year before things started taking off and two years before we played Bonnaroo on that same stage."
When the band plays a festival, Melo says he likes to spend the entire day before the show on festival grounds to become fully immersed in the experience.
"I love the culture it creates," he says. "It's like it's its own world for three days, and you're entering into an alternate reality where the only thing that matters is people and art and music. It kind of makes you feel like a superhero, because you're part of creating the experience that everybody's living in."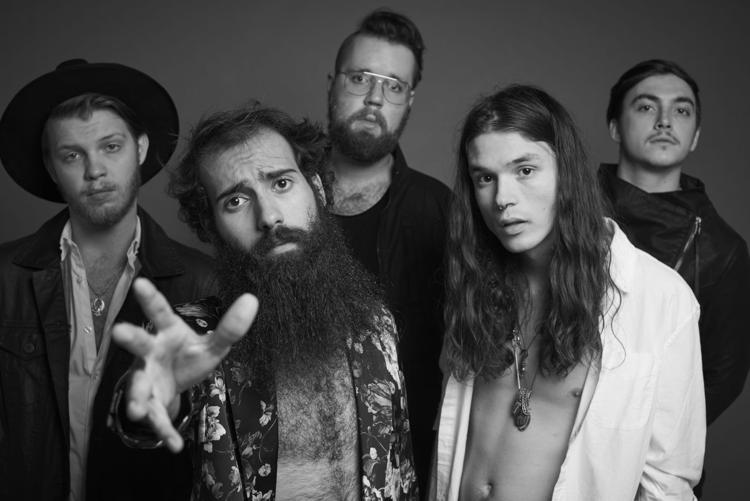 But before all that success, Rainbow Kitten Surprise played a show at the Music Farm, opening for local rock band and another festival favorite, Stop Light Observations. 
"It was one of the first really big crowds we had played for," says Melo. "It was exciting."
Now, three years since its last disc dropped, Rainbow Kitten Surprise is playing music from new project, "How To: Friend, Love Freefall," which will be out on April 6. 
"It's a long time coming," says Melo. "We've been working on it since our last record. It's probably the most representative of our collaborative effort — a lot of great parts and ideas from all corners of the band."
In the new disc, Rainbow Kitten Surprise is not shying away from the introspective lyrics it is known for. In fact, they're more poignant than ever with Melo's own personal revelations.
"Personally, this was the first record that I came out as a gay man at the beginning of the whole writing process," he says. "That's definitely in there, dealing with that internally."
In addition, he says it's the first actual rock album the band, which experiments in the realms of rock, folk, R&B and more, has constructed. 
"It's been a gradual progression of the band from early stuff," says Melo. "We started out with sample work that was put together with pop sensibility. Then, our second album was written with that pop sensibility but ended up being a rock album. This is the first album that is a rock album from the start."
Rainbow Kitten Surprise has a sold-out show at Music Farm on April 2.