Nutritionists will tell runners to eat a small, easy-to-digest meal the night before a race: Perhaps white rice with shredded chicken, or a sweet potato burrito. But regardless of what the experts say, many competitors assume their race bib entitles them to a massive plate of pasta on Friday night.
If you're riding the noodle bandwagon, at least keep two things in mind when planning your pre-race dinner: First, it's best to steer clear of fats during this all-important carb session, so save the alfredo and cacio e pepe for another outing. Second, excellent pasta fuels just as well as run-of-the-mill spaghetti. Fortunately, Charleston has plenty of the former. Here, eight of our favorite local pasta destinations:
Wild Olive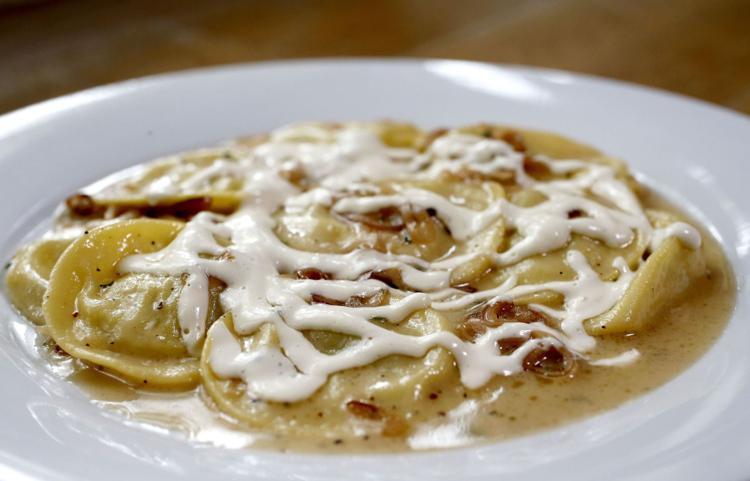 A strong contender for the title of the Charleston area's best Italian restaurant, Wild Olive is renowned for its commitment to local sourcing, with South Carolina shrimp and Johns Island greens making frequent appearances on chef Bradley Grozis' plates. But the pasta makes an even shorter trip from creation to the customer, with the kitchen rolling its own pappardelle, tagliatelle and lasagna, among other shapes.
2867 Maybank Highway, Johns Island, 843-737-4177, wildoliverestaurant.com
Trattoria Lucca
Another respected producer of its own pasta, Lucca swears by semolina flour for every shape it makes, including a spaghettoni prettily blackened by squid ink. While the terrific house-made charcuterie isn't the ideal choice for an athlete trying to keep his or her hydration levels high, the cozy dining room, situated on a quiet corner of a neighborhood that's still more residential than restaurant, is easy to enjoy, regardless of what's ordered.
41-A Bogard St., 843-973-3323, luccacharleston.com
Indaco
The first Italian restaurant in the growing Indigo Road empire, Indaco arrived on the scene right about the time that the Negroni was being rediscovered by American bartenders. Like that classic cocktail, the restaurant is stylish and well-balanced, with a menu that challenges and comforts in equal parts. For instance, on the pasta front, there's tagliatelle tossed with unsmoked pork belly and egg yolk, as well as pappardelle Bolognese.
526 King St., 843-872-6828, indacocharleston.com
Vincent Chicco's
Holy City Hospitality is the force behind a city block's worth of restaurants, but Vincent Chicco's is the only one among them that has offered an all-pasta tasting experience. While that multicourse meal has sadly been retired, pasta still takes up a page of the restaurant's menu, which features downtown's most explicitly Italian-American dishes. In other words, Vincent Chicco's is the peninsular answer to chicken parm cravings.
39-G John St., 843-203-3002, holycityhospitality.com/vincent-chiccos
Le Farfalle
When Michael and Caitlin Toscano opened Le Farfalle, they had in mind an ambitious Italian menu based on their experiences in New York City kitchens. But it turned out Charlestonians were most interested in pasta, so they adjusted their output accordingly: Should you arrive in time for lunch, $12 buys a plate of noodles, salad and garlic toast. At night, the prices go up, but so do the options: Among them, scialatielli with clams and bucatini with octopus.
15 Beaufain St., 843-212-0920, lefarfallecharleston.com
Pane e Vino
If it's too nice to sit inside, Pane e Vino's courtyard is the ideal backdrop for a spaghetti supper. The timeless restaurant is in perpetual warm summer night mode out back, where white linens, tabletop candles, flowering vines and strings of twinkling lights set the romantic mood. There are simple pasta dishes and affordable red wine to match, along with live music on certain nights.
17 Warren St., 843-853-5955, panevinocharleston.com
Al di La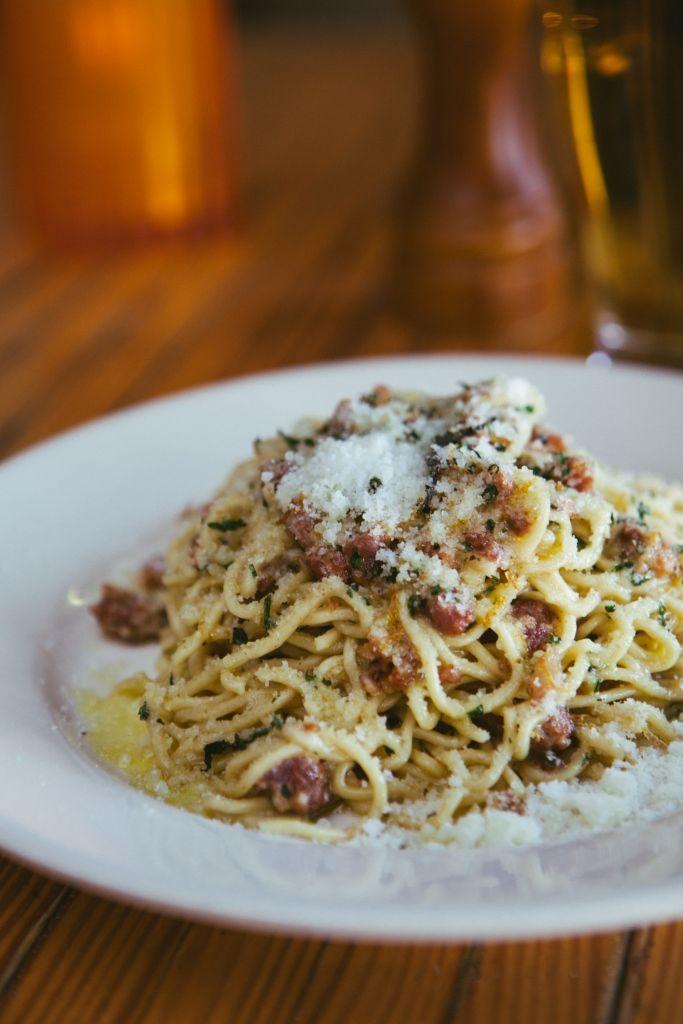 A longtime favorite of Charleston food-and-beverage professionals looking to escape downtown's bustle and buzz but not its exacting culinary standards, Al di La has mastered an array of classics, including gnocchi, vodka sauce and cannoli. Its Bolognese, served over egg noodles, is a richly satisfying version of the meat sauce. And more importantly for diners readying to lace up their racing shoes: Like all of the pasta dishes, it's available in a half-size portion.
25 Magnolia Road, West Ashley, 843-571-2321, aldilarestaurant.com
La Pizzeria
Never mind the name. This strip-mall restaurant doesn't have much flash, but it has a far longer menu than the typical pizzeria, including a quartet of polished pasta sauces. First-timers are invariably charmed by the personable service and wood-fired oven, which enhances the restaurant's rustic charisma. La Pizzeria is particularly proud of its gnocchi, but any pasta that surfaces on the specials board is a good choice.
976 Houston Northcutt Blvd., Mount Pleasant, 843-375-4607, mtplapizzeria.com