Roll the windows down and get a few tears in your eyes. Drivin N Cryin is coming to Charleston for an outdoor sunset concert at their longtime stomping grounds, The Windjammer. 
Though the name suggests sad songs, the rock band pushes out a lot of fast and furious party-pleasers among some more introspective movers and shakers. 
The Atlanta band with one member (Tim Nilesen) living in the Holy City, is on the verge of releasing a new album called "Live the Love Beautiful" this June. Rolling Stone premiered new track "Ian McLagan" just last week, along with a simple yet compelling video animated by Real South Records' label owner D.J. Edwards. The Real Frank Tee created the artwork.
To get a little more of a preview of the upcoming disc and to catch up with the group before the Isle of Palms show, The Post and Courier reached out to singer/songwriter Kevn Kinney. 
He was en route to Amsterdam but sent back answers via email. Here's the correspondence. 
Q: What were your inspirations when you were writing songs for "Live the Love Beautiful"? How has it differed from previous albums or how is it similar?
A: As with all of our records, it's like a mixtape. My sense of songwriting always comes from the desire to find myself in myself within myself. It's always a journey of discovery, and I never know where it is going to lead me. It's something old, something new, something borrowed, something blue.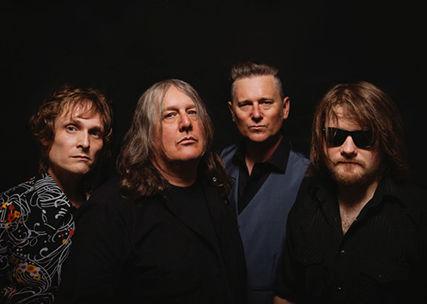 Q: Give me a little more info about your history with Drivin N Cryin. What has it meant to you to be a part of this project?
A: I don't look back further than last weekend. In fact, I don't look back at all. The history is for others to experience, what the songs mean to them, where they were when they first heard them. As for me, I'm looking forward constantly.
Painters are focused on the art in front of them, and I have a lot of work in front of me. The only history I see is personal, at the moment, in a song. If I do it right, I'm transported to that moment within the song, that place, that person, that emotion.
Q: What albums have you been listening to recently? 
A: I think Tim (Nielsen) and I are on a vintage bossa nova kick. Of course, Aaron Lee Tasjan is a must, "Karma for Cheap." My friend Tim Knol from Holland has a new bluegrass album called "Happy Hour." But the one I'm listening to the most is the new Todd Snider record "Cash Cabin Sessions." Just brilliant. I listen to it every day.
Q: You released two cool but simple animated videos of "Step By Step" and "Ian McLagan" from the new album. What other kind of visual art have you been working on? 
A: I haven't really been involved in the new video process. I just love them when they come out like the fan that I am.
Q: Drivin N Cryin has a big Charleston following. What do you love about Charleston and the Charleston crowd that comes out to see you? 
A: Magic is magic. Some places possess it. Some don't. Over the years, the great people of Charleston have been riding those waves. When a city embraces all the arts — that includes the graphic arts, the fine arts of theater and music, the culinary arts, brush to paper arts, folk art, sweetgrass art, mixology art — then the respect for art creates a wave. You see it in the eyes and open minds of the audience.
There has always been a certain patience in Charleston that allows one to tell the arc of the story, and that suits me perfectly, because if you only listen to one Drivin N Cryin song, you will not understand where we are coming from.
Q: What can people expect at the Windjammer show?
A: The continuing journey of the peaceful evolution at maximum volume.