The College of Charleston unveiled a historical marker and portrait of the civil rights icon Septima Poinsette Clark in a pair of ceremonies Thursday — the 120th anniversary of her birth.
Clark was the daughter of a formerly enslaved man and a woman of Haitian descent. In addition to teaching for nearly 40 years in the Charleston and Columbia areas, she organized hundreds of "citizenship schools" that taught literacy and helped register more than 50,000 black voters.
Rosa Parks and Martin Luther King Jr. counted Clark as a mentor. King referred to her as the "mother of the movement."
The historical marker was unveiled Thursday morning at Clark's birthplace, 105 Wentworth St. Mayor John Tecklenburg issued a proclamation, and Poet Laureate Marcus Amaker read a poem for the occasion.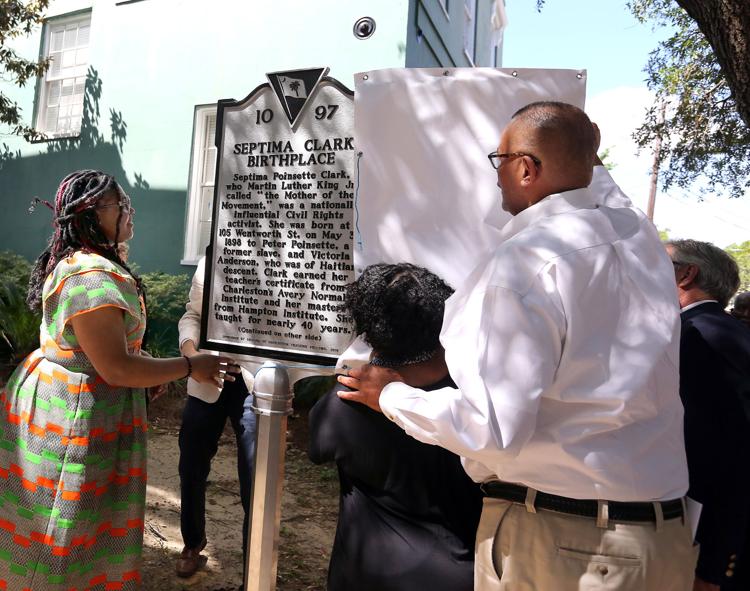 The college unveiled the new portrait Thursday afternoon at the Hill Gallery at 161 Calhoun St. The portrait will later be housed at the Avery Research Center, the historic location of the Avery Normal Institute where Clark studied.
Jonathan Green, an acclaimed painter of Lowcountry scenes and landscapes, applied his signature brilliant-hued style to the portrait. In it, Clark is positioned in front of a bright blue sky with white clouds casting shadows on iridescent-green swamp grass.
He chose to portray Clark around age 50, when she was deep in the trenches of the civil rights movement. Her hair is a bright bluish-white, her eyes look out from behind red-rimmed cat-eye glasses, and her lips are parted in a slight smile.
In one sense, Green said, "She looks like everybody's fifth-grade teacher back in the day."
That's perhaps the way Clark would want it. She was famously modest and balked when the city named the Septima P. Clark Parkway in her honor.
The portrait's details carry the weight of history. She wears a woven sweetgrass brooch on her lapel in the style of Lowcountry sweetgrass basket artisans. The trunk of a tree in the background is embellished with red diamond shapes, a motif from Green's set design for the 2016 revival of the 1934 opera Porgy and Bess.
Around her neck hang three strings of pearls.
"I'm dubbing her the mother of pearls because she created a lot of them in terms of what she stood for," Green said.
Green said he wanted to highlight a woman who led the way and never received the recognition she deserved.
"Everybody should know about her because she was an early architect of the civil rights movement," Green said. "Back in those days, the women were constantly overshadowed."
College of Charleston education faculty, members of the S.C. Teaching Fellows program, and local politicians helped raise money for the marker and portrait.