The penny farthing sketches on the front porch floorboards of a Jackson Street cottage were drawn 6 feet apart last summer, making a line out of the open-air converted bodega and toward the backyard pagoda where musicians strum nightly. 
The venue those socially distanced etchings belong to was born in the middle of the COVID-19 pandemic. Several pivots and one year later, it has found a surprising stride during a harrowing time for the live event and restaurant industries.  
Tobin's Market started as a private event venue targeting wedding parties and corporations. It was dubbed the Jackson Street Cottages and set to offer photogenic celebrations in the complex of historic houses surrounding a string-light-draped courtyard. 
By last September, plans had changed. And so had the world.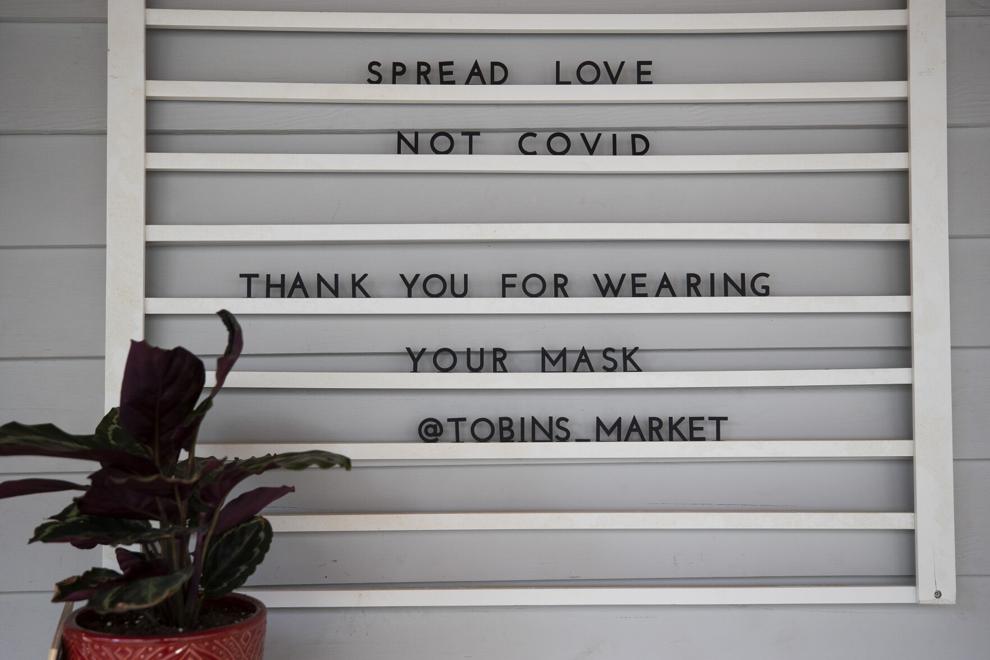 To adapt, the venue pivoted to offer a backyard with an adjacent kitchen, some patio furniture and live music on a platform stage.
The business licenses had already been acquired; it was just a matter of changing access to allow the public inside instead of private event holders and creating pandemic-era rules, which at the time included social distancing in line and mask wearing. 
The downtown Charleston nook, which most nights charges a $5 or $10 cover that goes directly into the performers' pockets, became a haven to unemployed musicians.
It was also a form of therapy to those who had been quarantined for months, unable to catch live music in just about any other format. The outdoor aspect of the venue allowed for people to gather more safely than at Charleston's indoor halls, most of which were shuttered. 
"We've had so many musicians endlessly thank us saying we saved them when there were no other gigs around," general manager and operating partner Pete Bohm said, adding, "we played a big role in saving Charleston's local — especially on the peninsula — music scene."
Bohm, along with chef Danny May and music curator Paul Joliet, all met while working at Trader Joe's and bonded over their mutual love of food and music.
The Pour House regulars, who were also all once Revelry Brewing Co. beer slingers, were game to take on the challenge of turning Tobin's Market into a neighborhood concert venue.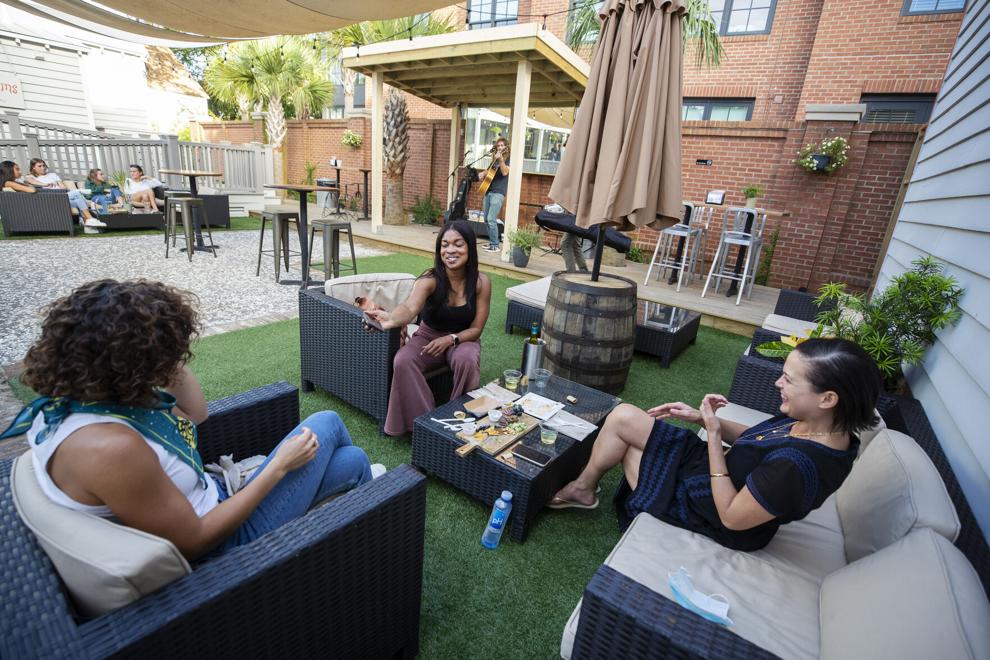 For them, most of the time the job feels like a party with friends instead of work.
"We get to have a house party every night," said May, who often escapes the kitchen for a short stint to hop in on a song or two with other musicians. "It's awesome." 
Tobin's Market has also set itself apart from most any other venue in town by making a promise that could have potentially been hard to keep: live music every night of the week. 
Yet somehow, the bands keep coming, and many keep coming back.
With a capacity of under 150, shows at Tobin's are made to be intimate, but that doesn't mean some big names haven't performed. Elise Testone and Snarky Puppy are among acts, along with members of Ranky Tanky and a bevy of Pour House favorites. 
For a while, weekly residencies helped fill the slots, with a Monday night staple session by local funk project The Psyco.delics and a Wednesday acoustic jam with Jeff Caldwell. 
"When COVID hit I, like many of the other musicians in town, were very much displaced," The Psyco.delics and Little Bird keyboard player Noah Jones said. "It definitely was the poorest I've ever been. Tobin's Market became a shining beacon of local music."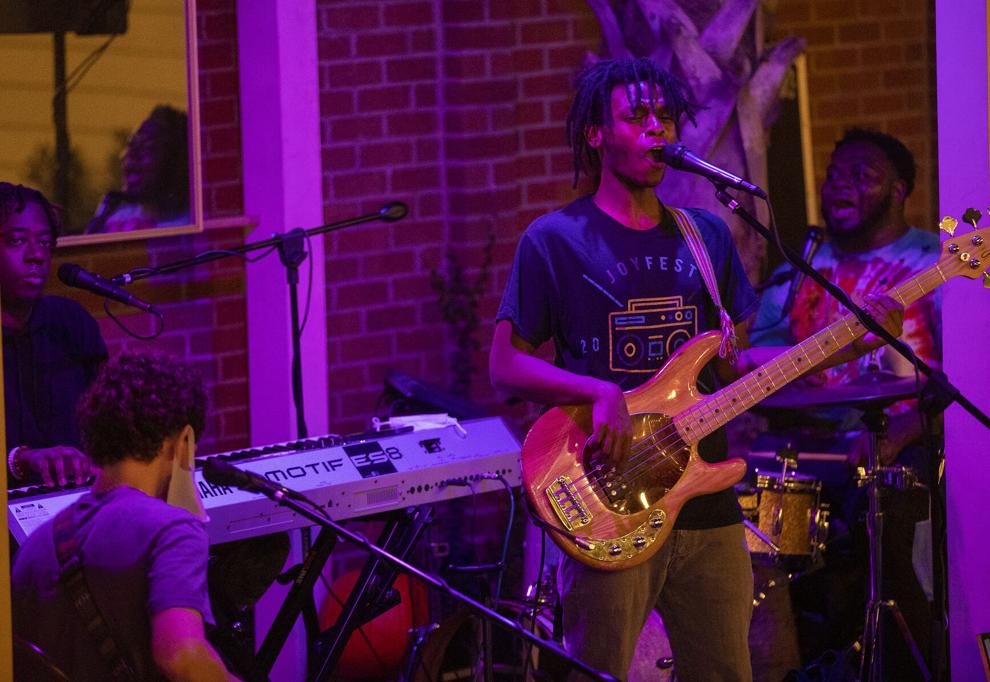 "I knew it was going to be something special, but looking back a year later, it still blows my mind how much we've all grown together. Because of Tobin's, I see now more than ever how much Charleston as a community supports the scene."
Caldwell said that a big plus to the venue is having actual musicians run it. That, and the sound quality, surprisingly good for an outdoor space. 
"Musicians get music on a different level," Caldwell shared. "It's a little more relatable in some ways and also sometimes they'll come and sit in. It's like a family there."
He said, as a performer, he also appreciates that liquor isn't for sale, because "people don't get as wild."
"You see some intense stuff happen with shots sometimes, but the Tobin's clientele is nice and calm."
The venue has become a neighborhood gathering point as well as a musicians' oasis, where the pagoda has been dubbed the Yoda Pagoda "since Jedi mind tricks happen on stage." 
For gatherers, "this is their backyard if they don't have a backyard," said Bohm. And friends are made easily and quickly. 
Bohm's dog Bacon recently had a birthday party at the spot, during which regulars brought him presents. 
Improvements are constantly being made to the spot, as the venue continues to adapt through these COVID-19 times. Most notably, an outdoor bar was added this July for further social distancing. Internally, the kitchen has undergone an overhaul and upgrade.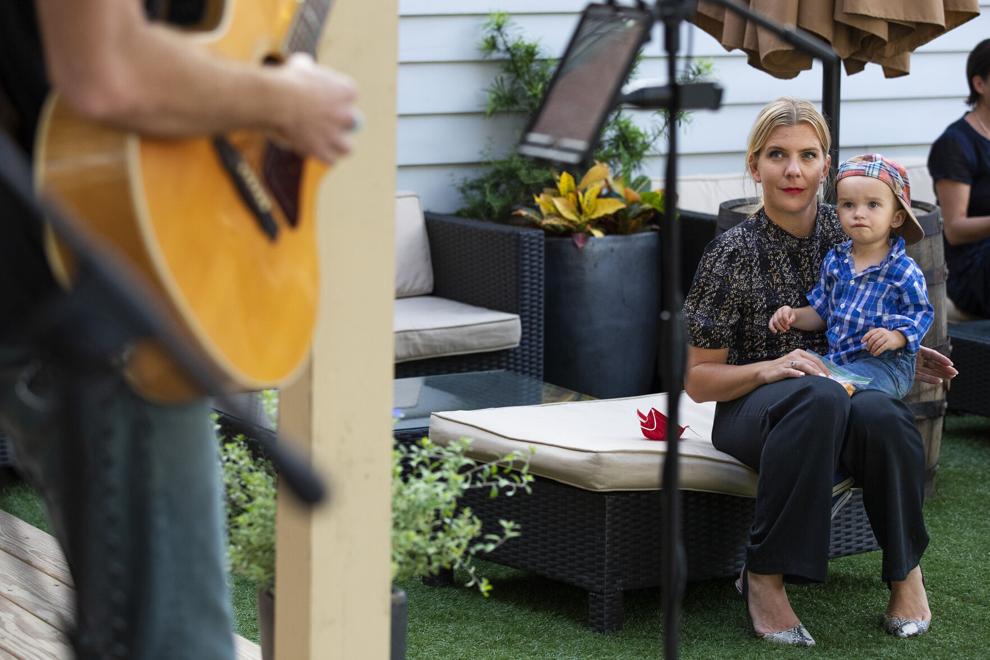 And menu items are constantly changing, although the signature burger is a sure favorite. There's also a charcuterie board, tacos, poke bowls and lobster rolls. A wide selection of wines and local craft beers is also available, curated by staff. 
One downside to an entirely outdoor venue is that it's not weatherproof. The cold and the heat play a role in who turns out on a given night for food and a show. 
"The same drop that you see in the middle of winter, you see in the middle of summer here," said Bohm. "And I'd rather have the middle of winter, because we can put heaters up. But in the middle of summer, it's the rainy season."
During one particular downpour, Bohm remembers throwing a football attached to the end of a tarp over the string lights to help secure a dry spot for guests. 
"It's literally just been pivoting this entire time," he said with a laugh. 
Celebrating its one year anniversary, Bohm and crew at Tobin's assure more pivots are certainly on the agenda, including organizing a yet-to-be-announced shindig.
Until then, catch a show — literally any night.