It all started with the "Two-Drink Minimum": a hefty yet undeniably tasty concoction of Maker's Mark bourbon, chartreuse and lemon swirled together into what Pineapple Tour Group director of tourism Ben Criscitiello describes simply as "potent."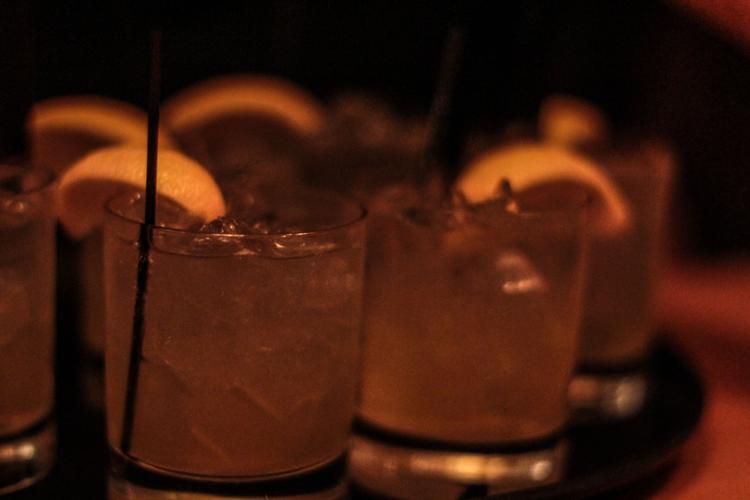 This is how participants of Charleston's newest adult-humor attraction, Pineapple Tour Group's Comedy Bus Tour, can (and, in my opinion, should) begin the evening. There's nothing like loosening up a little before a comedy show, especially one where the comedians are your tour guides and you're trapped on a bus with them for an hour and a half. 
It's hard to describe the drink, but it's pretty snazzy. It's breakfast-y, like there should be juice in it, but with some Mexicali-type vibe in there. Granted, that doesn't make much sense, but it will most definitely warm your cheeks a bit and get them primed for giggling. 
Warming up at HOM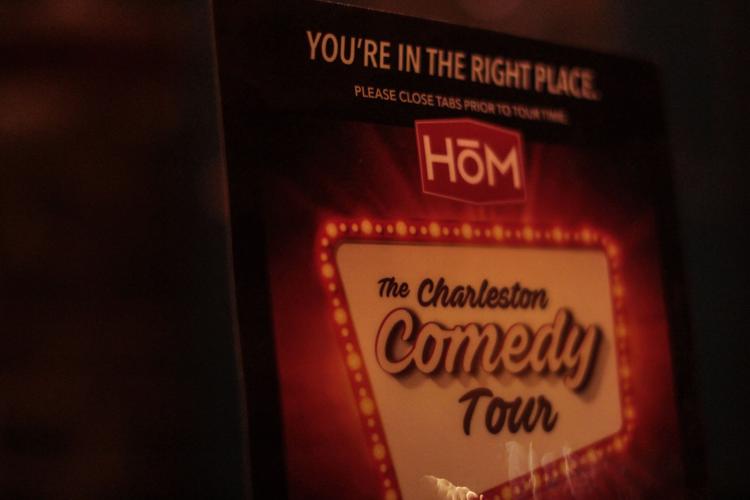 Drink specials and dinner options abound at the starting point of the tour: HoM at 563 King St., where tour parties of up to 14 can taste and mingle with each other at a reserved high top. Sometimes, the comedians who will be performing on the bus join the group as well. 
Our party of 10 arrived around 6 p.m., giving us an hour before we were set to depart, and the first person seated at our table was the headlining comic of the evening, Hagan Ragland, sipping a Tecate beer. 
"This is my first time doing this," said Ragland, among small talk. "So, everyone drink more." 
After the two-drink minimum (or maybe two two-drink minimums) and some tasty burgers and fries were consumed, the magic hour approached. 
Everyone headed outside to wait on the tour bus with its signature pineapple logo, which was just arriving across the street. Our party scurried over and climbed aboard, filling up most of the 14 seats (we had to leave three for the comedians) and making it feel like a true packed-in tour. Then, the wheels took off down King Street, and the comedy began.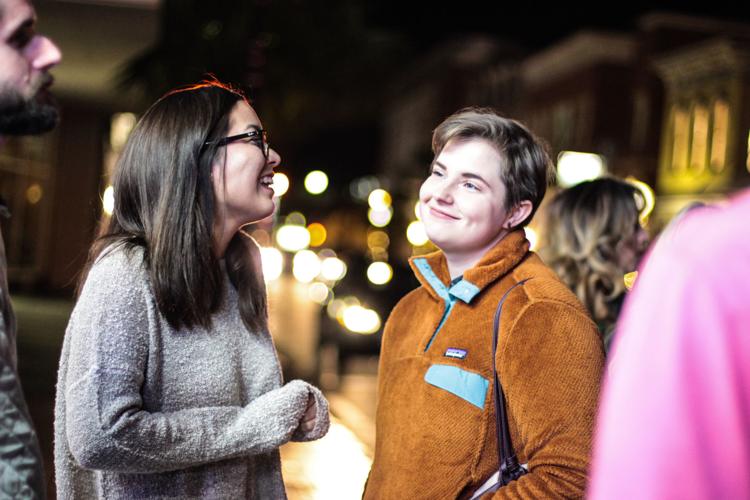 On board
First up was local comedian Shawna Jarrett, who started off by announcing, "This is not a history tour. We're not allowed to talk about history." A Charleston tour without history? I hadn't been expecting it, but then again, Charleston tour guides do need to be licensed to talk specifically about history, and these comedians were no historians. 
Don't expect any anecdotal stories about Rainbow Row, how the word "hushpuppies" came to be or the ghost with no legs at the Dock Street Theatre. 
So, how could they give a Charleston tour without talking about history? Well, they all did a good job of bringing to light particular locations around town where they recounted juicy personal stories, as well as the joints that locals could all commiserate about. And let's not pretend like any of the passengers were safe from jokes, either. 
These are tight quarters. They can see everything your face is saying, so come ready to play because it's all in fun.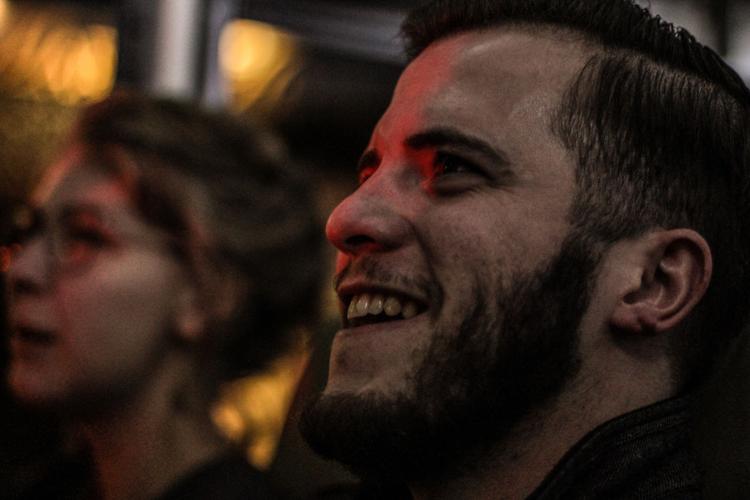 They also worked in outside sights and sounds into their improvisations. 
Jarrett stopped in the middle of one of her jokes to comment on the "smooth jazz" serenading street-goers in the form of a saxophone player as the bus stopped at a red light. 
"Hang on, let me feel it," she paused, getting into the groove.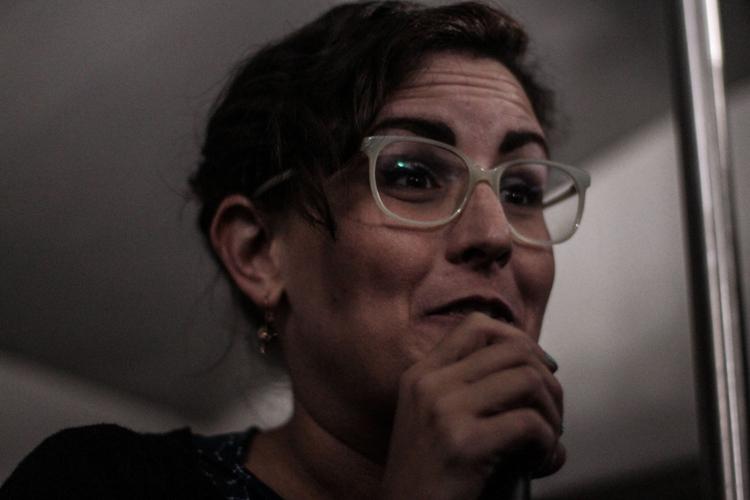 She also threw some punches at tour bus driver Criscitiello, who tried to join in on some jokes. 
"You can't do that mid-tour because it makes me so sleepy," said Jarrett. 
Things got a little morbid at one point. 
"How do you think this ends?" joked Jarrett. "We drive this straight into the Battery, pound the metal and we're (expletive) gone, man. Y'all are cool with dying tonight, right? This is going to be the best and last tour of your life. We gon' die on this bus." 
It was hard to pay attention to exactly where the bus was traveling with all the comedy happening inside, though I knew we were contained to the peninsula. We probably were doing that "Big Ben-Parliament" round-and-round-type thing like in "National Lampoon's European Vacation." And the raunchier the comedy got, the harder it was to notice anything else.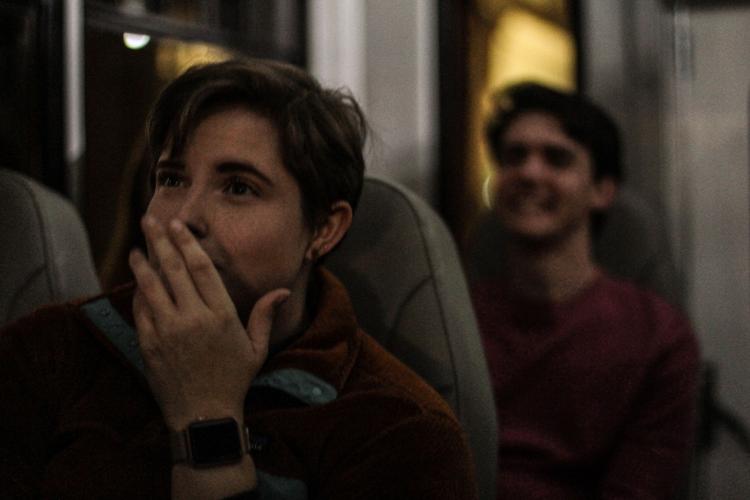 R-rated
The second comedian, Joseph Coker, brought the adult humor to the next level with his tales of "sex chicken" with his mom, during which he compared his crazy sex stories with his mom's. 
"It's like the toothpaste and apple taste, just in your mouth, but it's your heart instead," said Coker. 
If those stories were true, then yes. 
The jokes were just as personal as funny, but there's something particularly "chummy" about the fact that the comedian could end up in your lap with one sharp turn onto a one-way street, or a slam on the brakes because of, well, a pedi-cab driver. 
Ironically, Coker also talked about his ex-girlfriend who left him for a pedi-cab driver: a Charleston tale as old as time if I ever heard one. 
"She left me very slowly, though ... because they're in a bike," Coker quipped, inducing a roar of laughter, even from bus driver Criscitiello.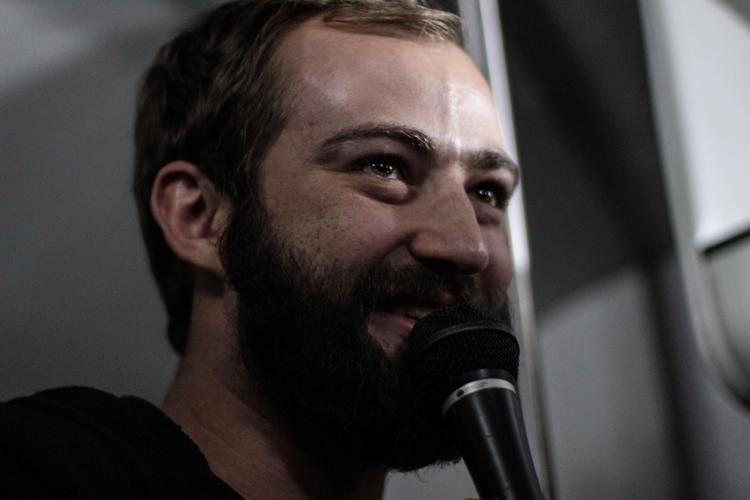 "This is weird with him being here," Coker then said of Criscitiello. "I feel like this is my subconscious, like 'Yeah, that was a good one! Turn that dark spot into a good spot.' Thanks, God." 
Last but not least was Hagan Ragland, our first friend of the night at the HOM high-top table. We got quickly reacquainted as he related to our "local"ness by making fun of Summerville (It's not our fault you're so far away!) and The Silver Dollar ("DJ Mommy dollars") and then simultaneously relating to our "millennial"ness by bringing up some Tinder stories and drunken remembrances. 
"I love blacking out in this city," Ragland segued. "Actually, I got so black-out drunk recently that I texted 19 people in my phone at 4 o'clock in the morning, 'Come save ya boi. I'm in the dirt. And this one guy, so nice, texts me he'll get me an Uber, and I treat him like an ex-girlfriend: 'Seen 4:34 a.m.'"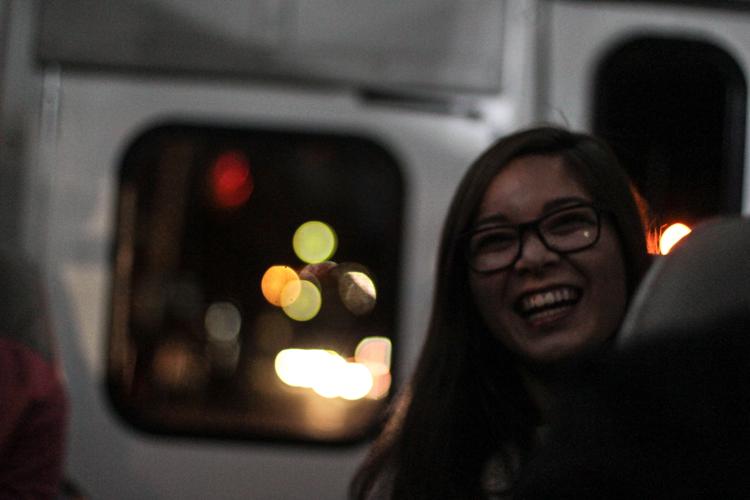 He also knew that student loan and job-hunting jokes would be a sure winner.  
"I got a real college experience, called Trident Tech film school," he started. "You know when you graduate from film school, you get up on the stage for your degree and they give it to you, and then you realize, '(Expletive), this is an application for Dominoes. Where'd my $40 grand go?'" 
All in all, it was a truly laugh-inducing hour-and-a-half ride around Charleston that was a nice alternative to heading to Theatre 99 for the night. But warning, this is definitely not one for the kiddos. Expect to chuckle your socks off at some inappropriate humor and then be slightly ashamed afterward for getting the joke. 
It's important to note here that not all tours are an "HBO After Dark"-type experience. The comedy can easily be toned down and moved into a PG-13 range if necessary, based on the patrons in the group.