Food and beverage folks in Charleston might be interested in this new art exhibit at Miller Gallery, which combines the colorful oil and gouache paintings of Julia Deckman and Rachael Nerney. 
The focus is on the Lowcountry's renowned restaurant scene, with several pieces featuring dishes and decor at specific eateries around town, from Goat.Sheep.Cow to 167 Raw.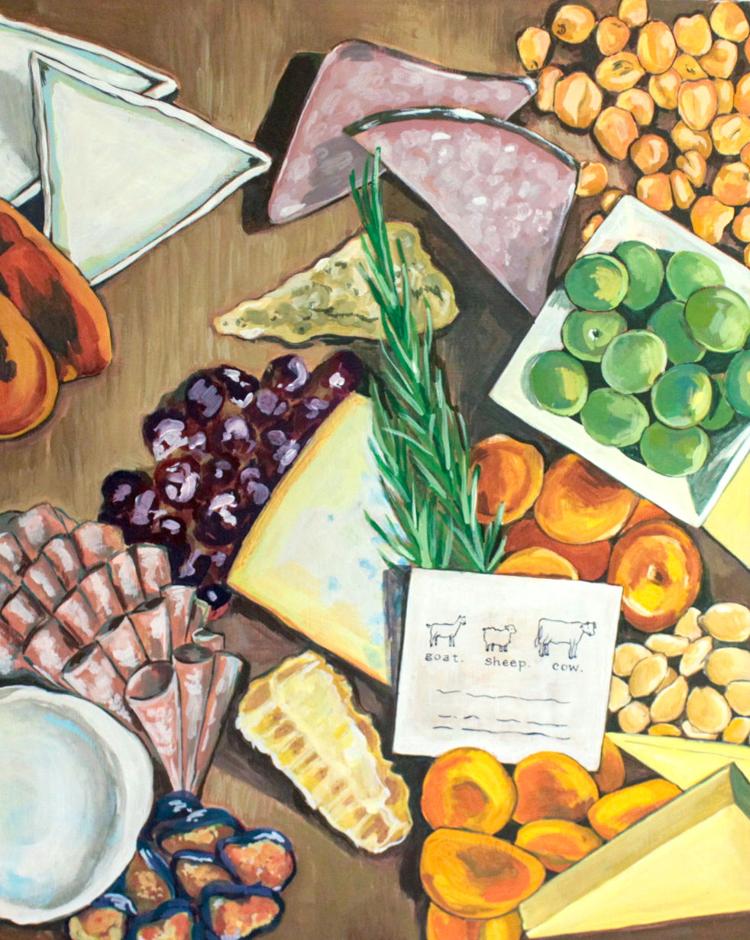 A margherita pizza from Juliet, sun-dried tomato farfalle from Indaco and chocolate macarons from F.I.G. are just a few sumptuous delicacies to make their way onto the canvas, and the inspiration begins with both Deckman's and Nerney's strong ties to the food community. 
Deckman, who grew up in Annapolis, Md., has always had a food-focused family. Her father owned restaurants, and her uncle was a head chef. Now, her husband is a manager and beverage director and her best friends are chefs. 
"I have a unique perspective on the work and attention to detail it takes to make a successful establishment and appreciate the people behind Charleston's amazing culinary scene," says Deckman, who works part-time at Artist & Craftsmen. "Food and bev is part of my daily life and I love it."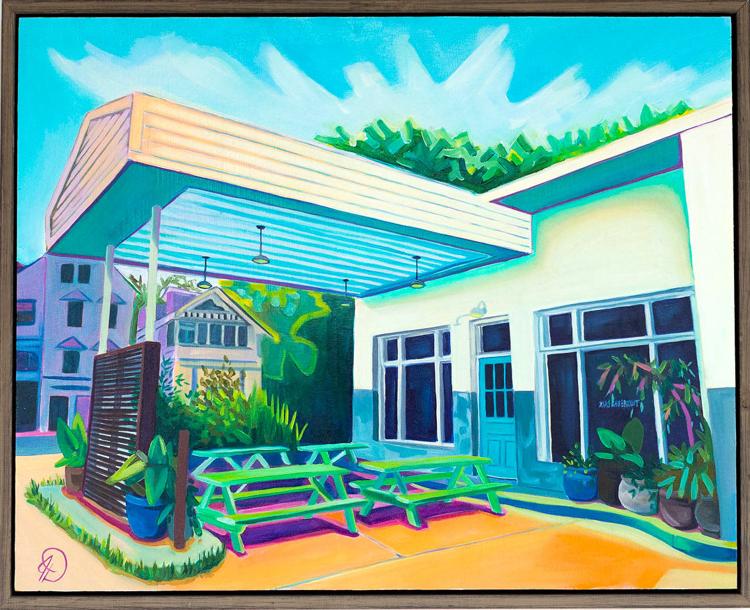 Likewise, Nerney's family experience has always involved the camaraderie of shared meals, from preparation to consumption.
"I recently found a photo of me and my sister as little girls making meatballs from scratch, with the biggest smiles on our faces," says Nerney, who earned a BFA in illustration at SCAD. "I vividly remember my dad teaching me to make veal parmesan at 10 years old and being over the moon watching the egg, flour and bread crumbs build on up my fingers."
In addition, Nerney's boyfriend has worked in food and bev for over a decade, and the concept of farm-to-table is something she believes in passionately. 
"Charleston has shown me that it is possible to source local food all year round," she says.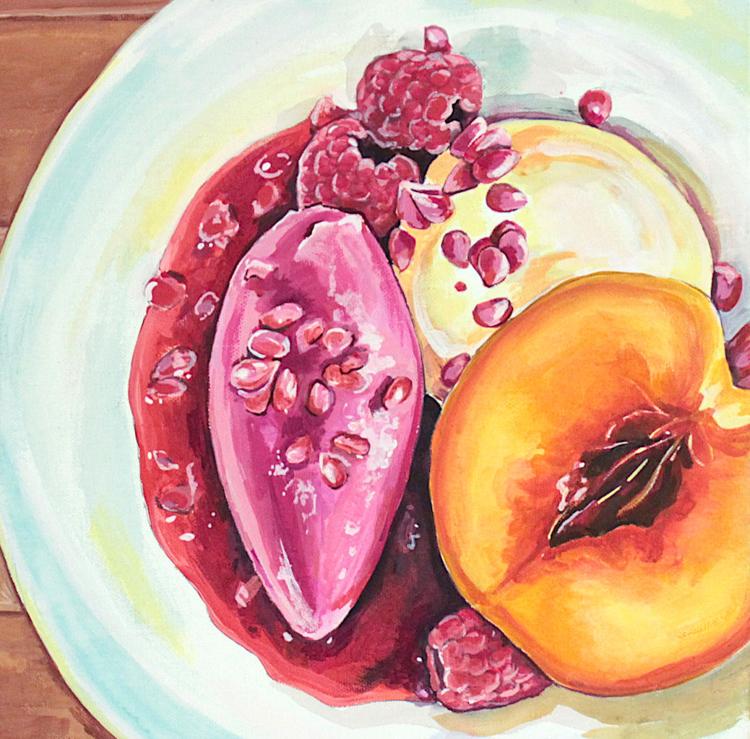 When creating this exhibit, called "Two Top," for Miller Gallery, Deckman and Nerney dined together around town for "research." The inspiration spilled out of the plate and onto the canvas. 
And the result was not only a display of vibrant paintings reflecting highlights of the local culinary industry but also some rich conversations. After all, the dinner table is where it all began. 
While Deckman uses bright pigments and hues in a vivid style, Nerney's paintings are realistic and whimsical. They both struggled to narrow down their selection, but ultimately focused on the places that made the biggest impact and that inspired the strongest compositions.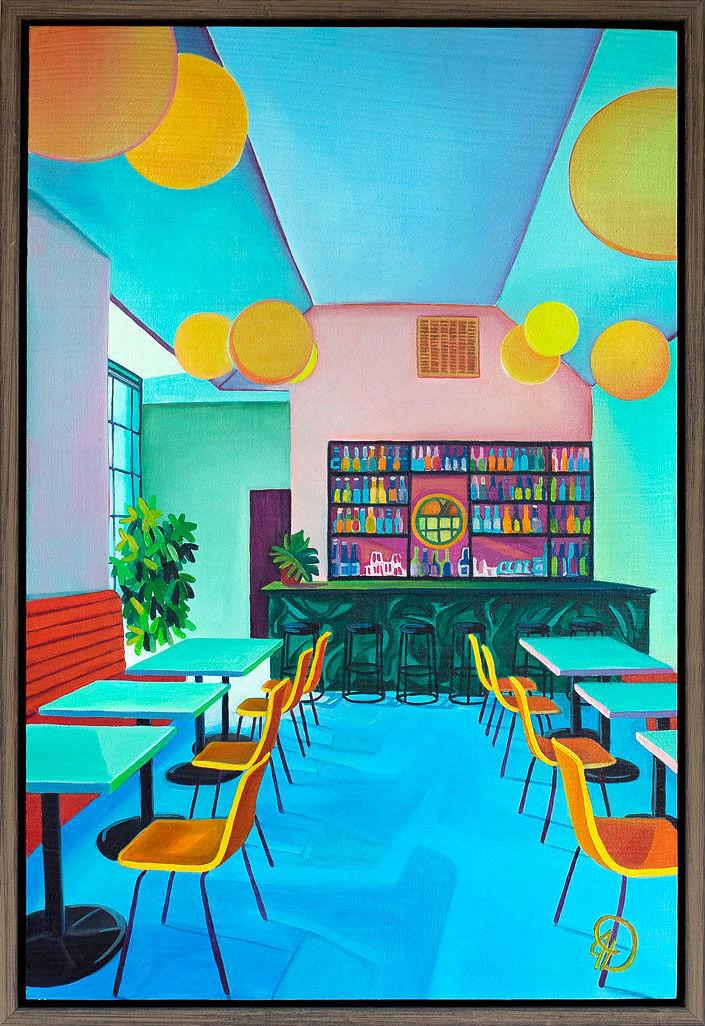 Kwei Fei and Babas on Cannon were chosen for their diverse menus and fresh perspectives. Other restaurants were selected for their personal connection to each artist. 
"Goat.Sheep.Cow. has become the spot I bring everyone to that visits," Nerney says. "I am from up North, where I would often frequent the Italian sections of Boston and Providence. Because of that, I have a serious appreciation for authentic bakeries and delis. For me, Goat.Sheep.Cow. is a little slice of home."
Meanwhile, Deckman listed Chez Nous, Xiao Bao Biscuit, the Belmont, Harbinger and Tu among the places that have inspired her and hold special meaning. 
The opening reception for "Two Top" takes place 6-8 p.m. Friday, Jan. 18, at Miller Gallery, 149½ East Bay St.