The members of Grammy Award-winning band Needtobreathe, founded in 2000, started performing in Seneca but relocated mid-career to Charleston, where bassist Seth Bolt runs his own recording studio, Plantation Studios. 
Though Bolt still is in town, band brothers Bear and Bo Rinehart have since made another move. They now live in Franklin, Tenn., where Bear says there is a little more space for his two sons to run around and play. It's also close to Nashville, where the singer-songwriter has a lot more co-writing opportunities. 
"Forever on Your Side," a four-song EP released by Needtobreathe earlier this year, was the band's first album not self-recorded at Bolt's Charleston studio. The disc was tracked at Niles City Sound in Fort Worth, Tex., in just 10 days. 
The unusually shortened process was a breath of fresh air for the band, which hit a new level of creativity by getting out of its comfort zone. 
"I think, after you've been doing this a long time, there's the daunting process of recording an album," Bear Rinehart says. "After the recording, promo, video, art and credits, it's been a year since you've made a song before you know it. ... This was not like that at all, and I think you can feel that in the songs, too. It's not overthought, whereas if you sit on a song for a year, you start changing things maybe you shouldn't."
Niles City Sound is the same studio where Leon Bridges recorded his 2015 debut disc "Coming Home," which is one of the major reasons Needtobreathe was inspired to give the space a try for some of the band's new songs with more of a vintage '60s soul vibe.
Rinehart says they were also trying to get back to their old garage band days, where they were locked away somewhere to work on demos, not emerging until they came out on the other side. This was their opportunity, and the added pressure was invigorating.
"I've heard Jack White say this a lot about forced limitations — that they're the foundation for good art," Rinehart says.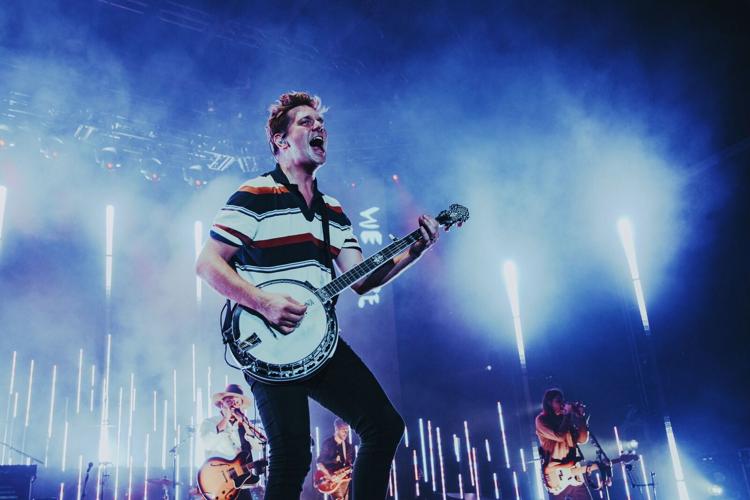 In addition to "Hard Love" and "Forever on Your Side," Needtobreathe also has a live acoustic album coming out, which was kickstarted after three successful shows at the Charleston Music Hall. 
"Those shows were so different than anything we had done before," Rinehart says. "They were more off-the-cuff, us giving each other a hard time on stage; a lot more of our personality came through."
Now almost two decades into their career, the band has racked up accolades as both a Christian and folk-rock project. Rinehart reflects on early moments that were terrifying and memorable. 
"I still remember our first time playing Nashville," he recalls. "We used to be scared of this town, but not anymore. We've gotten comfortable here."
But the band is most comfortable playing Charleston, a place where they grew up and blossomed musically. The band members still stay in touch with old friends, like Michael Trent and Cary Ann Hearst of Shovels & Rope and Mark Bryan of Hootie & the Blowfish. 
"The Charleston music scene is awesome," Rinehart says. "It's been super great and cultivating of what we do. It's also our last date of tour, which always means shenanigans and pranks. Our Charleston shows always mean a fun night; they're our loosest nights on tour."
There is also less anonymity, something Rinehart says he is happy to indulge in in exchange for that strong feeling of community he can't get anywhere else. 
"It's always funny playing your hometown and your dentist is out in the audience," he says with a laugh. "But it's always great to catch up with friends — oh, and the food. The food in Charleston is unbeatable."