It's no secret that Charleston is a sought-after wedding destination. With picturesque palmetto trees, mossy oak boughs and historic churches with stunning stained glass, our coastal city is a port of call for those looking to tie the knot. 
In 2017, the Charleston metropolitan area hosted 5,805 weddings at an average cost of $27,412. The festivities brought a total of $159.5 million in spending to town. 
The local average wedding cost is a higher than the average national wedding cost of $25,764, suggesting brides and grooms in Charleston are willing to shell out a little more for their big day. 
Some of that extra cash is going to secure pricier venues, such as the Historic Rice Mill, Middleton Place or the Gadsden House.
Meanwhile, other revenue is going to local wedding and party vendors, whose weekends are frequently booked solid through the spring, summer and fall, and into the winter. 
Jumping onto the local bandwagon are a variety of mobile wedding and party vendors that cater to the influx of couples in the Holy City.
The trends of cocktail campers, vintage cake wagons, on-the-go photo booths and even traveling candle libraries are fully embraced in the Lowcountry, and local vendors say their mobile services are more prevalent than ever.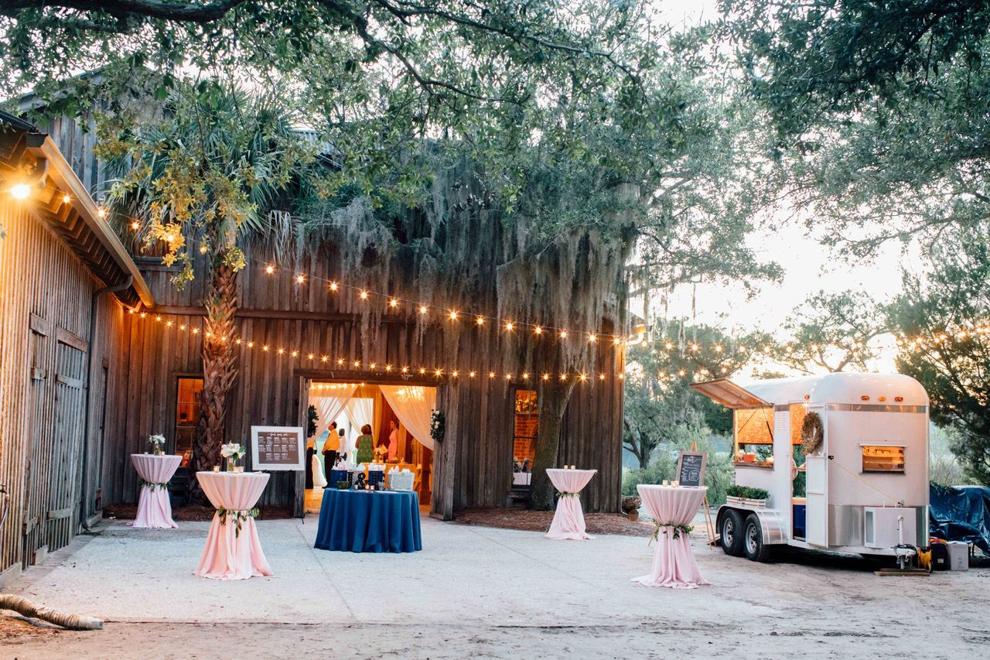 One of the most popular mobile wedding and party vendors in town is a combined bakery, cocktail caravan and pedal pub. Sweet Lulu's offers a range of mobile options based on events, along with a new brick-and-mortar storefront downtown on Archdale Street. 
While "Pedro" the pedal pub, a remodeled bicycle, offers a few taps perfect for a smaller wedding, "Buck" is a cute little camper with a little more room for cocktail-slinging. The "Mini Pearl" is the ideal bakery on wheels, a repurposed horse trailer, allowing Sweet Lulu's to provide a la carte desserts like fresh cupcakes, pastries and wedding cakes with style.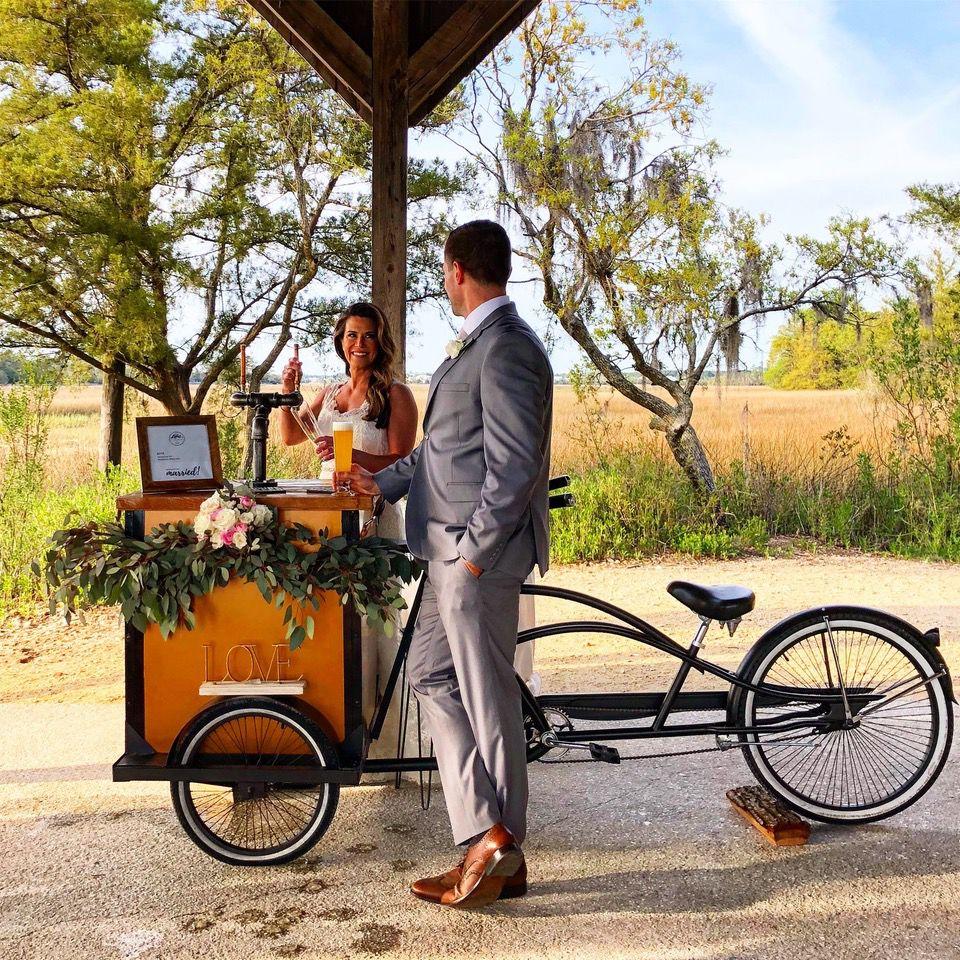 In September of 2014, when Sweet Lulu's was founded, owner Karen Moran ("Chef Sugga Momma") says she was basically the only one in Charleston with the camper idea. 
"Nobody else was doing mobile bar services here," says Moran. "I really designed my camper around getting into events the bigger food trucks couldn't, whether that was for size, because the noise of the generators or just that the decorum didn't blend with vibe of certain outdoor venues. So, I made my non-traditional food truck." 
Moran has been featured on the Cooking Channel and has wheeled her mobile vehicles everywhere from the Cotton Dock at Boone Hall to Boeing for a 1,500-dessert event. 
She's also gotten a few local celebrities onboard, including Bill Murray for a RiverDogs event and Darius Rucker of Hootie & the Blowfish for his 50th birthday. 
In a way, Moran has helped pave the way for other local mobile vendors to embrace vintage.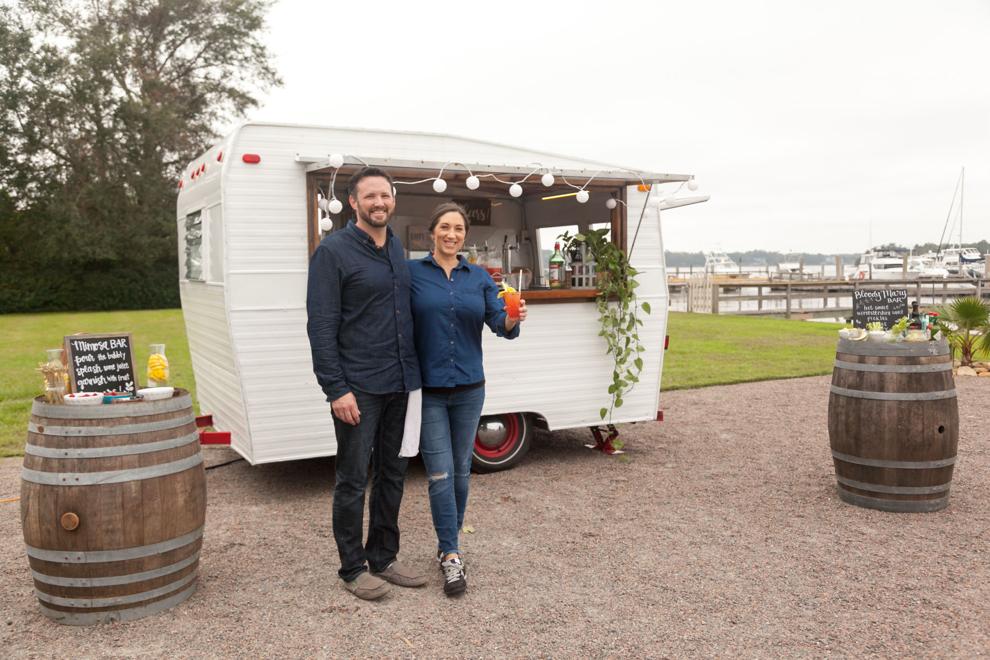 Take the Wander Bar for instance, a 10-foot-long and 8-foot-wide 1969 Shasta camper known for its "traveling cocktails." 
It belongs to Gabriella Partridge, McCrady's banquet events captain who just moved to Charleston two years ago from San Diego. She first came across the idea of traveling bars at a craft cocktail competition, when she saw a remodeled Airstream RV. More and more kept popping up around Wine Country, and when Partridge moved to the Holy City with her husband, she decided to bring the concept with her to the East Coast.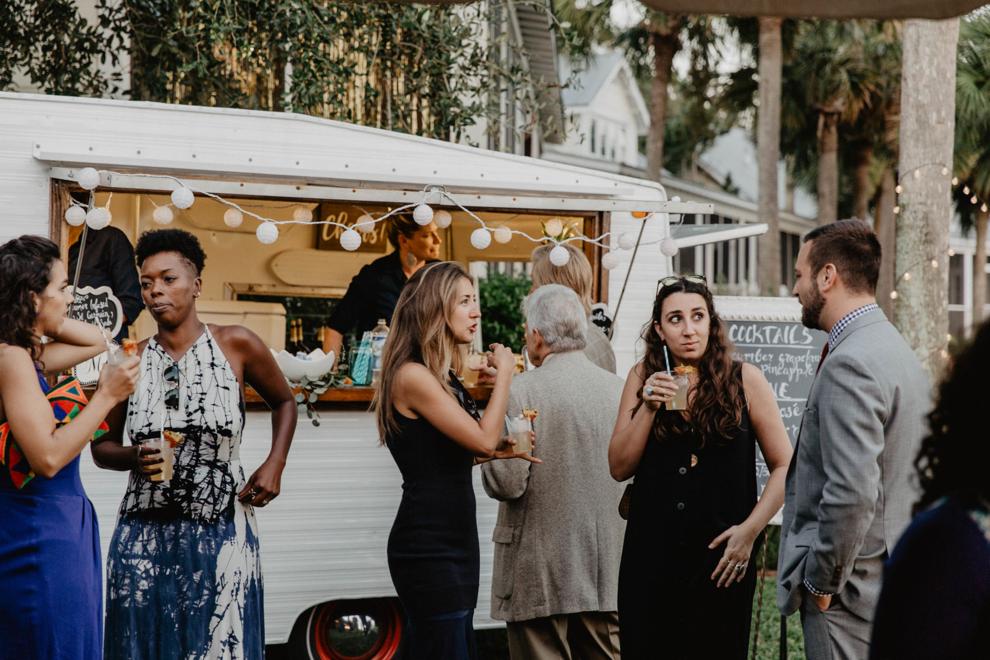 So why a vintage camper?
"Part of me sometimes thinks it's the nostalgia of camping with your parents when you were younger in a camper," says Partridge.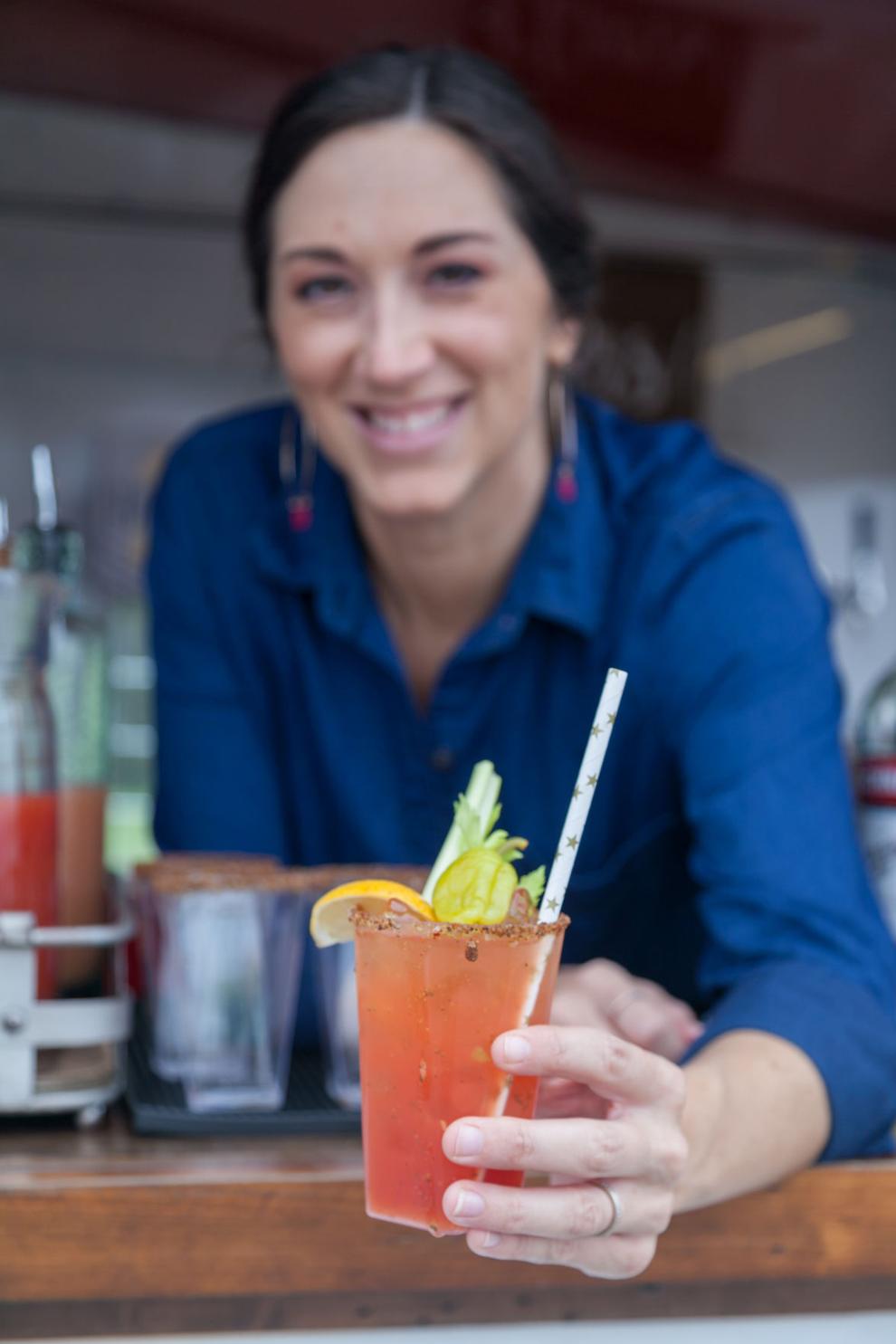 Classic Americana is also a pretty trendy theme for weddings right now, though Partridge will customize cocktail names and decorations from event to event. 
"Charleston is big enough to handle all of us," says Partridge. "There's more than enough business to go around, and we each have our own little niche. Mine is curating the cocktails to match the bride and groom or clients' preferences."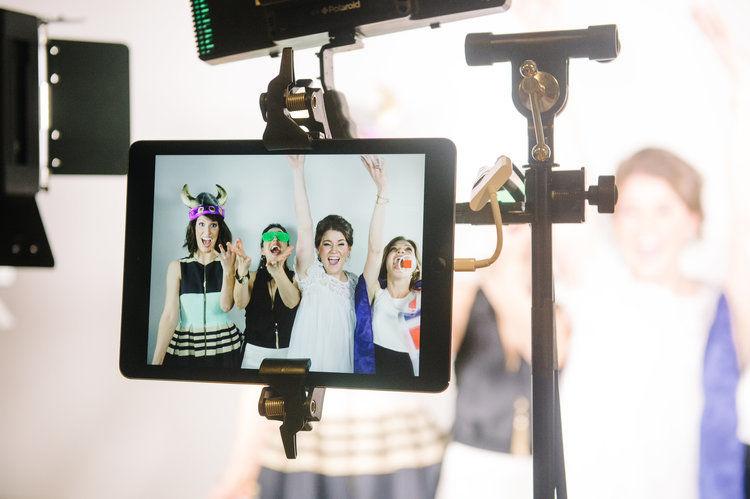 The Charleston Booth Company has cornered a different market niche: photo booths. Stephen Darby created his first photo booth back in 2011 for his larger company, Darby Events, for which he DJs. 
"We essentially have dream jobs," says Darby, who currently services over 100 weddings a year, along with a variety of corporate events and parties. "We get to make people have fun for a living."
The company now has six different mobile photo booths which tap into technology and high-end equipment. That includes a social media kiosk to post photos immediately on the web, along with a touchscreen vintage mirror, interactive gallery and, of course, strips of Polaroids for each photo session.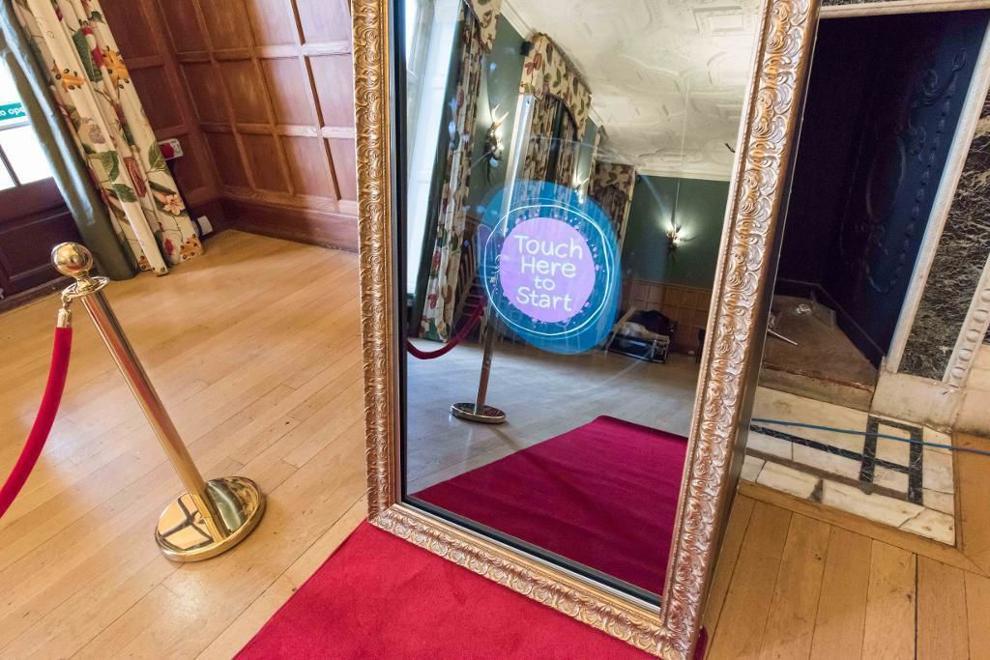 Silly, creative props include everything from Viking hats and boas to bubbles for the slow-motion video booth, which shoots at 120 frames per second.
"A lot of what we've done is try to create new things, new concepts and new booths to stay ahead of everybody," says Darby. 
Though there is local competition, Darby says the Charleston scene is more collaborative than cutthroat, making it an ideal place to work.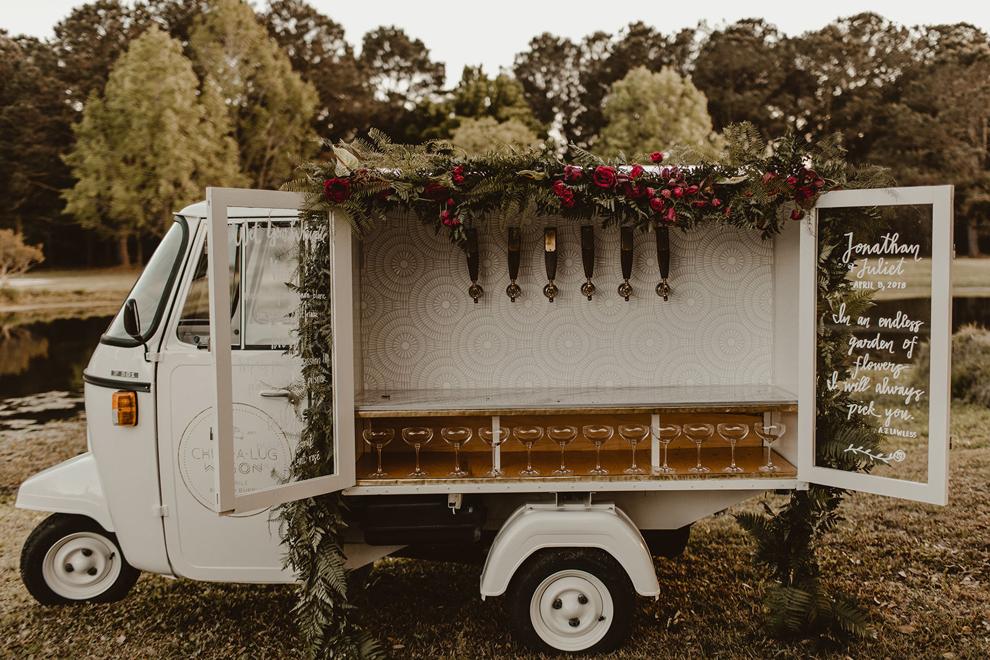 The Chug-a-Lug Wagon is perhaps the newest mobile cocktail bar to enter the Charleston scene. Invented in March by Theresa Dunken Wolf, who is also a co-founder of vintage furniture and clothing pop-up French Eclectic, the Piaggo Ape from Italy is an adorable Prosecco cart.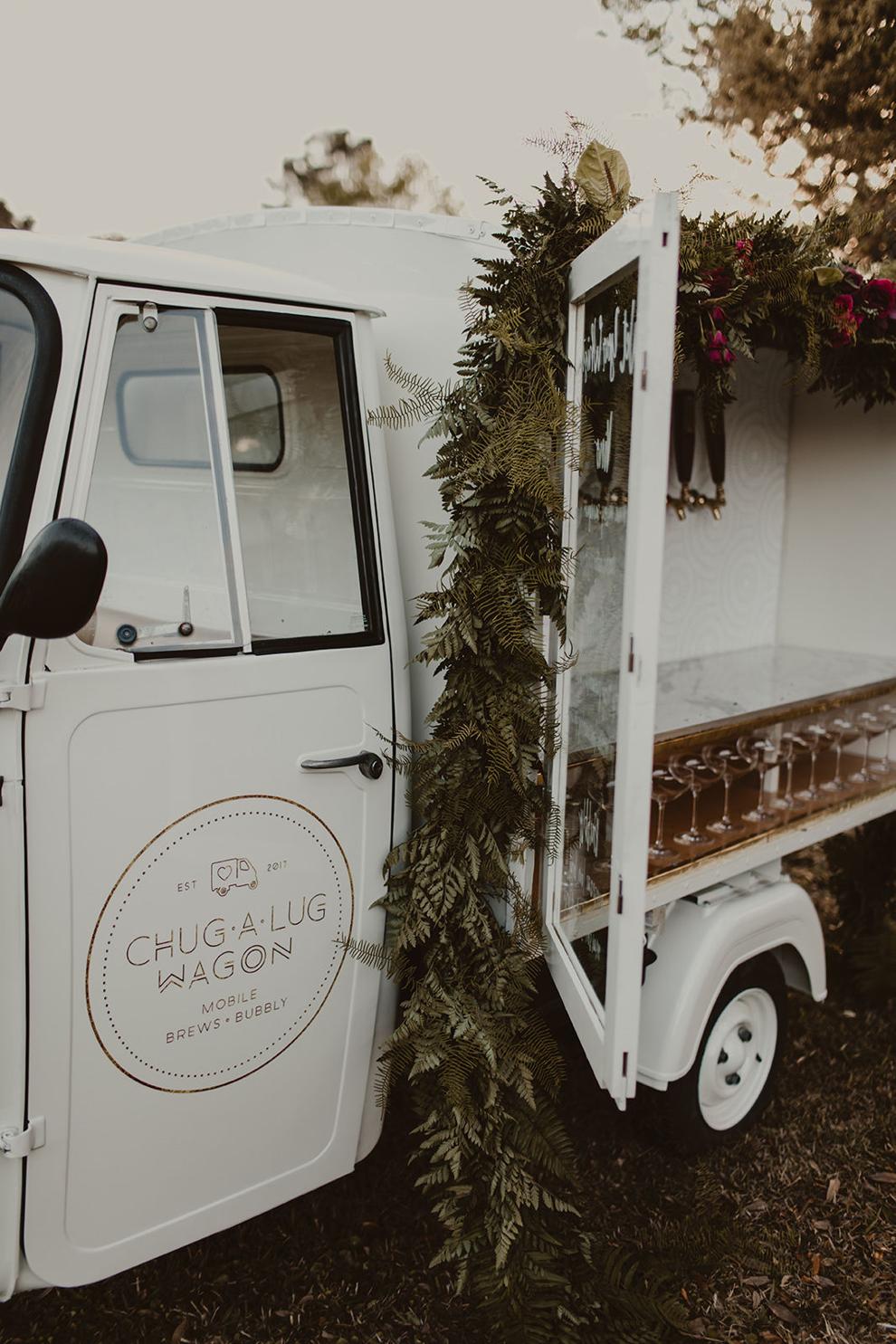 Chug-a-Lug got a unique chance to serve drinks backstage at the High Water Festival in April. In addition to serving wine, the cart has the capability to service coffee, sodas and other beverages that can be poured from a tap. 
"For me, it's the novelty of it," says Wolf. "It's the cute factor. Anybody can have a bar, but to have a golf cart-sized box truck is special."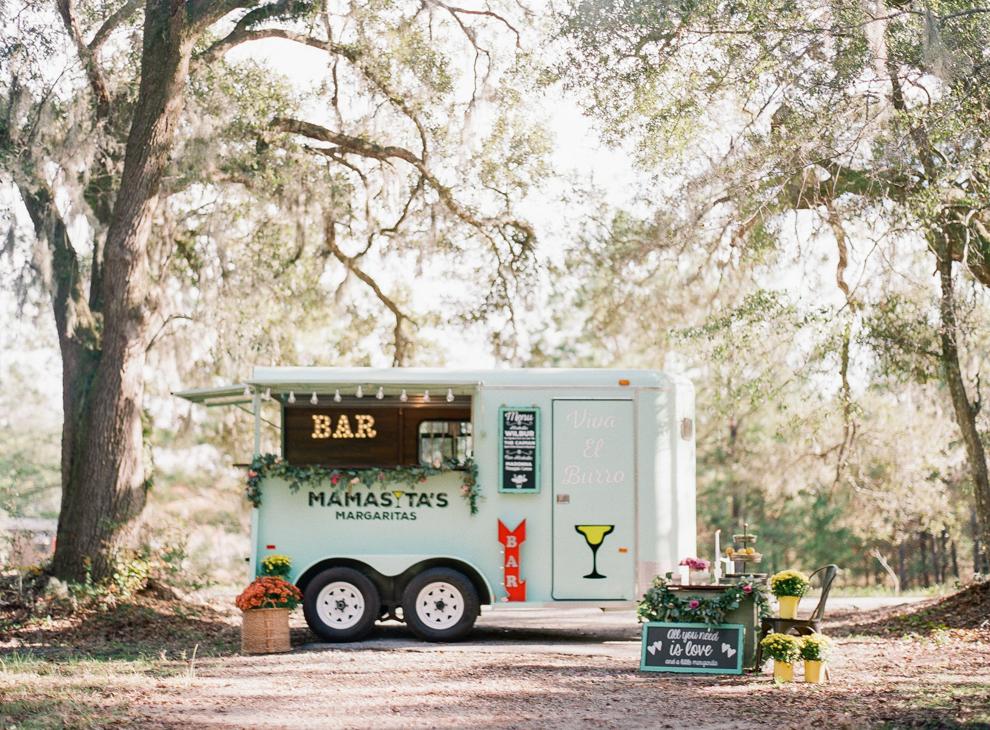 While wine, beer and traditional cocktails are all fine and good, Mamasita's Margaritas is bringing a splash of tequila to the party.
Wadmalaw Island resident Elizabeth Browon converted her friend's old horse trailer into a margarita bar, following the similar European gin, bourbon and cheese bar conversions she had read about. 
"At every wedding or corporate event I've ever been to, it's almost impossible to get a margarita at the bar," says Browon. "Tequila is just not part of a standard, go-to bar and nobody really wants to pull out a blender."
She decided to change that for her fellow margarita lovers, crafting over a dozen flavors that can be served from the trailer. She also has a mascot, Wilbur the "wonder donkey," who will attend events on special request.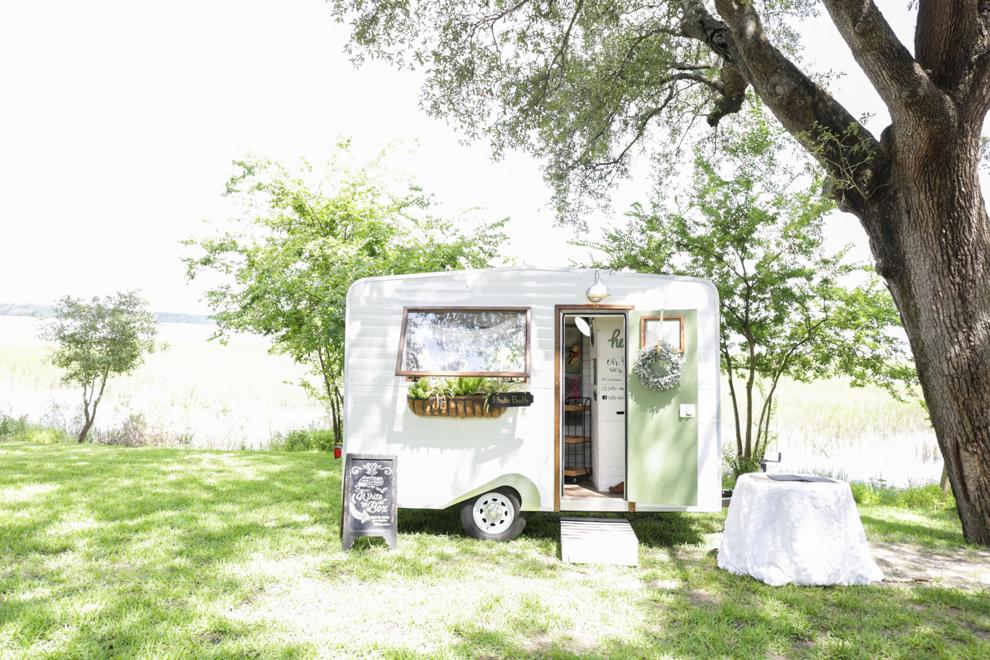 The Little White Box, a company with two mobile photo booths ideal for weddings and outdoor corporate events, was started in 2015 as a side project for local photographer Chelsea Gault.
She found an old Volkswagen bus for sale in Tennessee whose owner had frequented Folly Beach, and Gault had to buy it. It was perfect for her dream endeavor, adding to her smaller camper to create a pair of photo booths.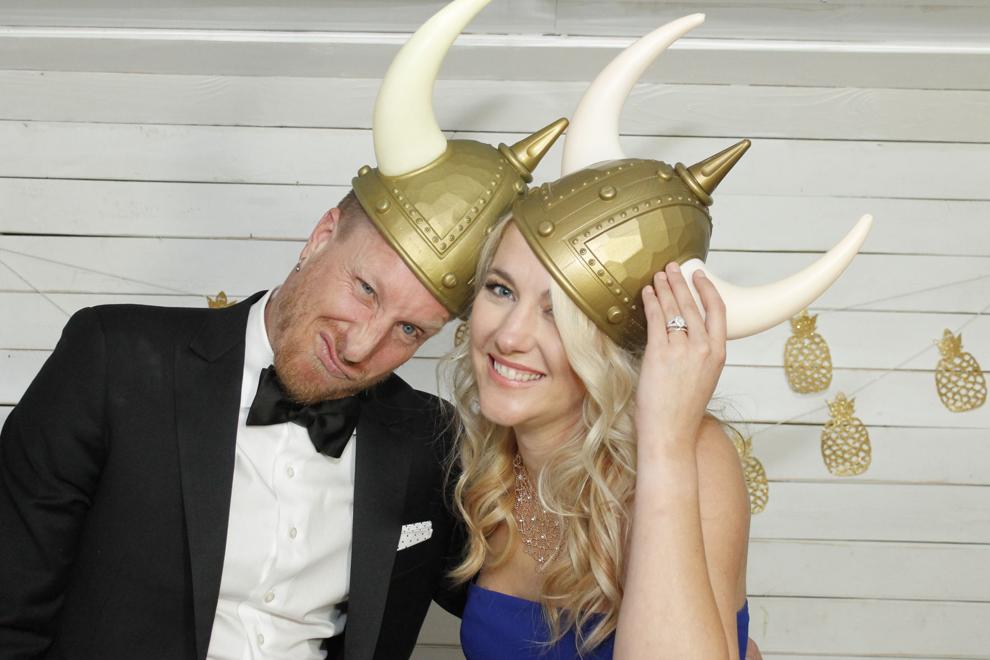 She decks out the interiors with fun items, from dinosaur hats to signs that say things like, "I just came for the cake." It's all about the joy she gets to share with others. 
"I love watching guests get creative with the props," says Gault. "I love watching the guests enjoy it and laugh and their facial expressions when they see their photo strip."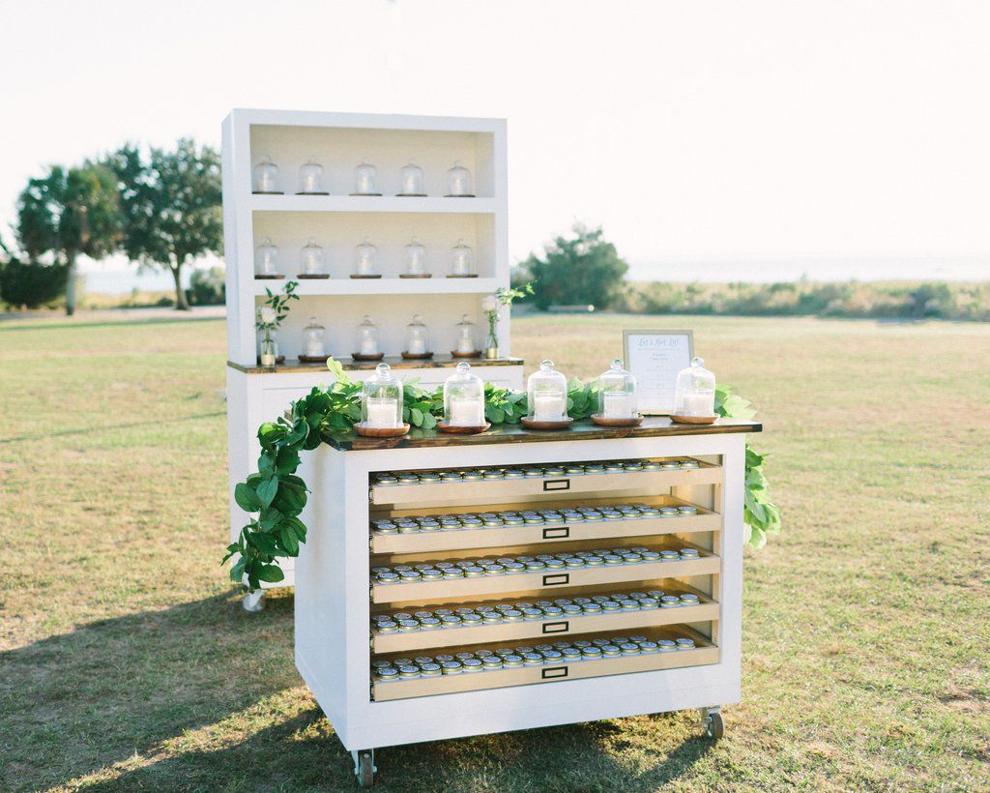 It's not just photo booths and bars, however. 
The mobile version of the candle library offers people a chance to explore and select scents outside of the brick-and-mortar stores, according to Candlefish's Jennifer Gorline.
"The mobile library is an awesome way to provide guests with something interactive to do during cocktail hour or the reception while the couple sneaks away for photos or to share a moment together," says Gorline.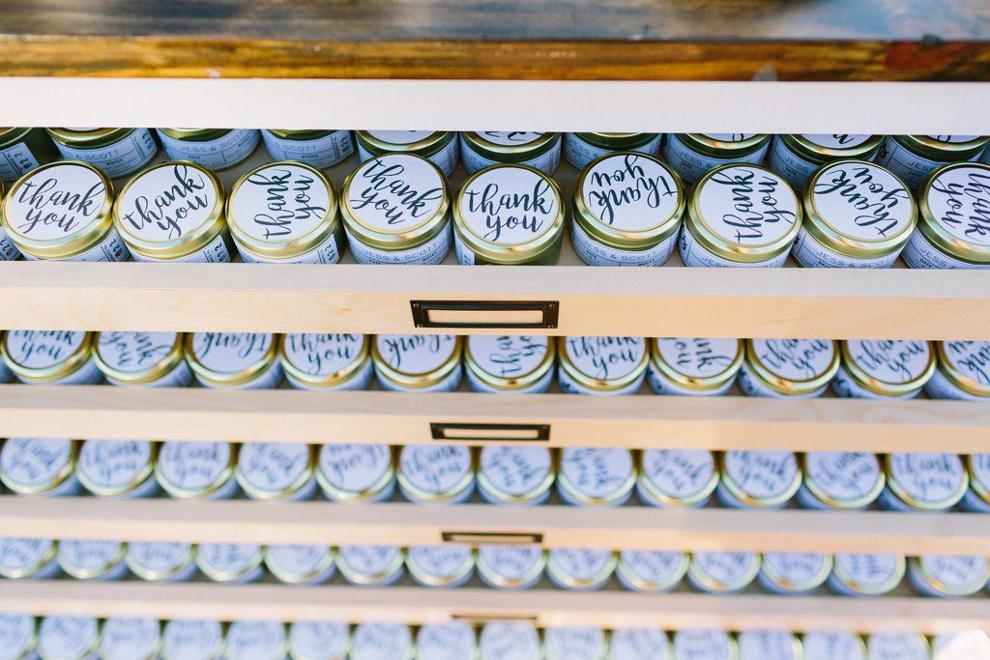 For weddings, a couple can select up to 10 of their favorite fragrances and Candlefish will make custom 2.5-ounce tins labeled with special details like wedding date and location, a monogram or a logo.
On-site chandlers (candle-making experts) guide guests through the selection process then create a special party favor.
To book any of the vendors included in this article, visit charlestonscene.com for links to company websites.