Yes, "Footloose" made Kevin Bacon famous. 
But beyond his iconic movie role in the 1984 rom-com that propelled him toward Hollywood stardom, Kevin has another artistic side (it's not dancing), one that his brother and Emmy Award-winning composer Michael has fully embraced: music. 
The duo grew up 9 years apart in a family of six siblings. Michael and sister Hilda were in a jug band together; they practiced in the basement and Kevin would sit on the stairs and listen in. 
"Our parents weren't musicians but loved music," Kevin says. "There were always instruments around and music being played. It was just part of what we did."
Fast forward to 1995, the same year that Kevin had roles in "Murder in the First" and "Apollo 13" and was the voice of the starring animated pup in "Balto." It also was the year that Michael and Kevin played their first official show together in their hometown of Philadelphia after demoing some songs previously.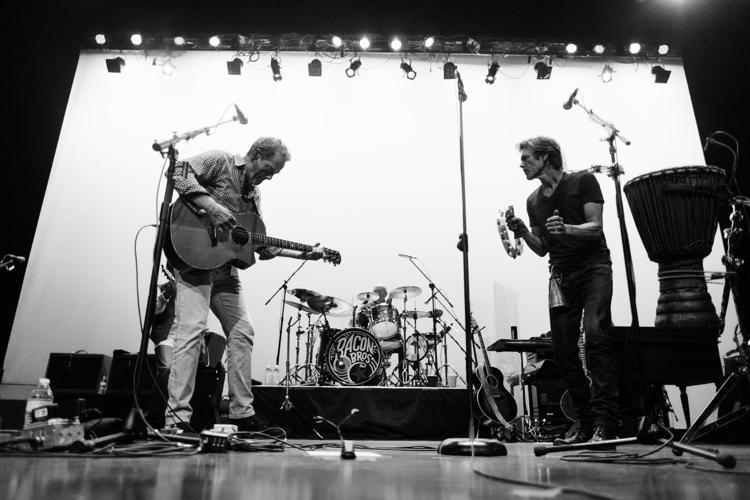 According to Kevin, it never really had anything to do with making records or touring. They were just going to play the one show. However, that gig turned into nine albums and annual summer tours with about 25 to 50 dates across the States and even overseas. 
"I had been playing out live pretty much my whole career, but for Kevin, it was kind of like jumping out of an airplane," Michael says. 
There were concerns about the celebrity attention surrounding Kevin and how that might affect the project. But Michael says they kept it "down to earth and grassroots." 
The Bacon Brothers are backed by some band members who they've grown with and gigged with over the years, and though Kevin and Michael are the ones at the mic, they all switch instruments for different songs, from keyboards to horns to cello to guitar. 
The rhythms and styles the different tracks explore range from blues to swing to rock to folk. There's catchy piano pop-rock jam "Guilty of the Crime," big band-inspired "Philadelphia Chickens" and experimental doo-wop track "Pots & Pans." 
"We just write a song and see how it feels," Kevin says. "You could easily accuse us of being all over the map, because we don't have a single sound."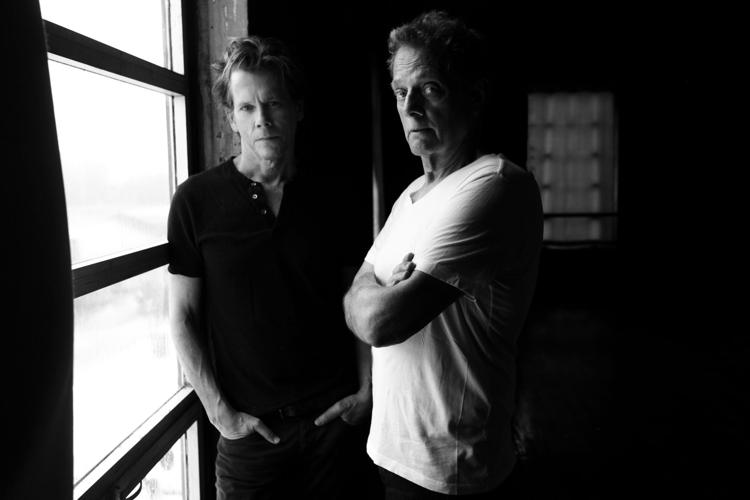 The duo is working on some new music right now, which will be following up their 2018 self-titled disc with standout single "Tom Petty T-Shirt," which the duo played on "The Tonight Show Starring Jimmy Fallon" last April. 
Michael says that he's currently working on a track about a songwriter who goes off the deep end and everything in life has to fit into the song or he can't even bear to think or talk about it. He hints that it might be autobiographical in moments.
"I have so many little pieces of paper with lyrics scribbled on them," he says of the songwriting process. "Every once in a while, something has an energy and force that pushes through and you focus on it and it starts to build, and all of a sudden a song is there." 
Kevin adds, "It kind of just drops out of the sky." 
For the actor, singing and songwriting can be both a far cry from or a familiar friend for his main talent. The biggest difference, he notes, is that when you're acting, you're playing a character; you're in someone else's shoes. When you're songwriting, you're expressing your own voice, your own emotions, your own life.
"In some ways, it's more vulnerable," Kevin says. 
A live concert, he says, is more like a play, while a studio session is like being on a TV production set.
"Theater is akin to playing live," Kevin says. "You're in an ensemble of players and you're performing for an audience. One night is never going to be the same. Working in the studio is much more akin to being on a TV or movie set, where it's a little more isolated, you have to take two and you can do it as an ensemble, but then you're ready for your close-up or the guitar player is ready for his solo."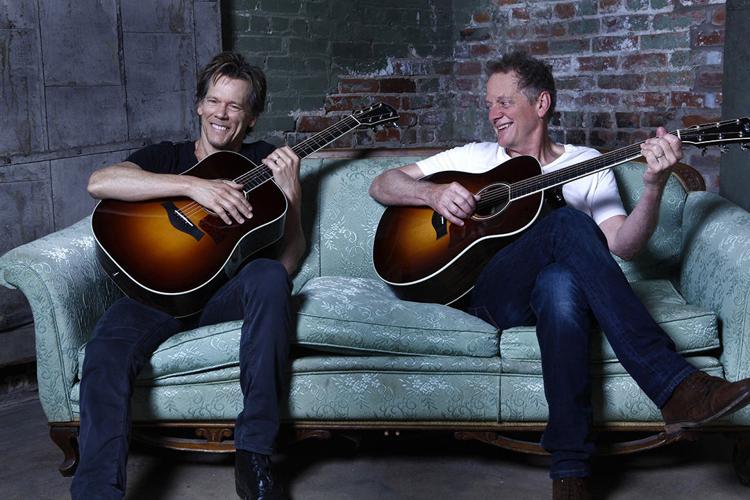 Both brothers express their gratitude at getting to spend time together on the road in a busy world where making time, even for family, can be difficult. It's a way for them to connect between Michael's movie scores and Kevin's movie roles. 
"Music is something you really like to connect with when you're familiar with it, like singing along when a band you know plays a hit. But we don't have a hit," Kevin says with a laugh. 
That's why, he says, the band likes to present an enthralling live experience, one that brings the audience into a song rather than just putting it out there and hoping for the best. 
The Bacon Brothers will perform at 8 p.m. July 25 at the Charleston Music Hall. Tickets are $39.50-$59.50. For more information, visit charlestonmusichall.com.