Jamie Lee Curtis' time filming "Halloween" here in Charleston has come to a close. She posted on Instagram proclaiming her newfound Lowcountry loves, from Kudu Coffee, where we first wrote about her being spotted, to the Dewberry Hotel, where she has been staying during her time here.
She even gave a shout out to Dog Wash Charleston for giving a good bath and trim to her furry friend, who she's been seen walking with around downtown Charleston. 
A slew of selfies have been submitted with the star during her time here. You can see a few of them here and here. 
We have even more that have been shared while Curtis was in the 843, like this one featuring Starbucks employees Giuilana Massari, Alaina Gillard and Aubrey Rabun at the Starbucks in South Windermere.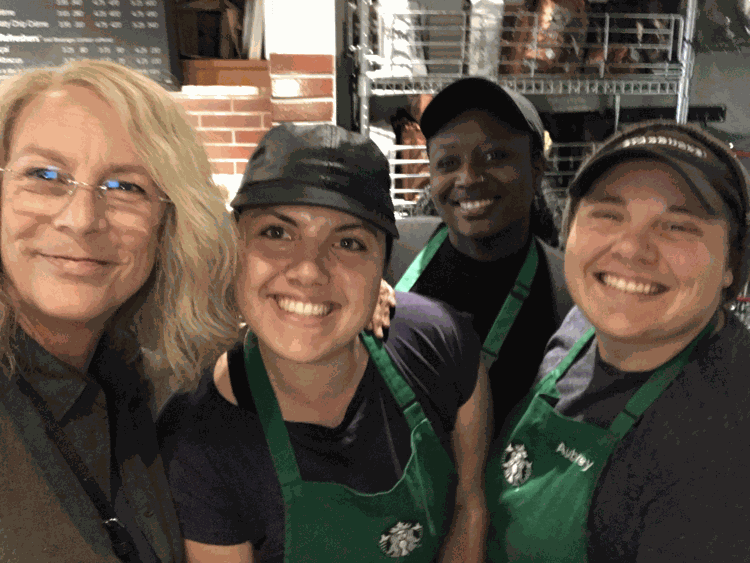 Karen LaMar, her brother David Dietze and her niece Ashley Dietze, also had a run in with Curtis while she was filming on Fenwick Drive in Mayor Tecklenburg's neighborhood. 
"She was so nice and didn't hesitate taking a picture with us," says LaMar. "She has always been one of our favorites, and it was a dream come true to meet her. Also, filming our favorite movie in our hometown: truly a dream."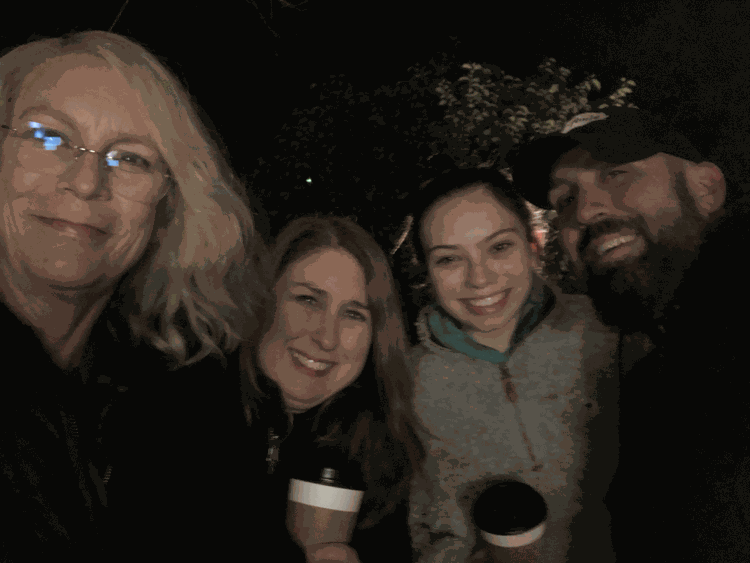 Doug and Maria Wilmer have an interesting story about their encounter with Curtis at the Mount Pleasant Target. Maria saw Curtis walk by while she was shopping, and Doug, a huge fan, decided to wait and see if they saw her while they were leaving. 
While exiting Target, they saw a man who looked a little sick sitting outside. 
"We continue to talk with the nice man, and he says he feels like he is going to pass out and to call 9-1-1," says Doug. "So, I call 9-1-1 and I am giving them information when Jamie Lee walks out of Target.  She takes one look at him and says call 9-1-1. My wife told her I was already on the phone with them." 
The sick man's wife soon arrived outside, and during that time of waiting for the ambulance, Doug got a selfie with Curtis to commemorate their bonding moment.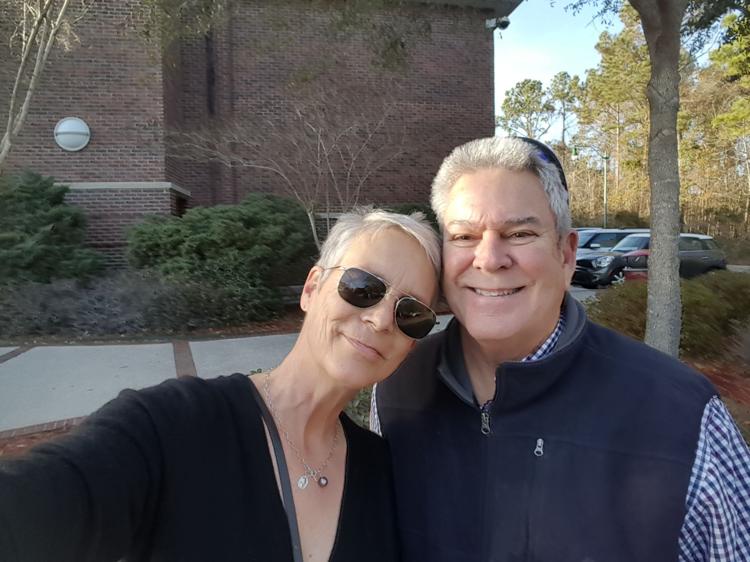 "The irony of the story, I worked in video and TV production for 40 years with many famous people and never asked for autographs," he laughs. 
Notes Curbside Coffee mobile coffee shop owner Maria Rakes also had a unique moment with Curtis and the cast of "Halloween." 
"I was called by the crew shooting 'Halloween' to provide coffee," says Rakes, who owns a double espresso machine inside a 10-foot-tall coffee mug trailer. "I arrived on set and we met the cast and crew, who were all lovely.  We snapped a few photos, and it was definitely the best location that we could have asked for, on set.  Jamie was very nice, and the crew was amazing. It was a truly great cold night for coffee."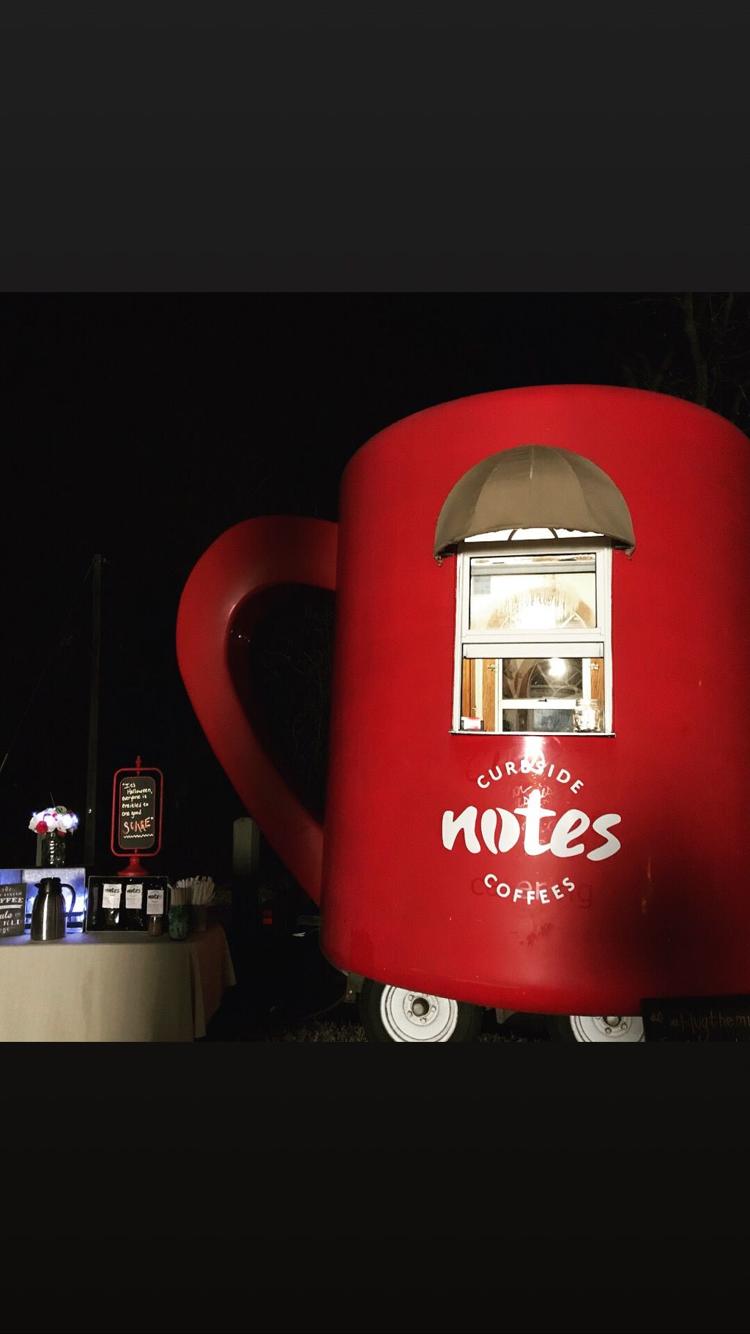 Rakes has also been called onto the set of other productions here in town, from "Mr. Mercedes" to "The Inspectors." Her connections with filmmakers and crews led her to the "Halloween" opportunity. 
She even made a special menu just for "Halloween," which included "The Scream," a cayenne mocha, and "The Butcher," a raspberry mocha with raspberry sauce on top to look like blood.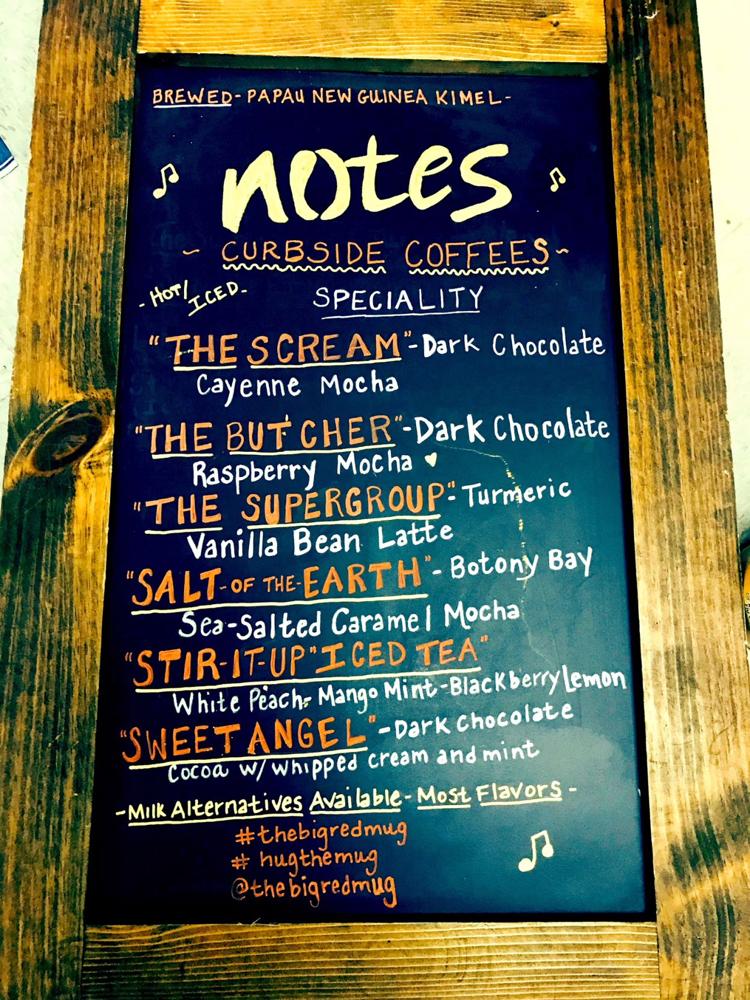 "Jamie came up to wish me luck, which was amazing," says Rakes. "From what I've heard, she's been a joy all around town. She waited in line with her crew for coffee, which was very human for her because she's basically a queen.
"She has a really good heart and was very concerned about her crew being taken care of. She was more than happy to take a picture with us. She grabbed my friend's phone and did it. It was like she didn't even know she was famous."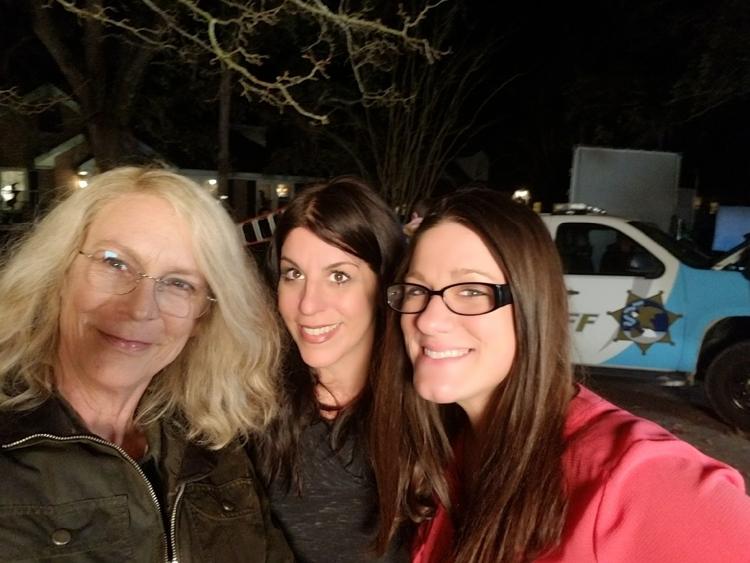 "It was surreal to be on the set of one of the movies the whole country grew up watching," says Rakes. "There were Haddonfield ambulances, sheriff's cars, lights and stretchers being rolled out on Fenwick Drive. 
And afterward, the producer thanked me on Instagram for being there, and another crewmember wrote about how they can't wait to try my turmeric vanilla bean blend." 
We've truly been blessed with Jamie Lee Curtis' presence in town, and a lot of people have some great selfies and magical celebrity encounters to remember the occasion by. Let's hope she visits again soon.