In my artful travels around Charleston of late, I've been taking in many fine shows and mulling some meaty notions. But I'm not abashed to admit to indulging in a fair amount of window-shopping along the way, too.
In Charleston, there are so many museums, shops and hotels championing local artists and artisans that a person can readily power through a holiday shopping list while supporting the local arts scene, too.
A particularly arts-rich and enriching patch of peninsular Charleston radiates from Market Street to its flanking streets of Meeting and King. It's also a prime spot to avail of the free parking passes that have kicked in downtown for December.
Here are a few I spotted on a casual stroll there recently, as well as some others worth checking out, too.
Cultural hub-hopping
The gift shop at Gibbes Museum of Art has long featured local artists, and this year is no different. On Dec. 7 from 6 to 8 p.m. the Gibbes presents "A Night at the Museum," a special evening with art, antiques, art-making and more. Visiting artists Nadia Stieglitz and Amiri Farris will be on hand to discuss their work. Charleston artist Lese Corrigan will guide you through making monoprints.
Vendors include antique dealers George C. Birlant & Co., The Silver Vault of Charleston and Tucker Payne Antiques, and artisans Dotsuwa Designs, Holy City Turnings, Motherland Essentials and The Tiny Tassel. There is also, of course, the museum's shop, which sells works by local textile artists, jewelry designers and more.
Over at 108 Meeting St., the Historic Charleston Foundation Museum Shop is selling work and wares connected with local artists and with its mission to safeguard all that is special about this city. Works by local artists Andrea Hazel and Rhett Thurman celebrate the city. In recognition of "Flight," the foundation's recent exhibition at the Aiken-Rhett House Museum, scarves and books related to works by the exhibition's featured artist Mary Edna Fraser are also on sale.
The Preservation Society of Charleston Shop is committed to sourcing mostly local makers, with bestselling staples like Brackish bowties and accessories, J. Stark bags and Smithey Ironware.
The culinary-minded will savor The Smithey 7.25-quart Dutch oven that can be used to bake bread, roast a chicken or make a hearty winter stew. New to the handcrafted Burls and Steel collection is the filet knife consisting of an AEB-L steel blade that ensures a perfect cut and one-of-a-kind handle designed by artisan and founder Ben Spurrier.
Corridors of creativity
Anyone who has strolled The Charleston Place corridor lately has likely noticed its deepened commitment to local culture. This holiday season they've gone full out, with events throughout December as well as pop-up shopping galore.
The hotel has also upped the local in its gift shop, The Boutique. There are still longtime favorites like items gracing works by artist Jonathan Green. Now, the shop also carries an array of artful, Charleston-connected treasures, offering one-stop shopping.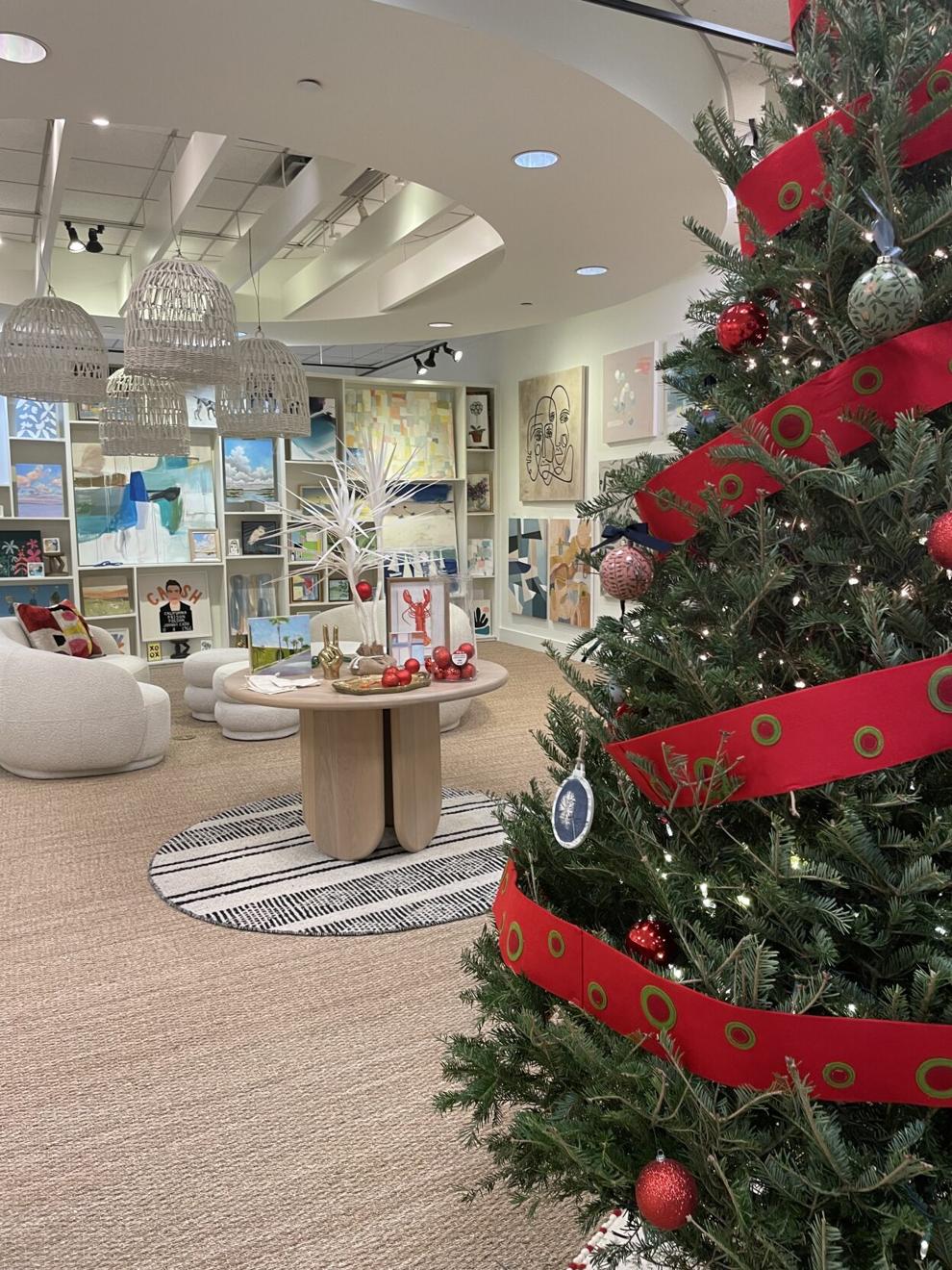 The Charleston Place's new branded merchandise collection, which was designed by local firm SDCO Partners, is in a custom pattern inspired by the concept of a giving tree in a contemporary pattern in hues of gold, cream, celadon, sage and Charleston green. Products include a Candlefish candle and pet-friendly items such as fetching toys and dog beds.
Have a pottery devotee on your list? Maria White's organic vessels are perfect for those with a penchant for contemporary pottery. Shopping for someone besotted with baubles? Look no further than The Goldbug Collection of Charleston-inspired jewelry and accessories designed by "Mini" Hay Avant and Kathleen Hay Hagood, the fourth-generation sisters of the family-run Croghan's Jewel Box, whose store is located at 308 King St.
Is there a conscientious globetrotter on your list? The Ibu Movement, whose showroom is nearby at 183 King St., partners with women around the world, disrupting poverty and fashioning change through the art of their hands. You'll also find selections at The Boutique from sought-after designers like J. Stark and Brackish.
In August, Artist Collective, the Charleston-based showcase for contemporary artists from across the Southeast, transformed a corridor spot into a vibrant hub of contemporary art, an outpost to its Mount Pleasant base at 414 Whilden St.
When I swung by The Charleston Place recently, founder and director Allison Williamson was tree trimming with hand-painted ornaments while also preparing to host local makers, from loomers to jewelry designers, each Friday in December from 2:30 to 6 p.m.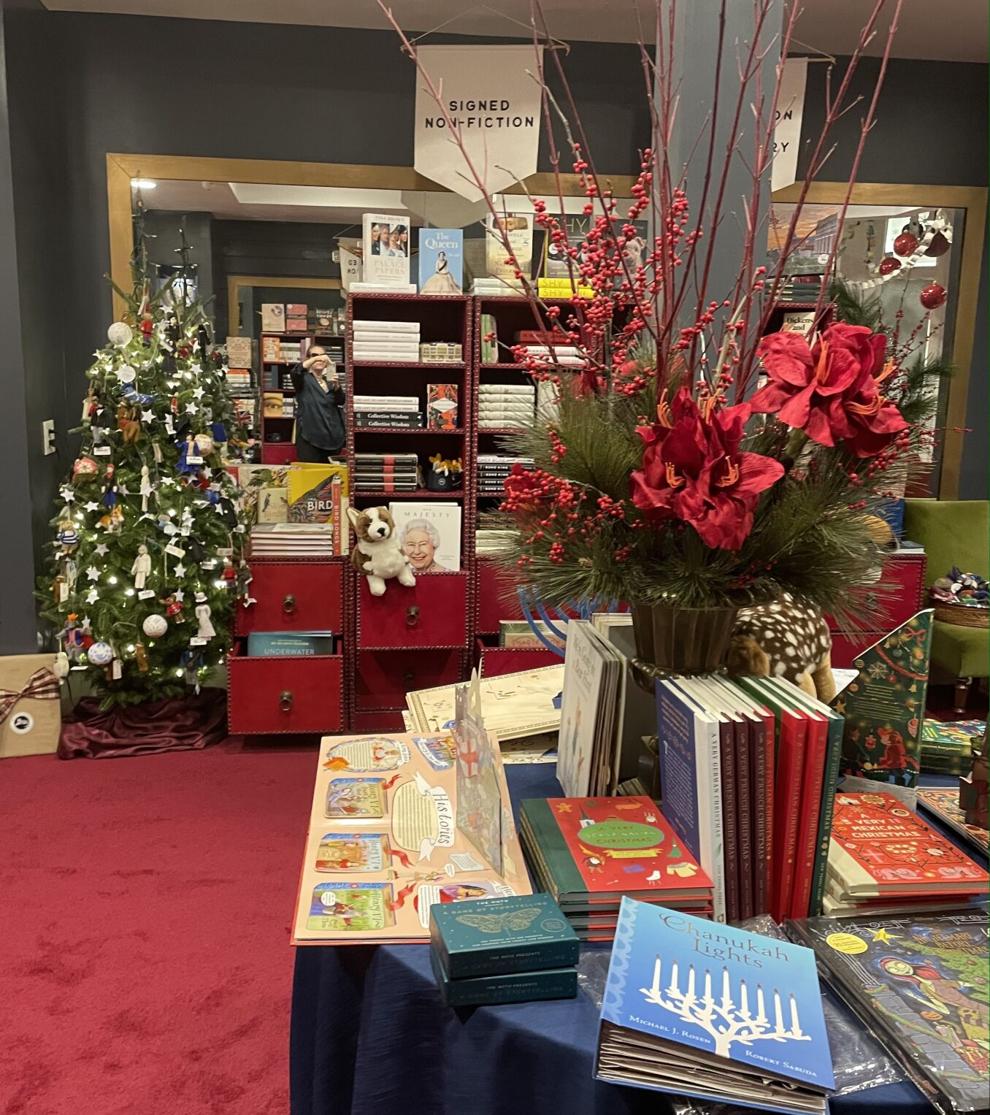 For the holidays, Buxton Books has popped up in the corridor, too. Its sumptuously appointed temporary book nook is decked out with chic red bookcases that co-owner Polly Buxton just nabbed from a fire sale at New York's Gramercy Hotel when it closed.
The pop-up is in addition to its flagship at 160 King St., a storefront shop on the campus of the Charleston Library Society that represents a similarly inspired cultural partnership. At The Charleston Place, the bookshop will feature weekly book signings, and will be selling a range of titles, including new releases from Charleston-connected authors and topics.
History buffs will relish a deep dive in "Sweet Land of Liberty: A History of America in 11 Pies" by Rossi Anastopoulo and "The Grimkes: The Legacy of Slavery in an American Family" by Kerri K. Greenridge. For a new coffee table tome, luxuriate in Veranda magazine's "At Home in the South: Interior Design Reimagined" which was written by Charleston's own style-minded scribe Stephanie Hunt.
Also on hand are signed copies of acclaimed titles featured in the recent Charleston Literary Festival, including Hernan Diaz's "Trust," just deemed one of The New York Times's top 10 books of the year, and Imani Perry's "South to America," which in November won a National Book Award.
Over on Church Street, the hotel Emeline also prides itself on keeping things real local. The carefully curated Keep Shop at Emeline has debuted its first-ever annual ornament, hand-painted and thrown by Nicole Aquillano, a potter specializing in custom work.
Also on offer are artworks by local Charleston artist Barbara Beach, whose evocative watercolor renditions of the city's architecture, flora and fauna are available in an exclusive collection of art prints and greeting cards.
Artful gatherings
From Dec. 9 to 11, Modern Makers Market Field + Supply is hosting its first-ever Holiday MRKT that celebrates craft and community. The market will be held at Explore Charleston Visitor's Center at 375 Meeting St.
Dozens of vendors from Charleston and elsewhere will be on hand with goods, among them apparel from the new E.M. Reitz, home accessories from Fieldshop at Garden & Gun and knives from South Carolina-based Middleton Made Knives.
Along with daily live music, the event will present a biscuit-making workshop with Callie's Hot Little Biscuit; cooking decorating with Bebe's Bakes, wreath making with Flowershop and a holiday candle-making workshop with Daisy McClellan.
Sometimes, the artists themselves jump-start the shopping. Up in North Charleston, Studio Union at 2010 Hackemann Ave. is set to host a Holiday Open Studios on Dec. 9 from 4 to 8 p.m., when shoppers can visit with studio artists, see their work and blaze through their gift lists, too.
Art Fete, which takes place on Dec. 10 and 11 from 10 a.m. to 4 p.m. at 2147 Heriot St., Studio F, will offer an opportunity to shop 14 local artists — among them Mark Stetler, David Boatwright, Madame Magar, Christina Bailey and Karl Phillips. Enjoy refreshments as well as live music from Leah Suarez (noon-3 p.m.).
These are but a sampling of the inspired gatherings and pop-ups festooning our fair city over the holidays. Of course, you can always head straight to the art, either through a visit to a gallery or by checking out a favorite artist's website. And don't forget that gift certificates, season subscriptions, and membership to Charleston arts and cultural organizations make for wonderful, welcome presents, too.