Out back of Recovery Room Tavern — past the smoke-filled patio and past the crowded bar and the neon lights and the pool table — is a graffiti-covered courtyard with gravel on the ground. The scraps of artwork have provided the background for long conversations and stupid jokes and hundreds, probably thousands, of Instagram posts.
One backyard mural — rows of cartoony red, white and blue beer cans — hints at this nondescript dive bar's unlikely claim to fame: Recovery Room has for years been named the country's top seller of 12-ounce Pabst Blue Ribbon cans, a feat that a marketing representative for the 174-year-old beer company calls, simply, "so random."
Recovery Room's relationship with Pabst might not seem all that meaningful. But together, the bar and the beer have created a destination — for happy hours and live music and bocce ball tournaments — in a city where there are increasingly so many other places to go.
How it happened
Eleven years ago, Chris DiMattia opened Recovery Room, known as Rec Room by locals, because he had always wanted to open a bar, and he could afford to lease the space on Upper King Street he saw on Craigslist.
And he thought, "Well, let's just see what happens.'"
When he opened, the bar didn't have a walk-in cooler for kegs, so DiMattia bought a bunch of cans of beer and rented an ice machine. He hired bartenders who had a lot of friends.
"I didn't hire the prettiest people or the coolest people," he said. "I hired people that other people liked and would bring in their own crowds."
Back then, the bar under the overpass served as "an escape from the touristy part of Charleston" and started attracting people in the food and beverage community in search of a post-shift drink. 
He never pushed PBR, in particular. He just always had it in stock and for $2 a can. 
"They don't have stocking problems, and the price is low," he said. "That's the magic for me."
Three years in, a Pabst representative visited DiMattia and said, "You're killing it with PBR."
"He couldn't believe we just had one floor," DiMattia said.
The bar owner was surprised, too, by the news.
"When we started climbing that ladder, we'd be busy, but I didn't know how we were doing," he said. "We were sort of away from what was going on downtown, so I didn't know how we compared."
In 2011, Rec Room was ranked second, behind a bar in New York City, in 12-ounce PBR can sales. By 2015, DiMattia's bar had grabbed the No. 1 spot and has since maintained first or second place. Rec Room now sells 150 cases, or 3,600 cans, of PBR per week, which is up by 50 cases per week since 2013.
How does a bar with a capacity of 100 people go through that much volume, given that people are ordering other drinks, too?
Jillian Cunningham, a Charleston-based senior field marketing representative with Pabst, says it partly stems from Rec Room's daily happy hour from 4-8 p.m., when a can of PBR costs $1.25.
"That's unheard of in Charleston," she said.
What matters more, she said, is Rec Room's steady and diverse customer base. 
"It's all about inclusivity," she said. "When you're there, you see every walk of life, every age demographic, everyone under the sun. There's a whole different crowd at 3 p.m. than at 2 a.m. There's a whole cycling through of people."
'We just mirror each other'
Cunningham hates the term hipster.
"I think it's so lame," she says.
But it's the so-called hipster movement of the early 2000s, the same time as the economic recession, that put the then-struggling Pabst back on the map.
"Creatives were graduating from college and there were no jobs for them, so they were having to create their own jobs," Cunningham said. "The beer that was approachable and inexpensive to them was Pabst."
Pabst soon got a reputation, as Cunningham puts it, for being "unpretentious and inviting." And that's what Rec Room has come to be known for, too.
"We just mirror each other," Cunningham said. "Both brands cater to that person who doesn't want to go to the newest and greatest. We're both approachable. We don't put on airs."
Pabst keeps track of its top 100 sellers, and Charleston Pour House in West Ashley is also among the list.
In DiMattia's mind, PBR fills a niche, even as Charleston is now home to nearly 30 craft breweries.
"Craft beer is great, and we sell a lot of it," he said. "But the fact is sometimes you want to sit down and drink beer all day and you can't do that with craft beer."
PBR has a lower alcohol content, at just 5 percent. Some craft beers have more than 8 percent alcohol by volume. 
"It's a super social beer," he said. "It tends to be a beer of choice for people who want to have a good time. They're staying out until 2 o'clock in the morning."
And, he said, it's a great chaser for a shot of whiskey.
'Just a fun place'
If he opened Rec Room today, DiMattia isn't sure it would survive. 
"Charleston seems to want the newest and shiniest thing," he said. "It's getting so corporate."
Still, DiMattia thinks there's a need for a place like his bar.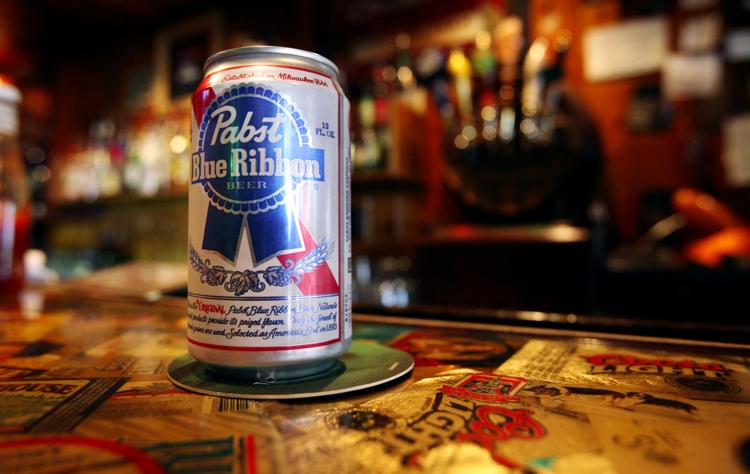 "At those newer places, you're not going to get rowdy," he said. "You're not going to put $5 in the jukebox and dance silly. I can name maybe five places like that. It's just a fun place. And I think Charleston is missing those fun places right now." 
It can get rowdy, for sure, at Rec Room. It also can be casual enough to bring your parents. It's the kind of place where decorations are hung for regulars' birthdays and where bartenders not only remember your name, but keep an eye out for weeks for an earring that went missing in the bathroom. A visit there, with a PBR in hand, was ranked as No. 6 in the 2018 book, "100 Things to Do in Charleston Before You Die."
Rec Room has 10 years left on its lease, and DiMattia isn't sure what will happen after that. Rent has tripled and insurance has gone up by more than that. He turned 40 last week and doesn't quite drink as much anymore.
For now, though, nothing will likely change. People will keep going there to play foosball and to order tater tots and to have their final drink of the night. People will go there for their first time and make friends that last for years. People will take selfies and get into arguments and make small talk with strangers and ask strangers for cigarettes. They'll all keep ordering PBRs.