The Charleston Music Confab, an annual conference that features music industry experts and a variety of showcases for local, regional and national bands, returns this August and September for a long weekend. 
The SXSW-style conference, extending from Aug. 30 to Sept. 2, will feature daily panels with more than 60 influencers, such as the adviser of Live Nation, the CEO of Dig South, the founder of Indiehitmaker, an editor at All Access and the vice president of promotion at Sony.
Mark Bryan, guitarist of Hootie & the Blowfish, will also be a part of one panel.
Panel topics range from "First Steps in the Music Industry" to "Creating and Sustaining Music's Place in Charleston's Renaissance" to "The Power of Playlists." 
The conference provides the opportunity for more than 60 artists to play in front of leaders in the industry.
This year's showcases will take place at four local venues: Charleston Music Hall, Music Farm, Upstairs at John King and Burns Alley. 
Some of the showcases will include acclaimed musicians already established in their careers.
Houndmouth, Drew Holcomb & the Neighbors, Chase Bryant, Dreamers and The Wild Feathers are among bands playing in town during the conference. 
Just a few local musicians performing include Abstract That Rapper, Ashes of Old Ways, Bkiddo, City on Down, Emily Curtis, Ben Fagan & the Holy City Hooligans, Mike Freund, Johnny Jr., Jump Castle Riot, Katie Rose, Scooda Sease and Southbound 17.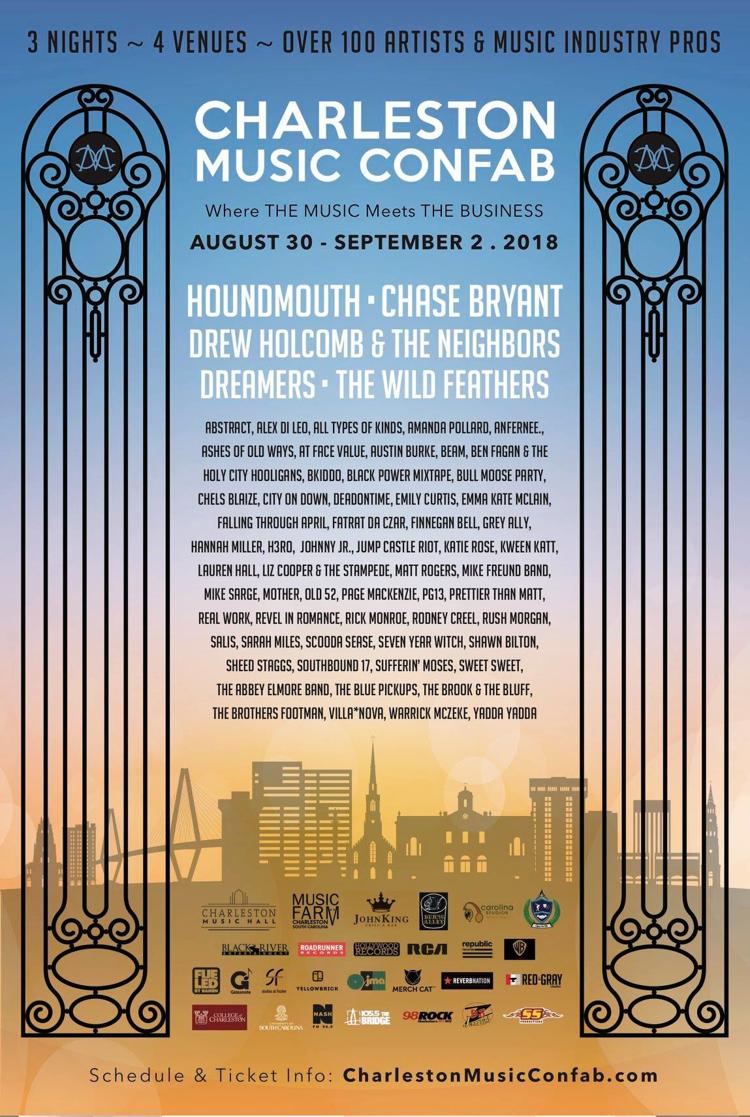 The full poster, out now, features even more names from across the United States. 
Badges, which are $50 for students and $100 for all-access, are on sale now at charlestonmusicconfab.com. Tickets to the showcases are also available for between $25 and $100. The Facebook event page, Charleston Music Confab, lists those individual events and prices.
Visit charlestonmusicconfab.com/schedule/ for the full schedule of panels and showcases.