According to the World Health Organization, there's no evidence that companion animals such as dogs or cats can be infected with the new coronavirus, so the pups are safe — though you should be taking appropriate precautions.  
To celebrate the fact that our dogs, at least, are coronavirus- and anxiety-free (despite our own mental states), I'm rounding up some of the most popular dog-friendly bars in the Charleston area. Please follow official guidelines when seeking any out-of-the-house fun: avoid large gatherings, wash your hands regularly and maintain safe social distancing.
Thursday is the first day of spring, but bars and restaurants are closed for the time being. For when the coast is clear, here's a list of pup-approving eateries and drinkeries with outdoor porches, patios and green spaces.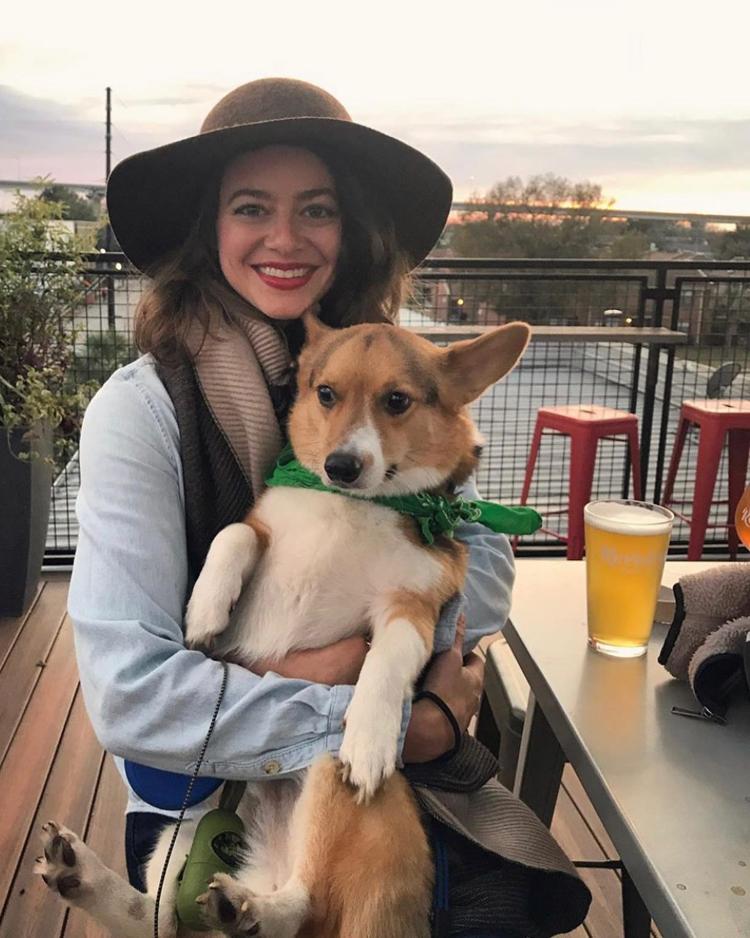 Revelry Brewing Co. 
10 Conroy St., Downtown
Take your furry friends along for a trip to this downtown brewery, which includes a downstairs space with pet-friendly outdoor tables and a rooftop space that is also pet-friendly and happily doles out fresh water bowls. A huge green space is right across the street for a play break. 
Red's Ice House
98 Church St., Mount Pleasant
While you enjoy a bucket of ice-cold Coronas, your dog can enjoy her own bucket of ice water on Red's patio, which overlooks Shem Creek. Though dogs always are allowed outside of the waterfront bar, every Wednesday is "Yappy Hour," when four-legged friends and their owners can hang out and get to know each other. 
DIG in the Park
1049 E. Montague Ave., North Charleston
This Park Circle restaurant and bar has a spacious patio out front that's dog friendly, as well as a fenced-in grassy area for playing. There are plenty of big-screen TVs for viewing sports alongside your furry friend.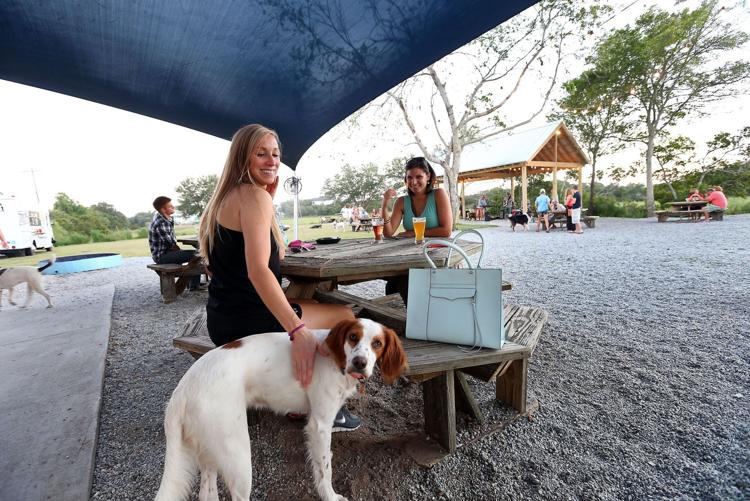 The Barrel
1859 Folly Road, James Island
The Barrel is known for being one of the most dog-friendly drinking establishments in town, with a huge outdoor space for running or playing fetch, and dog bowls are always in the yard. The entire facility is gated with open access to the creek, allowing dogs to roam free unleashed once inside. There's also a separate fenced area for dogs that need some alone time. Because of the popular pet-friendly atmosphere, patrons should brush up on some rules before heading that way. 
Fuel 
211 Rutledge Ave., Downtown
This Caribbean-inspired cantina has a spacious, dog-friendly outdoor patio and bar. There's also a deck with seating adjacent to a shuffleboard court. You can sip on a $6 happy hour frozen Pain Killer with Fido in tow. 
House of Brews
2376 Ashley River Road, West Ashley
1537 Ben Sawyer Blvd., Mount Pleasant
You can bring your four-legged friends inside this brewhouse, with locations in West Ashley and Mount Pleasant, and that sets it apart from other local spots that only allow pups on the patio. That's why it made our list.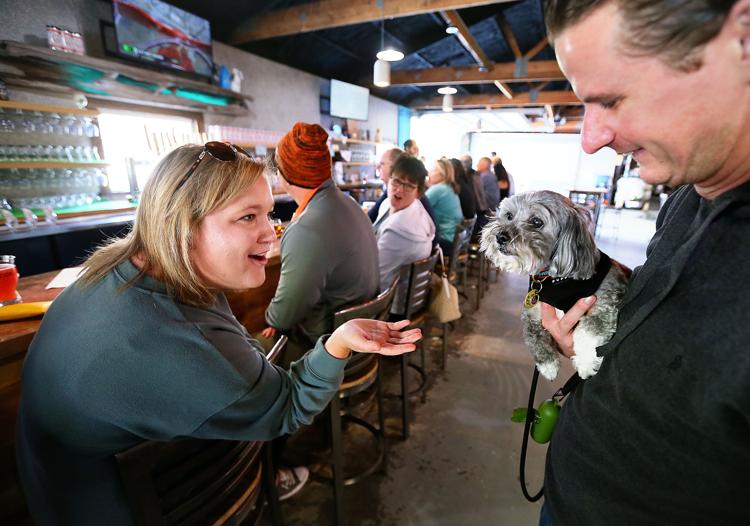 Low Tide Brewing 
2863 Maybank Hwy., Johns Island
As long as they're leashed, dogs are allowed in Low Tide Brewing's large outdoor area with seating. The brewery also sells pet swag, including a Low Tide collar and pocket dog water bowl. Monday night bingo and Tuesday night trivia provide some extra fun to enjoy alongside your pooch. 
Edmund's Oast Brewing Co. 
1505 King St., Downtown
Both of the Edmund's Oast downtown locations are pet-friendly, but the brewing company near Workshop along the King Street Extension offers the most ample outdoor space with a whole courtyard for the pups to socialize.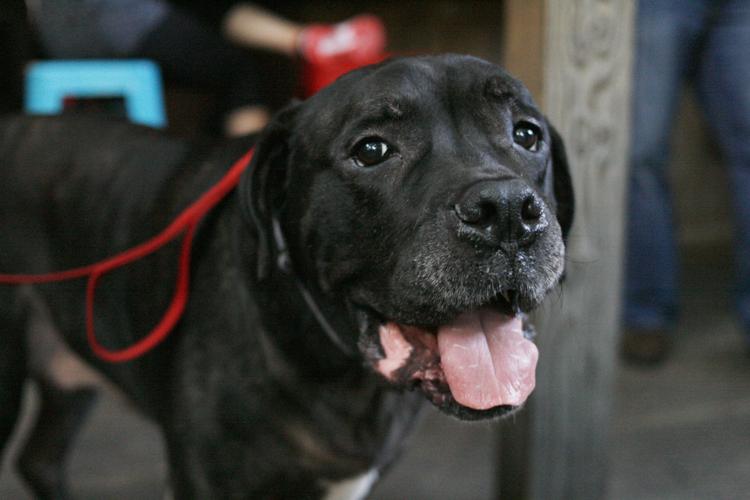 Pour House
977 Maybank Hwy., James Island
Want to enjoy some entertainment along with your dog? Try the outdoor deck at Pour House with a stage that often features live music at happy hour and a big bar surrounded by colorful murals. Dogs are welcome on a leash out there till 9 p.m., when many of the indoor shows begin. 
Home Team BBQ
126 Williman St., Downtown
1205 Ashley River Road, West Ashley
2209 Middle St., Sullivan's Island
You need your barbecue fix, and your pup wants to tag along. Well, Home Team BBQ's three local locations might be the perfect solution. With the beach only a block away from the Sullivan's Island location, there's a whole, wide-open playground waiting after the brisket. Downtown, the big gravel patio has quite a few picnic tables under which your pooch can nap. In West Ashley, the back patio with tables and umbrellas provide creature comfort. You will often find live music at all locations.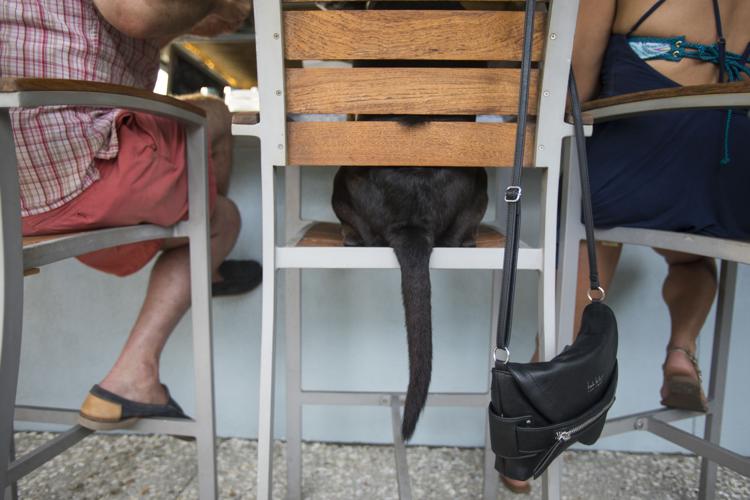 Chico Feo
122 E. Ashley Ave., Folly Beach
On Folly Beach, a few different outdoor spaces at bars and restaurants allow pups, from the Lost Dog Cafe to Lowlife Bar to the Jack of Cups Saloon. Another is Chico Feo, a funky Caribbean-style hut with pet-friendly outdoor tables that are usually full of four-legged patrons accompanying two-legged ones. 
Ms. Rose's Fine Foods & Cocktails
1090 Sam Rittenberg Blvd., West Ashley
Another place to enjoy entertainment with you dog is Ms. Rose's in West Ashley. The restaurant frequently offers Mimosas & Mutts events featuring brunch on the patio with your pooch. Some are accompanied by a dog costume contest, the perfect chance for your pup to show off a new outfit! 
Taco Boy
217 Huger St., Downtown
15 Center St., Folly Beach
106 Front St., Summerville
Taco Boy's three Lowcountry locations are dog-friendly, each boasting an outdoor patio fit for the pups. While you enjoy tacos and margaritas, Spot can slumber in the shade beneath picnic tables and palm plants. The downtown patio offers a particularly large space if you're looking to put some distance between pets.