The latest entertainment buzz surrounding the reboot of "Halloween" in Charleston involves a brand-new film location and some newly submitted Jamie Lee Curtis selfies.
Filming is now apparently taking place in the Old Windermere neighborhood off Folly Road, right down the street from Mayor John Tecklenburg's house on Fenwick Drive.
According to neighborhood sources and a flier that was distributed, most of the filming is taking place inside one house at 40 Fenwick Drive. However, several of the surrounding houses have been covered with Halloween decorations, and crews, trucks and more are visible along the street. 
A flier left in mailboxes around the neighborhood suggests that filming began Wednesday and will continue to take place through Saturday, though it calls the film "Uncle Orange." However, Illinois licence plates on vehicles on set suggest that the film is indeed "Halloween," which takes place in Haddonfield, Ill. 
A neighbor in the midst of the action has been offered $200 a day for the inconvenience but in return had to sign a non-disclosure agreement to not discuss details of the filming. 
Food celebrity Matt Lee of the Lee Brothers, who lives on Fenwick Drive in Old Windermere, says that while he wasn't offered any money since he's a little farther away from the main action, he did receive fliers with filming details. In addition, he says that the assistant location manager came around knocking on doors and letting everyone know about the filming. 
Lee says a few people from outside of the neighborhood have walked down the street to see the commotion, though there are police and barricades at the entrances. 
He says that neighbors have been pretty respectful of the film crew so far.
There also have been "Halloween" filming sightings downtown on President and Huger streets, in North Charleston's Park Circle and in Ladson.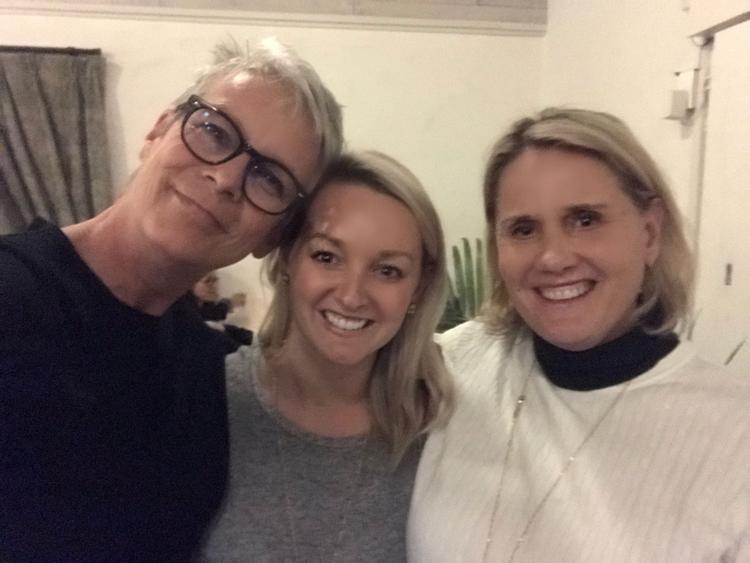 In addition, there have been more Jamie Lee Curtis spottings around town, including a sighting at Juliet off King Street. 
"I met Jamie Lee Curtis last night at dinner at Juliet downtown with my mom," says Courtney Flanagan, who got a selfie with the actress. "She was lovely and chatted with us for a few minutes. She was awesome. It was her second time dining there; she said she loves the pizza!"
Curtis also posted a photo on set on Twitter with local director David Gordon Green.
First shot! First day. Same slate. Same Laurie. David Gordon Green directing from his script. Happy Halloween 2018 everyone. See you 10/19/18 @halloweenmovie #HalloweenMovie pic.twitter.com/iSC7NOblEA

— Jamie Lee Curtis (@jamieleecurtis) January 30, 2018
The filming is set to continue in Charleston for around another month. If you spot Jamie Lee Curtis around town or take any set photos, please email koyer@postandcourier.com.