Race relations, rock 'n' roll and revolution. 
Those three concepts fueled the original 1968 Broadway musical production of "Hair," which is being revived in Charleston for its 50th anniversary. They're still relevant today, says the local show's director, Kyle Barnette.
"Even though it's from 1968, it's completely relevant today with the social turmoil and political upheaval," Barnette says. "Just like the revolutionary young people of the '60s, millennials are putting their voices together and sharing their opinions on the current state of government in the hopes of making a change." 
The production, which Barnette first acted in in 2001 in Memphis, Tenn., had a profound impact on him. 
That performance came right after 9/11, and he says the cast became particularly close during that dark time. He still keeps in touch with them today. But he says even without that bonding, tragic event, the show still does something special to its cast members.
"This show is unique in that it creates a family that doesn't end when the show's over," he says. 
Barnette explains that the ensemble of 18 actors is called "The Tribe" behind-the-scenes, and during rehearsal the actors typically name their tribe. Because of the nature of the show, they also have to get very close — emotionally and physically. 
Since "Hair" hails from the sexual revolution and showcases drug culture, there is a lot of physical contact, from laying on top of one another while partaking in acid to cozying up in a sexually exploratory "thruple." 
There aren't any overt sex scenes, Barnette assures, but a lot of suggestive scenes that reflect the original production.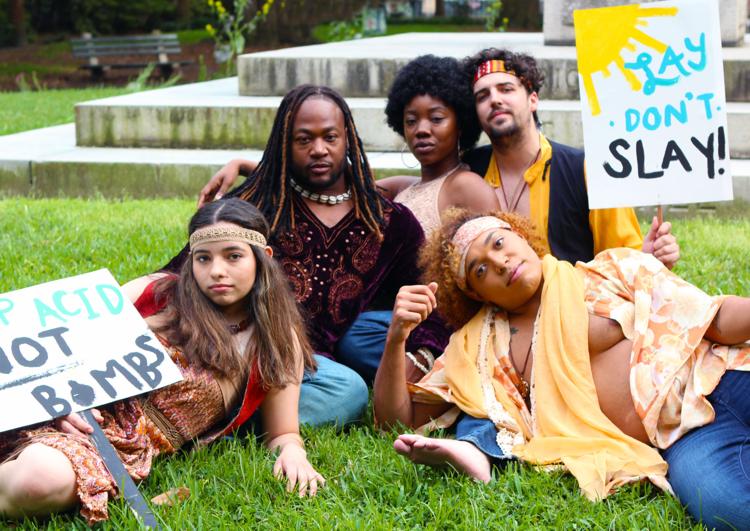 "It's 1967, '68, the Summer of Love," he says. "They're expressing themselves through their contact with one another, especially when they're taking drugs. When you're an actor, you do all kinds of things on stage, and for this production particularly, you really have to trust and understand each other."
One of the production's songs, "Hashish," is the musical conglomeration of every drug the group takes. A portion of the second act is just one long acid trip.
Other themes arise, too. There's the celebration of gender-bending and ethnic diversity, Barnette says. 
There's also protesting of the Vietnam War and then-President Lyndon B. Johnson. 
"Lyndon B. Johnson was kind of the Donald Trump of that era," Barnette says. "Trump has said on Twitter that he's the most scrutinized president in history, and interestingly LBJ also expressed the same kind of sentiment. I think that's because there was and is so strong of an opposing voice from the younger generation."
What If? Productions will host "Hair" as its first ever show at the Queen Street Playhouse, instead of the black box on Society Street. The performance is the last of What If?'s ninth season and a precursor to the upcoming 10th season, which will be hosted in its entirety at the new, larger venue.
Joining the 18 cast members on stage — a feat that would have proven too big for What If?'s intimate black box — is a four-piece live band, which will be performing original production pop and rock 'n' roll hits like "Aquarius," "Good Morning Starshine," "Let the Sunshine In" and title track "Hair." 
"It's a celebration," Barnette says. "I hope people come to be entertained. At the end of the day, it's our job as directors and actors to entertain, and it's even better if (the audience) learns something along the way."