"Halloween," the new horror movie blockbuster starring Jamie Lee Curtis that was filmed in Charleston, hit theaters worldwide on Oct. 19. 
On opening weekend, the film grossed $76,221,545, ranking it above every other movie released within the iconic franchise.
This time around, it might be local director David Gordon Green and screenwriter Danny McBride of Mount Pleasant studio and production company Rough House Pictures to thank for those astounding numbers. It also might be the long gap since the last film was released — "Halloween: Resurrection" starring Jamie Lee Curtis was released back in 2002; "Halloween II," the reboot directed by Rob Zombie, was released in 2009.
Fans have had to wait close to a decade (or more, depending on their loyalties) for another fateful return from masked massacrist Michael Myers. And this time they get a few little sneak peeks of Charleston on the big screen among the guts and gore.
Here are 9 little glimpses of the Lowcountry in "Halloween." 
1. Military Magnet High School (and other local high schools)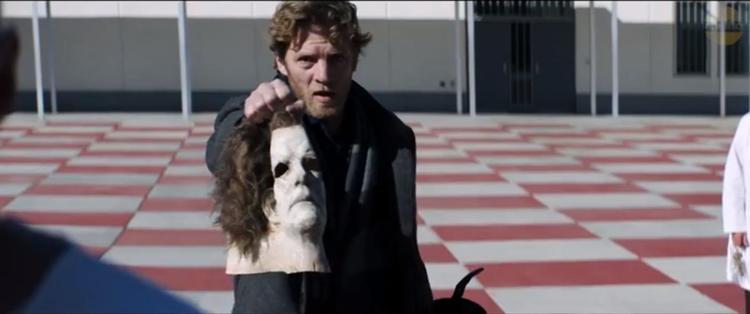 Parents of Military Magnet High School students have already been in the know that "Halloween" would be filming at the North Charleston location. This is one of the most noticeable sites in the movie. Some of the school's screen time includes the iconic red-and-white checkered courtyard that serves as the courtyard of the mental institution where Michael Myers is being held. 
The hallways, donned with lockers that were brought in just for the film, create a classic high school setting, is also held within Military Magnet walls, while the the Halloween dance was filmed at North Charleston High School, though decked out with a DJ and plenty of spooky decorations. 
A staged pigskin practice featuring the Hanahan Hawks is another backdrop for an initial conversation between Allyson Strode (played by actress Andi Matichak) and Laurie (Curtis), her grandmother.
2. Hampton Park Terrace
There is an early scene of high school kids, including Allyson Strode, walking down the streets of the Hampton Park Terrace neighborhood and later trick-or-treating. This is also the neighborhood featuring the house where Allyson and her parents, including her mom (played by Judy Greer), live. Roads were blocked off for filming near Huger and President streets back in January. 
3. Tapio Boba Tea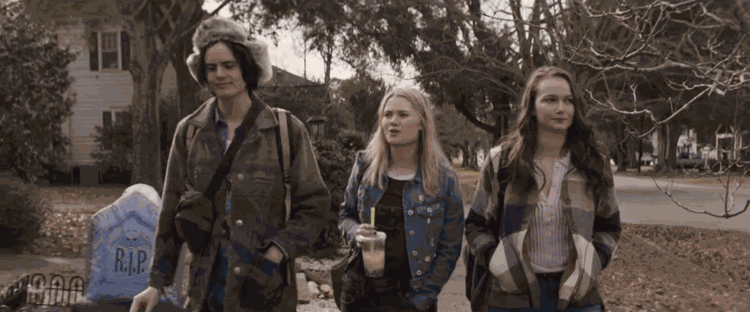 During that Hampton Park Terrace scene where three high school friends are walking to school, Allyson's friend Vicky (played by Virginia Gardner) is drinking boba tea, a Taiwanese drink with chewy tapioca balls. We can only assume that it was from Tapio, Coming Street's popular boba tea cafe. 
4. Burton's Grill
This location was a little harder to spot, but the 1875-B address on the front door of the restaurant where Laurie's granddaughter Allyson is celebrating her induction into the National Honor Society led us to Mount Pleasant Towne Center's Burton's Grill. 
5. Mile Marker 227
A lot of the scenes in "Halloween" are in the woods off of a South Carolina Highway. One clue to where an integral scene takes place is the legible green sign for Mile Marker 227 on the side of the road. 
6. Charleston graveyard
In one scene, two reporters visit the graveyard where Judith Myers' tombstone sits. Though the exact graveyard is a little hard to pinpoint, we did spot two other names on tombstones that might trace it to a particular local burial ground: Sinclair and Mathias. There was also a giant live oak tree in the scene, but that could be noted of a lot of places in Charleston. 
7. Hanahan BP Gas Station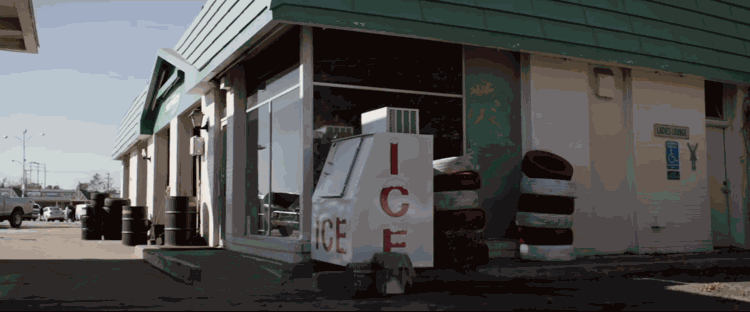 Film crews were spotted in January at a BP Gas Station in Hanahan off Yeamans Hall Road. The big screen confirmed that location with a quick camera scan across the street to Dycon Inc. Associates, a local construction company. The interior also boasted a Super Pretzel and Back to the Future pinball. This gas station serves as one of the bloodier scenes of the film, but we won't give too much away. 
8. Mayor's neighborhood
We saw film crews earlier this year in the Old Windermere neighborhood off Folly Road, right down the street from Charleston Mayor John Tecklenburg's house on Fenwick Drive. In the movie, that neighborhood is used for some of the trick-or-treating scenes, as well as the house where Vicky is babysitting on Halloween night. 
9. Bon Bahn Mi
Vietnamese restaurant Bon Banh Mi, which has locations in downtown Charleston and Mount Pleasant, also got a shout out in "Halloween," when two Haddonfield cops are seen eating bahn mi while on the clock. One officer even makes fun of his partner for his childlike tastes, offering him a special "peanut butter and jelly" bahn mi sandwich. 
Did you spot any Charleston locations or nods that we missed? Share them with me at koyer@postandcourier.com.