SAVANNAH, Ga. — Okay, maybe it's just me, but for a summer vacation, I like the idea of heading where you can drink in the street.
That's why I decided to throw Savannah into the mix of our summer road trip guides. With its many parks and squares, cobblestones and, of course, the historic River Street and City Market, it's ideal for exploring sites and finding fun things to do.
Savannah, only a two-hour car ride from Charleston, shares the Holy City's landscape and Spanish moss, but offers an entirely unique adventure.
Here are a few highlights within the historic downtown district. 
Exploring 
If you don't go anywhere else in Savannah, at least wander along River Street. This is the heart of the historic city, with cobblestone streets, a trolley, plenty of shops, restaurants, bars and great water views. This is also where you can embark on a riverboat cruise aboard the iconic Savannah River Queen and Georgia River Queen. If you grab a drink at one spot, ask for a to-go cup, and you can carry it to the next.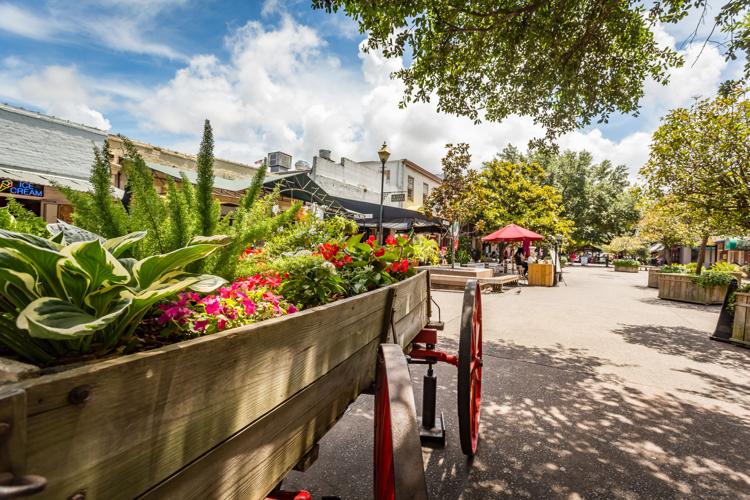 Savannah's historic city market dates back to 1755 as a center of commerce. Today,within this area located just blocks away from River Street, you'll find an open-air market with art galleries, vendors, restaurants and often live music. 
Ghost Tours
The Holy City has its ghost stories, and so does its sister city to the south. To learn more about Savannah's legendary haunts, try a ghost tour. Options include Haunted Savannah Ghost Tours and a Ghosts & Gravestones trolley tour. 
One of the nation's most renowned art schools, Savannah College of Art and Design, is located here, and even if you're not attending classes, you can explore the contemporary museum of art, which features rotating exhibits. Through September, enjoy Berta Fischer's whimsical sculptures, Azikiwe Mohammad's "A Survey in Blackness" and Carla Fernández and Pedro Reyes' award-winning multidisciplinary collaboration that features everything from Brutalism to social progressive values.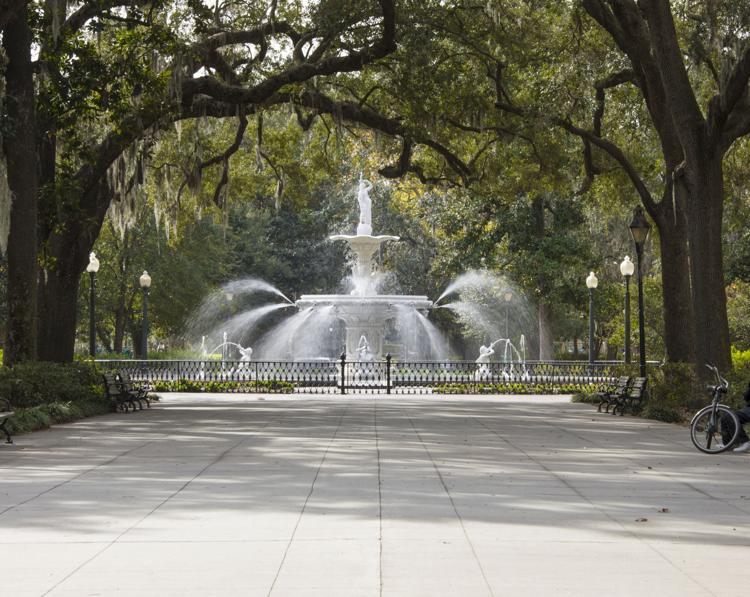 Savannah is known for its quintessential squares with fountains, green space and benches. And then there's Forsyth Park, covering 30 acres in the middle of the city. There, you'll find a fountain, a half-shell theater, two playgrounds, a cafe, tennis and basketball courts, plenty of park space and lots of locals hanging out.
Ships of the Sea Maritime Museum
The historic William Scarbrough House and Gardens has been converted into a museum, featuring a multitude of ship models, paintings and maritime antiques. Learn more about Savannah's rich maritime history and then stroll the largest private gardens within the historic district. Admission is $9 for adults, $7 for students and seniors, free for kids 5 and younger or $21 for a family (two adults and a kid).
Ralph Mark Gilbert Civil Rights Museum
This museum is named in honor of the father of Savannah's civil rights movement and leader of the NAACP. The museum chronicles the civil rights struggle of Georgia's oldest African American community, from slavery to the present, with three floors of historic photographic and interactive exhibits. Admission is $8 for adults, $6 for seniors and $4 for students.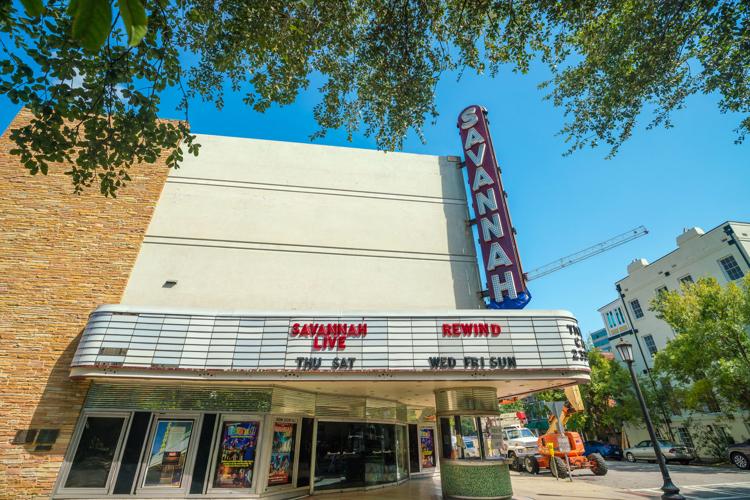 If you're staying in Savannah overnight, then you might have the chance to catch a show at this historic theater that was first opened in 1818. One of the country's oldest continually operating theaters, it offers live musical plays and shows. 
Shopping
A Savannah shop that also has a storefront in Charleston is this seller of bee products, from raw honeycombs and whipped honey to hand creams and lip balms. 
Bob's Your Uncle and Fannie's Your Aunt
You can find all your souvenirs and a variety of other t-shirt, magnet and mug-filled shops along River Street and throughout downtown Savannah. 
For an open-air market with dozens of vendors, try this pavilion on River Street located under a roofed wooden structure. You'll find artwork, hot sauce, rings, wind spinners, beef jerky and more.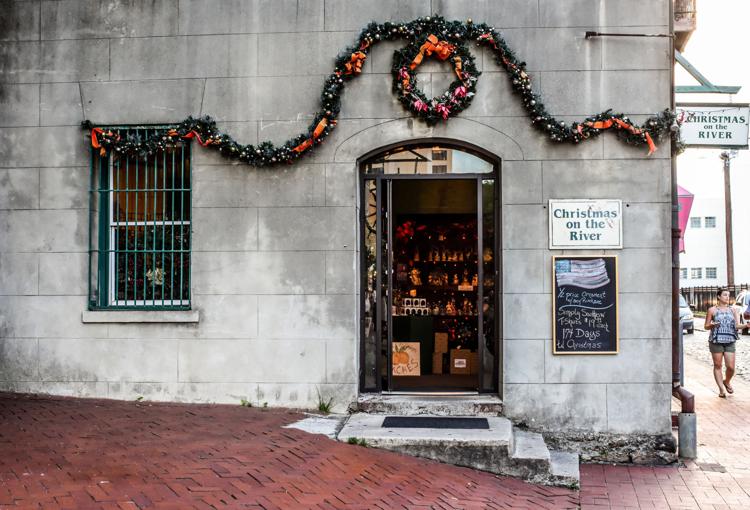 A Christmas on the River
Who says you can't have Christmas in the middle of summer? I think the name gives away that this Savannah shop is home to all things holiday-themed, and you're invited to take a trip to Winter Wonderland. Get your ornaments, snowmen globes and nutcrackers here. 
Sift through vintage books on Bay Street and relive your hardback yellow Nancy Drew novel days. 
This home, body and mind store has unique and trendy handcrafted items that could make great souvenirs to bring back from your trip for yourself or your friends and family back home. Candles, purses, mugs, soaps, socks and books are for sale. 
So you've made it to Savannah, you're spending the night at a hotel or AirBnB downtown and you need a before-bedtime snack and maybe one more local craft beer before you nod off. This cute convenience store has all your quick stop needs.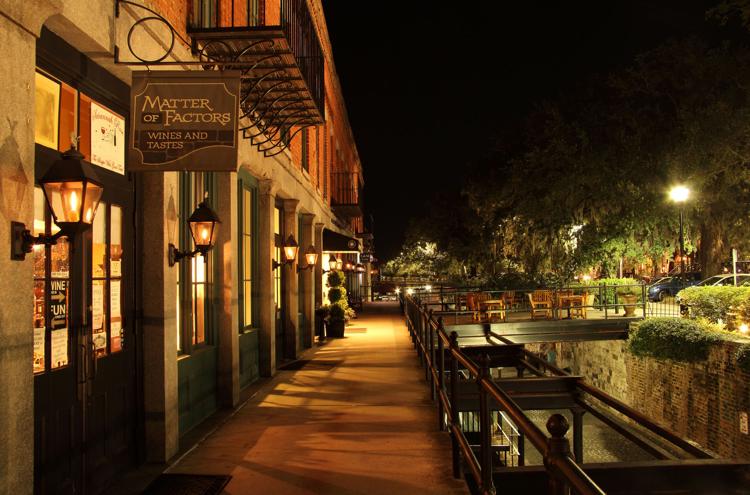 The Georgia Peach Wine here is known as "the peach, without the pit, without the fuzz, but with the buzz." There are also handcrafted items, local photographs and home decor. 
You won't find any fish at this gift shop on Whitaker Street, but you will discover clothing, jewelry, bath and body products and some trinkets. 
Stylish apparel, including women's and men's graphic tees with unique, artistic designs, is for sale at this shop. There are also kids' clothes, jewelry, accessories and small gift items. 
My dad is a big map guy, so I know for sure I'll be taking him to this antique map store the next time we go to Savannah. V & J Duncan began with one tabletop of antique maps and has mushroomed into a vast collection of old engravings, lithographs, old books, photographs, prints and portraits. 
Food + Dining
For a Southern fare smorgasbord, this is the Savannah restaurant to visit. Pair fried chicken, sausage or meat loaf with macaroni and cheese, okra and tomatoes, butter beans, potato salad and other home-cookin' sides.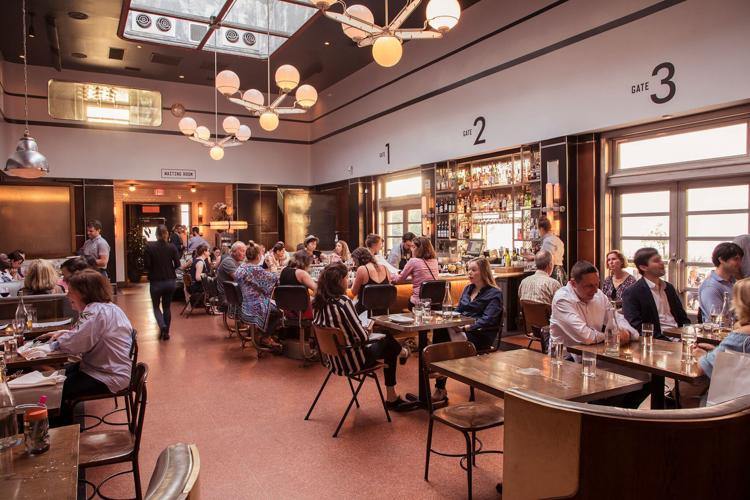 This high-end retro venue in a refurbished bus depot offers two bars and Southern eats like smothered quail and chilled cucumber soup. 
This vintage-chic space with outdoor seating and re-imagined Southern comfort eats is no trailer park. Start off with avocado fries or PB&J chicken wings. Then, dig in to a Southern Sloppy Joe, grilled apple pie sandwich or chicken and pancake tacos. 
It's lunch or dinner with a water view right on River Street. 
Fresh local seafood, steaks and Greek specialties are served at this popular River Street eatery. There's also an adjacent ice cream and sweet shop called Peaches and Creme.
You can order daily brunch at this relaxed gastropub or enjoy shareable plates for dinner, like pork belly donut sliders or loaded fritter tots.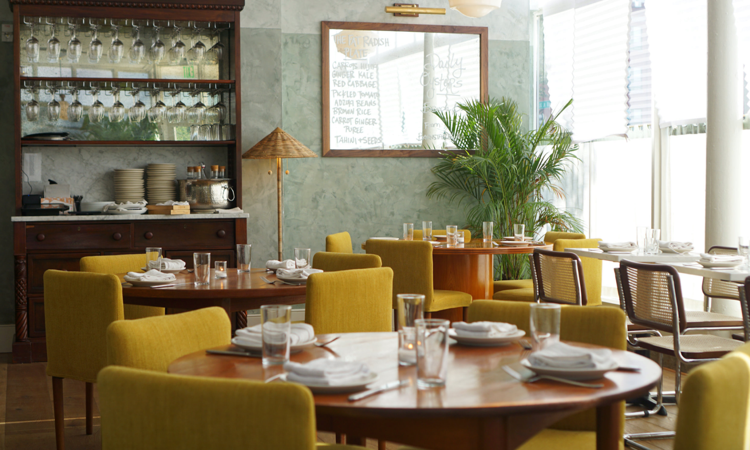 This New York restaurant has a cheery and trendy Savannah location with snacks like peanut hummus and duck fat fries and entrees like pastrami-brined chicken shnitzel and grilled grouper. 
Seafood entrees can be topped off with desserts like the Tuxedo Bomb chocolate sponge cake, key lime layered mousse or a strawberry and mango sorbet. 
This is a family-friendly Tex Mex restaurant with queso nachos, bowls, soups and street-style tacos. 
This farm-to-table restaurant features fresh, seasonal fare served on a romantic outdoor patio with projected movies.
Fusing modern techniques with traditional arts like sausage and pâté making, breads from scratch and grinding their own meat for burgers, Cotton & Rye is a unique New American eatery housed in a former 1950s bank with a deck. Menu sides include fingerling potatoes, cranberry beans, braised kale and cheese grits. 
Drinking + Nightlife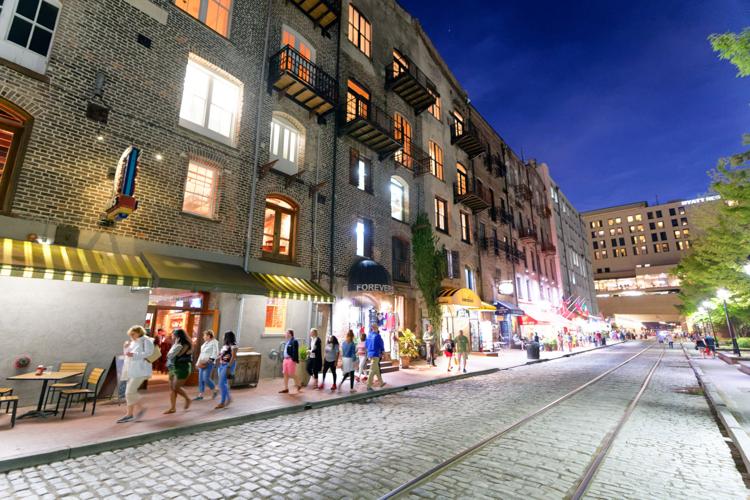 This brewpub, which is a little removed from River Street, features a beer garden with a few shady nooks to hide from the summer heat. The patio is dog-friendly, and the beers include a Wacky Wit, Captain's Porter and an IPA dubbed "The Cone of Uncertainty." 
This gamer's bar in Savannah features console games like Mario Kart and Mortal Kombat, board games like Ticket to Ride and Settlers of Catan and party games like Cards Against Humanity and Taboo. There's also Jenga, Cornhole and a full pub menu. 
Yes, it's an Abraham Lincoln-themed tavern serving up craft beers and cocktails.
Alcoholic slushies. Need I say more? 
Australian-inspired elevated pub food and a rooftop bar? Sounds cool to me. There's also brunch here. (Did someone say mimosas?)
Pair your boozy beverages with curry bowls, noodle salads and other Thai and Vietnamese cuisine. 
This bar is home to more than 300 martinis, including favorites like the Rice Krispie Treat, Lemon Drop Lavender and Snickers.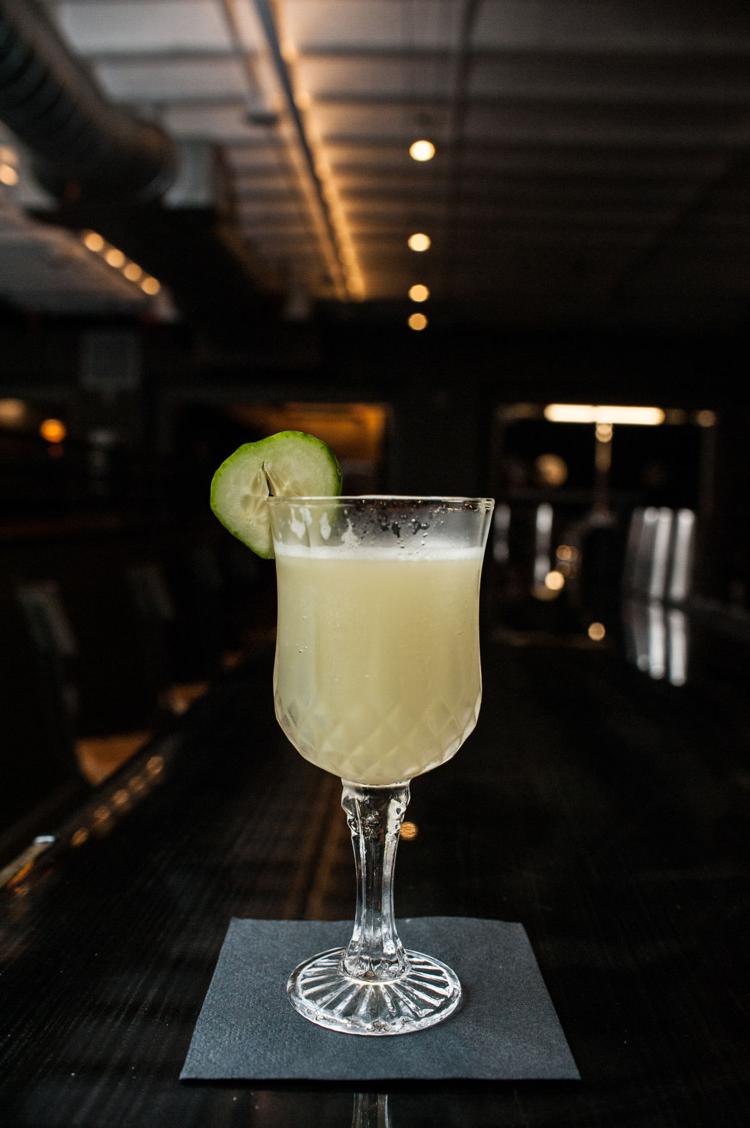 This hip basement bar with brick walls and a magazine-style menu (so cool; check it out here) offers whiskey flights, beer-and-a-shot combos and an entire "drinking like ladies" cocktail list. 
Savannah Smiles Dueling Pianos
For a rock 'n' roll dueling pianos show, check out this venue with late-night bar bites, Jell-O shot specials and, of course, beer. 
This watering hole is also a live music venue. The kitschy drink menu is truly one-of-a-kind with fun cocktail names. Specialty shots that piqued my interest are the Orange Dreamsicle, Pink Starburst (the best flavor, duh), Pineapple Upside Down Cake and Cinnamon Toast Crunch. Um, yum! 
This dive bar was once a boarding house and brothel (at different times). There's karaoke every night at 9 and live music in the yard on Fridays; the admission is only a penny. 
I've seen a few Charleston bands at this Savannah bar and music venue with barrel-aged cocktails, Pachinko and a vinyl jukebox. 
It's a neighborhood pub and music venue that hosts genres from punk to swing to electronic. There's your typical pub grub, but also a vegan menu. And you might catch stand-up comedy here, too. 
This country music bar has a mechanical bull. So, start at the other bars above before heading here with your liquid courage intact. 
Coffee + Sweets
Now that you've had your fill of craft beer, what about your craft coffee fix? This pour-over brewhouse, which has even expanded to another downtown cafe location called Foxy Loxy, features everything from a classic cappuccino to a Mexican mocha and horchata latte. Cheese boards and light bites are also offered. 
It's the airy cafe of a century-old coffee roasting company serving its own brews, plus breakfast and sandwiches. French Vanilla, Hazelnut Rum Cake and Pumpkin Pecans are a few coffee flavors to sample.
That's a really good name, right? In addition to coffee, smoothies and fresh limeade, this space also has live music, open mic nights and films. 
PERC was started by an Athens, Ga., musician who worked at a local coffee shop in between gigs and tours. He moved to Savannah to open his own shop armed with a coffee roaster, a bike and a big backpack. 
Pair your craft coffee with build-your-own-style waffles with a bevy of toppings to choose from. You can even indulge in a waffle sandwich here. 
This French bakery just steps above River Street on Bay Street offers pastries, macarons, gourmet salads, quiches and sandwiches. It can be a breakfast spot or a quick stop for a sweet bite to keep you fueled for all your Savannah explorations. 
This sophisticated sweet house offers specialty crepes, pastries and espressos as well as handcrafted daiquiris and cocktails. 
You might've seen this same candy store with pralines, fudge and caramel apples in downtown Charleston, but the home of the original Savannah's Candy Kitchen is obviously the city its named after.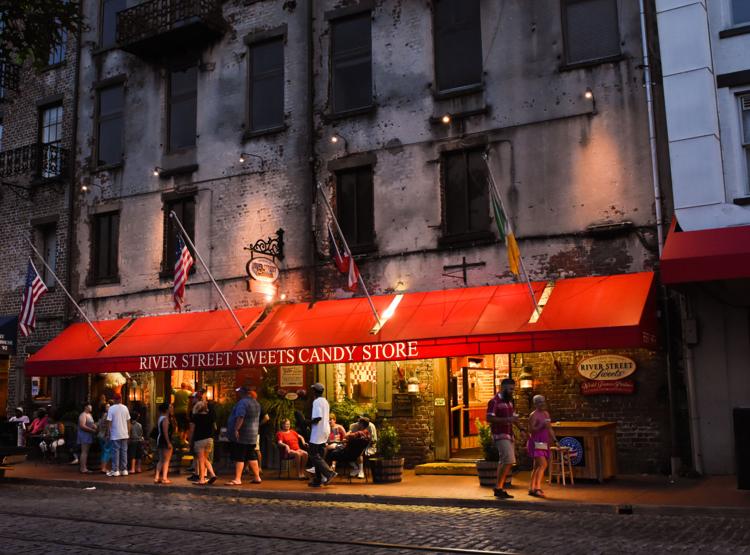 Here's another place to grab sweet treats on River Street, from cakes and pies to bear claws and glazed pecans. 
Serving homemade ice cream since 1919, this ice cream parlor with a marble soda fountain is an ideal stop for a speedy sweet treat between your River Street adventures. 
Cupcakes, macarons and muffins await to cure your sugar cravings. 
Cheesecakes, cakes, tarts, pies, mousse, creme brulee and fondue for two are a few menu items at this dessert shop. If you're feeling a little extra, then you've got to try the Rapture Sundae with three scoops of frozen mousse or ice cream in a hand-made chocolate bowl, covered in fresh berries and accompanied by pitchers of dark chocolate, white chocolate and caramel sauces. Is your mouth watering yet?