Shem Creek has burgeoned into a true Lowcountry hub for entertainment in the past decade, and it's not just the exquisite sunset views drawing in crowds (though that's definitely a key factor).
With restaurants surfacing overnight figuratively and a new parking garage rising up from the dirt lot literally, the East Cooper waterfront stretch has developed into a favorite place for eating and drinking, kayaking and paddle boarding, boating and fishing and more. 
Though it's been a commercial fishing and shrimping destination since the 1920s and hosted favorite neighborhood bar Red's Ice House since the '60s, new to the strip are Saltwater Cowboys with its burgers and BBQ shrimp and grits and Nico with its French-oriented fare and oyster bar.
2012 brought The Shelter across the street as a happening brunch and cocktail hangout for young professionals, while 2014 presented Tavern & Table as a New American gathering place with waterfront dining and beautiful views. 
While Mount Pleasant Seafood has been slinging fresh fish to the area since 1945, R.B.'s has been at the creek in some form since 1979 and Vickery's has overlooked the creek since 1983, only recently has Shem Creek truly exploded with growth and development. 
It's not just the restaurant scene that has been expanding. Nature Adventures, with its operation working from a dock near Mount Pleasant Seafood, provides the area with easy watersporting opportunities, along with some other local expedition outfitters. 
Shem Creek Park, opened in 2011, features an extended boardwalk with magnificent views of the main waterway, surrounding creeks and marshes and ocean stretching out into the distance. 
So with a bevy of ways to get out on the water, a boardwalk park for exploring and plenty of dining and drinking venues to last the whole week and beyond, here's our ultimate guide to all the ways to enjoy Shem Creek.
Drinking 
The Shelter
One of the most crowded spots any time I've driven by Shem Creek is The Shelter, right across the road from the main strip. The bar with a huge wraparound patio peering over the creek is a gathering place for college kids, young professionals and families, with activities such as cornhole on the deck. Saturday and Sunday brunch is especially busy, with mimosas flowing and fried chicken biscuits cooking from 9 a.m. to 3 p.m. 
Red's Ice House
With a long history on Shem Creek, Red's Ice House is still a favorite for cold beer and fried seafood right on the water. Voted the best waterfront bar since 2004 in the Charleston City Paper, Red's isn't going anywhere. The upper deck hosts some great views of the shrimp boats and kayakers below, while all-you-can-eat crab legs on Monday nights is a local favorite. Also, if you're just looking for a fresh shrimp snack, you can get take-out and avoid the crowds. 
Waterfront Dining
Saltwater Cowboys
Saltwater Cowboys is the most recent eatery to stake its claim on the creek, and it's received praise for its casual menu and waterfront dining experiences, with multiple decks for eating and drinking. Saltwater Cowboys is a testament to the boom of Shem Creek, with space for hundreds to soak in some views that can't be found anywhere else in the Lowcountry. 
Tavern and Table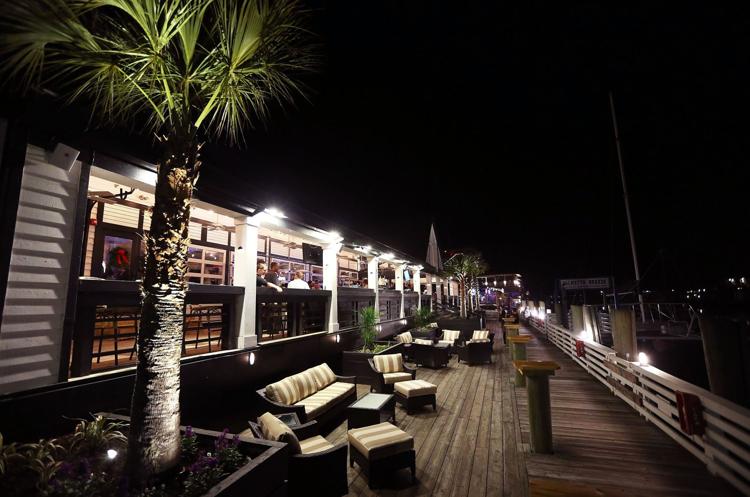 Though not brand new, Tavern and Table is a younger establishment on the water compared with the "tried and trues." It has availability for private events and often features live music, like many of its peers. For dinner, it has a menu that stretches beyond seafood, including a charcuterie plate, smoked chicken wings, burnt end mac and cheese and a variety of flatbreads. But don't fear, seafood lovers. Shrimp and grits, scallops and crab cakes also grace the menu. 
Shem Creek Bar and Grill
On the marsh side of the bridge, Shem Creek Bar and Grill is one of those "tried and trues" we mentioned. The seafood house and oyster bar has a great patio dock, half shell service available all day every day and Lowcountry boils perfect for a large family outing. 
Water's Edge
Local fish and an extensive wine list are two highlights of Water's Edge, a Shem Creek classic. Also, Sunday brunch, y'all. This is one of the restaurants you can easily dock your boat at and enjoy in the midst of an outing. 
Wreck of the Richard & Charlene
The Wreck of the Richard & Charlene is an Old Village staple on the water. Local seafood prepared in Lowcountry styles are the specialty here. That means deviled crab, crab cakes or fried green tomatoes and she-crab soup along with boiled peanuts, banana pudding and key lime pie. 
R.B.'s 
The nautical theme of R.B.'s is fitting to its environment. A steam pot is the restaurant's specialty, while hushpuppies and a blue crab cocktail make the list of appetizers. You can also get a filet mignon here for under $30 while soaking in the sights of splashing dolphins and golden sunsets. 
Vickery's 
With expansive views of Shem Creek Park from the back of the restaurant, Vickery's is another waterfront dining destination at Shem Creek that has been around for a while. The fried green tomato tower and fried cajun popcorn are two ways to start off a meal, while fried shrimp, scallops, oysters or flounder are a quintessential way to finish it (mixed and big platters available). 
Watersports
Shem Creek Park
As a local who's never fully walked down the boardwalk at Shem Creek Park, I'm telling you it's a must. Along with the history lesson you'll get along the way from plaques about the shrimping heyday and the coastal environment, you'll get a 360-degree view you simply can't find anywhere else in the Lowcountry. From a silhouette of the bridge peeking above the pluff mud to a view from the end of the dock of all the boats sailing into the creek, the park is a show-stopper. 
Nature Adventures
For the more adventurous who are looking to test the waters of Shem Creek themselves, Nature Adventures is a great on-site option for kayak and paddle board rentals, with a storefront right by Mount Pleasant Seafood. Half-day and full-day rentals are available for either watersport vehicles, starting at $35. Guided kayak tours also are available from marine biologists, pro-birders and naturalists. Kids ages 4 and older are allowed on these tours, so make it an adventure for the entire family. Or, if you're looking for a true expedition, try an overnight kayaking camping adventure to Capers Island, down the Edisto or to Adventure Island. 
Coastal Expeditions 
Located right by Shem Creek Bar and Grill, Coastal Expeditions is another great local outfitter for kayaking and paddle boarding. With an adjacent private dock and retail store, Coastal Expeditions' Shem Creek location is the flagship campus. Book history and nature three-hour tours or schedule a full-day extravaganza out to the Barrier Islands. Guided paddle board tours are available to get the most out of the dolphins, birds and sea critters that inhabit Shem Creek. 
Shem Creek Boat Rentals
For those lacking the luxury of owning a boat, Shem Creek Boat Rentals is available to help. The company rents out recreational and fishing charters for those of all experience levels. Get your "dose of Vitamin Sea" with your own private vessel to explore the waters of Shem Creek and beyond. Ride beside the dolphins, wade beneath the pelicans and go beyond the sights and sounds that can only be had from land. 
Palmetto Breeze Sailing Charters
For a different boating experience, try Palmetto Breeze Sailing Charters. The popular catamaran is a favorite party boat with a cash bar, but it also is host to sunset sails, dolphin tours and private charters. You'll often see it coasting through Shem Creek en route to or from a celebration. 
Fresh seafood
Mount Pleasant Seafood
With the longest residency on Shem Creek, Mount Pleasant Seafood is a local landmark and one that fresh fish-loving locals know well. The retailer of grouper, flounder, trigger, Mahi, sea bass, salmon, tuna, shrimp and more has been around since 1945 and it's the perfect place to stop in for a fresh local cut if you're looking to eat straight from creek to table. 
Geechie Seafood
Another specialty seafood grocery on the creek is Geechie Seafood. Shrimp by the pound is available at this neighborhood retailer, an unassuming structure visible from Saltwater Cowboys by the shrimp boats. 
C A Magwood Jr. & Sons
Known particularly for shrimp but also for some fresh fish, C A Magwood Jr. & Sons is another homegrown seafood operation near the docks. While shrimp season is on hold so far this year, frozen shrimp can last around nine months and are sold at the Magwood Dock doorway, along with some daily fish. Check the chalkboard for the latest catches.