Hot summer days and nights call for a scoop of ice cream.
The Charleston area has a slew of places to quench your cravings for traditional ice cream, as well as gelato, pie-filled ice cream sandwiches and Life Raft Treat's Not Fried Chicken ice cream.
Plus, downtown Charleston will soon be home to Off Track Ice Cream, which will likely open by the end of June and have plenty of vegan options available. 
1. Beardcat's Sweet Shop
If you're looking for gelato before or after a trip to the beach on Sullivan's Island, then check out Beardcat's Sweet Shop, 2063 Middle St. The shop, which is underneath The Obstinate Daughter, offers 20 flavors of gelato, sundaes and cakes, milkshakes, seasonal floats and ice cream sandwiches. It also has a small breakfast menu, plus sandwiches and coffee. For more info, go to beardcatsweetshop.com. 
2. Belgian Gelato
Another place to get your gelato fix is Belgian Gelato near Waterfront Park at 6 Vendue Range in downtown Charleston. Along with flavors such as chocolate peppermint and pistachio, the menu includes gelato parfaits, espresso drinks and Belgian waffle toasts. For more info, go to facebook.com/BelgianGelato. 
3. Ye Ole Fashioned Ice Cream and Sandwich Cafe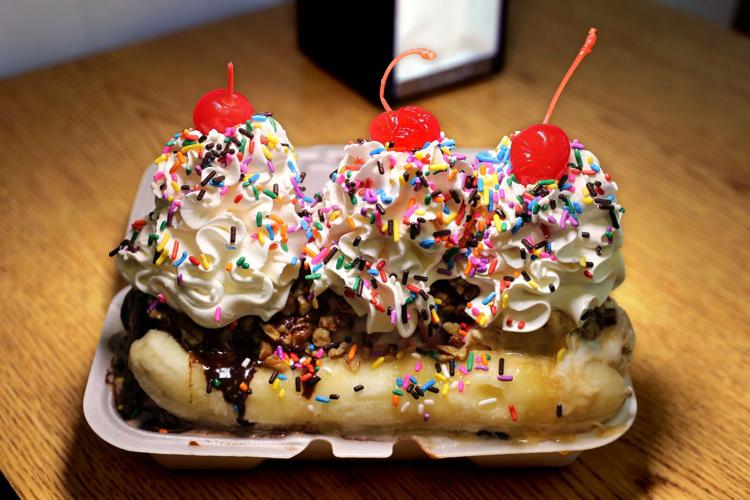 At Ye Ole Fashioned's six locations around the Lowcountry, you can get more than ice cream. Other items include a BLT with 10 slices of bacon, double-decker sandwiches, burgers and hot dogs. On the ice cream side of things, Ye Ole Fashioned serves 36 flavors, banana splits and milkshakes. For more info, go to yeolefashioned.com. 
4. Republic Ice Cream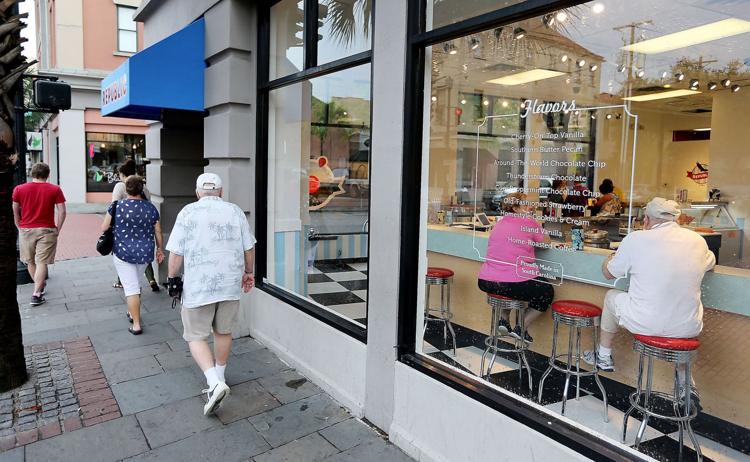 Republic Ice Cream got its start in Myrtle Beach and has since opened locations in downtown Charleston at 431 King St. and on Sullivan's Island at 2120 Middle St. Classic flavors include cherry-on-top vanilla, old fashioned strawberry and cookies-and-cream. For more info, go to republicicecream.com.
5. Jeni's Splendid Ice Creams
Jeni's Splendid Ice Creams, an artisan ice cream chain based in Columbus, Ohio, opened its Charleston location, 501 King St., in 2014. Founded by Jeni Britton Bauer, eclectic flavors include goat cheese with red cherries, fluffernutter pie and frosé sorbet. For more info, go to jenis.com. 
6. Cirsea Ice Cream (Red Orchids China Bistro)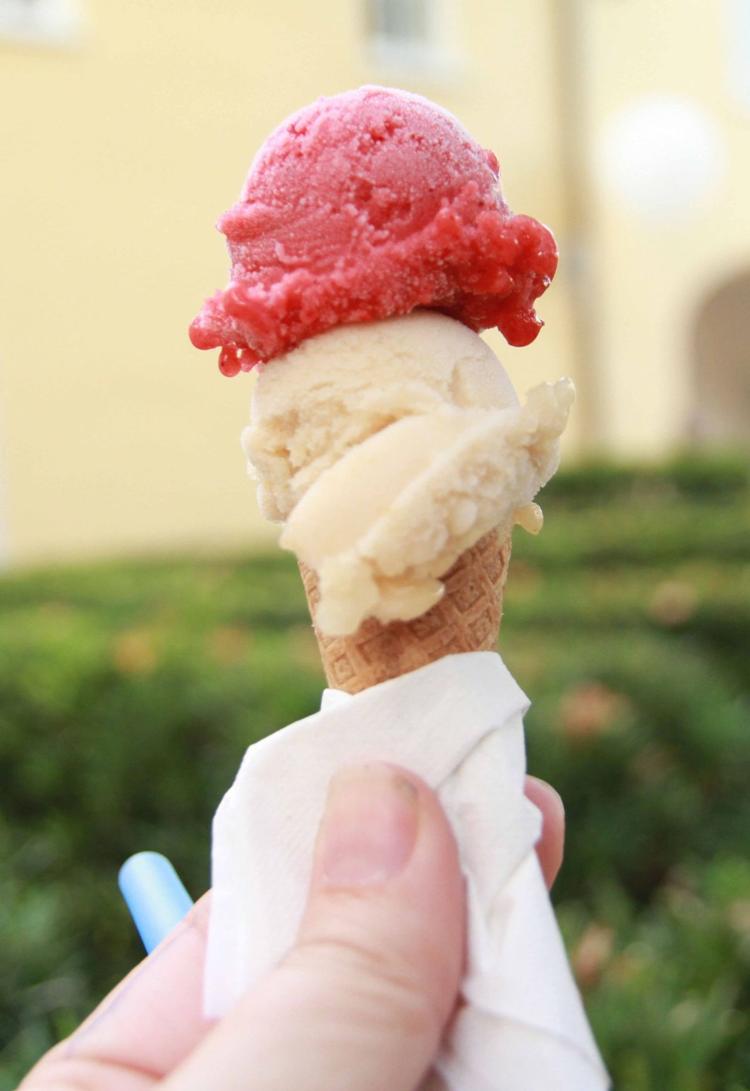 Charleston-based brand Cirsea Ice Cream first showed up on the dessert menu at Chinese restaurant Red Orchids and has since spread to grocery stores and restaurants around the Lowcountry. You can pick up a pint at Mercantile downtown or Holy City Brewing in North Charleston. You also can find the ice cream on dessert menus at places such as Three Little Birds Cafe in West Ashley and The Darling Oyster Bar in downtown Charleston. Flavors include black sesame, bourbon caramel and lavender. For more info, go to cirsea.myshopify.com.
7. Park Circle Creamery
Park Circle Creamery, 1044 East Montague Ave., North Charleston, offers 16 flavors such as maple bacon and blueberry cheesecake in the heart of Park Circle. The ice cream shop recently announced it would be changing its hours for the summer months, which are noon-8 p.m. Sunday-Monday, noon-9 p.m. Tuesday-Thursday and noon-10 p.m. Friday-Saturday. For more info, go to facebook.com/ParkCircleCreamery.
8. Peace Pie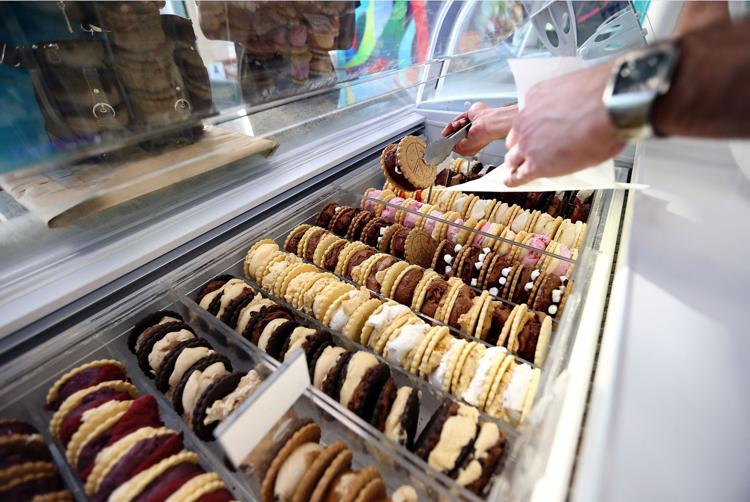 Of Peace Pie's five locations, two are in Florida, one is in New Jersey and the remaining two are within 1 mile of each other in downtown Charleston, at 223 Meeting St. and 509 King St. The shop serves ice cream sandwiches with layers of pie fillings. Both locations are open until 11 p.m. Sunday-Thursday and until midnight Friday-Saturday for late-night sweet cravings. For more info, go to peacepieworld.com.
9. Ice & Pan Charleston
Ice & Pan on Upper King Street serves Southeast Asian-style ice cream rolls in a variety of flavors, from coconut to green tea. In addition to cups of rolled ice cream, Ice & Pan, 567 King St., offers bubble tea and smoothies. For more info, go to facebook.com/Iceandpancharleston.
10. Life Raft Treats
This ice cream food truck is perhaps most known for its Not Fried Chicken ice cream bar, which has the look of a savory fried chicken leg but is actually all sweet. Along with that, the mobile Life Raft Treats, fronted by chef Cynthia Wong, serves ice cream tacos with flavors such as Burnt Honey-Toffee Almond and Tahitian Vanilla. Seasonal flavors include blueberry buttermilk and blackberry crisp. Find the food truck by going to www.liferafttreats.com.
11. Wich Cream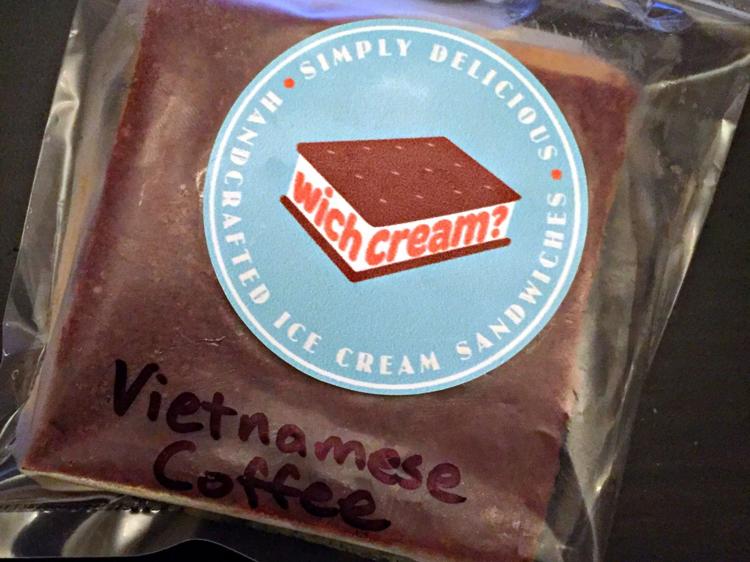 The owners of Wich Cream this month announced on social media they are getting out of the ice cream business and are looking for someone to take over their roving sweet treat stand, which serves ice cream sandwiches and ice pops made with local ingredients. Wich Cream also delivers. Along with seasonal flavors such as strawberry lavender and s'mores, Wich Cream collaborates with High Wire Distilling and Charles Towne Fermentory to create booze-infused flavors. To keep up with Which Cream, go to wichcream.com.