Local musician and now curator Nic Jenkins pulls out his planner, a thick old sketchbook from Artist & Craftsman with the hard cover long gone from wear and tear. He points out the scribbled note from the end of last year among organized calendar entries and past plans for "Dojo Nowhere." The idea was on his mind last winter, and it is finally coming to fruition in mid-August. 
Started as an improviser's collective, the idea behind Dojo Nowhere ("Dojo" being a martial arts practice space and "Nowhere" representing Jenkins' transient state when he thought of the concept) has developed into an experimental music series.
The six-event series, spanning Aug. 16-Oct. 25 (one show has passed), includes interviews with contributors, live experimental sound performances and interactive aspects. The remaining shows will be either at Redux Contemporary Art Center or St. Julian Devine Community Center, both in downtown Charleston. 
"Every night is a two-hour window," says Jenkins. "I'll introduce friends and collaborators, ask them some questions about what they're working with, then the performance, then there's some kind of workshop element, which will be different for everyone. It's just some sort of interactive element. That's the part I'm leaving up to the presenters."
The format, with Jenkins serving as host, is based on educational PBS and ETV late-night music shows, such as "Sessions at West 54th." 
"I learned about a lot of music through that series and shows like that," he says. "I appreciate that exchange and dialogue. Depending on how you ask a question, someone can share a lot of information or help you understand something in a different way. I wanted to kind of break down the barriers of performer and audience that typically exists."
He was also inspired by composers such as John Cage, Philip Glass and Laurie Anderson, who have collaborated with choreographers, filmmakers, sculptors and more artists. 
"Experimental is a pretty loose term, like alternative music," says Jenkins. "I think experimental in a dictionary sense of the word is any sort of practice that has a lot of questions. It's more about the journey and exploring of the medium to get to something that you haven't found before." 
Among the experimental performers of Dojo Nowhere are a local hip-hop and R&B producer, a puppeteer, a psychedelic rocker, a computer software developer and a librarian. There's even one individual who has created a MIDI (Musical Instrumental Digital Interface) jazz ensemble and has created characters for each of the digitally produced sounds based on the soccer video game FIFA.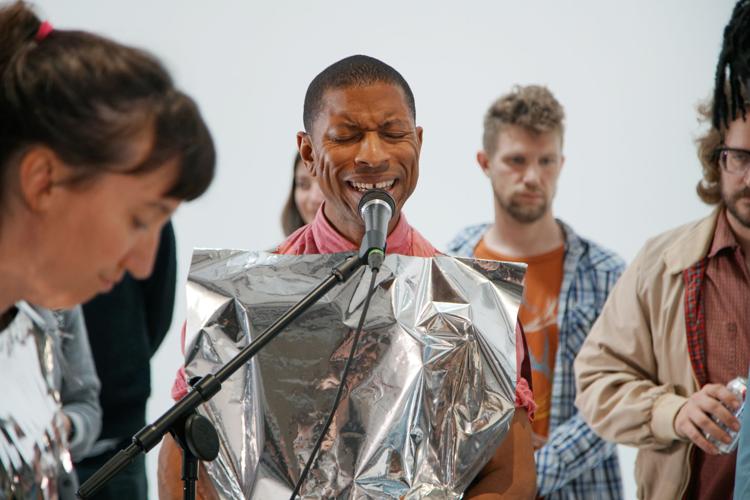 Jenkins himself became particularly interested in performing experimental music when he crafted his solo music project, Infinitikiss, in 2014. Before then, he collaborated with musicians including Lindsay Holler, Leah Suarez and Dan McCurry. He still plays with Grace Joyner and has recently joined forces with 2 Slices. 
"I'm just trying to grow as an artist and musician and contribute, give back to the community that I've been part of for a while," says Jenkins, who was born in Walterboro and moved to Charleston for college in 2001. "When I started to realize my dreams as a musician — when I started to pursue a career as a musician — I was going to do a lot of different things. Rock and jazz were my skill sets. I feel like I branched out a bit and have been fortunate to work with a lot of different artists, dancers, choreographers and filmmakers. I want to keep expanding."
Jenkins hopes that the audience also will expand during Dojo Nowhere. 
"A really important thing I think for people to get out of it will be just practicing listening, practicing focusing on someone sharing some information or someone sharing their craft and skill set, being open to some exploration, being open to new cerebral information," says Jenkins.
"I feel oftentimes a lot of art that is shared is taken for granted. Mostly music — sound art — is considered something you do while you're busy with something else or out with friends. Maybe it's meant to be social music. Maybe you're supposed to be expressive and extroverted. But I think that there are other kinds of music that are more rewarding when you just sit and be with it."
To donate to the series, audience members can give cash at any of the upcoming performances or contribute to Dojo Nowhere's GoFundMe page. The money raised will go straight to the performing musicians. 
Schedule of events
Note: Redux is located at 1056 King St. and St. Julian Devine at 1 Cooper St.
Redux Contemporary Art Center
6-8 p.m. Aug. 23
with sound works by: Marcus Amaker, Peter Coish and Caroline Marcantoni
St. Julian Devine Community Center
7-9 p.m. Sept. 13
with sound works by: Ben Jacobs, Donovan Taylor and Nic Jenkins
St. Julian Devine Community Center
7-9 p.m. Sept. 27
with sound works by: Muhiyyidin D'baha, Loni Lewis and Leah Suarez
Redux Contemporary Art Center
6-8 p.m. Oct. 11
with sound works by: Celie Dailey, Brett Nash and Dan Voss
Redux Contemporary Art Center
6-8 p.m. Oct. 25
with sound works by: Lee Barbour, Khari Lucas and Nic Jenkins