Born in 1960 on the Isle of Palms, Eddie White used to ride his mini bike to the bus stop en route to Wando High School. He has hazy memories of local concerts in Charleston until he returned from college in the 1980s. 
"When I came back from college, I remember 96 Wave and going to the Gaillard and some things around the edges of it," says White. "In the last 10 years or so, it's become more topical."
During that decade, White, a dentist, has been an integral part of the music scene's development with the foundation of Awendaw Green in 2008. The music venue on the outskirts of Charleston County is ideal for intimate "barn jams" around the fireside. Every Wednesday, the grassy outdoor space beneath sprawling oaks at the Sewee Outpost serves as what may be Charleston's only true listening room.
Though White accommodates a range of genres at Awendaw Green, he has to rule out the louder music styles because of the location. That has allowed stringed instruments to truly thrive there.
That limitation, or blessing perhaps, progressed into the birth of the Charleston Bluegrass Festival, an annual event that highlights local and regional bluegrass acts for a weekend of pickin' and strummin'.
White hosted the festival at The Middleton Place Woodlands last year but is bringing it back to the Sewee Outpost for this go-round. More than 25 bands will perform on Friday and Saturday. 
"We kind of evolved into a bluegrass world because of all the Americana stuff we did," says White. "We started out doing house shows and it grew into this Wednesday thing and then it just seemed to grow into music festivals. The bluegrass festival was a natural progression."
Though White describes his most memorable concerts as The Who and The Go-Go's, he's a fan of the fiddle, mandolin, banjo, stand-up bass and harmonica combination that has graced many an Awendaw Green stage. 
"Bluegrass is easy," says White. "It's a low-hanging fruit. If you can't relate to someone playing a stringed instrument, you've got troubles."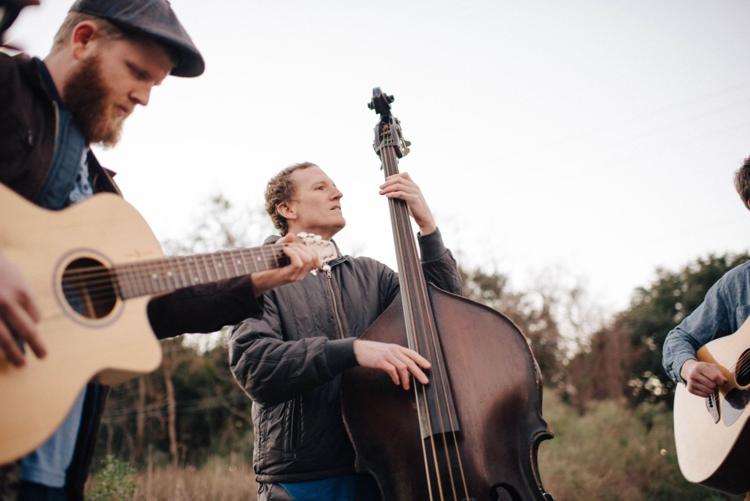 Dallas Baker and Friends is one bluegrass act returning for its third Charleston Bluegrass Festival. 
"This music scene would not be what it is if it wasn't for Eddie White," says Dallas Baker, vocalist, guitarist and harmonica player. "He is so involved in so many different things. He'll be running sound at events in West Ashley while he has a whole music festival at Awendaw Green."
Planting the seed
It's true that White's involvement isn't limited to the Sewee Outpost. He's booked bands and held events at a variety of locations around town, including at Palmetto Brewery, where he helped organize the Loading Dock Series on Friday nights. 
However, White's deeper interest in music and facilitating music really didn't start until his son, Clay, got interested in it. 
"I don't remember him being into music too much, but we'd go to shows downtown every once in a while," says Clay White, trumpet player for The High Divers, Susto and more local acts. "Then, I started asking him to take me to shows. The first club show I remember was in 2006 at Village Tavern. It was Band of Horses, Simon Dawes and Chad VanGaalen, and it wasn't even sold out." 
Clay was in a band called The Whisper Jets in high school, named after one of his dad's dental tools. Around that time, the elder White began hosting house shows at his property out in Awendaw with friends. Music started to become something much more integral to his life, and it was community-driven. White's eyes were opened to the magic of bringing people together— his true passion.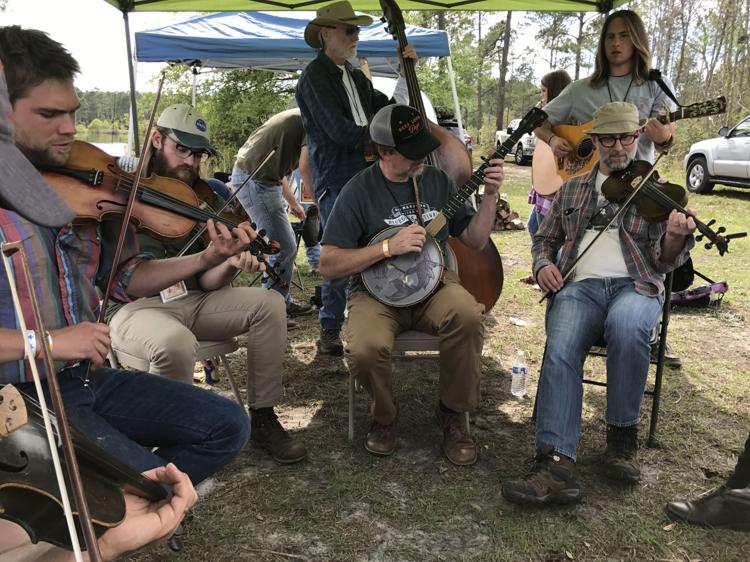 And White's welcoming venue allows for that connection. 
Modeled after the "singer in the round" style of the Bluebird Cafe in Nashville but with nature as a backdrop instead of a bar, Awendaw Green showcases musicians in an intimate setting where the focus is the art. 
"When you go to a Barn Jam, every single person's looking at the artist," says White. "That's the secret sauce: that attention, that connection."
There's a lineup of six to seven musicians playing on any given Wednesday year-round at Awendaw Green. White says he particularly tries to accommodate younger bands, including those that have performed with Clay over the years.
"If you don't have young bands, you'll never have old bands," he says with a laugh.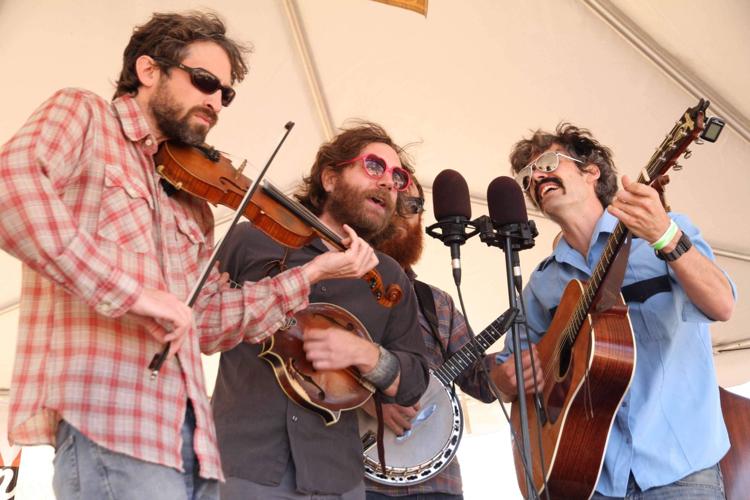 But, he rarely says no when there's availability, though with only weekly shows, those Wednesdays fill up fast. Currently he's booked through August. Each artist is guaranteed a gas allowance and a percentage of ticket sales. He lets a lot of touring bands sleep in his "Swamp House" nearby. 
The secret hideaway in the Francis Marion National Forest has housed songwriting sessions, album recordings, NPR Tiny Desk videos and more creative endeavors for hundreds of bands. 
The Barn Jams, which White says draw crowds of anywhere from 40 to 400, have featured musicians who were on the brink of breaking out and who have since skyrocketed into the music scene, like Cary Ann Hearst from Shovels & Rope. True Colors (a former project of members of Stop Light Observations), HeyRocco and Hunter Park of She Returns from War all made debuts at Awendaw Green back in high school. 
"I like the significance of something as inconsequential as a Barn Jam and what it brings to the world," says White. "It's an authentic moment, a tiny little thing that really connects us. We all need to find that in our lives, being in the moment. We are so in that moment."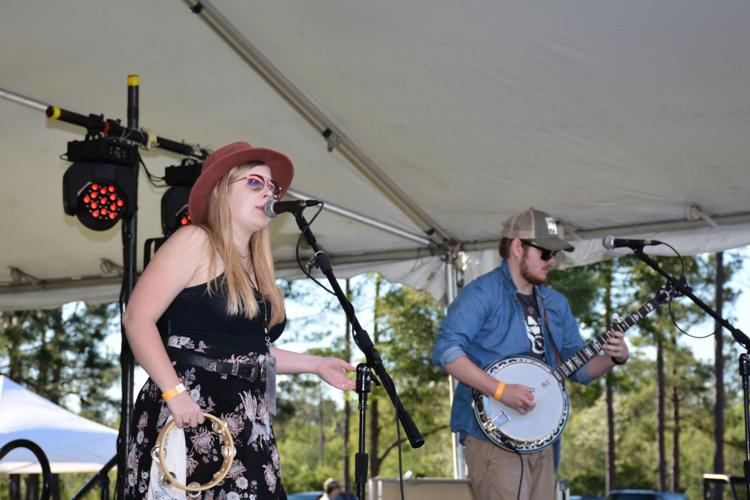 For White, it isn't about the venue or even about the music. It's about the people ultimately. 
"The connectivity that occurs around the edges of this thing, both with the bands and the fans, and just the human interaction is really the hallmark of Awendaw Green and what we do," he says. "We're real proud of that part."
He adds, "If you enjoy it and you have that passion, there's no effort behind it. It just becomes part of your life."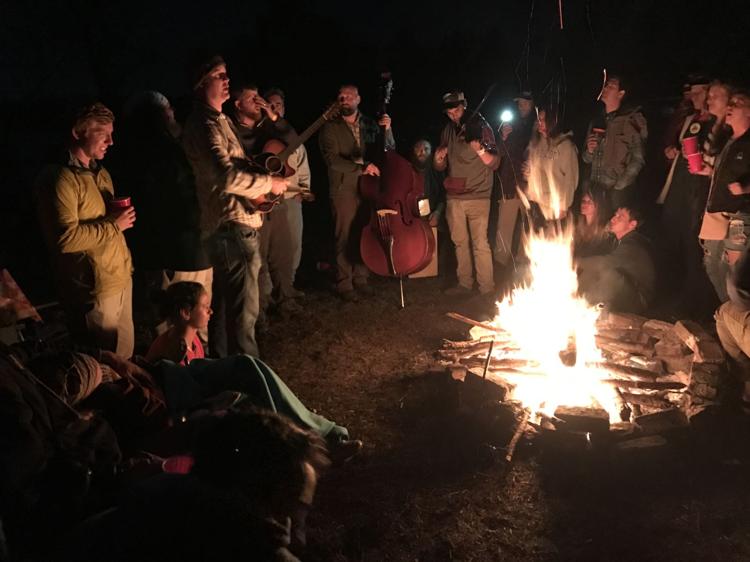 This year's Charleston Bluegrass Festival will take place Friday night and all day Saturday, with a camping option available. Performers include Charleston bluegrass bands Dallas Baker and Friends, Sally & George, Red Cedar Review, The Hungry Monks, Pinkerton and the Brinks and The Pluff Mud String Band, among others. Town Mountain from Asheville will be headlining on Saturday night. 
There also will be a "fire ant fiddle contest" with an open registration at a smaller stage on the grounds during the main stage performances. Local craft beer will be available for purchase as well.