Cory Schwartz used to make a specialty sandwich for his family when he was growing up. The ingredients? Raisin bread, mustard cheese, bacon and honey mustard.
It's now called the Cory's Famous at his grilled cheese shop on James Island, joining at least 10 other unique sandwiches on the menu at any given time along with what Schwartz says are probably over a million make-your-own combinations.
What started out as a childhood recipe turned into a Charleston food cart seven years ago and, finally, a brick-and-mortar fast-casual diner two years after that. 
But at the end of the summer, Cory's Grilled Cheese, located in the back corner of the Harris Teeter shopping center on Maybank Highway, will close its doors for good. Already, it has stopped serving food. It remains open only for already-scheduled events and a final going-away party on Sept. 1. 
"We had a lot of really positive things about the spot that we wished we could have capitalized on more, but at the end of the day, there were too many issues with the shopping center," says Schwartz, a former S.N.O.B. server and dinner boat manager who references the corner location, constant construction nearby and unfulfilled promises relating to the property as reasons to leave at the end of his current lease. 
Yet Cory's Grilled Cheese, and all that the small neighborhood shop represents, will live on.
He's putting the original food cart to use for a variety of events and pop-ups around town, and he's teaming up with North Charleston bar and venue The Purple Buffalo to provide food at its shows. There might be more collaborations with breweries and venues on the horizon as well, Schwartz says. 
"We're not going out of business. We're not going to disappear. We're just transitioning," he says. 
When the shop doors close, though, Schwartz will be losing an integral part of his operation. He's leaving behind the building-turned-venue that has been a saving grace to area kids under 21 looking to attend concerts. 
And that's not to mention over 300 bands that have played the 50-person-cap space, several local and some even from overseas.
"Part of my business plan was always to be a host for the creative arts," Schwartz says. 
Cory's Grilled Cheese isn't just a favorite family eatery; it's home to hardcore, punk, metal, hip-hop and experimental acts, which were welcomed with open arms even as other Charleston venues shunned them.
"Having an all-ages space for music is so important, especially for metal and hardcore," says deathcore band Down Under's guitarist Will Manigault, who worked and helped book shows at Cory's Grilled Cheese.
"The music is an escape for so many young people," he says. "For some of these kids, the shows are their only social life, and they are so passionate about the scene because it gives them a place to be themselves and feel accepted. For the bands, they need a place to hone their talents in front of a crowd that cares about their music."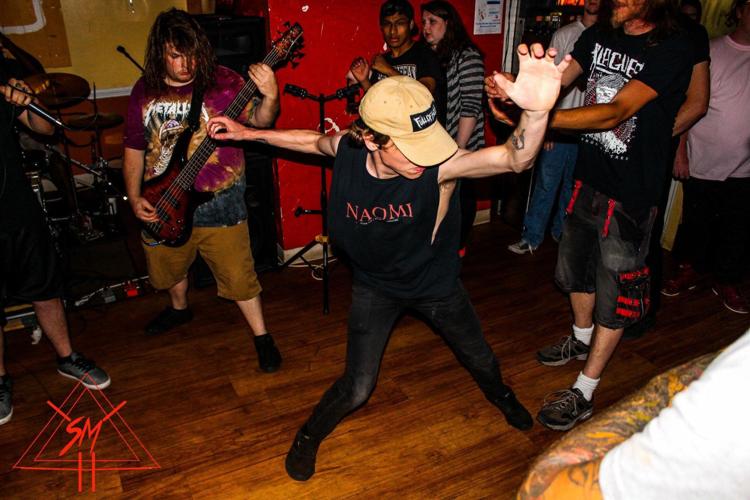 To Schwartz, a member of local blues band Logan & the Kidders (and formerly a banjo player in Pinkerton and the Brinks), the music component of the business is personal. He used to throw house shows in college at the University of Pennsylvania, including performances from some pretty famous acts, like Of Montreal and The Dead Milkmen. Cory's is an extension of that.
"It's become a destination I'm really proud of — and also what we've been able to do for local bands," Schwartz says. "It's intimate and it's fun and it gives the bands an experience they don't usually get because the crowd is right up on the band. It's like a house show almost."
Hosting heavier music has come with a few precarious moments, namely the mosh pit-induced holes in the drywall that Schwartz has covered up with wood paneling. Two of his TVs were cracked during a particularly riled-up set. 
"The hardcore scene is definitely going to suffer a loss," says Cameron Johnson, another Cory's Grilled Cheese employee and the owner of local booking company Charleston Sky Entertainment. "Who's gonna let them punch holes in the wall anywhere else?"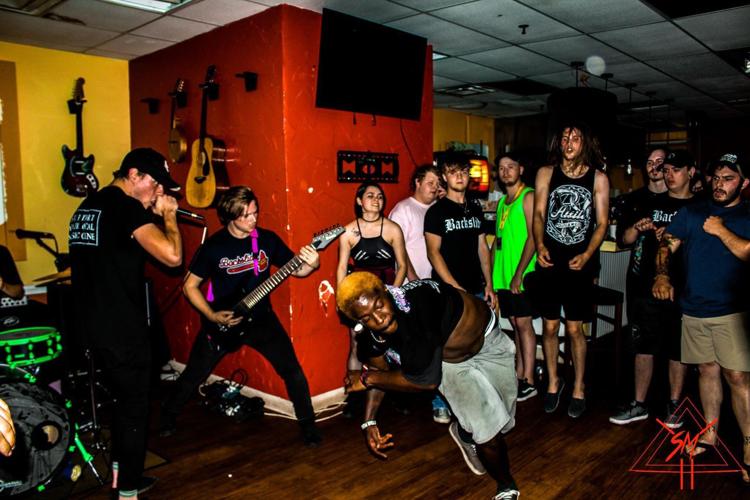 It's true. There are few if any venues that will accommodate these musical genres, and the ones that do are 21+. The hardcore scene, particularly, will be taking a blow. 
"Cory's has been a cornerstone of my youth and has helped instill in me a deep care for the local music scene in Charleston," says Charleston Sky Entertainment creative director Parris Byars. "Charleston has some big shoes to fill in the DIY venue department."
Fans and musicians alike already are missing the space and how welcoming it was to everyone who walked inside, whether for a sandwich or a show. 
"Cory's offered a foot in the door for people that otherwise wouldn't have the chance to play," says Inn Vinegar guitarist and singer Jesse Shafer. "Any and all artists that are passionate about what they do were welcome regardless of what they sound or look like. It had a positive and supportive atmosphere."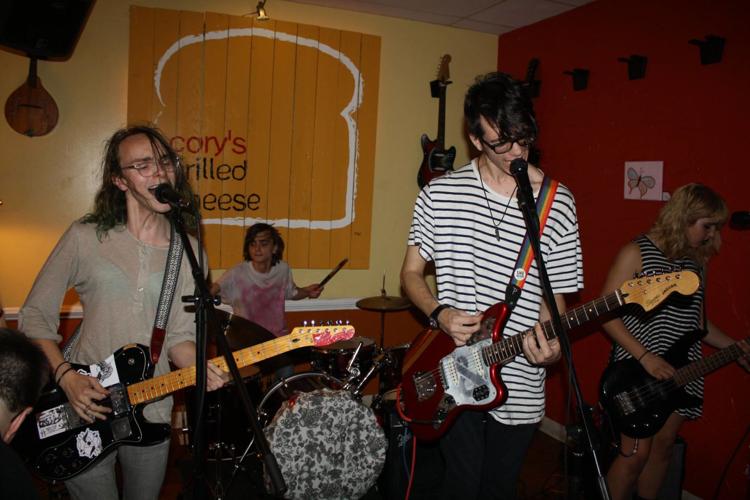 Schwartz will miss the community he nurtured inside his small sandwich shop while serving grilled cheeses from behind the counter and watching mosh pits take shape over the years.
But, for now, The Purple Buffalo, created with a similar goal to support the local art scene, seems like a perfect place for him to be, still surrounded by music and, hopefully, able to help book shows in that neck of the woods, though the venue is 21+.
"The music stuff, that will continue, and the food truck, that will continue, but creating this space for families and people who came here the day they were getting married or other people who celebrated their first anniversary here because they had gone on their first date here — that's what I'll miss," Schwartz says.