Hart Jeffers pulled two tiny Lego figurines out of an iTunes earbuds box at Brown's Court Bakery. One of them spilled over the edge of the table to the first floor below. 
"What's this?" called a confused but interested voice up the stairs as Jeffers hurried after his prized possession: a miniature Helen, a character created in his comic book "SOL."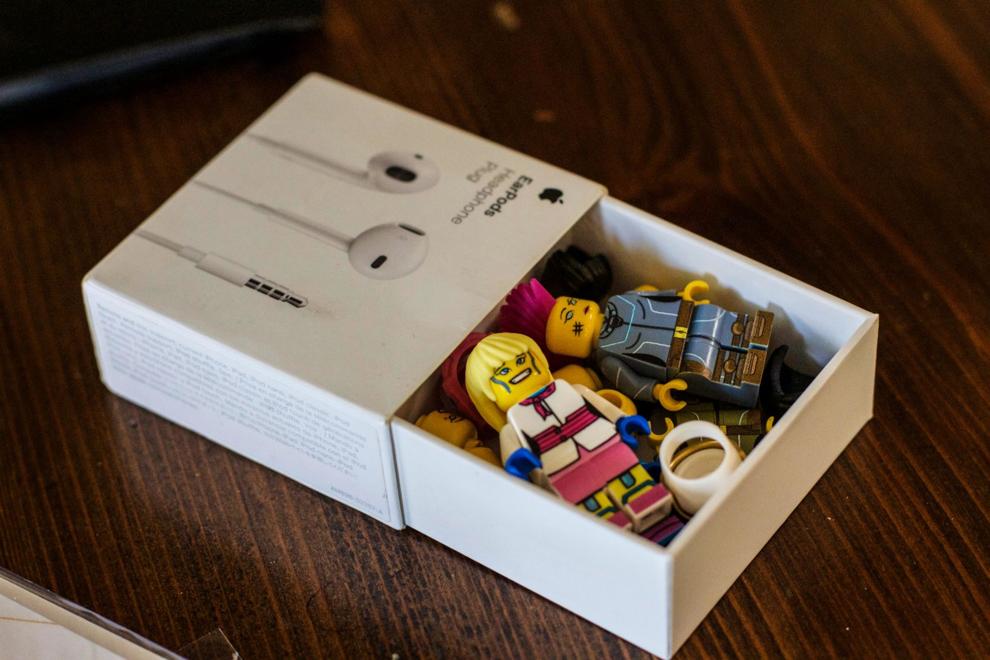 Jeffers is just one local comic book author based out of Charleston, a steady scene in the unique art form and industry that has been on the upswing thanks to Marvel and DC movies sweeping the big screen. He's joined by other writers, illustrators, letterers and colorists who are helping to create national and international comic books.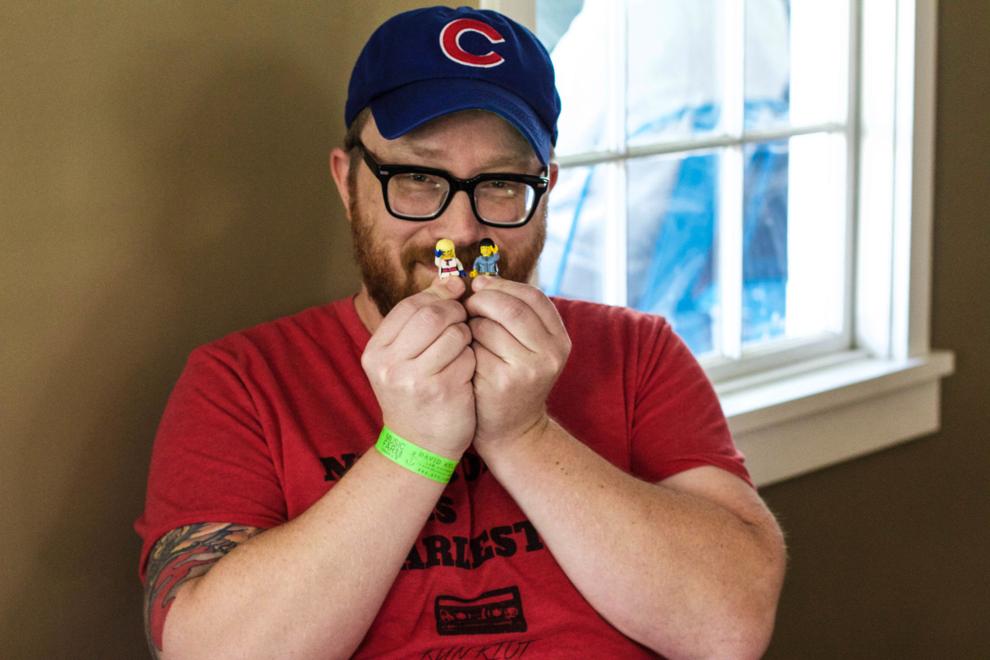 Some of these will be available on Free Comic Book Day, an annual event held on the first Saturday of May seeking to bring new readers into independent comic book stores. Locally, Soundwave Comics in Summerville and Captain's Comics and Toys in West Ashley will be participating. 
In addition, The Post and Courier has a free digital link to Jeffers' comic book "SOL." You can read it now at https://bit.ly/2raeTTY.
Hart Jeffers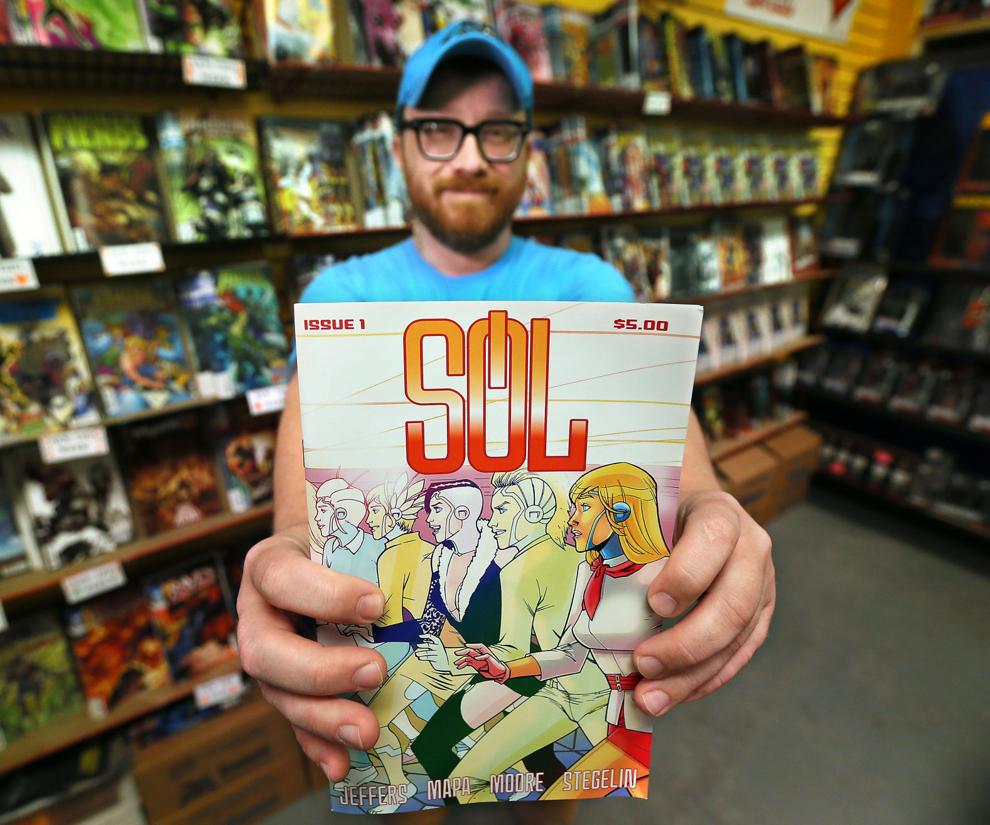 Jeffers put a lot of time and energy into the intergalactic world he created from scratch with the help of a four-piece team of illustrators, letterers and colorists. Jeffers, who works at the Early Bird Diner and Sunflower Cafe in West Ashley for his full-time gigs, is the author of the two issues of "SOL" that have been released thus far.
The series stems from his love for 1950s- and '60s-era sci-fi like "The Twilight Zone," and explores the depth of female relationships among other philosophical themes. 
"I start out with a loose skeleton of where I want to go," says Jeffers. "Then, I really let my characters drive the story. I think that's where a lot of the magic is happening." 
The storyline, which he describes as "Golden Girls" meets "The Matrix," is one that's been developing since he was just 10 years old, when he was dreaming of making his own comic book while staying up late to read his favorites under the covers. 
Now, his dreams have come true in the forms of two "floppies," a comic book term for a thin, stapled periodical full of vibrant illustrations and storyline text. Once several floppies are released, they are often combined to create a graphic novel.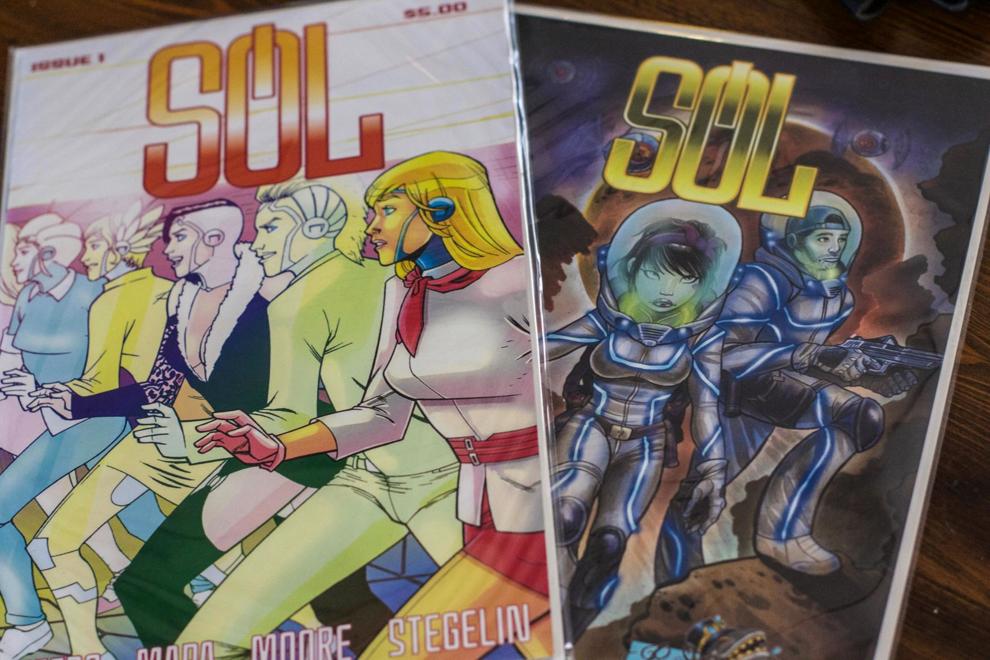 Jeffers' side gigs revolve around his love for comic book crafting. They include owning and operating Run Riot Media, his indie comic book and merchandise company, and organizing the Charleston Comic Creators, a community of local artists who share stories and hone their craft in the Lowcountry. 
"I love being surrounded by creative people," says Jeffers. "It energizes me and affirms what I'm doing and pursuing." 
Jeffers is planning to create a KickStarter for his next comic book. 
"It's hard to find work in the comic book world now, even if you're really good," says Jeffers. "We're drowning in content all the time. It's an economy of human attention, and phones are eating a lot of it. Now, people are picking up their phones over a book before bed." 
Babs Tarr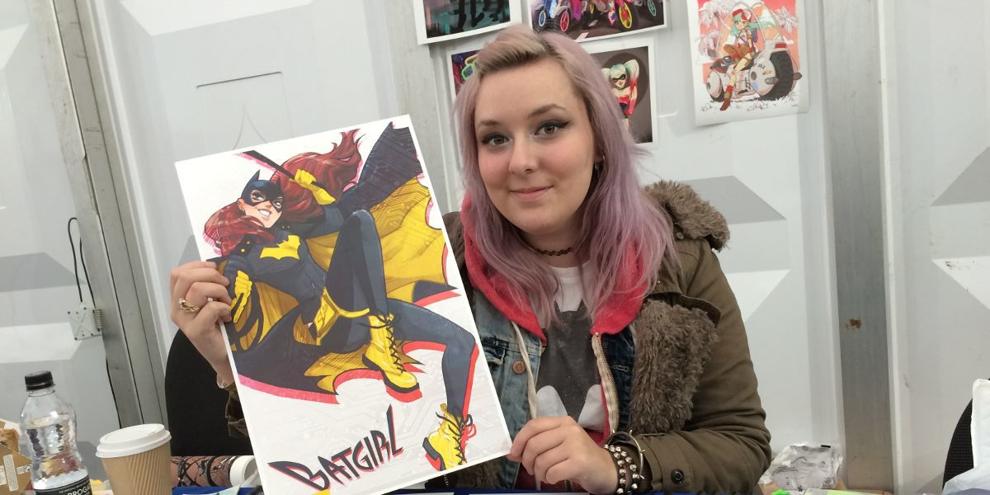 One Charleston-based comic book illustrator is breaking the mold by thriving as a full-time illustrator. Babs Tarr is the illustrator  of "Batgirl" for DC Comics and "Motor Crush" for independent comic outlet Image Comics. 
Tarr grew up in Mount Pleasant, attending Bishop England High School, and then moved up the coast to study illustration at the Maryland Institute College of Art. 
She remembers searching through covers at Atomic Comics, a former comic book store on King Street, in her preteen years. She was particularly drawn to Japanese comics, manga, for the story lines and fashion, which carried over into her own artwork when she began illustrating.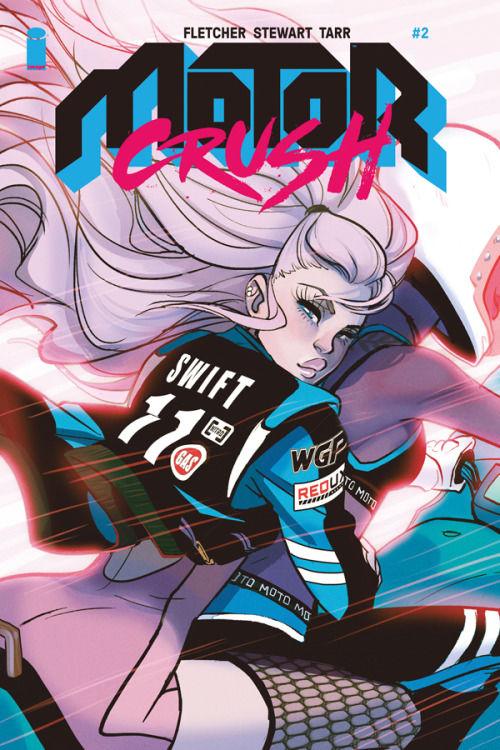 After college, while she was working in toy design for Hasbro in Providence, Rhode Island, Tarr was contacted by the team launching "Batgirl" with DC Comics. They had seen her illustrations online and her art style fit their vision.
"I have a freakish Cinderella story in comics," she says with a laugh.
Since then, she's illustrated covers for "Teen Titans," "Judge Dredd," "Nancy Drew" and more. In addition, she takes about 12 commissions a month, which pay for her cost of living. 
This summer will be a wild card, though. She's going to be living a month in Los Angeles, a month in New York City and a month in Austin, Texas. She doesn't know if she'll return to Charleston after that.
Being a woman in the heavily male-dominated comic book industry has been mostly fine for Tarr, though she's seen her friends go through some rough times. 
Currently assigned to an all-women's issue of a particular title, Tarr says, "I'm looking forward to a time when we don't need an all-female something-or-other to give girls jobs in comics ... It's like turning a cruise ship, it's going to take some time, but the comic scene has this special magic where turnaround is faster and the audience has a direct line of communication with creators who are online. Change can actually happen." 
"Motor Crush" Vol. 2 will be out in May in comic book stores worldwide. 
Christine Brunson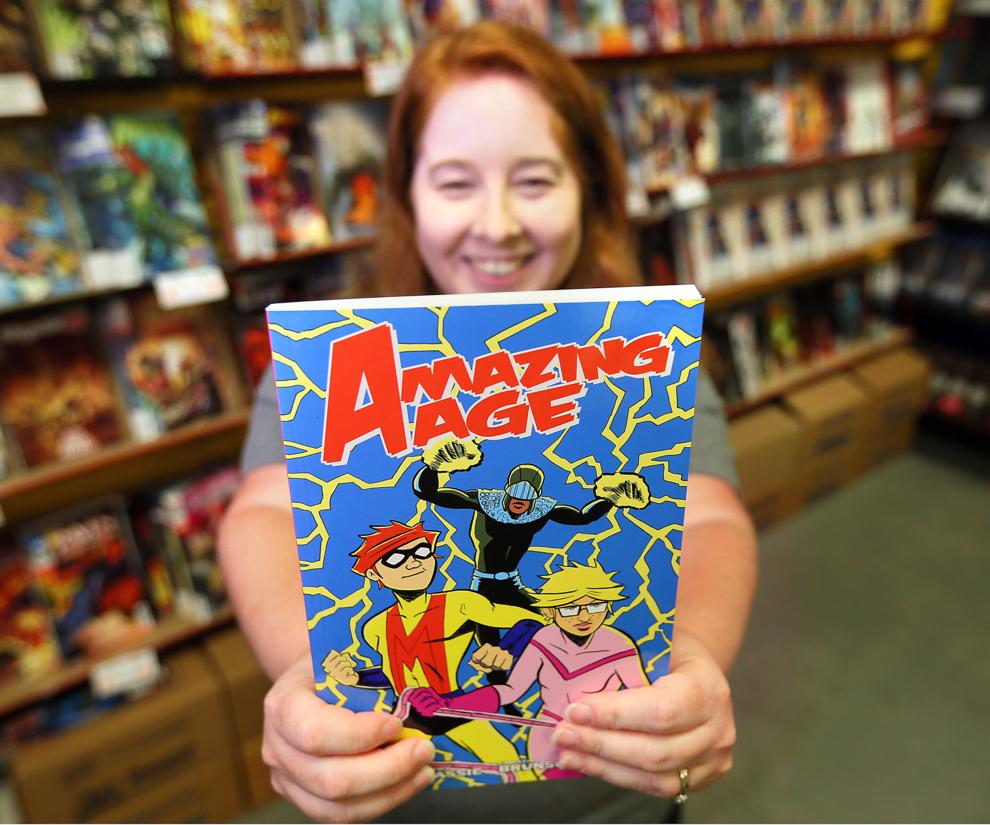 Another comic book illustrator and colorist based in Charleston, Christine Brunson, has run into some low-key sexism in the industry, most notably when people approach her table at comic conventions and automatically assume her husband is the artist. 
She's gotten the "girls don't belong in comics" spiel, but has found the local scene and her family are entirely accepting. 
Brunson, from Summerville, used to wander through the Ladson flea market on weekends with her father. He would pick out baseball cards and she would pick out comics. She grew up on "X-Men" and "Fantastic Four." 
"I wanted to make my own, but I knew I couldn't afford art school," says Brunson, who doodled frequently and entered coloring contests. She was drawn to the colors. 
"The colors are what really stand out in a comic book," she says. "And with the classic superhero novels, you have primary colors for the good guys and secondary colors for the bad guys."
She took that same stance as the colorist for "Amazing Age," a kid-friendly superhero comic that she began working on a few years ago. She's also the colorist for "Amazonia," a Xigency Studios release, and her own series "Undead Norm," a comedy zombie comic. 
That means she fills in each illustration with color, working both by hand and digitally. Depending on the complexity of the inked illustration, Brunson can spend a day working on one cover or a couple pages. It's time-consuming work, but work that her 8-year-old son James loves and looks up to.
"I'm showing him that you can achieve your dreams," says Brunson. 
"Amazing Age" is one of the titles available for Free Comic Book Day at Soundwave. 
Steve Stegelin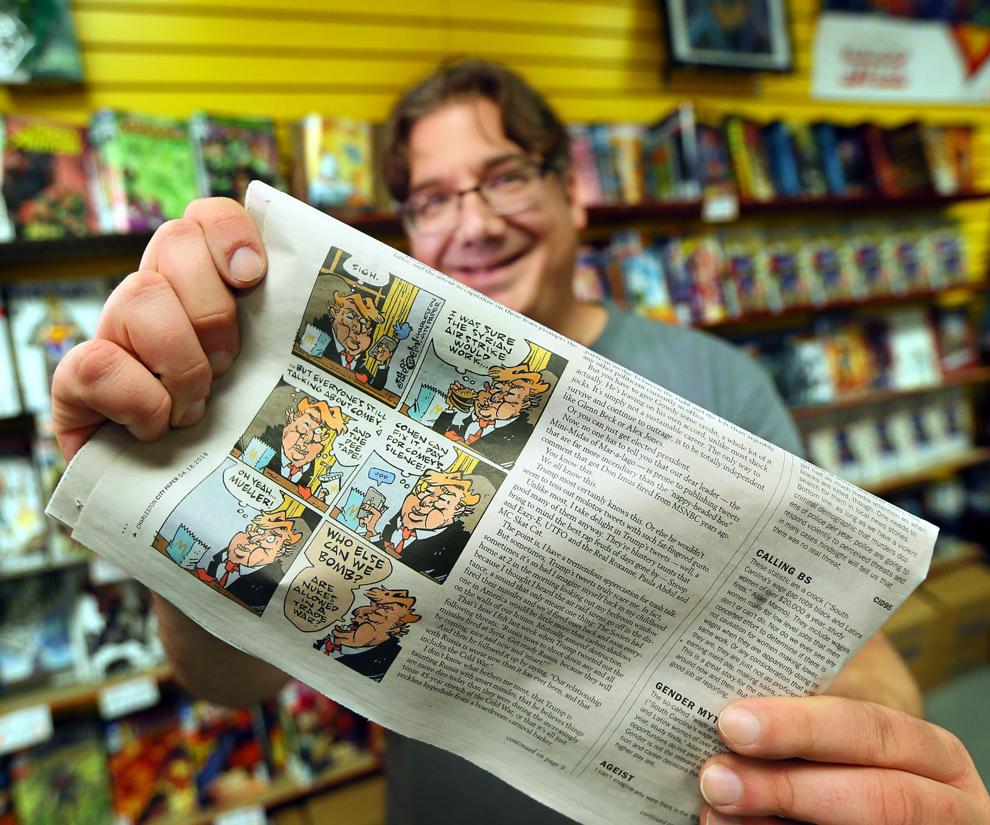 One comic book illustrator and author locals might be familiar with on a weekly basis is Steve Stegelin, the artist for Charleston City Paper column "The Blotter" and his own comic strip within the alt-weekly. 
Stegelin has been meeting those weekly deadlines for 14 years now. Before that, he was the illustrator and colorist of comic book "Boondoggle" in the mid-to-late '90s. And before that, he was the comic strip author for his college's newspaper. 
"Everyone doodles," says Stegelin. "I just stuck with it." 
Stegelin, who loves everything from "Peanuts" to "Evil Dead," was drawn to using the art form as social commentary, particularly within the realms of pop culture and politics.
"This current administration leaves me very busy," he says. "There's no lack of fodder." 
He keeps tabs on both local and national news during the week and then creates his comic strip based on what's happening. He recently got a lot of feedback for his cartoon on the downtown Charleston parking meter hike and how it would affect the food and bev industry. 
"There's power in having a comic that feels innocuous," says Stegelin. "My style can be cute, so people think 'how endearing,' but then there's pointed commentary at the end. It's a surprise." 
Stegelin is an old-school artist, drawing and inking his art by hand. He then goes in and adds colors digitally. One op-ed cartoon will usually take him an evening to complete, between three and four hours. 
Recently, he's worked as the letterer for Jeffers' comic book, "SOL" and participates in figure drawing classes at Tua Lingua and drink-and-draws with other artists in the Charleston community. 
Matthew Starling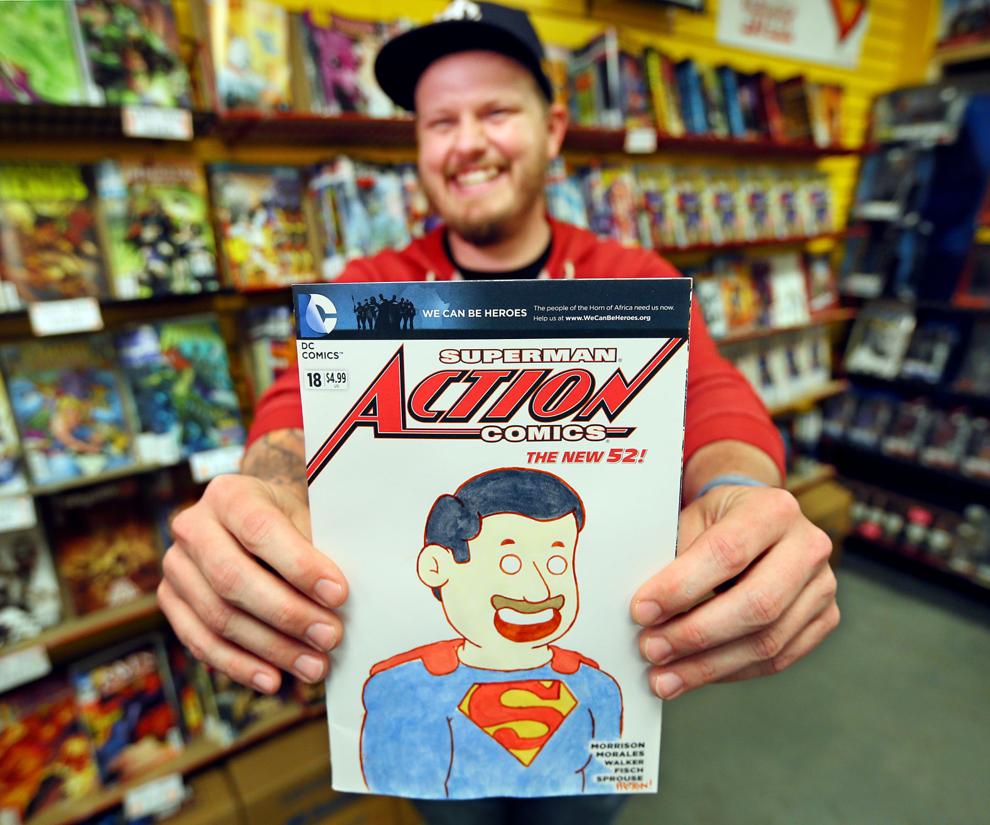 Though not a comic book illustrator per se, Matthew Starling is an integral member of the Charleston Comic Creators with his mischievous childlike personality that gets everyone laughing and his paintings of characters in comic books and pop culture. 
He is better known as "Proton," a nickname given to him in eighth grade and one that's now the moniker of his art business, Proton Factories. 
Starling's claim to fame while attending Stratford High School was his graffiti work. He became known as Public Enemy No. 1 for his illegal artwork at the old Captain D's in Mount Pleasant and other locations from Folly Road to Summerville. It led to his arrest. 
Now, retired from his artwork on the streets, Starling sells his passion via screenprintings, illustrations, paintings, enamel pins and stickers while daylighting as a courtroom videographer. 
"I like drawing portraits. I think people like to see themselves as a portrait," says Starling of his commissioned work.
He also loves the comic convention circuit, which regionally includes the Captain's Expo in Charleston, SC Comic Con in Greenville, Heroes Con in Charlotte, Mega Con in Savannah and the Soda City Con in Columbia, among others. 
"I love talking to kids," says Starling, who has a son. "It's so cool to get them into it and get them excited about it." 
Proton's art is displayed at Soundwave.